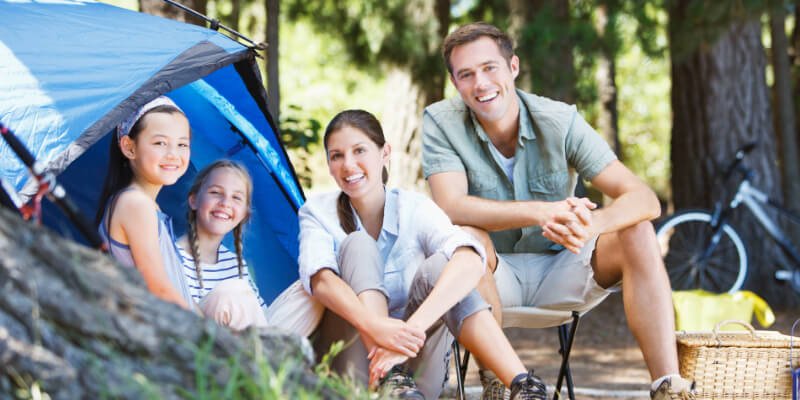 If your family has three or four members, a 4-person tent can be the perfect choice for camping. Because four person tents are also well suited for small families when their previous tents are too tight and need more space for luggage and holiday gear.
However, there are different types of 4-man tents with various shapes and designs available on the market. Some models have a large bedroom, others are equipped with two sleeping cabins and anterooms.
The following guide going to show you the top tent best 4-person tents in 2022. We have evaluated and tested more than 30 models and finally shorten the list. These are lightweight, strong, spacious and easy to install.
We also include the most important purchase features that should be considered before making the purchase.
Best 4 Person Tents for Camping in 2022 – Reviews
The High Peak Talos 4.0 is a dome tent with a large bedroom that can accommodate three to four people very comfortably. This tent is particularly light at 11.33 pounds. With a pack size of just 58 x 18 x 18 cm, it should be the ideal companion on trekking tours with several people.
High Peak Talos 4.0 4-person tent has a mosquito net in the roof area for ventilation and on the door of the inner tent. It is equipped slightly angled stem with windows that are made of transparent film. With a clever weight distribution, four people can easily carry it while hiking through the wilderness.
In the tent roof, there are two ventilation inserts for the best possible permanent ventilation of the interior. The entrance can be rolled up to the side. It is weatherproof so that you can enter the bedroom dry even in bad weather.
The package includes sturdy steel pegs with a diameter of 5 mm. The tent poles match the color of the neon green piping in the floor's area. These nails won't bend even on a hard surface. The floor strips and guy ropes are designed in neon green so that they are visible at dusk.
The frame is made of 8.5-mm and 7.9-mm fiberglass. The inner tent is made of breathable polyester. All seams are sealed with seam tape. With this, the manufacturer promises waterproofness and seam tear resistance.
The front of the tent has 100 x 240 cm space to store shoes or other equipment there. The external dimensions of the model are 330 x 250 x 135 cm. In the inner tent, there are pockets for stowing a flashlight or other utensils within easy reach.
High Peak Talos 4.0 dome tent is available in the colors dark gray/green. The order also includes a 58 x 18 x 18 cm carrying bag.
Pros
Breathable and comfortable
Low weight
Small pack size
Includes mosquito net
Large carrying bag
It has enough space
Simple to set up and take down
---
The Ridgeline 4 Plus from Coleman is a tunnel tent with two sleeping compartments. The two bedrooms are each 210 cm long, 140 cm wide and 160 cm high. Between the bedrooms, there is a living area with a standing height of 205 cm in the middle. The living area is 170 cm wide and 210 cm long.
The sleeping cabins each have their own entrance so that you can enjoy privacy. The sleeping cabins are also big enough to put up a camp bed. You hang the inner tents separately in the outer tent. There is no floor in the sleeping cabins.
The central living room is easy to use as a lounge, especially in bad weather. The bottom of the inner tent is connected to the sides. If only one inner tent is to be used, cover the empty space with a groundsheet.
It has two ventilation flaps which ensure good ventilation. Furthermore, the living area has two opposite entrances. Utensils such as flashlights can be stowed within easy reach in two inner pockets.
The outer tent is made of 185T polyester with a water column of 3,000 mm and is coated with PU. The material is fire retardant and seams are taped. Breathable polyester and an opaque mosquito net are also used for the inner tent. The materials are also equipped with Coleman UV-Guard and have a sun protection factor of 50 plus.
The floor is made of waterproof, welded polyethylene and is raised at the edges to prevent insects or moisture from entering. The windows are made of PVC. The fiberglass poles have a diameter of 9.5 mm. There are also steel rods for the sun canopy.
The external dimensions of the Coleman Ridgeline 4-person tent are 460 x 205 x 230 cm and the weighs 10.4 kg. The pack size is 62 cm in length and 23 cm in diameter. In addition, the package includes guy ropes, tent pegs and a carrying bag.
Pros
Spacious for four adults
Highly flexible
Lightweight
100% waterproof tent
Durable construction
Complete package
Easy to pitch
Cons
Door zipped line is a bit tight
A little flapping in the wind
---
Coleman Skydome 4-Person tent measures 8 x 7 feet with 4 ft. 8 inches center height. In terms of color, this dome tent comes in black and blue. It is made of Nylon with a water column of 3000 mm. The Steel poles and pegs come in the package, but they aren't high quality.
The assembly of the model is relatively quick. But it would need the help of a second person at one point or another. The setup as an individual can therefore only be mastered with a great deal of effort. There is also a space-saving pack sack.
In terms of quality, we have nothing to complain about the Coleman Skydome. It can withstand wind as well as strong rain showers and thus prove to be a safe companion at festivals or on vacation. The lying area is completely sufficient for three to four people. But with another person, it would be very tight.
The built-in dark room technology blocks 90% of sunlight so you can sleep in past sunrise and make a comfortable rest any time of the day. However, we give 4 out of 5 stars because of the cheap accessories.
You can currently get this model for around 110 dollars. For this price, you can't go wrong with this model because we are very satisfied.
Pros
Sets up in under 5 minutes
Built in dark room technology
Roomy interior and extra storage
Comes with 1-year warranty
Compact size
Cons
Material isn't uniform across the tent
Stakes could be better
---
This 4-person tent from CampFeuer has a tunnel shape with two sleeping cabins. Each bedroom is 230 cm long and 140 cm wide. The sleeping chambers have large entrances that can be rolled up to the side so that the interior can be well ventilated.
The inner tents are made of breathable polyester. The upper half of the side window is made of a mosquito net and the lower half of a transparent film. The erection is quick and easy because the inner tents only have to attach to the outer tent that was set up beforehand.
Because of the movable front wall, you have the choice between an anteroom or a closed room with a 110 cm long, covered space. However, you don't need to tension the tent too tightly. The tent seams must remain closed so that no water can penetrate.
The polyethylene base is raised at the edges and the seams are sealed. You can put a tent floor in the anteroom. There is a privacy screen on all windows and entrances that can be rolled up and fixed in place. The package comes with pegs and fiberglass poles. Setting up this tent takes around 15 to 20 minutes for two.
The CampFeuer 4-person tent is 410 cm long, 350 cm wide and 190 cm high. It has a water column of 5,000 mm. The pack size is 68 x 28 x 26 cm. This model weighs 14 kg, which is pretty much heavy.
Pros
Practical
Comfortable to carry
Variable size of the anteroom
Breathable with Proper ventilation
Prepared for any weather
Easy to set up
Cons
Heavy
Window on the rear side, in contrast to the side windows, has no side rain protection
---
At Jack Wolfskin, the abbreviation RT stands for "Real Tunnel Technology" and means that it is a tunnel tent construction with high storm stability and the best possible use of space. This 4-person tent is made of polyester and a PU coating. It has a water column of 4,000 mm and the seams are sealed and reinforced.
Jack Wolfskin 4-person tent is equipped with three entrances and four windows. It offers two sleeping cabins, whereby the construction of the smaller ones in favor of a larger anteroom is optional. Without the smaller bedroom, there is still space for four people.
It has five closable ventilation openings and two large and two small windows that can be darkened. There are flexibly attachable compartments and loops for clotheslines or lamps.
It has two floors; the first floor is firmly sewn to the tent and the second separately. The first is connected to the inner tents and is made of polyester. The second floor, which can be used optionally, is made of polyethylene and has a water column of 10,000 mm.
The tent weighs a total of 12.8 kg with a pack size of 70 x 45 x 20 cm. The external dimensions are 530 x 260 x 200 cm. However, with a vestibule depth of up to 280 cm, this camping tent offers plenty of space for luggage.
The assembly will be completed in a few steps. It has pre-assembled poles so that you can set up this sent in a few seconds. 22 pegs and 8 guy ropes are also included in the package.
Pros
Double floor for maximum protection
Lots of vestibule space
Comfortable standing height
Highly durable
Waterproof
Unobscured view even in the rain
---
The manufacturer Londtren offers a large pop-up tent for four people. It is particularly a high-quality and stable pop-up tent that you can set up quickly. The Green & Grey design is very eye-catching, and it is made of high quality and durable polyester. It has a water column of 3000-4000 mm and offers excellent UV protection.
This model builds up all by itself by simply "throwing" it into the air. With enough space for luggage and other camping accessories, it offers optimal air circulation. Because this 4-man tent has two doors and two windows, as well as a ventilation opening on the roof.
Londtren 4-person tent also offers a wonderful all-around view. Thanks to the mosquito nets at each opening, you don't have to worry about vermin attacking the tent.
Both the erection and dismantling of this pop-up tent require some practice. The pegs are not supposed to be of very high quality, which is why it will be worthwhile to buy high-quality ones. The workmanship of the tent is high quality.
The lying area is rated as large and comfortable and thanks to the many ventilation openings there is very good air circulation. In return, you get a very good tent that has acceptable defects. Although the manufacturer says this model is waterproof, it is not 100 percent true, despite the generous water column.
Pros
Easy to pop up
Excellent waterproof rating
Fits nicely in the bag
Easy to store
Three color options are available
Lightweight
Reasonable price
Cons
A bit tricky to fold down
---
CampFeuer Super + 4-person tunnel tent is made of 190T polyester and has a coating of plastic polyurethane. It is 150 cm high, 410 cm long and 260 cm wide. It has an anteroom and two entrances. One entrance is in the front and the other on the side.
This tunnel tent has a sleeping chamber. In addition, the CampFeuer Super+ tent has a mosquito net that is located at the entrance to the bedroom. The tent floor is made of PE film.
It isn't a 4-person ultralight tent with only 7.9 kg weight, so carrying wouldn't be a big problem for you. The pack size is 64 x 19 cm. The water column of the CampFeuer 4-person tent is 3,000 mm. It offers excellent protection against rain showers as a result.
The frame is made of metal and fiberglass. The poles can be used for the side entrance or the front entrance. This model also has a groundsheet that can be laid out in the anteroom. The tent is designed in gray and black. Alternatively, it is available in a green and black design.
Pros
Handy and compact
Breathable design
Front entrance and side entrance
Good combination of sleeping cabin and vestibule
Easy to stow back in the packing bag
Good value for the price
Cons
Not pretty much roomy for extra luggage
---
Glenhill 3 Arona dome tent is made of waterproof polyester with a PU coating. The external dimensions are 360 ​​x 230 x 135 cm. Due to the water column of 5,000 mm, four person tent can withstand prolonged and heavy rain. The seams are waterproof sealed and glued on the inside, also provided with a double seam and edged twice.
Glenhill dome tent is equipped with four lockable and opaque PVC windows with mesh fabric and two entrances. The windows are on the right and left sides of the tent. They each have a roll-down cover. The front entrance to a sun roof is braced with two poles.
It has a large sleeping area with dimensions of 210 x 220 x 130 cm. The inner tent is made of breathable polyester and the floor is polyethylene. The floor of the inner tent is a waterproof tub with raised edges that is firmly sewn to the inner tent.
On the front door, there are zippers with stable double seams. They are attached to the outer tent. The zipper is protected by an external cover strip so that as little water as possible penetrates the inside of the tent. You can roll the rear door up to the side and the front entrance upwards.
It has a pack size with a diameter of 22 cm and a length of 59 cm. The tent weighs 5.5 kg. However, we recommend using this tent with a maximum of three people.
Glenhill 3 Arona 4-person tent has large ventilation openings above the entrance window. The covers are designed to protect the ventilation from rain. However, you should set up the outer tent first. Color markings also help you to assemble this tent very easily.
Pros
Large sleeping area
Breathable inner tent
Good for holiday camping
Simple to assemble and take down
Lightweight
Slim design
Cons
The inner tent can't be set up separately
---
The 4-season tent from Forceatt comes as a handy model according to its name. The dimensions also promise a lot of space inside. In addition, you can choose this tent at a reasonable cost.
The sizes are 102 x 94.5 x 63 inches (L x W x H). The packing size is 17.7 x 9.84 inches. It is made of 190T polyester and is also PU-coated. The floor was made of polyethylene. Unfortunately, the material processing cannot convince us either.
The assembly should not take a lot of time and done in a good ten minutes. However, some users complain about the material processing and zippers on the back are not welded, so water could penetrate here. There are two entrances and exits, each with mosquito nets.
You can currently get this model for less than 100 dollars. We think that is too much given the shortcomings. Forceatt 4-person camping tent should offer enough space inside, but even if the price is quite low, you can expect a waterproof tent.
It is rated 3000 mm water column, which is nothing more than a fair-weather tent. When the weather is good, you will certainly have fun with this tent, but when camping in bad weather, then it only seems suitable to a limited extent because the water in the tent is of course absolutely unacceptable even at such a price.
Pros
Lightweight
Convenient
Poles and steaks are decent
Professional design
Quick setup and removal
Stable foot support
Oversized window
Cons
Fabric is pretty much thin
---
The 4-person tent from HEWOLF is suitable as a family tent for four people. This model is suitable for all seasons as well as moderate wind and rain. It promises good airflow for cross ventilation because of the large front and rear entrances. It is the second tent in hexagonal format on our list.
HEWOLF 4-man tent is made of waterproof polyester 190 T and 210D Oxford with a water column of 2,000 mm. The seams are completely taped. A silver coating should protect against UV rays. The skylight is made of dense B3 mesh. The outer tent is removable and can be used as a pavilion for beach holidays or fishing.
An automatic hydraulic mechanism enables quick assembly within a few minutes. All you have to do is pull up the tent using this mechanism and snap the joints of the poles into place. Beginners should take around 5 minutes. With a little experience, it should be possible to set up in a minute.
The entrance is braced as a canopy with two poles. The edge of the floor is raised all around so that as little moisture as possible can penetrate. The two large entrances ensure adequate ventilation and insect protection.
HEWOLF 4-person tent weighs 5.7 kg. The package also includes eight guy ropes, 14 pegs, two support poles for the canopy and a carrying bag. However, it has no window. But the two large entrances give you enough airflow.
made of mesh fabric.
Pros
Versatile Double-layer protection
Excellent Ventilation
Anti-UV & rainproof
Suitable for all season
Quick assembly
Hydraulics design
Cons
Too tight for four big adults but ok for average
No window
---
Buying a 4-person tent – what should I look out for?
When buying a 4-person tent, you should consider some important features so that you can enjoy the product for as long as possible. Let's find out what they are.
Size
The size is a decisive factor to consider so that four people can sleep and live comfortably in the tent. The manufacturers indicate the dimensions of the base area. Using space is different depending on the type of tent. Most of the space is provided by a tunnel tent, there is usually headroom.
Of course, some larger four-man tents can be divided into several backpacks (poles, sheets, tie rods …), but there is certainly a considerable ballast.
Standing height
A 4-person tent usually consists of two to three cabins. While the smaller rooms are mostly only used for sleeping, the "living room" should have sufficient headroom.
If there are two or more people in it, everything seems more cramped when they cannot stand up straight. Then you would try to get past each other with your head bowed. 10 or 20 cm more make a big difference here.
Material and coating
The advantages of the different materials and coatings have already been explained. Because of its properties, the material of polyester with a PU coating appears to be useful for family tents.
Number of sleeping compartments
Tents with one or two sleeping compartments are available in stores. If you want to enjoy some privacy, we recommend a model with two separate sleeping chambers.
Anteroom
Some tents have an anteroom. This is especially valuable for a stay on bad weather days. In addition, such models offer more space to stow luggage or to put down shoes.
Tent floor
There are tents without a floor and models with a permanently welded or sewn-in floor. In the case of a tent without a floor, a tarpaulin must be laid out in the interior. It is important that the floor or tarpaulin is waterproof. For areas with a high probability of rain, a tent with a floor with raised edges is recommended.
Ventilation
Ventilation openings should be presented so that sufficient fresh air can always get into the interior. Many family camping tents have mesh windows to keep insects out of the tent and ensure good ventilation.
4-season tents are warmer than 3-season tents: they have fewer mesh fabrics and are designed to protect you from the elements and therefore keep more heat.
Mosquito nets
In the entrance area or at window openings, a mosquito net should be available to keep mosquitoes, horseflies, flies or other animals away.
Included accessories
Various tent accessories should be included in the delivery. The most important accessories include guy ropes, pegs or stakes and poles. Many manufacturers also provide a packing bag.
Weight
High-quality tents generally weigh more because of their thick fabrics, strong poles and strong zippers.
What weight are we talking about?
They range from 1 kg and a half (ultralight mountaineering) to 6 kg for a comfortable and protective base camp model.
Ease of assemble
The tent should be easy to set up. The manufacturer usually includes instructions. However, before buying, it is recommended to read the customer reviews on this point.
FAQs
How do you know if a tent is waterproof?
To get a waterproof tent, you should pay attention to the specified water column in the product description. This indicates decisively how waterproof the tent is. The higher the value of the water column, the more resistance of the tent wall or the material to penetrating moisture.
What is a good water column rating?
Tents with a water column of 1500 mm to 3000 mm are considered waterproof. At 1500 mm, the tent is briefly waterproof. The higher the column rating, the longer the tent can withstand moisture and you can enjoy the time in any weather.
A water column of 3000 mm is recommended for camping – more is of course also possible.
How do I avoid condensation in the tent?
It is important to ensure that there is good ventilation. When buying a tent, make sure there are ventilation openings through which fresh air can get inside.
Tent can be ventilated more often by opening the doors and windows. In warm weather, the tent should be closed during the day. Because the cooled air contains less moisture in the evening, this is the best time to ventilate.
Hang wet or damp clothes and towels outside. If this is not possible, pack wet things in a plastic bag so that the moisture cannot get into the tent. Cooking should also take place outside of the tent.
What alternatives to the 4-person tent are there?
It doesn't always have to be a 4-person tent. Alternatively, other tent variants and types also offer enough space for best friends or the whole family camping trip.
We are now going to present some of these alternatives to you in more detail.
House tents: They are a little more complex to set up, but it is worth the effort. House tent offers enough space for friends or family. It also gives everyone the opportunity to withdraw or to spend time together. You can also choose from different designs and sizes.
Family tents: With the family tent, you can also choose a large version that can accommodate the whole family of 4 to 7 or more people. In addition to separate sleeping places in the tunnel tent, there is also a room to spend time together.
5 person tents: Depending on the design and manufacturer of the tent, it may be appropriate to use a 5-person tent rather than a 4-person tent, especially if you are traveling with a lot of luggage. Some four person tents are tight and have space for luggage. With a 5-person tent, you are on the safe side.
Which tent is easy to pitch?
The easiest way is to set up pop-up tents or throw tents, as they are only thrown into the air and virtually set up by themselves. The other types of tents must be set up by yourself.
However, many expert manufacturers already offer systems to set up the tent in the shortest possible time and with just a few simple steps.
How much does a good 4 person tent cost?
As mentioned before, among all the many tents there are cheap and expensive four-man tents. This is partly due to the fact that there are different types of tents, materials and processing methods.
The price range can be quite large, from 80 dollars to 700 dollars. The prices can also be an indication of the quality of the tent. On average, the prices for a 4 person tent on our list are around 150 dollars. The range for the products ranges from 100 to 200 dollars.
Conclusion
Families with children like to look again and again for new adventures with which they can surprise and entertain their little ones. All family members often get closer while camping and can relax together and cut off from stressful everyday life. It is guaranteed not to be boring when camping with four people because everyone can and must devote themselves to some tasks.
Hope this guide helped you find the best suitable model for your needs. If you have any questions, leave a comment below and we'll answer them.
We also have reviewed different camping and trekking tents according to their capacity: