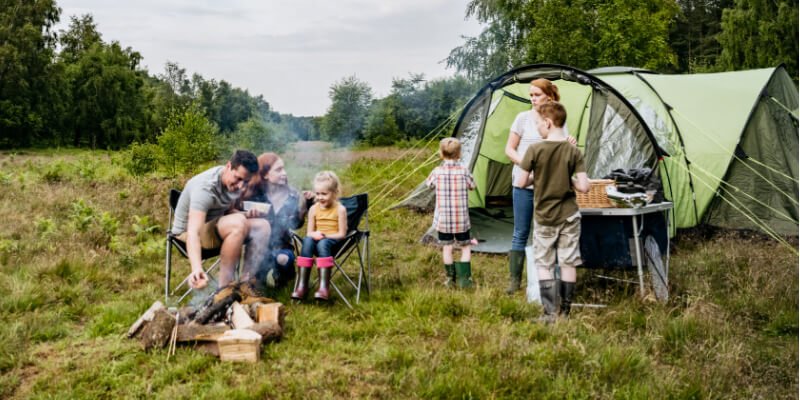 Camping is a great way to spend quality time with friends and family. As you know, a reliable tent is the centerpiece of any camping trip. If you are going on a trip with your family or a larger group of friends and want a little more comfort for members, you can consider choosing a 6 person tent.
We compared and tested more than 30 models from popular brands and considered the opinions of over 300 consumers. We have worked to prefer different types of six-person tents so that you have a better chance of finding the one that you really like.
Also, our buying guide will give you some constructive advice on how to choose the best 6 person tents at a reasonable cost.
Best 6 Person Tents for Camping in 2022
Here is our selection of the best 6-person tents for camping in 2022:
Fabrics: Polyester | Weight: 13.3 lbs. | Waterproof: Yes | Seasons: 3-Season | Dimension: 118.1″ × 118.1″ × 74.8″
Pros
Good ventilation
Convenient design
Lightweight and compact
Spacious and easy to set up
Stable and safe to use
Good value for the money
Cons
Cheaply made because of low price
Stakes are pretty much worthless
Pacific Pass dome tent will be perfect for regular campers because this model is even suitable in the rain. It is also one of the cheapest 6P tents that you can buy for less than $70. It can accumulate up to 6 people without stepping on each other.
While the dome shape of this tent may seem small at first, it was actually designed to maintain maximum ceiling height wherever you are.
In addition, the Pacific Pass tent offers a certain comfort that will prevent you from having to bend down regularly. It allows fitting 3 camp beds without a problem on the tent's surface.
The 1 large door and 2 windows provide proper ventilation during summer days and a pleasant panoramic view. You can also roll-up windows from the inside for better ventilation. However, they encourage the passage of cold air and the doors, which work like traditional doors.
The assembly will not be a problem even for beginners; 2-3 people should not take over 5 minutes. Its dimensions are 118.1″ × 118.1″ × 74.8″, and weighs 13.3 lbs. The package comes with a resistant transport bag made from practical polyester. You won't have trouble transporting it in a car.
With its 1200 mm water column and welded groundsheet, the Pacific Pass camping tent is reasonably waterproof to protect you from rain. Protection against mosquitoes and other insects is effective in itself. However, the hinged door that is difficult to close sometimes allows a few intruders to enter the premises.
---
Fabrics: 190T Polyester | Weight: 20 lbs. | Waterproof: Yes | Seasons: 3-Season | Dimension: 110″ x78.74″ x 47.24″
Pros
Water resistant and windproof
Quick and easy to set up
Heavy-duty and super sturdy
Good ventilation
Reasonable cost
Cons
Carrying bag could be more specious
No instruction
For typically less than $200, the EchoSmile 6-person tent offers as much comfort as you can expect at this price. It's a safe choice for family vacations, offering enough space and strength. Without being a top-of-the-range model, it is perfect for families who camp every summer and are looking for a solid and efficient tent.
Thanks to the presence of three 4 Mesh windows and 2 doors to provide optimal airflow for cross ventilation while keeping the bugs out. It has a spacious living room, although the head height of the bedrooms is not maintained over the entire surface.
The dimensions of the tent are 110″ x78.74″ x 47.24″ and a weight of 20 pounds in transport. The lightness-living space ratio is therefore at the top of the basket when it comes to tents. It is also easy to set up and take down.
The tent has good waterproofness which makes it usable on summer or rainy days. On the other hand, its fabric lets in daylight, which can tend to wake you up easily.
EchoSmile dome tent can withstand a wind of 50 km / h. This is a score that fits well with the use for which it was designed: family vacations, but it makes it a more uncertain option if you are considering a little rougher camping conditions, even occasionally.
---
Fabrics: Polyester | Weight: 32 lbs. | Waterproof: Yes | Seasons: 4-Season | Dimension: 132″ x108″ x 82″
Pros
Good tent for the price
Very comfortable head height
Separate floorless screen
Doors are excellent for airflow
Well ventilated
Thoughtful design
Solid construction
Cons
Included carrying bag pretty much narrow, hard to fold the tent
Zipper around the door can be difficult to zip up in the dark
While the dome shape of this tent is very attractive at first glance, the Coleman WeatherMaster was designed to maintain maximum ceiling height wherever you are. The product will be perfect for serious campers even in the rain. It is a great six person tent under 200 dollars.
However, the main advantage of the Coleman WeatherMaster is that it maintains almost the same head height wherever you are. It measures 11 x 9 feet with 6-foot 8-inch center height, so this tent offers a very large space. The total weighs 32 pounds.
The colors are present. It therefore comes with a transport bag that is weather-resistant and practical polyester. You will have no trouble transporting it in a car.
The tent with a 9 x 6 feet screen room is superb for six people. The 2 doors and angle windows give you a pleasant panoramic view in summer. The practical mesh pocket allows you to keep what you need close at hand.
Coleman WeatherMaster tent is reasonably waterproof and will protect you well from the rain. We used it for 3 weeks without any problems even in the rain. It is sturdy with a predominantly polyester construction.
The assembly and disassembly are also very fast once you understand the system. However, the instructions are not illustrated with exemplary clarity.
---
Fabrics: 185T Polyester | Weight: 23 lbs | Waterproof: Yes | Seasons: 4-Season | Dimension: 120" x 96" x 76"
Pros
Attractive price
Smart and simple design
Waterproof & windproof
Spacious for 6 people
Different colors available
Easy setup and portable
Cons
Not designed for cold weather camping
Acquiring a tent of correct quality for less than $150 is possible thanks to HIKERGARDEN. It is addressed to families who have occasional use of the campsite. It was first and foremost designed as a sleeping tent for short vacations.
HIKERGARDEN camping tent has 1 large mesh door and 4 mesh windows, which enables fresh air and warm breeze to come in and out easily. It allows the breeze to come in and perfectly keeps bugs away. At night, no water droplets condense either because it is truly waterproof.
The conventional design allows this tent to offer a living space in the center with a pleasant head height, which is very low in the side cabins. The HIKERGARDEN is indeed a good quality product, without being able to claim the same strength as the more expensive models.
The overall dimensions are 120" x 96" x 76" inches with a weight of 23 pounds. It is therefore still quite spacious, you can fit more than 6 if you really need it. It is also one of the rather light tents and is easy to transport because it comes in a suitable and really practical bag.
The poles are steel and strong if you handle them with the minimum of care you want. The assembly is very simple. However, the instructions are not clear. If this is your first time pitching a tent with this model, seek help and advice from someone more experienced.
---
Fabrics: Polyester | Weight: 13.4 lbs. | Waterproof: Yes | Seasons: 4-Season | Dimension: 132" x 84" x 72"
Pros
Durable
High-quality material
Easy set up and take down
Fits back in the bag easily
Thick floor material
Very roomy tent
1 year warranty
Cons
Not fire resistant
Only windows on 3 sides so it has poor airflow
The breathable dome tent from the CAMPROS brand is ideal for a family of 6 wishing to go camping. This is a tent with a spacious living room (77 sq ft). It has enough space for 1 queen air mattress or 6 sleeping bags.
This is notably equipped with 1 large mesh door, 4 mesh windows & mesh tent top, which allow the breeze to come in and keep the bugs out. You will have good ventilation and limited condensation thanks to the ventilated flysheet on the living room.
A high ventilation hatch is located outside the 2 chambers and a low hatch is inside. There is also a hook to hang a light or keys. It is ideal for outdoor camping, hiking and fishing in all weather.
CAMPROS camping tent is easy to set up. You don't need any particular skills. 2 people can easily set up within 5 minutes. This is also a tent impervious to tropical rain of 1000mm. It will stay completely dry under the light rain. However, in heavy rain, it might lose performance.
The included carrying bag is super quality, you can use it as a sleeping bag. You can restore the tent in the carry bag easily. Additionally, the package includes stainless stakes, guy line rope for protection.
Thanks to the lightweight design, it is only 13.4 lbs. It is sold in the form of folding structure. To ensure quality, CAMPROS offers 1-year quality assurance. Overall, it could be a good tent if you don't camp much and decent sized and cheap.
---
Fabrics: 190T Polyester | Weight: 11.68 lbs. | Waterproof: Yes | Seasons: Summer | Dimension: 150" x 106" x 55.5"
Pros
Quick and easy setup
Unique Double Layer Construction
Super spacious and deploys like magic
Excellent ventilation
Stay dry all season
Very lightweight
Cons
Very small vent on the side
No option to remove the rain fly
Not designed for cold weather
Here is a large tent that is quick to set up! And with a beautiful sleeping area of ​​150 x 106 x 55.5 inches, you can hang out with your family or your friends. The package comes with its carrying bag. This instant tent fits easily in your car or backpack if you take it for a hike.
We must therefore expect some good things such as the availability of waterproofing (index: 3000MM-4000MM) in the event of heavy rain or a relatively fragile canvas. Moreover, we recommend that you apply a little waterproofing before using it.
It has a large mesh window on both left and right sides, which allows hot air to escape while keeping the bugs out. The ground vents also offer additional ventilation to keep cool in summer evenings.
Also, due to the double-layer construction, HUI LINGYANG instant 6-person tent can stand up to cold weather and hold up very well in windy conditions.
We highly recommend this model for those who are not regular campers. To go away for a few days on a small budget, use the tent before returning it to the garage, it does the trick. However, if you are a more active camper or are in an area with difficult weather conditions, it is not safe enough.
---
Fabrics: 210T Ripstop | Weight: 17.85 lbs. | Waterproof: Yes | Seasons: 3 Season | Dimension: 110" x 118" x 73"
Pros
Spacious room
Very easy to pop up and install
Waterproof and sturdy
Optimized ventilation
Large tent porch
2-year warranty
Cons
Stakes could be better
It is not warm enough for temperatures below 10 degrees C
For less than $150, KAZOO offers a tent that has the particularity of being above all designed to take advantage of the available space and allow everyone to feel at ease. Although this model is a little more expensive than other models on this list, it offers a feeling of superior comfort.
It is easy to move the first time around. It is one of the few tents on our list that you will have had easy setup with two people, and assembly time less than 10 minutes.
This is a lightweight tent that is easy to transport, which is rare when the space is well organized. The weight-to-space ratio is a real advantage of this product. A zippered bag also comes with the purchase.
In terms of space, the total living area dimensions are 110" x 118" x 73". Without it being much more than other models, the design of this tent gives an impression of greater freedom of movement and organization.
KAZOO family tent comes from a well-maintained head height over the tent surface, which reaches up to 2.05m. You won't feel overwhelmed at all either in the living room or in the bedrooms, where other tents make much less use of the available space and force you to bend down a lot to move around.
---
Fabrics: 68D 190T Polyester | Weight: 14.3 lbs. | Waterproof: Yes | Seasons: 3 Season | Dimension: 161.42″ x 82.68″ x 55.12″
Pros
Spacious and comfortable
Durable and good ventilation
Special hub system design
1-year warranty
Cheap price
Cons
Not tall enough to stand up
Mobihome tent is suitable for Spring, Summer and Fall, which is truly enjoyable to live in. The price is pretty much cheap, and easy set-up may put off families who just want a tent to camp very occasionally. You just don't want to over-tighten the strings.
The tent is resistant and waterproof. A family or a group of friends who camp in all seasons can purchase it. It is compact and portable, you can carry it easily in your hiking backpack.
Mobihome family camping tent is made of 190T polyester, which is sturdy and watertight. It has breathable micro-mesh roofs & 3 windows & door with rainfly for excellent ventilation. This model is designed to accommodate up to 6 people and their camping gear and is well protected against insects and other external factors.
It is justified if what you are looking for above all is the feeling of living in a space where everyone can breathe and move freely. The package includes everything you need to set up this tent. The manufacturer also offers 1 year warranty.
However, although it is strong enough to withstand severe weather, it is not suitable for really extreme conditions such as heavy rain or wind.
---
Fabrics: 185T Polyester | Weight: 20 lbs. | Waterproof: Yes | Seasons: 3 Season | Dimension: 120" x 108" x 70"
Pros
Large interior
Weatherproof
Innovative low-vent design
Good visibility and ventilation
Solid steel poles
Cons
Door and zipper are poorly designed
The rectangular shape of the UNP tent allows it to accommodate 6 people easily while providing enough space for everyone. The product stands out above all for its quality. It is designed for people with a budget of around 150 dollars.
UNP tent has no room for error. Without any particular originality, it must stand out in terms of raw quality to be worth such a price. It features a traditional yet strong polyester design that will meet the needs of the most adventure-seeking campers.
The groundsheet attached to the tent over the entire surface is very useful and allows bags to be placed on the ground in the "room" without risk. The floor mats for both the bedroom and the entrance are sewn to allow you to arrange your belongings inside the tent without any unpleasant surprises.
The dimensions of the set are 120" x 108" x 70". The living area is large enough and the rectangular structure can accommodate two rooms separated by a curtain or a single very large room for all, depending on your preference.
With a weight of 20 pounds, it is fairly easy to transport. This shape also allows good head height maintenance over the entire surface of the tent. It is expected to last for many years.
---
Fabrics: Polyguard fabric | Weight: 19.01 lbs. | Waterproof: Yes | Seasons: 3 Season | Dimension: 120" x 108"
Pros
Sense of space for six people
Security and easy to assemble
Included tent stakes and poles are good
Pack up with ease
Screen room
Cozy
Cons
Not tall enough
Floor material is heavier than the walls
The last model from our list of the top 10 best six-person tents is the Coleman Steel Creek. This dome tent features a separate screen room, which offers a comfortable place to lounge while sealing out bugs, debris, and other nuisances. Due to its weight and dimensions, it is very comfortable and convenient to transport and store.
It is made of durable Polyguard fabric and strong frame, designed to last season after season. It withstands bad weather and wind well and protects properly from insects. This model is also equipped with side storm doors fitted with mosquito nets which are rather practical.
The Coleman Steel Creek is one of the most comfortable 6-person tents in the market. It is completely waterproof, with high-quality stitching. Because the welding-inspired technology strengthens and eliminates needle holes.
The assembly is carried out in a conventional manner. If you are used to camping, you will be able to set up and take down the tent very quickly. Even beginners shouldn't take much more than 10 minutes if they follow the assembly directions.
It has two mesh windows in the front and one on each side. However, there's no window to zip up. Also, keep in mind that this model is basically designed to run with the rain fly on it all the time.
---
How to choose the best 6 person tent
Since the main job of a tent is to provide shelter while camping or hiking, you need to get a model made of high-quality materials (both body and frame). Also, make sure that the floor space is large enough, and the height is sufficient.
While these are probably the most important points to consider, there are many more features that you take a look at to find the best 6-person tent.
Available space
There is no doubt that all of these tents are quite spacious. However, it is necessary to think carefully about the arrangement of the beds, and the possibility of placing air mattresses or camp beds.
When the manufacturers claim that these tents can accommodate six people, they think of people of average height. Plus, while six of you can comfortably set up in a tent, there won't be a lot of extra space between you and your camping gear.
If you want the tent to be more comfortable, we'll say a six-person tent is a perfect size for a family of four. Most of them can accommodate two Queen size mattresses inside, and you will still have room for a small table and space to put your backpack and clothes.
We would also like to point out that the floor space is only partially usable, especially if the walls are steep. So always plan properly before ordering.
Tent height
The height is directly related to the usable space. As these are larger tents, they typically have a center height of 6 feet or more. However, some models' heights can be reached up to 7 feet.
If you have an average height, most 6-person tents or 8-person tents will be tall enough to move around freely. If you are taller, then pay attention to the height specifications.
We have listed the height of the tents under each product so that you can find the right one for you.
The cabin-type tents have almost vertical walls so you can walk through the entire tent. Dome tents on the other hand have curved walls and offer fewer possibilities for land use.
Freestanding or not
A freestanding tent comes with its own set of tent poles that hold the tent in an upright position. They are located outside, so you can freely lift and move them.
On the other hand, a non-freestanding tent must be pitched and secured to the ground with stakes. The support structure is located inside, and you need to spread out the tent and pitch it so that it will stand upright.
While freestanding tents can be staked, it is necessary to use stakes for non-freestanding tents, which cannot be moved. Besides these design differences, there are also differences in performance and ease of use.
A freestanding tent is much faster and easier to pitch. Because the stakes are usually color-coded and linked together, which makes setting up very easy.
In contrast, this type of tent is more vulnerable to wind and weather while non-freestanding tents often perform better in strong winds and heavy rain. However, pitch it properly, which takes a lot more time and effort than the freestanding tent, especially if you don't have a lot of experience.
From our point of view, it is much easier to go in a freestanding tent.
Ventilation
It is very important that air circulates through the tent properly regardless of what type of tent you purchase. Good ventilation also makes the tent more pleasant and reduces condensation inside.
During the night, the temperature difference between the inside and the outside of the tent becomes greater, so the humidity of the air inside the tent condenses on the cooler walls of the tent. As you can probably guess, it's not very pleasant to see your things wet in the morning.
We recommend you choose a tent with large windows & doors and prefer a large mesh panel on the ceiling. This is an even greater advantage if the tent is equipped with additional vents at ground level. This allows air to circulate freely and water vapor to escape instead of condensing.
The breeze also helps keep the tent cool, but if you are still too hot, you should consider getting a tent fan or air conditioner.
Design and type
All the tents we have featured are either dome or cabin shaped as these are probably the most practical for casual camping.
As we are going to focus on dome and cabin tents, you can read our article on the different types of tents if you want to know more about the other types.
Dome-shaped tents are easy to pitch and provide excellent weather protection. However, due to their steeper walls, they offer less room to move around than tent cabins. In contrast, tent cabins generally offer more comfort thanks to their vertical walls but are more vulnerable to strong winds.
In terms of design, the first things you need to look at are the windows and doors. A tent has more than one door is a big plus, as you can get in and out without stepping on the sleeping person.
In addition, some tents come with mosquito nets on the windows, which allows you to leave the window open and not worry about the entry of insects.
You should also think about how many poles are in the tent design and how they are connected to each other. It is very useful that the posts are color-coded and have clips so that you can match them quickly. Because you can go in and out without stepping on the sleeping person.
Additional features
The best 6 people camping tent will come with many additional features that will make using the tent easier and more comfortable while camping.
Many of the models we reviewed come with mesh pockets on the walls, so you can keep the small items you need close at hand, like a camping knife or flashlight. Equipment lofts usually have hooks in the middle, designed to secure a lantern and light up your tent.
Even though the lanterns are battery operated, it is a benefit if the tent is equipped with an electronic zippered port, which allows you to run an extension cord and have electricity in the tent.
Some models also come with vestibules, which are covered extensions in front of the door where you can store your gear.
To elevate it to a higher level, some camping tents are fitted with a real canvas room that not only serves as a vestibule but can also be used for lounging.
Equipment materials
The materials used are directly responsible for the performance and durability of your new tent. The body is usually made of canvas (more common in the past) or some type of synthetic material such as nylon and polyester.
While the canvas is very strong and offers excellent protection, it is also quite heavy. Synthetics on the other hand are much lighter and work great. Rip-stop nylon provides excellent durability, while polyester often offers some UV protection and is fire resistant.
As the poles are an essential part of your tent's structure, you shouldn't neglect them. They are usually made of fiberglass, aluminum or steel.
Fiberglass is the lightest but cannot be repaired when damaged.
The aluminum is in the area of ​​the gold curls, slightly heavier but still quite light and quite strong.
Steel poles are the heaviest, but you don't have to worry about them bending or breaking in strong wind.
The last thing we want to talk about is the floor. It is normally made of materials stronger than walls, as it should not be punctured or torn by anything sharp underneath.
Some products even have fully welded polyethylene floors, which is great in terms of durability. However, always place a tent imprint under your tent if you want to protect it.
Weather resistance
Weather won't always be good and you will most likely be caught in a surprise downpour at one point or another. That is why you need to think about how your tent is going to behave in wet and windy conditions.
If you are camping in an area known for its sudden weather changes, it becomes even more important. Logically, the tent is your main protection against rain.
Depending on the model, the flysheet covers a larger or smaller part of the tent. The roof is always covered, but sometimes the walls are too.
The flysheet must be completely waterproof and not allow water to pass through. The seams of the tent must be perfectly sealed to prevent water from seeping inside.
As you will see, the wind is also a big factor, especially if you are camping in an open area with little tree protection. If you're expecting strong winds, a dome tent is a much better choice because of its small area.
Weight and portability
Considering the capacity of these tents, one cannot expect them to be as light as feathers. Nonetheless, there are significant weight differences between them, ranging from around 15 pounds to over 70 pounds.
Some models may be too heavy for one person, so consider how far you will need to travel to carry the tent. If you go with your car and you can park right next to the campsite, that won't be a problem. On the other hand, if you have to walk to the campsite, consider buying a lighter tent.
For portability, don't forget to check the size of the tent, as it should be able to fit easily in the trunk of your car. It is good when a tent comes in a good carrying bag with handles,
Season
As you browsed through the different types of tents, you've probably noticed that some of them are labeled as 3 and 4-season tents. What does this mean exactly?
A 3-season tent is designed to withstand stronger rains and winds, to a level that you can't expect from a 1-2-season tent. Although we haven't presented them as they're not really intended for large group camping.
There are also 4-season tents. They are tough and able to withstand snow while keeping you warm and dry. This is just one of the many differences between 4-season and 3-season tents. You won't need a winter tent, but it's always good to know.
The downside to these "multi-season" tents is that they are heavy and have less ventilation, resulting in more condensation and making it uncomfortable to stay indoors in hot weather. If you are a summer camper and want as much comfort as possible, a breathable 1-2 season tent will do the trick.
Ease of installation
Once you reach the campsite, no one wants to spend a few hours setting up the tent. The best tent for 6 people or any other for that matter is one that can be fully pitched in 10-20 minutes. If you are an experienced camper or have someone to help you, the process can go even faster.
As we have already mentioned, there are some design features that can help you significantly during installation. The poles with the shock ropes are already pre-connected, and the color code tells you which part of the tent goes where.
Manufacturers continually strive to make things easier, so it is quite easy to pitch the tent even if you don't have a lot of experience.
FAQs
How big should a 6 person tent be?
Six person tents have an average sleeping area of ​​100 square feet. As we have seen, this is enough to accommodate 6 people of average height without leaving a lot of free space. Even the 6 person tents won't give you a lot of extra space, so they will be more comfortable for 4 people.
If your group is larger and you need more space, we recommend you look at the 8-10 person tents. On the other hand, if there are only two or three of you, a smaller tent, such as a four-person tent, will be more useful.
How to clean and store a 6 person tent?
Before packing the tent, be sure to remove all dirt and debris both inside and out. If the tent is dirty, you can wipe it with a damp cloth to remove the stains. However, always make sure it is completely dry before storing it, otherwise mold and unpleasant odors will develop.
If you maintain it properly, a good tent will last for many years. If you need a more in-depth guide, check out our articles on cleaning and storing tents.
Are 6 person tents heavy?
The weight varies considerably from tent to tent. Some models are light enough to carry on your own while others are quite heavy and you will need help.
On average, six person tents are significantly heavier than small tents that design for 2 or 4 people. This is why you should not buy a tent of this type for long hikes and excursions.
How can you set up a 6 man tent?
It all depends on the type of tent. However, you should make sure that it is as simple as possible to set up.
Pop-up tents pop open by themselves as soon as the bracket is released and then have to be secured in the ground.
Inflatable tents are conveniently set up with the help of an air pump and are set up within a few minutes.
For the construction of classic tents, tent poles are passed through the loops provided and then put under tension, which gives the tent its shape.
How big is a 6 person tent?
The area of ​​a tent provides information about how big the tent actually is. Therefore, different models should be compared with each other when buying. You should check whether tent apses and a canopy are included in the information from the respective brand. The number of existing sleeping cabins and a possible lounge also provided information about the actual size.
How much does a 6 person tent weigh?
Most family tents for 6 people weigh in quite a bit. The lighter models weigh around 10-30 pounds, while the larger models often contain more tent poles and fabric and are therefore significantly heavier. They can weigh up to 40 pounds.
How many cabins does a 6 person tent have?
There are different models and designs of 6 person tents. Most manufacturers integrate 2 cabins into the tent. Larger models are also designed with 3 cabins.
The verdict
For those who love to take holidays surrounded by nature, it is important to have a tent that allows them to stay comfortably and be able to take all their family or friends with them.
Now you have all the information to discover which are the best 6-person camping tents of 2022 and you are sure to find one that suits your needs!
If you have any questions or need some additional advice on buying a tent, feel free to contact us or leave a comment in the section below.
We also have reviewed: