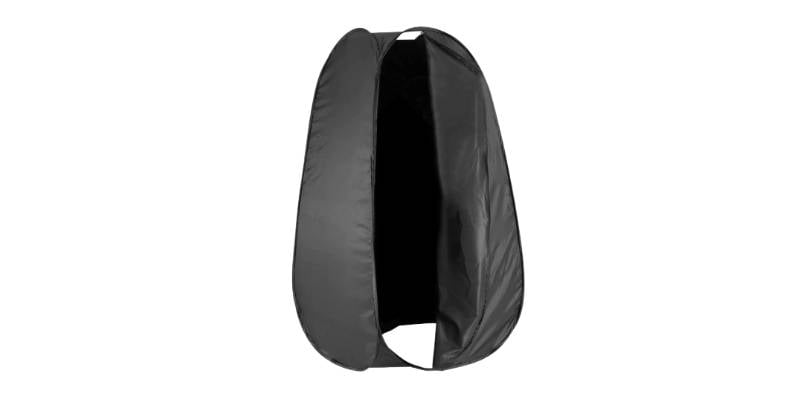 A portable changing tent is worthwhile if you want to change quickly but there is no cubicle within reach – for example at a photo shoot on an industrial site.
We put such a changing tent to the test for you today. The mobile changing room from Neewer. In particular, we look at the advantages and disadvantages of the portable cabin and tell you when it's worth buying.
Neewer changing room tent is also suitable for camping, for example as a toilet or shower tent. However, there are better models on the market. We explain in detail why this is so.
On the beach, on a day trip with the family, after sports, or for photo shoots – the areas of application of the Neewer standing tent are diverse.
Neewer Changing Room Tent Review
Neewer Changing Tent: Who Is It for?
Neewer Changing Tent is unsurprisingly primarily designed for hassle-free changing in public or when the situation calls for a little privacy. In this respect, it is worthwhile for photographers for example to give their models an appropriate opportunity to change outfits during shootings.
The Neewer cuts a particularly good figure as a mobile changing room. On the one hand, the tent fabric is completely opaque and so dark that we can change it undisturbed. Curious looks don't stand a chance.
In principle, Neewer changing tent can also be used for camping – as a shower tent or toilet tent. With the popular portable toilet Thetford 92820 Porta Potti for example, we have enough space in the Neewer toilet tent. This universal tent measures 90 x 90 x 187 cm.
However, this model does not have guy ropes or tent pegs on board, nor does it come with empty sandbags that we could fill such as with the Green Elephant shower tent that we already tested.
In this respect, with the Neewer changing tent, we are dependent on creating stability differently. At least the manufacturer has attached larger pockets on the underside for securing some heavy objects such as stones.
Once loaded with sand, gravel, stones or other objects, these serve as wind protection and generally as security when we set up the tent outside. In case of doubt, we have to use "the environment" and get a few heavy stones. Depending on the installation location, this can sometimes not be that easy.
If you only have light luggage with you and can't find any stones, you won't be able to stabilize the changing tent properly. We don't like that point!
Neewer pop-up shower tent is also ideal for the beach, day trips, or changing clothes after outdoor sports. This is especially true as it is significantly lighter than other models.
It weighs just 2kg. We particularly like the fact that we can also operate the zipper from the inside without any problems. And the door also closes cleanly.
Festivalgoers can also use this model as a storage tent. However, it does not have a groundsheet – so better not to store open supplies and food there.
As we said – if you want to use the Neewer as a shower or toilet tent, you can do so. A mesh floor through which the water can drain makes sense for shower tents. Unfortunately, this is missing here.
Pros and Cons of the Neewer PCP Changing Tent
Pros:
Particularly low weight: only 1.9 kg
Good standing height: 187 cm
Setup in a minute
Non-bottom Design
Pockets on the bottom for stabilization with heavy objects
Good value for the money
Cons:
Groundsheet desirable
No guy lines and pegs
Assembly and Disassembly
Neewer changing tent can be set up in less than a minute. You can easily assemble and disassemble it without any particular experience. After we have freed the mobile changing room from the carrying bag, the tent unfolds by itself in the same way as conventional pop-up tents.
Now all we have to do is hold it by the top – that's the narrower side – and pull it outwards at the top. Now it should be fully open.
If the environment allows it, we can now grab some sand, gravel, or loose stones and fill them in the bags provided at the bottom. This gives the Neewer dressing room the necessary stability. This is absolutely necessary, especially when it is windy.
If you prefer a model with guy ropes and pegs, you can use the Lumaland or WolfWise shower and changing tent. The Green Elephant even has sandbags that we can fill and is ideal for beach holidays.
Weight and Mobility
Fortunately, Neewer changing tent in the carrying bag measures only 58 x 58 x 4 cm, which corresponds to a volume of around 13 liters. The standing tent does not require a lot of storage space.
The vast majority of shower/ toilet/changing tents weigh around 5 kg – the Neewer only weighs 1.9 kg. We therefore expressly recommend it for people who only want to travel light.
With a little practice, the portable cabin fits into the polyester bag after dismantling. Even in the smallest trunk, there is always a place for the Neewer. Thanks to the slim pack size, transporting on the bicycle luggage rack is also conceivable – for example for a family trip to the bathing lake.
Conclusion
Neewer changing tent has two key advantages. it is much cheaper to buy than standing tents, which are explicitly intended as shower or toilet tents. These models simply have more extras that increase the price. On the other hand, it is particularly light and compact. Anyone who relies on mobility has little space or uses the standing tent for hiking and cycling is well served with Neewer changing tent.
That's why this model lacks a tent floor, which would be interesting for showering or storing supplies. The Neewer is primarily intended for changing clothes – you should consider that. As already mentioned, securing with stones in the bags provided on the underside is not as convincing as bracing with ropes and pegs.
If you are looking for a standing tent for frequent outdoor use and you want it to be particularly wind-stable (e.g. for the coast), you should go for the Green Elephant. The Green Elephant, which we have already presented, offers four sandbags, which are already included in the scope of delivery. In addition, guy ropes and pegs also come with the package. The security of this model is particularly successful.