Parents or grandparents, you are certainly wondering when you will be able to take the kids on a hike. As we have seen, their third year seems to be the best age to start hiking. But then, how to go about it when their physical constitution is still fragile?
We will see that everything goes through adaptation to their rhythm both in speed and distance. But not only that, you also have to know how to combine walking and pleasure. To do this, we will discuss some proven tips!
Ready to pass on your passion for hiking with kids?
Rhythm Management
This seems obvious but it is good to remember: a child does not have the same walking pace as an adult. While an adult knows how to find his rhythm and keep it during a walk, a kid will be much more irregular. It is not uncommon to see them accelerate for no reason and then slow down a little further.
Under these conditions, it is absolutely necessary for an adult to take the lead in order to set the pace. He is a bit of the necessary hare during a greyhound race! Seeing his parents or at least an adult advancing at a consistent pace, the child will copy without even realizing it.
It is then important to find this famous rhythm that is not too fast so the kids can keep up.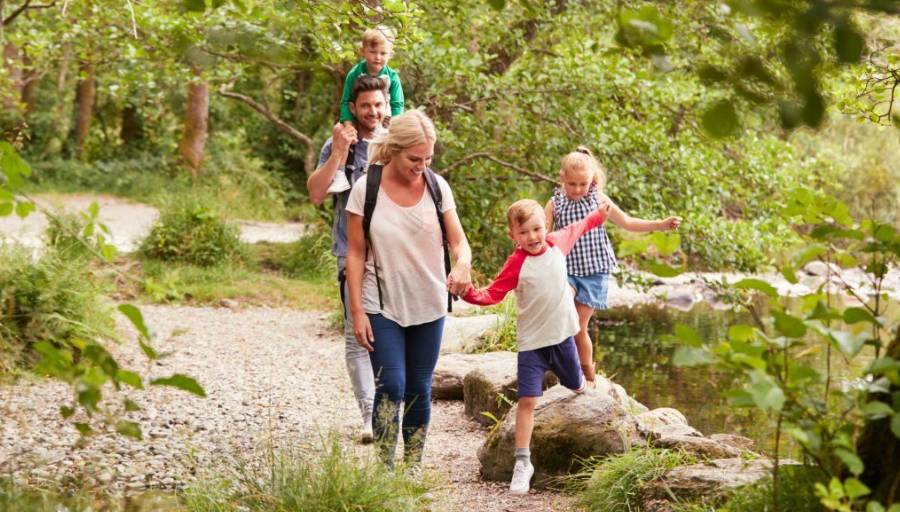 Adapt the Distance
After the pace of walking, you should plan a certain distance to walk depending on the age of the kids. To make your choice easier, here are some accepted data according to age:
Under 3 years old: children can only cover a few hundred meters on uneven ground. At this age, the muscles are still tender and the bones are close to cartilage. Don't go for distances of several kilometers because your kids will never be able to follow you!
From 3 to 6 years old: at this age, kids begin to like the notion of walking and like to frolic in nature as well as in the city. By taking the necessary number of breaks, 5-year-old kids are quite capable of walking for 2 hours at a slow pace of around 2 km/h.
From 6 to 10 years old: Half-day hikes with a stopover in a refuge or campground become possible if your kids are used to walking. The notions of unevenness and steep terrain can also be understood at this age since the bones and muscles are quite developed.
10 years and over: the kids have the physical faculties to carry out day hikes at a pace of around 3 km/h, which remains close to the average pace of long hikes (4 km/h on flat ground). The landscapes crossed can be as varied as the walks for adults!
Kids' Protection in the Context of Hiking
Kids do not yet have adult bodies. In other words, their bodies handle temperature extremes and changes in altitude differently. Also, they experience fatigue caused by walking differently. Focus on the notions of child safety in the context of hiking.
Weather Protection
Still in the process of being formed, kids' bodies are more sensitive than adults' and must be protected accordingly! Summer hikes are prone to heatstroke and sunburn. Then think of sunscreen on all bare body parts, sunglasses, and a cap to avoid heat stroke!
In winter, even when the sun is shining, temperatures can drop quickly. Above all, you must not neglect the loss of body heat that children can experience in the context of hiking.
Remember that at their age, they are not used to being outside when the temperatures are cold. As for you, the notion of the 3 layers of clothing is then a basis to review! Also, their age does not allow them to miss foot blisters. Take a look at our article which will tell you how to avoid foot blisters or how to treat them when your child develops them.
Equip It Like a Big One
You have certainly already had the trick during one of your hikes with your kids: they always want to do like you! This is called mimicry: the kid grows and improves his knowledge by copying the adults he meets.
In the context of hiking, it's exactly the same thing and it's not a problem! It's even a very good idea to equip him like the grown-ups by giving him a junior hiking backpack. He can put his water bottle and biscuits in it. It will give him confidence.
To improve his safety when walking, hiking shoes for kids are essential. If kids wish or if you are going for a walk on uneven ground, kids' hiking poles are also a good idea!
Combine Walking and Pleasure
Knowing how to combine hiking and fun is quite easy for us adults, but it is far from easy for kids. They may find it monotonous even though the scenery is varied and may also get bored after a few minutes of walking. Fortunately, several simple tips put in place can generate real pleasure for children in the context of hiking.
Draw in Their Interests
At any age, a kid develops an interest or a real passion for specific themes. It can be animals, flowers or stones. It doesn't matter, but you will be able to draw inspiration from his passions to brighten up his hikes. Do your kids love birds? Strolls by the sea or in the mountains are an opportunity to see some endemic or rare species!
Does he/she have a passion for animals? Walks in the countryside are a golden opportunity to come across a multitude of farm and sometimes wild animals. In short, you have understood the principle! Using his passions makes him want to continue hiking to discover new treasures.
Some Ideas for Discovery Walks
Don't choose your next family hike at random! Take advantage of what we have just talked about to find the route that will delight him/her the most. Then think of the itineraries steeped in history where you will come across castles, mansions or old mills. Also, think of the paths where you have to cross river fords, the kids love it.
Also, take trails that will make his imagination very fertile or choose routes known to be crossed by many animals. Tired kids can then climb on their backs since they can carry up to 30 kg! But that's not all: donkeys walk slowly, 3 km/h on average, the equivalent of a 10-year-old kids' pace! This is a golden opportunity to mix animal awareness and adventure.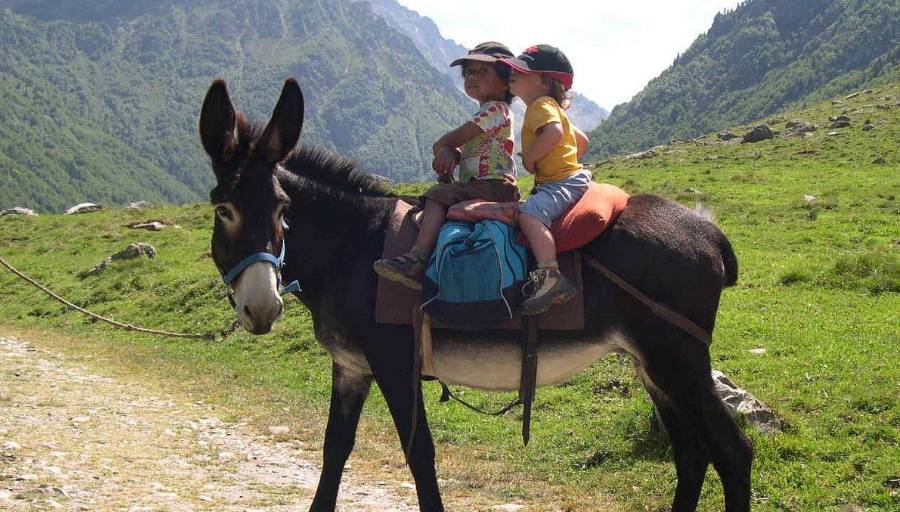 Multiply the Breaks
Kids very often have a drop in concentration because their attention is drawn to the smallest details. Walking for an hour without stopping can quickly become tiresome for them. But this is not inevitable! Use these breaks wisely by scheduling a visit at this time.
Do you hike in summer near waterways? Schedule swimming breaks that children, young and old, love. During a day hike, do not hesitate to organize a picnic for lunch to enjoy a moment of relaxation but also a moment with the family. This will allow your kids to recharge their bodies.
Hiking with Kids: FAQs
How old should my kids be before I take them on a hike?
It's never too early to introduce your kids to hiking! That's what baby carriers are for. If you want your kids to become hikers, the sooner you show them the beauty and grandeur of the natural world, the better. These days you see a lot of young parents carrying their babies and even toddlers on the trails.
As for walking alone, a lot depends on each kid's personality. You won't really know until you hit the trail if your kids are up to it, and a lot depends on the route you take. However, you can assume that most healthy kids over the age of three are able to walk on an easy trail.
Of course, it will not be a very pleasant hike for you, but that is not the question. You will have to wait at least ten years for this. In case he gets tired and refuses to continue, it's a good idea to take the kids' carrier with you for the first of your kid's solo hikes.
Should I buy special equipment for my kids?
Of course, but start slowly. A small gift, like a new water bottle or safety whistle, builds excitement for the upcoming hike and lets your kids enjoy it in anticipation. As they improve and become more interested in hiking, new gear will help them develop a desire to make hiking their own and get excited about a hobby that will last a lifetime.
While there is plenty of equipment specifically designed for kids, make sure that expensive equipment such as backpacks, sleeping bags, and tents will remain useful as your child grows.
How much should my kids wear?
Not much to start with. While allowing even very young kids to carry their own backpacks and supplies is a great way to get them involved in the hike, the worst thing you can do is weigh them down and tire them out. Add items and weight as they age and develop their hiking skills, but always choose the lighter side.
Also, let them ask you; don't force your kids to pack until they tell you they're ready.
The Verdict
Going on a hike with kids is not complex but requires organization in advance. As for adults, kids must be equipped with equipment adapted to their morphology: walking shoes, poles, protection against UV rays and the 3-layer system. You will also have to adapt the pace and the distance to be covered according to the age of the kids.
Don't forget that his still-forming body doesn't react the same way yours does! Then, you will have to make sure to combine pleasure and hiking so that your kids develop the same passion for walking as you. Use their interests and passions to imagine itineraries dotted with discoveries, observations, and moments of rest.
What if your next hike was with the family?