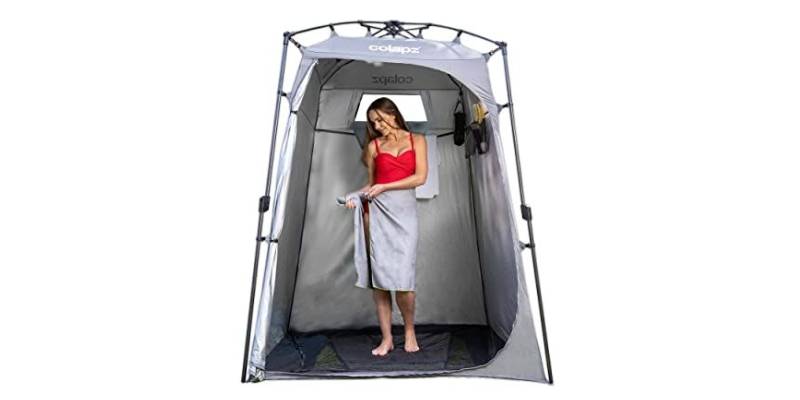 What to do if the public shower at the next campsite leaves something to be desired? In any case, the famous "cat wash" is not an option for us. It would be easier if we had a portable solution at hand – that's exactly what the Colapz camping shower tent does.
We can also use the Colapz model not only as a shower tent but also as a toilet tent or storage tent.
So today we are going to present the Colapz pop-up shower tent in detail and go into the most important advantages and disadvantages.
Who is the Colapz pop-up shower tent suitable for?
Colapz pop-up shower tent is suitable for campers who want to use their portable shower without much effort. Firstly, it takes about a minute to set up. Secondly, it offers a few interesting convenience features.
There are Velcro fasteners in the shower tent that hold the shower hose of the portable camping shower firmly in position. The shower head can also be fixed with a hook. The manufacturer points out that the Colapz camping shower is well suited for these functions (this is not included with the shower tent).
Image: Matching camping shower from Colapz
Are you one of those campers who are always heading for new, unfamiliar places? Do you visit many tent and camping sites that you do not know yet? Then the Colapz shower tent can serve as an "emergency solution".
It is conceivable, for example, that we spontaneously stop at a campsite that looks great, but in retrospect does not offer very convincing sanitary facilities. Here, too, a quickly erected shower tent can be ideal for avoiding these unpleasant experiences.
Are you a festival camper? Then you probably know the following scenarios: You camp with your tent group at some distance from the showers because the campsite was already well occupied when you arrived.
In this case, two things happen. First, you lose a lot of time on your "hike" to the public showers. Secondly, you'll almost certainly end up in a long line in front of the showers themselves. That's frustrating. On the other hand, you could save time with a shower tent, which you can use for a more extensive breakfast.
If you are one of those people who prefer to take a shower alone, the shower tent is a good alternative to the public shower. It could also be that you are free with your campervan but have no wet room on board. Colapz shower tent, which is ready for use in about a minute, is also worthwhile for this.
RECOMMEND TO READ:
Functions of the Colapz Shower Tent (Changing Tent, Toilet Tent, Storage Tent)
Shower Tent: Colapz Ensuite Shower Tent is a shower tent with a foldable floor mat with a mesh border. The water can drain off easily. Particularly suitable for tall campers as it has a ridge height of 210 cm. As a pop-up tent, it can be set up in around a minute.
Changing tent: The Colapz Ensuite is also ideal for changing while standing. With an area of ​​155 x 155 meters, it is wide enough so that we don't have to contort ourselves when changing. Also interesting as a changing tent: it has two storage compartments, a hook for clothes and a longer crossbar. We don't necessarily need the floor when moving – we can easily fold it up and stow it away.
As sun protection: Anyone who wants to set up sun protection in front of their camper or needs a weather-protected area when fishing can use the Colapz ensuite as a sun and rain shelter. Because of the wide base, an ordinary camping chair easily fits in. The cool box also finds a shady spot.
Storage tent: If you are at a festival, you need a storage place with a smaller tent in your luggage – mostly small tents have a rather limited vestibule. Colapz shower tent is well suited for this. Due to the good height, a camping cupboard will fit perfectly. The area is enough for several travel bags or crates of drinks.
Toilet tent: Depending on the travel destination, we don't always want to get to know the local toilets. Another reason can be the distance to the toilet – a toilet tent is much more comfortable. Those who travel with Porta Potti can set up Colapz toilet tent practically anywhere in no time at all – ideal for people with bladder weakness.
Pros and Cons of the Colapz Shower Tent
Pros:
Good standing height: 210 cm
Pop-up tent: Easy, quick setup
Wide door
Velcro fasteners for shower hose
2 storage compartments
Foldable floor mat with mesh border
Mesh cover on the ceiling
Ventilation opening in the ceiling area
Cons:
Slightly heavier than other models: weight 6 kg
Assembly and Disassembly
Thanks to the pop-up function, setting up and dismantling the Colapz shower tent is unproblematic and can be done in a minute without outside help.
To do this, we take the shower tent out of the polyester carrying bag and unfold it so that the legs are on the ground and the top is pointing upwards. We simply pull the tip of the tent upwards and fix it by snapping it into place.
After hooking into the frame, we secure the legs in the correct position and peg down the guy lines.
We do not recommend the supplied tent pegs because they are of rather poor quality, but rather sturdy pegs. If you want to know more about the shapes, materials and quality of pegs, take a look at our tent pegs guide with advantages and disadvantages.
Weight and Mobility
The pack size of the Ensuite Colapz shower tent is 105 x 17 x 17 cm. This means that the shower and toilet tent fits easily into any trunk of a car or camper.
The weight is higher than lighter models at 6 kg due to the robust steel poles – the WolfWise shower tent that we tested weighs only 2.1 kg! This means that Colapz shower tent is not a candidate for a hiking trip – it is a bit too bulky and heavy for that.
Conclusion
Colapz camping shower is suitable for this shower tent but is not included in the scope of delivery.
Colapz shower tent is interesting for people who like to attach their portable camping shower. In contrast to some other competing products, the Colapz model has a hook to attach the shower head and Velcro fasteners for the shower hose.
In addition, the shower floor is well done. It has mesh on the edge, so the water can drain off easily. At the same time, we can fold it up in no time at all. For example, we don't need a floor for indoor photo shoots if the standing tent is to be used as a changing room.
Those who are taller should consider the Colapz as a closer choice: the ridge height is generously dimensioned at 210 cm! Colapz shower tent is neatly finished and can be used for all sorts of camping purposes. If you can get over the slightly higher weight, you should grab it.