Whether you go on a camp, climb summits, or just a short hike, having a good tent is absolutely necessary. Buying a tent doesn't necessarily mean it is only suitable for some specific outdoor activities.
However, finding a high-quality tent that fits within your budget can sometimes be a challenge. If you're looking for the best tents under $100, you're in luck! In recent years, advancements in manufacturing techniques and materials have made it possible to find affordable tents that offer excellent value for the price.
In this guide, we will explore some of the best tents available for under $100. We will consider factors such as durability, ease of setup, weather resistance, size, and overall value for money. We also have attached a complete buyer's guide after the review section.
Best Tents Under $100 in 2023
Let's see the comparative analysis of the best tents under $100 at a glance…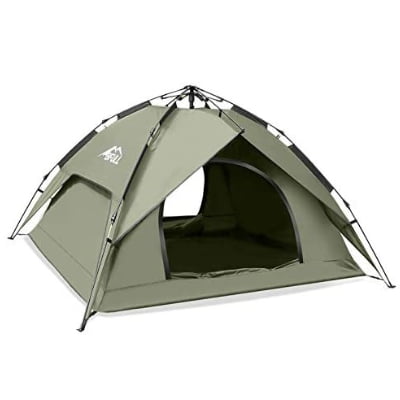 Specs:
Pole Material: Fiberglass
Fabric Material: 190T Polyester
Occupancy: 3-Person
Water Resistance: 5000 Millimeters
Total Weight: 7.5 Pounds
BFULL instant tent is built with Automatic Hydraulic System, which helps you set up this tent in less than one minute. It features a revolutionary design compared to the ordinary tent. With 41 inches of interior height, the overall space is 83×71. It is the perfect size for 2 or 3 people, even 4 kids fit in comfortably. You can also keep it inside the house for your kids to play in and don't need to use the steaks to hold it down.
It has sturdy poles that are pre-attached to the point. Its simple construction allows you to set up effortlessly, even a child can able to pitch this pop-up tent quickly. The package also comes with double-layer 210T fire retardant polyester flysheet which is waterproof and fully taped.
BFULL instant tent is very stable in difficult weather conditions because the fiberglass poles are combined with a wind-stable construction. It is also lightweight, only 7.4 lbs. You can easily carry and transport it. It can be detached. The outer tent can be used alone as a sun shelter.
In our opinion, BFULL 3-season instant tent could be a perfect choice under $100, for campers, hikers and travelers. There are 4 separate windows inside the tent. This model comes with stales to hammer into the ground.
Pros
Features upgraded Hydraulic System
Lightweight and solid construction
Stand up well even in heavy rain
Build-in detachable double layer
Best choice for the price
Cons
Not big enough to set up a double bed cot
Small windows
Doesn't come with rainfly
---
Specs:
Pole Material: Fiberglass
Fabric Material: 190T Polyester
Occupancy: 4-Person
Water Resistance: 2000 Millimeters
Total Weight: 10.8 Pounds
The MOON LENCE is a four-person tent with an unfolding dimension of 240 × 210 × 125 cm. The total weighs only 4.9kg; you can store it in the 83 × 18 × 18cm carrying bag. It is made in China but the overall quality is pretty good and there is no chemical odor inside the tent.
It's also pretty much breathable. Because inside the tent, there are 2 large doors and 2 ground vents to ensure better ventilation. MOON LENCE automatic tent is equipped with 10 lightweight Alloy Pegs and 4 Guy Ropes that ensure more stability. It is highly resistant to wind and more secure compared with others.
It is made of 190T PU material and the groundsheet is made of 210D Oxford fabric that confirms up to 2000mm water resistance with excellent UV resistance. The doors are equipped with high-quality SBS zippers that can be closed tightly. It is also very portable and easy to handle.
The pop-up Mechanism makes the tent simple to set up within 1 minute. MOON LENCE camping tent has plenty of room to store so many things, like a cooler box with drinks and snacks, laptop, smartwatches a couple of lanterns, etc.
There are also inside pockets to keep the smartphone and other small accessories like coffee mugs, insulated water bottle, and more. However, it is a 3-season tent; not designed for camping in the winter.
Pros
Perfectly designed for 4 people
Durable and lightweight
Breathable with excellent ventilation
Stable all-round protection
Cons
Designed for three-season
Thin fabric
---
Specs:
Pole Material: Aluminum
Fabric Material: Synthetic
Occupancy: 4/6-Person
Water Resistance: 5000 Millimeters
Total Weight: 10.24 Pounds
Coleman 4-person Dome camping tent built in dark room technology that blocks up to 90% of sunlight so that users can sleep in past sunrise. You can perfectly fit two large dogs and a queen-sized air mattress inside the tent. It could be a great camping tent under $100.
The corners are welded and inverted which keeps water from getting in. The package includes a rainfly for extra weather protection. The rain cover has 2 positions, summer and winter.
Although this is not an instant/pop-up tent, you can set up it without any inconvenience. However, you have to install the fiberglass poles across the top for support. There are hooks that snap onto the poles and the porch area is perfect for dogs and gear.
Coleman Dome Tent is made of strong and durable frame which withstands 35+ mph winds. And it features E-Port so that users can bring electrical power inside. It reduces heat greatly and gives comfortable rest at any time of day.
The overall dimension is 9 x 7 ft. Four-person will fit perfectly. It's very compact when put away and roomy when set up. It also comes with a carrying bag. To ensure quality ad durability Coleman offers 1-year warranty.
Pros
Looks nice inside and outside
Built-in dark room technology
Comes with 1-year warranty
Included rainfly and carrying bag
Simple and fast to pitch
Cons
A little bit heavy for backpacking
Doesn't include a tarp
---
Specs:
Pole Material: Aluminum
Fabric Material: Double Layer Polyester
Occupancy: 3/4-Person
Water Resistance: 100% Waterproof
Total Weight: Lightweight
Hewolf is a well-known brand established in 2010, their aim is to offer better outdoor products worldwide. In recent years, they updated their tent design, and now offer different types of tents and camping shelters according to the various customer's needs.
With this camping tent, you will get 8 stakes, 4 windproof ropes, and 1 packing bag; you don't need to buy anything extra to use this tent. Hewolf camping tent is also lightweight and could be a great option for different outdoor activities.
It is simple to set up; you don't need to spend a lot of time and effort to set up and take down. Hewolf tent is not only suitable for camping but is incredibly versatile that offers excellent protection from rain and wind. With a spacious interior, both walls are made of waterproof polyester. And double-layer wall and rainfly awning offer shade.
This tent uses high-quality double zipper that is convenient to open the door no matter whether get in or out. You can also easily remove the inner tent from the outer part.
This 4-Person Instant Tent is designed for people who pursue quick setup. The inside height is 4'4″. There are also different sizes available. It features with lock top which makes it more stable and can stand by itself. The package also includes a carrying bag that is suitable for indoor-outdoor backpacking.
Pros
Versatile tent
Easy to set up
Built with spacious interior
Windproof and waterproof
Portable and lightweight
Heavy Duty Double Zipper
Cons
Folding is a bit difficult for the first time
Thin floor
---
Specs:
Pole Material: Aluminum
Fabric Material: Taffeta
Occupancy: 1/2-Person
Water Resistance: 1200 Millimeters
Total Weight: 4.6 Pounds
TETON Sports Instant tent will make your camping trip much easier. If you pick this ultra-light tent, you will longer think about setup and camping location. It comes with a solid yellow tarp; you can clip it down and secure it around the whole tent piece.
This durable micro tent includes a standard waterproof rainfly that is fully extendable to the ground when using the cot. Its locking mechanism ensures that the pole system hub remains engaged when you use this tent. It's sturdy and can keep you dry under the pouring rain.
The materials used are very good. The pack-down dimensions are 25″ x 8″ x 5″ when you place the storage bag. And when fully set up, it will be 82″ x 39″ x 32″. It perfectly fits a very tall person and a dog and a camp pack with some room to spare.
The window design is beautiful, you can comfortably view the city lights and enjoy a full view of the Milky Way. It is a great compact hiking tent under $100.
You can be set up in an instant on the ground, not more than 2 minutes. Although it's lightweight, it will stay in place if there is wind. Overall, if you don't like a bulky tent to strap at the bottom, you will not regret buying this tent.
Pros
Two doors designed for two-person
Versatile
comfortable to carry
Stay dry and keep cool
Comes with a rainfly
Fast and easy setup
Cons
Included stakes are thin and weak
Floor is not the bathtub style
Side entrance zipper feels a bit flimsy
---
6. Best Backpacking Tent Under $100 – Gigatent BT024
Specs:
Pole Material: Fiberglass
Fabric Material: Polyester
Occupancy: 4-Person
Water Resistance: Waterproof
Total Weight: 6.5 Pounds
Gigatent BT024 camping tent is famous on the market because of its spacious design. You can set up this tent in less than two minutes. You also don't need to spend extra time packing this tent. It is suitable for novice outdoor enthusiasts.
The canvas is made of complete waterproof & UV resistant fabric that offers excellent weather protection against rain and UV rays. The size is 9×7 feet and any mattress fits perfectly that is smaller than this size perfectly fits.
It comes with a nice carry bag that makes this tent convenient to carry. The unique plastic buckle design also ensures carrying durability and ensures safety. It is an ideal pop-up tent under $100 to enjoy a wonderful camping trip or long excursion with the family.
It has Large arched double doors. They are easy for in-and-out. These multiple mesh windows also provide good ventilation and beautiful views.
Gigatent BT024 tent is also lightweight and the best choice for summer campers. With redesigned poles, it is built with strong and wind-responsive frame. The poles are standard fiberglass with aluminum inserts, but it is heavy-duty. However, it is a four-person tent but suitable for 2-3 people. Otherwise, the inside would be a little snug.
Pros
Easy setup
Very cheap price
Carrying bag included
Ping and ring system
Cons
Small
Not strong like most others
---
7. Best 4-Season Tent Under 100 – Toogh Hexagon
Specs:
Pole Material: Aluminum
Fabric Material: 210D Oxford fabric
Occupancy: 3-4 Person
Water Resistance: 3000 Millimeters
Total Weight: 13 Pounds
If you need a small family tent for less than 100, then the Toogh Hexagon could be an excellent choice. With six angle design, Toogh Hexagon tent is more stable in windy and rainy weather. It can accommodate at least 2 adults and 2 children perfectly.
A Queen or King-size air mattress will perfectly fit inside. You can also place 3 sleeping bags individually. This unit is designed for traveling, fishing, camping, mountaineering, and beach holiday. You don't need a footprint because the bottom has a reinforced section.
It is made of 210D Oxford fabric which is nicely silicone coating. The waterproof level of this tent is 3000mm. However, the floor waterproof level is 10000mm which is made of 210T. It is also super easy to set up and close. Each process only takes 60 seconds.
This is an ultralight tent. It has an extremely dense mosquito net to provide better ventilation and protects you against mosquito bites. It has 2 large doors, which ensure easy access. To ensure quality, Toogh offers 12-month guarantee.
However, it is a 3 season tent, but it will work in the rain or even snow if you are careful to keep it swept off. Additionally, the package includes 1 rainfly.
Pros
High-quality fabric
Unique and fantastic design
Six-angle design with dual door
12-month guarantee
Roomy for 2 people
Very comfy
---
8. Best Family Tent Under 100 – MOON LENCE
Specs:
Pole Material: Fiberglass
Fabric Material: 190T Polyester
Occupancy: 3-Person
Water Resistance: 2000 Millimeters
Total Weight: 10.25 Pounds
Here is another great 3-person tent under $100 from the MOON LENCE brands, designed for family camping. With the unfolding size of 290 × 308 × 133cm, MOON LENCE pop-up tent is a spacious choice for 3-5 adults. It weighs only 4.65kg and can be stored in the 83 × 18 × 18cm within a carrying bag. It is also super easy to carry whatever you want.
MOON LENCE pop-up tent has 4 large mesh windows and 1D-shaped doors, both are designed with SBS dual zippers that ensure better ventilation.
It is equipped with 10 lightweight Alloy Pegs and 5 Guy Ropes that provide high resistance to wind and ensure more security in unexpected weather. This unit is made of 190T PU material. The Ground Sheet is made of 210D Oxford fabric which provides 2000mm water resistance with excellent UV resistance.
MOON LENCE family camping tent also has a satisfactory surface area that will make it easier to get around without stepping on your toes. The instant pop-up Mechanism also helps you to set up the inner tent in less than 1 minute.
To keep safe your smart gadgets, it has 2 pockets on different sides of this tent. There is also a hook in the center of the tent for a lantern/fan. However, it is a 3-season tent and all fabrics are resistant to cold and dirt. It is definitely a good protection for summer but not for cold weather because it's pretty thin.
Pros
Perfect for family or group camping
Built with all-around protection
Breathable
Stable design
Simple to set up and carry
Excellent Ventilation
Cons
Not good for cold weather
It would be a little tighter
---
9. Built-in Dark Room Technology – Coleman Skydome
Specs:
Pole Material: Aluminum
Fabric Material: Nylon
Occupancy: 4-Person
Water Resistance: 3000 Millimeters
Total Weight: Lightweight
Coleman Quick Pitch camping tent will make your camping vacation much more easier. As the name suggests, you can set up in less than 5 minutes because the poles are pre-attached.
Indeed, it is fully equipped and can comfortably accommodate up to four people. This Quick Pitch tent is also built with darkroom technology to reduce heat greatly and block 90% of sunlight so that you can sleep in past sunrise.
Coleman 4-person tent provides 20% more headroom than traditional Coleman dome tents thanks to nearly vertical walls. The overall dimension is 8 x 7 ft. with 4 ft. 8 in. center height. The door is wide so that users can easily move air beds, sleeping bags, and other gear.
The frame is pretty strong and withstands up to 35 mph of winds. It also has mesh storage pockets and a gear loft that keep small items organized. There are four small fabric loops sewn into the top of the ten. However, you can only choose this model for 3 seasons.
It could be a superb choice for car camping or backpacking. It is completely waterproof, and the bottom is thick enough which seems like it will hold up to rain (Not tested on rainy days). The package includes a convenient carry bag. To ensure quality, this model comes with 1-year warranty.
Pros
Compact and lightweight
Quick pitch and roomy interior
Comes with 1-year warranty
Weather protection system
Provides more warm feel
Cons
Not good for hiking
Instructions are not clear
---
Specs:
Pole Material: Aluminum
Fabric Material: 190T Polyester
Occupancy: 2-Person
Water Resistance: 3000 Millimeters
Total Weight: 5.2 Pounds
We cover our list with the Bessport Backpacking Tent. It will be a great tent for all your winter and summer outdoor activities. It is strong and durable to shelter two people. And with two D-Shaped doors and two vestibules, Bessport backpacking tent has enough space to accommodate up to two people.
It is constructed seam-taped which makes an impenetrable barrier against rain and prevents leakage. The floor is welded which elevates the bottom of the tent to protect you from wet grounds.
The package includes a full-coverage rainfly. Additionally, Bessport hiking tent comes with 7001 Series aluminum alloy stakes, and all material is very stiff.
Bessport tent is lightweight; only 5.2 lbs. It is easy to set up and the freestanding design allows you to be moved and relocated without having to disassemble it. It also has a lot of pockets, zippers, and stakes so that you can keep everything with you.
The packing dimensions are 17 inches long and 6 inches in diameter. It is more suitable for use in spring, summer and autumn. Bessport tent is also designed with an inner canvas with reduced mesh panels to help keep the warmth. Overall, it will be a comfortable shelter that will accompany you throughout the year.
Pros
Durable and breathable
Perfect for two person use
Freestanding
Simple setup
Well design for backpacking
Good choice for hiking
Cons
A little small for someone over 6ft.
Vestibules could be a little bigger
---
Best Tents Under 100 Dollars Buyer's Guide
As we mentioned above, choosing a suitable tent is a real challenge as there are so many models in different shapes and designs available on the market. Entry-level tents are often designed for summer while prices have to go up for more protection. Let's see our precise buying guide to find an ultralight model under 100 dollars.
Basic structure
Tents are generally made of different elements, such as the inner canvas ensuring insulation, the poles influencing stability, the flysheet avoiding the risk of condensation, and the groundsheet providing additional comfort and impermeability. So the structure of the tents greatly impacts the comfort level of your outdoor activities.
If weight is the most essential criterion for you and you are looking for a tent for a small space, do not hesitate to choose an instant or pop-up tent.
The material
Most manufacturers use polyester as the material of choice for the majority of affordable tents. The body, floor, and protective housing for the air beams are usually made from polyester. It is a synthetic material, which offers excellent strength, durability and weather protection.
Sometimes a layer of PU (polyurethane) is added to prevent water from passing through, even in heavy rain. The air bundles are usually made of Thermoplastic Polyurethane. However, it's important that the tent doesn't puncture or tear quickly, and is completely airtight.
The weight
For hiking, a light tent is always preferred so as not to weigh down your legs. For camping, you can take a heavier model as long as it can be easily transported by car or whatever.
We advise you not to exceed the bar of 1.5 kg per head. And the lightest tent on our ranking weighs just 4.6 pounds. Generally, the heaviness of a tent is because of its larger format, therefore offering more space.
Today, the big brands offer ultralight gear thanks to cutting-edge fabrics that remain strong and durable, despite their impressively lightweight design. However, weight savings aren't always a key factor, especially when you compare with the quality.
3 or 4 season tent
Three-season tent can be used from spring to fall. Four-season tent, as its name suggests, can be used all year round because it is resistant to the cold and the weight of the snow. Some cheap models claim three seasons, but in reality, they are not resistant to wind or rain.
The capacity
Manufacturers usually specify the number of people that can occupy its interior, as well as its dimensions. The number of users usually means a perfect fit inside. Each tent has a specific capacity and they vary from model to model. However, you can count 55 to 60 cm per person.
In some ultralight tents, you can quickly feel cramped, struggle to install two inflatable mattresses side by side, or even sit still.
If you're looking for a two-person tent, choose a three-person model. Likewise, a one-person tent is great for devoted ultra-lighters, but the average solo camper will have more room to move and store gear with a two-person tent.
For family camping, make sure it has enough space.
Tent pole
To offer good resistance to wind and bad weather, the ideal is to opt for crisscrossed poles, made of good quality materials, flexible and solid.
Weatherproof
Faced with nature, which can sometimes be impetuous, not all ultralight hiking tents are equally constructed. The waterproofing is to be taken into account. And to do this, you must look at the groundsheet as well as the reinforcement of the seams.
Almost all tents on our list are waterproof, without excess condensation. And we have already mentioned that some are exceptionally resistant to snow.
The ventilation
The presence of windows better prevents condensation. The location in which you install the base can also generate more or less humidity. In this case, we advise you to move away from water points such as lakes or rivers and, above all, to place yourself under the rays of the sun to dry the tent quickly.
Some models also have multiple doors to immensely facilitate entry and exit. Many products have PVC windows that prevent water and insect entry but do not allow air circulation.
Mosquito net
Mosquito net not only protects you from small animals but also helps evacuate condensation.
Assembly & disassembly
With new technologies, it is sometimes possible to assemble it in no time, by assembling its components or simply throwing it in the air.
The shape usually can influence the speed of installation. Therefore, dome tents are often easy to set up, thanks to their self-supporting structure.
The lifetime
A good, well-maintained tent should last ten years or more. Some camping tents can easily last over thirty years with the proper care because punctures can be easily repaired. If you sustain multiple punctures during the life of a tent, you risk compromising the structure and stability of the shelter.
FAQs – Best Tents Under $100
What is the best type of tent to buy under $100?
For under $100, your best bet is to go with a traditional dome tent. They're lightweight, easy to set up, and can comfortably fit two or three people. Look for one made with durable materials and a waterproof coating.
How many people can fit in a tent under $100?
Typically, a tent under $100 can comfortably fit two or three people. However, there are some larger options that can accommodate up to six people.
Are there any disadvantages to buying a cheaper tent?
Cheaper tents may have less durable materials, may not be as waterproof, and may not be as spacious as more expensive options. However, if you're only planning on using the tent for occasional camping trips or music festivals, a cheaper option may still be a good choice.
Can I use a cheap tent for backpacking?
While it's possible to use a cheap tent for backpacking, it's not recommended. Backpacking tents are typically more lightweight and durable than traditional camping tents, and they're designed to withstand the elements. If you're planning a backpacking trip, it's worth investing in a high-quality tent that's specifically designed for that purpose.
Is the tent more economical than a tarp shelter or other alternatives?
The tent offers the best price for accommodation during the holidays. By far, it is the most economical solution compared to the bungalow, mobile home, apartment, house, hotel, caravan or motorhome. A bare campsite for a tent is relatively affordable in the USA and in most foreign countries.
Are all cheap tents waterproof?
All tents included here are designed to be waterproof. However, the level of waterproofing differs from one model to another. In case of heavy rains, some tents may not hold up well. Also, you must consider the design of the tent because the rain does not always fall well vertically. This is often the weak point of some tents.
However, there are sealants that you can apply to enhance the waterproofing of sensitive parts. For example, the flysheet is very practical against humidity and makes cleaning the tent easier.
Can you pitch a cheap tent on the beach?
Yes, but a freestanding tent is much easier to pitch on the beach compared to a fixed tent. Of course, a free-standing tent flies in the wind. However, you can use heavy rocks to hold it in place to prevent it from blowing away. Fill ziplock bags with sand and use them to hold in place.
To ensure better stability, you can also mix sand with water.
How should a cheap tent be cleaned?
First, the tent must be shaken out or swept. Then light soiling can be cleaned with a cloth and some lukewarm water. To remove heavy soiling, the affected area can be treated with soap and finally rinsed thoroughly. Before the camping tent is stowed back in the packing bag, it must be completely dry.
Conclusion
The tent is the best equipment to stay safe during nights under the stars. If you buy a low-end model from unknown or cheap brands, you end up with gear that tears easily. Because it isn't durable and lets in rain & moisture and won't offer you the necessary comfort or the expected freshness.
However, it is certain that at $500, there is a way to find beautiful products… But, like you, we are not ready to put such a price. Especially since some brands we have mentioned, for four times less, offer ultralight tents of excellent quality. Our selection therefore incorporates the essential factor of the wallet.
We hope this article helped you find the best tent according to your needs and budget.
Thanks for reading…
If you have any questions, leave a comment below and we will respond as soon as possible.