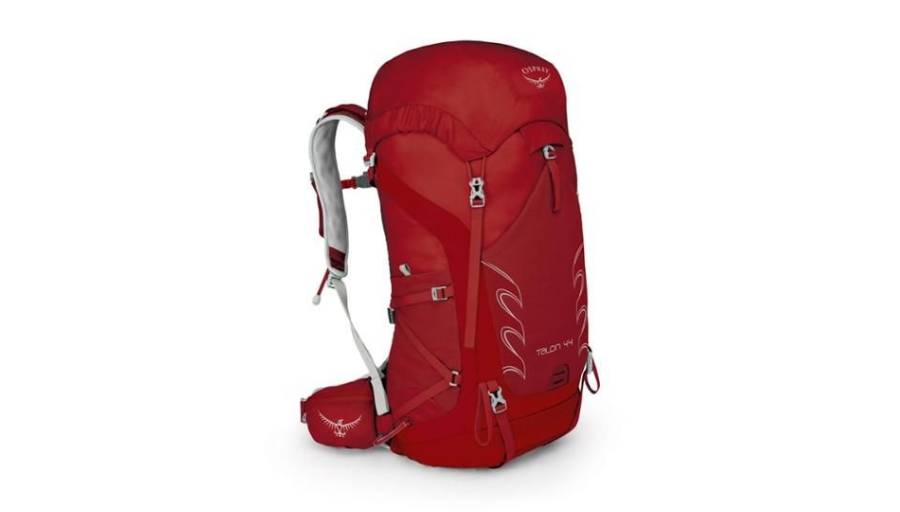 After the Atmos AG 65, I was looking for a less bulky and lighter backpack for short treks or in refuges where I don't need to take my whole house with me. Seduced by the raptor brand, I took a look at the different models at Osprey and then set my sights on the Osprey Talon 44.
To guide you, I present to you my opinion about the Osprey Talon 44 after several long hikes.
Test of the Osprey TALON 44 Backpack
Technical Description:
Main Fabric: bluesign®-approved recycled 100D x 210D wave check high-tenacity nylon, PFC-free DWR
Accent Fabric: bluesign®-approved recycled 420HD nylon packcloth, PFC-free DWR
Bottom Fabric: bluesign®-approved recycled 420HD nylon packcloth, PFC-free DWR
Weight: 2.95 pounds
Dimensions: 27.17H X 12.2W X 10.63D in.
Volume: 44 liters
Size: M or L (to be defined with the Osprey app )
Pros
Versatile design
Compact and lightweight
Carrying comfort (straps, belt, ventilation)
Back ventilation
Cons
No cover was supplied with
The first test of the backpack was done during my Tour of Zion National Park: 8 days with nights in refuges and lodges, with just a few spare clothes, snacks for lunch, and my photo gear for a weight of 30 pounds on the 1st day.
The second test had a different configuration since it consisted of a 3-day trek in Jasper National Park, in complete energy (camping with tent, mattress, duvet, stove … + food) with a starting weight of 42 pounds (symbolic …). In both cases, the volume of 44 liters was perfectly suitable.
Ventilation and comfort level
I start with the main thing: a backpack that can be worn! And as usual, Osprey does not disappoint. The straps are a real treat! The foam is super pleasant and soft to perfection! Perforated and contained in a net, it allows heat and humidity to pass where it presses.
The height of the shoulders is adjustable thanks to the torso length system and the structure is stiffened by an internal frame in order to properly transfer the weight to the belt rather than to the trapezius muscles and clavicles.
In all honesty, I didn't feel any pressure on my shoulders during my treks, where with certain bags, you end up lifting them to relieve yourself (of the weight…!) and sometimes even to relieve the blood circulation… (yes, truthful, it's lived!).
Foam shoulder straps
This carrying comfort is found on the back with the AirScape ™ system. The fluted foam covered with mesh cushions the pressure and aerates perfectly to release your musk and seduce the Etagne that has been watching you in the distance for 10 minutes.
The abdominal belt works on the same principle as the suspenders: a perforated foam with a net that allows the evacuation of humidity, even through the pockets.
In summary, all places of pressure are ventilated.
Pockets and straps
Osprey Talon 44 backpack is equipped with numerous pockets and access to place the multiple accessories of the hiker… The upper lid (removable for ultra-light purists) is equipped with two really spacious compartments (32 x 28 cm for the outer pocket; 32 x 21 cm for the inner net).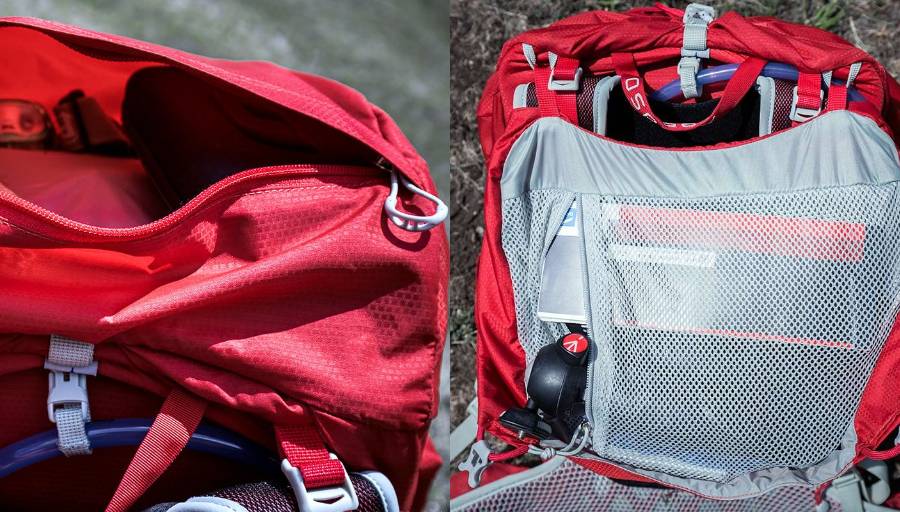 I was able to put lots of little things in it (a mini-tripod, lens filters, a glasses box, a wallet overflowing…) without having to force it to close. Besides, the fabric is very resistant and I have no fear about it.
A large stretch mesh pocket (PowerMesh ™) is located on the front of the backpack to put a jacket, a hat, the legs of unzippable pants or even the socks not yet dry from the laundry of the day before… Two pockets (comfortable size of 15 x 8 cm), are located on either side of the belt.
The upper part is made of a mesh to promote the ventilation I mentioned above. There are also two expandable side pockets to put a water bottle for filtering, binoculars or a photo tripod. They also have a hip angled opening if you like to draw your bottle faster than your shadow.
Side pocket for water bottle
A separate compartment is dedicated to the placement of a water pocket, which is large enough for me to put mine of 3 liters. A clip makes it possible to fix the bag as well as the pipe so that they do not move and come off (and thus flood your whole backpack).
Small rubber bands are placed along the straps, which can be used for many things including to pass the hose to prevent it from wandering.
Closing system
The closing system is classic at Osprey Talon 44: you can open wide for easy access to the contents of the hiking backpack then you pull the drawstring which locks automatically. Don't need to tie a knot that you always struggle to undo later).
Inspired by mountaineering packs, the Osprey Talon 44 has an additional strap to hold a rope or jacket before slipping the top cover over it. That is perfectly adjustable with straps and clips at the front and back.
You'll find a mini-pocket on the left shoulder strap but I don't really know what it's for: A chocolate bar and it starts again? Put your opinion in the comment section.
Top closure tightening strap for rope
Thanks to a zipper, you also have access to the lower part of the bag, where you generally place your sleeping bag. However, there is no partition to separate the spaces.
A fan of compulsive photography, I like to have my SLR close at hand and, like the Lowepro Photo Sport, I tried to place my camera there (in a protective case!). It works… more or less, but it's still not quite that because of the orientation.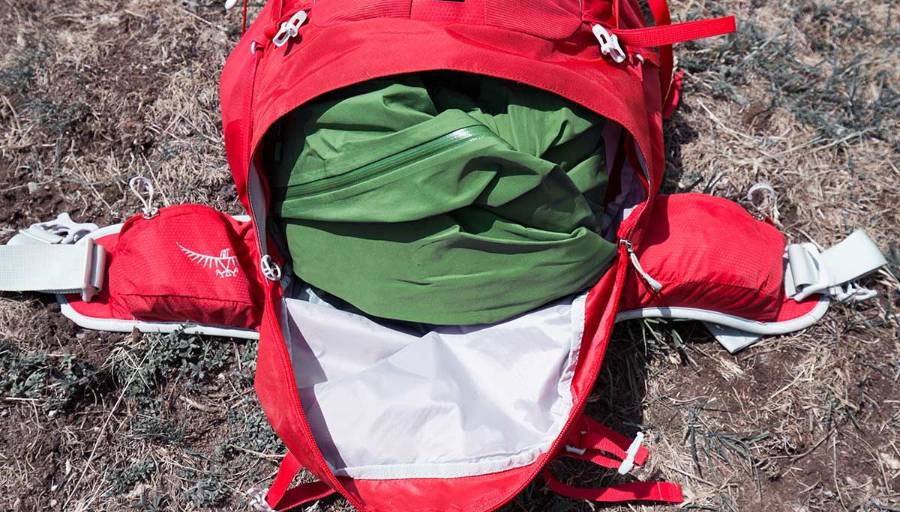 Two long straps with clips allow you to attach your tent or floor mat to the outside. They are not placed underneath like on other models allowing you to put your bag down without preventing it from standing vertically. It's stupid, but a lot of brands haven't thought of it… Two elastic bands and two buckles can also be used to attach ice axes to break a tough crust if necessary.
Osprey has outfitted their Talon 44 backpack with plenty of adjustment straps all over the place. Everything is adjustable to allow you to better balance your backpack according to the volume you put in it. Once on the back, straps and belt adjusted, the bag becomes one with the body.
We find the Stow-on-the-Go ™ system to quickly attach your hiking poles. It's true that it's practical but I never thought of using it at the time… The sternum strap is equipped with an integrated whistle in case of needs to tweet his distress. Only Achilles' heel to this bag, I looked hard but couldn't find a rain cover. Luckily I had compensated for it with that of the Atmos AG 65.
The verdict
My Opinion
Manufacturing quality – 80%
Backpack Tuning – 99%
Carrying comfort – 99%
Storage organization – 90%
Weight/volume ratio – 95%
Accessories – 80%
I love the Osprey Talon 44!!! It is very pleasant to wear and makes you completely forget your presence and the weight you carry on your back. With its 44 liters capacity, it is very versatile and suitable for many situations: I use it for all my outings lasting more than two days (trekking, camping, weekend, ski touring with a night in a refuge, etc.).
Read Also…