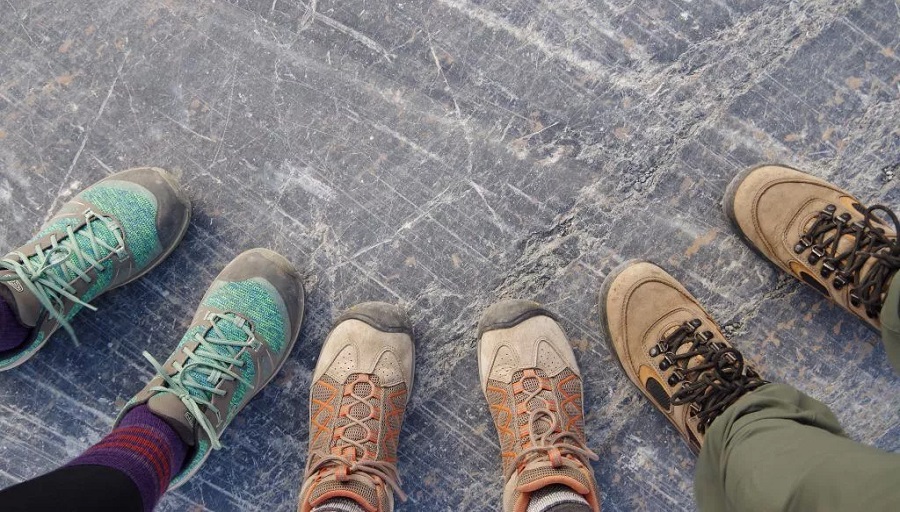 The pair of Merrell Moab 2 hiking boots perfectly combines the criteria of comfort and breathability that you are looking for.
It is a high-quality pair of boots. It adapts to all types of terrain. In other words, you can use it on flat hiking trails as well as on much more difficult trails. The immediate comfort, the grip provided by the Vibram sole, and the shoe's good quality-price ratio are its main assets.
We are going to share our experience with Merrell Moab 2.
To find out how this incredible pair of hiking boots differs from its main competitors, we invite you to continue reading the article.
Merrell's Moab 2 Hiking Boots Review
Technical Specifications:
Weight: 422 grams
Upper Material: 100% Leather
Sole Material: Synthetic
Lace Closure: Traditional
Lug: 5mm
Waterproof: No (available)
Pros
Flexible and provide good foot support
Relatively light like high-end boots
Offer very good grip on all types of terrain
Soft interior padding allows for absolute comfort
Very good foot support
Very grippy sole
Affordable
Cons
Lack of robustness
The size must be taken one size above
A little too flexible for technical hikes
It's a really small
Performance & Comfort
The Merrell Moab 2 perfectly matches the comfort criteria expected when buying the best hiking boots. Its great comfort is mainly due to its manufacture.
They have an EVA foam midsole that absorbs shock when walking. The good support of the foot inside the shoe is made possible by good interior padding.
Weight
Merrell Moab boots have always been appreciated for their lightness, so the Merrell Moab 2 is no exception to the rule. This model with a low upper prevents compression of your ankle during a hike.
Its weight of 422 grams is much lighter than that of Salomon's Quest Prime or Lowa Ticam II GTX, which competes with it on the market. Its lightness also allows it a good grip on any type of terrain. The weight and comfort of this shoe are in perfect balance.
Stability and Support
This pair of Merrell Moab 2 boots is suitable for short hikes. It is obvious that it provides better stability and much more comfortable support compared to the previous model. However, it remains relatively moderate.
The main advantage of this pair of boots in terms of stability and support will be its greater flexibility. Indeed, on the midsole, there is a molded nylon shank that provides good support and good flexibility on uneven terrain.
Traction
The Merrell Moab 2 was designed the same way as the original Moab.
The Vibram TC5+ outsole provides the shoes with solid traction. You can therefore cover various and varied surfaces, whether very steep slopes or even muddy paths.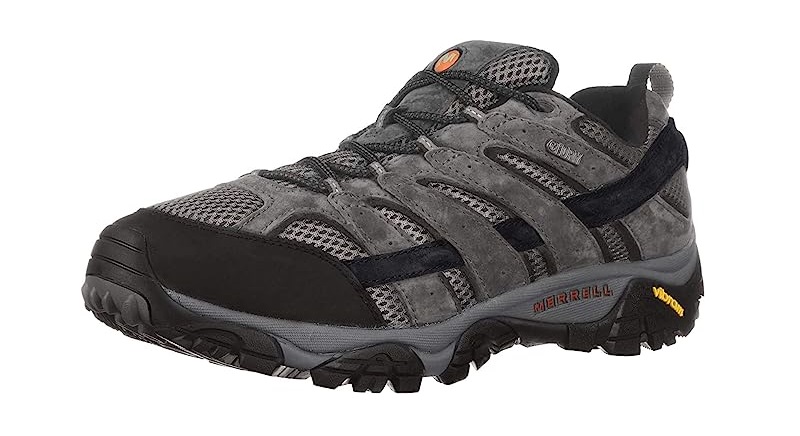 The 5 mm lugs of the pair of boots are wide and thick which allows a good grip on the ground.
Breathability
Good breathability is a key asset of the pair of Merrell Moab 2 boots. The upper of the boot is made of synthetic suede leather accompanied by a breathable mesh membrane. These breathable meshes on the front and sides of the pair of shoes make you feel much more comfortable while walking.
The impermeability of the pair of boots also plays an important role in the breathability of the shoe because it allows you to stay cool in case of high temperatures.
Impermeability
The pair of Merrell Moab 2 is a waterproof pair of boots. The upper has a Gore-Tex membrane that prevents your shoe from being damaged in direct contact with water. If you use it in the rain or heavy snowfall, the moisture will not enter.
However, it is best to use these boots for no more than one day at a time. Indeed, the mesh in the upper of the shoe does not prevent water infiltration from the sides.
Build Quality and Durability
The Merrell Moab 2 pair of boots is a rather durable pair of shoes that holds up well. However, it should be noted that signs of wear can be observed after a certain time at the level of the upper and the sole.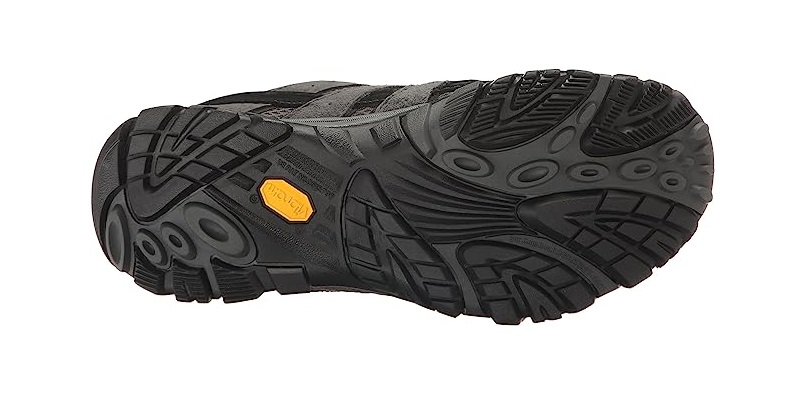 The mesh can also be a component of the shoe to watch out for because it is possible that it will tear with regular use of this pair of hiking shoes. They are therefore not robust enough to be used on a regular basis.
Shape and Size
The Merrell Moab 2 does not necessarily fit well if you take your usual shoe size. Even if it offers good walking performance, it is more suitable to take one or more sizes above yours.
Indeed, if you take your normal size you may feel a little cramped at the end of the foot.
The Verdict!
Competition is fierce in the market for low-rise hiking boots. However, the Merrell Moab 2 boots remain the most comfortable to wear. They offer perfect lightness without affecting their durability and comfort over long distances. While the price is much more affordable.
The Merrell Moab 2 is really suitable for hiking in difficult terrain. They provide good ankle support and good foot protection. These are made of much more resistant leather, which guarantees optimal comfort during shocks.
See Also…