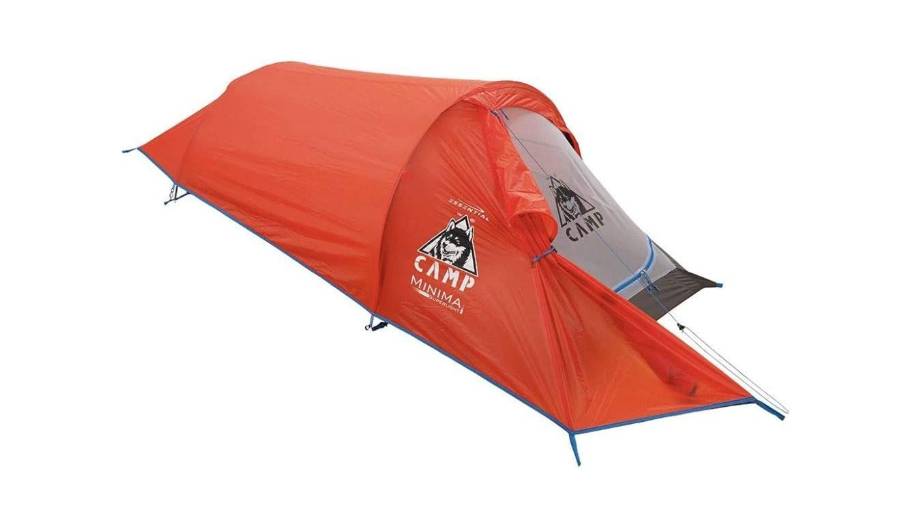 It is a very compact size, tunnel shape, ultralight, and above all a double-walled tent. The Camp Minima 1 SL presents solid arguments that will make you consider its purchase.
Its price is certainly relatively high compared to other single-person tents, but the quality is there. This is at least what emerges from the positive feedback on this 3-season tent. We took a closer look at the Camp Minima 1 SL to see if it really keeps all its promises.
Camp Minima 1 SL Tent Review
Main Features of the Camp Minima 1 SL
Seasonality / Number of people: 3-season single-person tunnel tent
Materials and coverings: 30D Ripstop nylon flysheet and 70D nylon polyamide floor
Waterproofing: 2,000 mm (outer canvas), 5,000 mm (floor)
Frame: with sheath
Dimensions of the chamber: 220 x 80 x 65 cm
Weight: 1,150 g (frame and stakes included)
Best price:

Check On Amazon
Pros
Lightweight
Easy to carry
Presence of a frontal apse
Good waterproof index
Excellent ventilation and good heat distribution
Cons
The ultra-light materials of its design make it fragile
Single seater
Construction and Durability
The Camp Minima 1 SL offers all the features of a double-walled tent while packing in a weight of just 1150g (frame and poles included). To achieve such a compromise, the manufacturer has reduced the diameter of the posts and used intelligently chosen materials.
This tent is made up of a 30D Ripstop nylon flysheet and a 70D nylon polyamide bed. Result: despite its apparent fragility, it is solid and is able to regulate variable conditions during long hikes.
A few interesting details should be noted about the design of the Camp Minima 1 SL: this 1-man tent has a nice front vestibule where you can put your hiking backpack, and includes a storage compartment, and cords with self-locking devices….
Habitability and Ease of Installation
As long as there is enough space to be able to properly tension it, Camp Minima 1 SL is operational as an improvised shelter in the mountains. It has 220 x 80 x 65 cm chamber, which offers decent habitability.
Also, this tent is not at all difficult to set up. If the ground does not present any particular constraints, it will in principle not take you more than 10 minutes to deploy your tent. The aluminum stakes and guy lines are included for assembly and they are easily identifiable for this purpose.
Weather Protection and Ventilation
The Camp Minima 1 SL has a mesh fabric structure that ensures optimal ventilation while the outer tent guarantees good heat distribution. So it is a tent that will be able to withstand many weather conditions.
In this regard, its waterproof index (2000 mm for the outer canvas and 5000 mm for the ground) exceeds the characteristics usually found on ultra-light tents. Although it is not a 4-season tent, the Camp Minima 1 SL manages to withstand fairly low temperatures.
The Verdict
All in all, the Camp Minima 1 SL is one of the best options available to you if you are looking for a single-person tent that has all the features of a double-wall tent and packs in a lightweight. It's not the cheapest model in its class, but you'll make a good long-term investment, as its build quality inspires confidence.
However, the relative fragility of the ultra-light materials used means that you must handle the tent with care, avoiding the corners of rocks, tree branches, etc.
See Also…