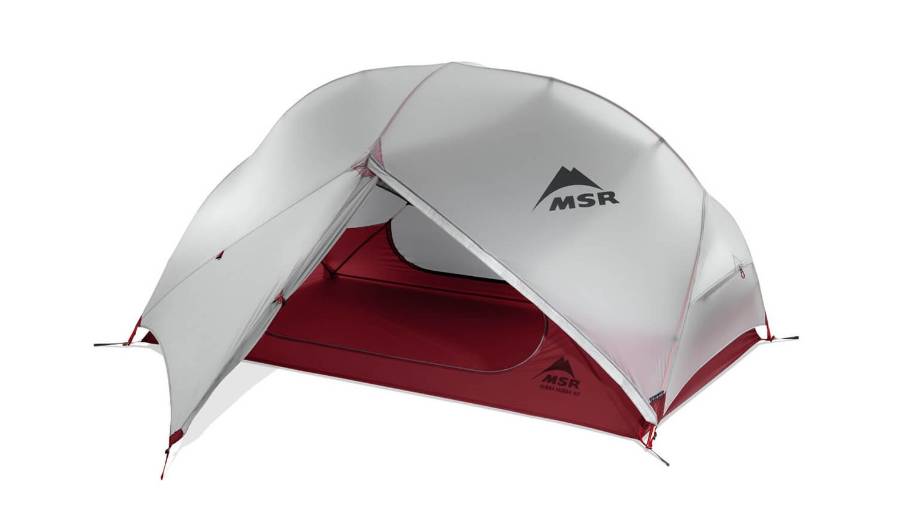 After the convincing success of the first Hubba Hubba tent released in 2004, MSR has built on the good recipes of this bestseller to offer a "new generation" (NX) version which marks a good progression and comes with the promise of offering the perfect balance of everything you would expect from a two-person tent.
Even if it is not radically different from the original model, the MSR Hubba Hubba Nx Tent justifies its positioning at the top of the range through excellent choices of materials and the incorporation of advanced technologies.
In the rest of this test/review that we are devoting to it, we will examine this hiking tent from different angles, and explain to you why it is the number 1 choice of our editorial staff.
MSR Hubba Hubba Nx Tent Review
Main Features of the MSR Hubba Hubba Nx
Seasonality/Number of people: 3-season tent for two people
Materials and coverings: 20 denier x 330T ripstop nylon flysheet; Durashield silicone and polyurethane coating; 30 denier x 262T nylon ripstop floor with Durashield silicone and polyurethane coating Chamber
Dimensions: 213 x 127 x 100 cm
Weight: 1,720 g
Water column and waterproofness: 3,000 mm on the floor and 1,200 mm on the roof
Other: compression bag with pull handle
Best price:

Check On Amazon
Pros
Choice of materials and lightness
Reliability in the face of humidity
Strong and safe to use
Easy assembly
Good habitability
Good ventilation
Cons
High price but justified
Does not include footprint
Could have more internal pockets
Construction and Durability
The construction of the MSR Hubba Hubba Nx Tent is quite common: it includes a long mast that forks at each end and a small mast on the top to give a little width to the interior.
That said, this tent stands out in the choice of materials. These include composite poles, a 20D ripstop nylon fly (1200mm HH), and a 30D ripstop nylon base (3000mm HH); all with a special PU coating for increased reliability in wet weather.
If you're familiar with lightweight tents, the fabrics of the MSR Hubba Hubba Nx Tent may bother you at first due to their heaviness. However, that's the tradeoff for having a tent that doesn't mind tearing or excessive wear and will retain its performance after years of heavy use. This is especially true for the 30 denier x 262T nylon ripstop bed with Durashield silicone and polyurethane coating. This floor is thicker and stronger than when 15 x 20 denier nylon is used.
Habitability and Ease of Installation
One of the main draws of the MSR Hubba Hubba Nx Tent is how easy it is to set up. This is made possible not only by the self-supporting structure but also by the symmetrical design and the single-hub mast structure.
Setting up this backpacking tent is so easy you won't need any help: just lay out the tent, put the pole sections together, and place the poles in the corners.
As far as habitability is concerned, this is most certainly another great achievement of the MSR Hubba Hubba Nx Tent. The interior of this tent is indeed not cramped, even with two average-sized adults. And that's partly down to the dual-hub pole design, as well as the symmetrical floor.
You can relax in it comfortably, either sitting or kneeling. Plus, its long and tall cabin is comfortable enough for both occupants to move around in, and a medium-sized porch on either side gives everyone personal space to stow backpacks, boots, kitchen equipment, etc.
Other great features of the MSR Hubba Hubba Nx Tent include the large openings at each end of the fly, reflective guylines, and the front-loading stuff sack with straps for easy packing…
Weather Protection and Ventilation
The MSR Hubba Hubba Nx Tent offers solid performance in wet and windy conditions. Besides this, the sturdy freestanding shape and full coverage effectively protect occupants in rain showers. MSR has used composite poles borrowed from its winter tents to ensure excellent resistance against bad weather and harsh conditions difficult to use.
Even in very strong gusts, the poles hold their own: they are designed to flex and spring back to their original shape rather than permanently bend as is the case with an aluminum or carbon design.
The MSR Hubba Hubba Nx Tent is not afraid of crosswinds, because in the center there is a ridge pole that opens the interior by creating vertical side walls in order to increase structural rigidity.
When it comes to ventilation, MSR has made smart choices to help airflow. In addition to the mesh used in the upper part of the tent, deployable vents at each end of the rain fly prove effective in drawing in moist air in cold and hot conditions, without compromising the waterproofness of the tent., because their location has been studied so that you can open them in case of rain.
The Verdict
If you are a demanding adventurer, you are most likely looking for a high quality, durable and lightweight tent. The MSR Hubba Hubba Nx Tent is an option in this case that you should consider very seriously. It is certainly expensive, but its price is amply justified by its high-end construction and its interior spacious enough for you to relax sitting or kneeling.
Where others may seem cramped and claustrophobic, this tent offers excellent roominess for two people (average-sized adults), with the added bonus of solid performance in wet and windy conditions, thanks in part to its composite pole structure. Our hats off to MSR, which has done an excellent job of combining interior space and durable materials at a reasonable weight.