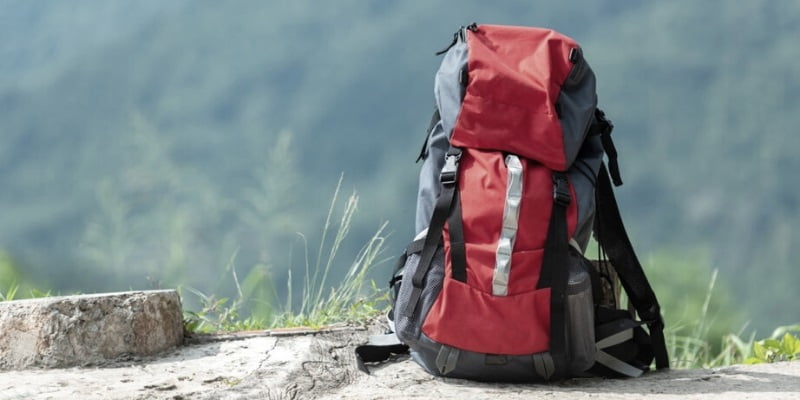 When planning a hiking trip to the mountains, one of the fundamental aspects is to find the right hiking backpack. A suitable hiking pack helps you to transport the necessary equipment much more easily.
What is the best hiking backpack under 100?
Choosing the best hiking backpacks under $100 is not easy. You can quickly lost in the vastness of the choice which is offered to you. From less than 20 liters to more than 90 liters, there is a very large number of sizes available on the market.
That's why we are going to help you make the right choice. We also advise you on how to choose the best hiking backpacks under $100 and avoid pitfalls.
Best Hiking Backpacks Under $100 (Top 10 Picks)
The TETON Sports 1137 stands out as the most popular and best hiking backpack under $100. Its capacity and maximum authorized load are quite appreciable for its price.
Let's see our rating and ranking of the best hiking backpacks under $100:
Capacity: 44 Liters | Dimensions: 26 x 11 x 9 in. | Pack Weight: 4.15 lbs. | Rain Cover: N/A
Pros
Designed for multiple days of adventure
Two effective small outside zipper
It will perfectly fit your shape
Stretch mesh side pockets
High-quality design
Well built-in mechanism
Cons
Doesn't have pockets on the hip straps
No rain cover
TETON Sports Ultralight Plus is a versatile hiking backpack under $100, which is designed for hiking, camping, travel, and extreme weather outdoor sports such as snowshoeing and cross-country skiing. And if you enjoy multiple adventurers or regular hiking, this is a great option for you.
It is built with an extra padded split dual wishbone waist pad with an independent top and bottom hip, which offers a perfect customizable fit. It has an Oxford shell for added strength and is suitable for the most rugged adventures.
The lightweight aluminum frame provides high stability, you won't feel high of the load. The waist belt is adjustable from 33″ to 48″. This hiking pack is suitable for men, women, or youth. It could also be a great choice for travel to meet most carry-on standards at 26″ long.
This model is water-resistant to encounter serious storms, rain, etc. The package comes with the Tarp Poncho to cover it completely to keep everything dry.
TETON Sports 1137 Plus features multiple gear loops, ties, and compression straps for carrying anything from ice axes to trekking poles and from climbing ropes to helmets. It also features configuration options for carrying snowboards, and hiking boots, as well as a removable daypack.
However, if you want to lock this model, it would be difficult because it has several access points to the main compartment and isn't really designed to be locked.
---
Capacity: 55/80 Liters | Dimensions: 33.5 x 13.8 x 11.8 in. | Pack Weight: 4.96 lbs. | Rain Cover: Included
Pros
Designed for Multiple-day hiking
Deep mesh water bottle pockets
Made of water-resistant nylon
Internal drawstring divider
Excellent waist buckle design
Cons
No detachable or day bag feature
MOUNTAINTOP is a very good quality hiking backpack under 100 dollars if you're looking for a model for several days of hiking. It is essentially durable, sturdy and comfortable to use. It's large enough to carry everything you need and has enough room for hiking gear and food for a longer hike.
This pack measures about 29 inches. It has two stainless steel rods. The shoulder straps are decently padded and comfortable. They also have permanent D-rings attached. The sternum strap is easily height adjustable and has an elastic portion. The buckle is also a whistle.
The full extension of the waist/hip belt is 57 inches so that both men and women can carry it on their backs. As long as, they don't pack it so they can't lift it. The torso height adjustment maxes out at 18″. So if you are over 6', it might not fit well.
MOUNTAINTOP hiking backpack has a plastic internal frame that rests on your back. The frame sheet is completely removable from a zippered compartment. The main compartment bag has a drawstring and cord lock and an 'extension' with another cord lock.
There is a top zipper to the main compartment. It also has a smaller front compartment with a front zipper. It's in its own pouch that is prepackaged in the lower compartment of the backpack.
MOUNTAINTOP hiking backpack also includes a rain cover. However, it is not attached to the pack itself like in some pricier backpacks.
---
3. Seenlast Hiking Daypack – Best Hiking Pack Under 100 for Men & Women
Capacity: 50 Liters | Dimensions: 25.6 x 13.8 x 9.8 in. | Pack Weight: 2.6 lbs. | Rain Cover: Included
Pros
Powerful plug-in with 8 adjustable strap
Compact and durable
Breathable mesh back panel
Reasonable price
Large load capacity
waterproof
Cons
Zippers are a little bit weak
Basic design
The third choice of the best hiking backpacks under $100 on our list is the Seenlast, which is the best 50L light hiking bag under 100 dollars. It is designed for going everywhere. This model is comfortable enough for day hikes but you can use it on a regular basis.
It is easy to adjust and very comfortable to wear. It has a lot of pockets: expandable side pockets for your drinks and a padded pocket for laptop or tablet for everyday commuting. Seenlast hiking pack is convenient for hiking, climbing and camping.
It is made with rip-stop polyester material, so it is not only wear-resistant but waterproof too in light rain. In addition, this model comes with an extra rain cover to protect your valuables from heavy rain.
Inside the bag, there is a also divided pocket for laptop or secret clothes. The attached water bottle pockets are nice and deep; you can hold 32oz water bottles securely and easily.
The straps and back padding are pretty good. The back part is built in a way that keeps the main pouch of the backpack off your back. SeenLast hiking pack comes with breathable mesh shoulder straps with sponge padding.
However, it doesn't have an internal frame. There is also some extra padding to stiffen the back. Otherwise, it is just like a regular backpack.
---
4. Aveler M5818 – Best Ultralight Hiking Pack Under 100 Dollars
Capacity: 50 Liters | Dimensions: 31.4 x 13.8 x 9.8 in. | Pack Weight: 4.5 lbs. | Rain Cover: Included
Pros
Includes high viable integrated rain cover
Strong and comfortable belts
Water resistance coating
Breathable back support
Mesh side pockets
Aveler is an excellent bag manufacturing brand since 1986. The Aveler M5818 is a considerable choice if you want to use it for multiple outdoor adventures. With 50L of carrying capacity, this model is designed for traveling, hiking, trekking and camping.
It is built with high-quality and durable material that provides you with long-time service and durability against daily activities. It has an internal frame, which makes it a very comfortable and all-around adjustable backpack. The red wine color also looks good in the photos as well.
It combines 5 compartments, multiple adjustable straps and attachment loops, 2 dual-zipped waist belt pockets, and 2 mesh elastic bottle pouches. The belts are so strong and comfortable. They are wide and soft, so you won't feel pain, even if you take the backpack for a long time.
The top-grade nylon material also makes it water-resistant under the rain. However, it is a little shower when you hiking. It has more features and provides you with a great experience on your next outdoor adventure.
Aveler M5818 versatile hiking pack also comes with an integrated rain cover in bottom zipped pockets to prevent water from slipping into the bag and protect your outdoor necessities.
---
5. High Sierra Pathway – Best Large Hiking Backpack Under $100
Capacity: 70 Liters | Dimensions: 25 x 13 x 9 in. | Pack Weight: 2.2 lbs. | Rain Cover: N/A
Pros
Trekking pole attachment straps
Hydration reservoir compatible
Front pocket with organizer
Sleeping bag compartment
Well made
High Sierra hiking backpack features non-slip shoulder pads and adjustable shoulder straps that will fit your height perfectly. It is fully adjustable to fit a range of torso sizes. This internal frame backpack is made with 600D Polyester Dobby with a water-resistant coating.
This waist belt will be for someone with a 56 inches waist. The pads are very comfy and are the same as high-end packs. The high-quality polyester fabric is more water-resistant than nylon but not waterproof.
The front handle is great for getting it out of overhead storage on planes. It is also one of the most comfortable and durable hiking packs under $100 on our list. And with this model, there is a way to attach your sleeping bag and/or a backpacking tent.
It has customizable straps that do a great job for weight distribution and a minor back frame that does the job. You can loosen the compression straps to fit smaller items or grab bungees/straps.
This pack has 2 exterior large water bottle holders. This is very nice if you have 3 kids. The High Sierra hiking pack is focused on someone that's 5′ 9″ or smaller. However, the shoulder straps would not work well for a very large person.
---
6. MOUNTAINTOP 70L/75L – Versatile Hiking Backpack Under 100
Capacity: 70/75 Liters | Dimensions: 29.9 x 13 x 10.2 in. | Pack Weight: 4.4 lbs. | Rain Cover: Included
Pros
Designed for multiple-day hiking
Best way to carry a sleeping bag
Compact but large capacity
Hip-belt adjustable length
It has hydration compartment
Cons
Waist strap is not too big
It is foremost to choose a light bag to minimize the weight on your shoulders. Lightweight bags are more suitable for skiers and climbers. MOUNTAINTOP Bottom Access hiking backpack will allow you to store your equipment as well as your snack in a proper way. It is a very ultra-light model with a total weight of 4.5 lbs.
One side of the pack has a side pocket, which is big enough to carry on your jacket or umbrella. The other side has a zipper so that you can easily access the main compartment. You can also use the front straps or the top straps to secure the sleeping bag to the outside.
The package comes with a high-quality rain cover, which is located in a separate compartment. The rain cover is so large that it fits easily over the packed backpack. MOUNTAINTOP water-resistant backpack works great for winter weather gear.
There are elastic straps that are very adjustable and there are 2 hangers that you can use to install your bladder. The waist belt can also be adjusted up to 59 inches. Although the maximum bearing support is about 110 lbs, don't pack it over 66 lbs.
We highly recommended this model for multiple-day camping trips. However, the attachment points are sewn too close to the top of the pack near the shoulder straps and the lid always slips toward the back of the pack, which creates a gap.
---
7. Osprey Packs Talon 22 – Best Men's Hiking Backpack under $100
Capacity: 22 Liters | Dimensions: 20.05 x 9.8 x 9.06 in. | Pack Weight: 2.04 lbs. | Rain Cover: N/A
Pros
Very comfortable
Widely adjustable
Top panel zippered slash pocket
Extra features & function
LidLock helmet attachment
External hydration sleeve
Cons
No separate cushioned compartment
Small load capacity
You may know that Osprey is a well-known brand for its innovative and affordable backpack and the Talon 22 is one of the most versatile hiking packs under 100 dollars available now. It brings great comfort and good storage capacity at this price.
Osprey Talon 22 hiking pack comes with Stow-on-the-Go trekking pole attachment system that is designed to attach quickly and carry trekking poles while wearing a pack or making a quick scramble through rough terrain. It is foldable so you can put it in another large pack for storage.
The chest and waist straps are adjustable and comfortable; fixed hip belts fit 28-50″. It has stretch mesh pockets on both sides of the pack that provide convenient storage for bottles and smaller items. This model is not bulky but can hold what you need.
It has two zippered hip belt pockets to keep snacks and essential items. The mesh side pocket is made of nylon. This is an ideal size for a day pack or for a day of biking.
The Talon 22 hiking backpack also has dual-zippered to access the main compartment. While the waist strap can be adjusted, the hip pockets remain attached to the main body.
However, this model has no insulation, but a slot to put the hydration pack in the backpack. Also keep in mind that this pack does not come with a reservoir but can accommodate up to a 3L reservoir when purchased separately.
---
Capacity: 70 Liters | Dimensions: 13.4 x 6.7 x 28.75 in. | Pack Weight: 2.86 lbs. | Rain Cover: N/A
Pros
Ergonomically decompression design
Strong and durable
Made of high-quality fabric
Thick and wide waist pad belt
Huge storage capacity
Cons
Doesn't have a frame
Hip pads aren't big/long
WintMing large capacity hiking backpack built with elastic drawstrings that can expand the pack. It's enough space to put in a sleeping bag, mat, hammock, or shoes and luggage. It has one laptop compartment and one front zipper pocket. The two side pockets are designed for carrying water bottle or umbrella.
WintMing hiking pack is made of 600D oxford fabric and water-resistant material, which is more durable and anti-scratch than a traditional hiking backpack. It is sturdy, and the material is heavy-duty. This hiking pack also has a large capacity and lots of pockets & compartments for stuff.
It has adjustable and comfortable mesh shoulder straps with plentiful sponge padding that helps to relieve the stress from your shoulder. It will accompany you during long treks but also during your travels.
The overall dimensions are 13.4 × 6.7 × 28.75 inches. This model is taller which helps with balance and it will fit around your waist. You're also able to fit a lot into it for camping or backpacking.
To ensure quality, the WintMing Rucksack hiking backpack comes with 1-year warranty. For the price, it is a very lightweight pack that will serve you well if you don't overload it.
---
9. TETON Sports Fox 5200 – Expedition Hiking Pack Under 100 dollars
Capacity: 85 Liters | Dimensions: 15 x 12 x 8 in. | Pack Weight: 5.5 lbs. | Rain Cover: Included
Pros
Everything is fully adjustable
Comes with a high-quality rain cover
Removable hood storage
Thoughtfully designed
Tons of pockets
Cons
Water-resistant
Top is a little ungainly if you load it heavily
TETON Sports Fox 5200 is a perfect backpack for men, women and youth. It is the best choice for 5-or-more day backpacking trips. It has a capacity of 5,200 cubic inches that can hold all your provisions for week-long excursions.
TETON Sports hiking backpack is made of durable open-cell foam lumbar pad and molded channels that provide maximum airflow and balance. It is also perfect for small to large-size people because multi-position torso adjustment fits a wide range of body sizes. The top portion comes off and can be used as a day pack.
It has many zippered compartments to keep all your loot organized. And inside the main compartment, there is a sleeve designed specifically for the hydration bladder. It is perfect to carry between 50 & 75 pounds.
This unit has lots of straps for hooking your items to your bag's exterior. There is also a port to feed the hose out of the backpack and you can secure the hose over either shoulder depending on your preference.
TETON Sports Fox 5200 hiking pack can easily carry a rifle or shotgun. There are plenty of places on the outside to mount firearm and case. There is also a top pocket one could put a water bag but there is not a "water bag pocket" that is designed to hold water.
---
Capacity: 65 Liters | Dimensions: 30.73 x 13 x 14.18 in. | Pack Weight: 3.95 lbs. | Rain Cover: Included
Pros
Lightweight and compact
Great for both beginner and serious hikers
Features a classic shape
Versatile design
Removable PE board
Cons
Does not come with a water bladder
The top part does not come off
TERRA PEAK hiking backpack is made of imported high-quality water-resistant materials which provide strength and long-lasting performance with minimal weight. It has adjustable and breathable padded shoulders and straps to meet different requirements for both men and women.
It's roomy enough to carry everything you need like a hammock, clothes, towel, journal, and a couple of beers if needed. This model is suitable for people up to 6.5 and is quite comfortable to carry on. It has good straps and keeps the total weight up to 40 lbs.
There is one additional pocket on the bottom of the pack, that will unzip at the top to allow access to the main storage/interior. There is also a pocket on the front of the pack that is deep enough to fit a water bladder. And the final external pocket is on the top flap of the pack.
TERRA PEAK hiking bag offers you a good number of accessories. The water bladder is easily accessible; you can remove it and replace it without unpacking the rest of the pack. It is also good resistance to rain.
Considering everything, TERRA PEAK certainly displays one of the best value for money.
---
Best Hiking Backpack Under 100 Dollars – Buyer's Guide
Let's see the most important criteria for choosing the best hiking backpacks Under $100.
The season
In winter, you need to wear more layers and therefore want more storage space. Your winter hiking backpack can also be heavier than your summer hiking backpack. Ask yourself if you are going to hike in the summer or hike in cold weather for 3-4 days.
Materials
Material is a fundamental aspect for buying the best hiking backpack under 100 dollars because resistance and weight depend on it. Hiking or trekking backpacks are generally composed of two common materials, with almost similar characteristics; polyester and nylon.
Nylon is only slightly more elastic and resistant with a better ratio in terms of weight. Beyond the minimum advantage, polyester and nylon are completely similar and the choice between the two is absolutely subjective.
For frame materials, you can rely on aluminum or light metal alloys although over time these tend to bend or deform.
The ventilation
A typical backpack contains compensated foam and mesh panels that try to encourage air circulation. But usually, this results in sweat marks on the back that indicate where the foam panels come in contact with you.
Osprey's Anti-Gravity system with its full mesh including even the belt is an impressive design that offers unrivaled ventilation.
Water tightness
Many of the digital gadgets or items we store in our backpacks are vulnerable to moisture. If you carry a camera, smartphone, other smart devices, or even a down sleeping bag with you, make sure your backpack is waterproof or resistant.
The good news is most hiking backpack models on our list offer decent water resistance and are made of hard nylon. However, be aware that if the bag is regularly exposed to water, there is a risk of a leak. So make sure to check under what conditions the bag can withstand moisture.
On some hiking bags, the zippers are very technical and make it possible to ensure the waterproofness of the bag. Therefore, avoid having to invest in a rain cover which can be quickly annoying and fly away.
Most of the hiking backpacks on our list also come with rain cover.
Weight & Capacity
Beyond the space occupied by your hiking backpack, it is also important to calculate its total weight. If your bag is heavier, it is necessary to know the total load capacity, your belongings included. This will allow you to know ​​what you are going to wear on your back.
Conversely, if you like minimalism, you can opt for a light hiking backpack.
For a day trip, look for a hiking pack that can hold ten kilos for more comfort. But for a hike of several days, it will be necessary to favor a model bordering the 20 kg of maximum load, allowing you to take more personal effects, like sleeping bags.
If the size of the backpack is not suitable for the length of your back, you may experience discomfort. You don't need to buy a 60 Liters hiking bag if you only hike for one night.
Padding & support
The thickness and quality of the padding of the hiking backpack especially the shoulder straps and lap belts are important factors you should consider when choosing a hiking backpack.
A well-fitting hiking bag under $100 puts most of the weight on your hips. The straps support little weight and keep the bag tightly on the back.
All heavy travel backpacks have foam padding for added comfort. Lightweight hiking bags generally do not have foam at the waist and/or shoulder straps.
Carrying comfort
Various elements that support the bag and protect your back and shoulders play on carrying comfort. The largest bags offer a belt at the hips and one at the chest which distributes the weight of the bag over the shoulders and hips and greatly reduces the effort required to carry the bag.
The frame
When you need to carry a large number of effects during your hike, the organization is of paramount importance. This is where the old framed outer panniers had a distinct advantage: pockets and several compartments.
This does not mean that the bags with an internal frame do not improve with many access points and creative packaging. Indeed, some models of hiking bags with an internal frame also offer interior storage compartments. Just check the product description for what you need.
Back length
Whichever type of hike you plan, it's important to buy a bag with the right back length. A poorly suited hiking backpack will not be comfortable, harder to carry, and may injure you.
Most of the time, hiking bags make the difference between men and women. Although some are unisex and can be adjusted, always check beforehand that it corresponds to your size.
The accessories
For regular use, some options can be interesting, such as the number of compartments and pockets.
Generally, you can find a removable cover, a hydration sleeve, attachment straps, a bottle holder, elastic pockets, a waist and/or chest belt, a ski holder, a whistle, an ice ax holder or a stick holder…
Brand & price
Depending on the features, some brands and models are more suitable than others. Our favorite brands are Osprey, ETON Sports, MOUNTAINTOP, and High Sierra.
The price is still a matter. It will play on all the previous criteria, but it is important to be well informed: a more expensive hiking bag is not necessarily better and everything will depend on the use you have of it.
FAQs
Which hiking backpack is suitable for a day?
Even if you are only going for a few hours on a walk, it is important to leave with a backpack in order to carry water, a few granola bars, warm clothing, and a windbreaker with you.
Unless you have planned a very large picnic, a hiking bag with a volume of 10 and 20L should be suitable for this type of hike. We recommend you choose a very light and compact pack for day hiking. It can then be stored in a larger hiking backpack.
Which hiking backpack is suitable for the weekend?
If you wish to stay from one to three nights on site, it is necessary to bring a minimum of equipment. Indeed, if you go with everything on your back (tent, sleeping bag, mess …), you need a bag between 40 and 60 liters.
In this case, you can opt for carrying the tent outside of your backpack. Be careful to check that your hiking bag is equipped with external straps. If not, don't panic, they can be added to the backpack.
On the other hand, if you sleep in a refuge, 20 to 30L should do the trick. All you have to do in your hiking backpack is your personal belongings, water, supplies, and a sleeping bag.
Which hiking backpack is suitable for several days?
If you decide to go on an adventure for one or more weeks, choose a backpack with a larger volume between 55 and 75L. Be careful, too heavy or large hiking backpack can be very bulky and its weight can gradually become painful for your shoulders.
In order to reduce the weight of your food, you can think of using freeze-dried products that allow you to prepare an energy meal without weighing down your bag.
Also, remember to choose the bare minimum in terms of changing clothes by choosing light clothing suitable for hiking that can dry easily.
How to adjust the hiking backpack?
Adjustable suspensions: on some hiking backpacks, the straps are adjustable and can be repositioned via a ladder system to adapt to your body type. This is a great option for people with mid-back sizes. The downside: the components that make the straps adjustable add weight to the bag.
The straps: the weight of your backpack should rest mainly on your hips. Your back, shoulders, and bust will also support the weight. To optimize comfort and stability, you must play with the different adjustment straps found on most backpacks.
The load return straps: they are at your shoulders and are connected to the top of your backpack. If you tighten them, they remind the weight of the bag and bring it closer to your body so that the latter presses less on your lower back. If you leave them looser, your backpack will go further back (offering a compromise between balance and comfort).
Stabilization straps: they are found on the sides of the hip belt. They connect the belt to the bottom of the backpack to bring it closer to your body and give you the best balance.
The chest strap: simply allows you to connect your shoulder straps to give you more stability. It will be particularly useful when you are on rough terrain and a movement will cause your bag to tip dangerously. The chest strap will help you become one with your backpack. Personally, mine is still attached!
How to fill your hiking backpack properly?
There are several filling techniques available and you can surely find the one that suits you best as you hike. In the meantime, here are some simple rules to get you started:
Place the sleeping material in the back (you won't need it before the end of the day), near the back, and place the heavy material such as tent, stove, and food.
Clothes will be stored around, ideally in a waterproof bag or garbage bag. The tent can be placed outside at the bottom of the bag if it could not find a place inside. Little tip: if you are going with a tent for two, don't hesitate to distribute the elements of your tent in several backpacks.
Keep a waterproof jacket and fleece close at hand. In the pockets, will be distributed the "small" material of the day (sunscreen, map, glasses…). The water bag will generally be placed in the compartment provided, along the back.
What material are hiking backpacks made of?
Hiking backpacks are made of resistant climatic materials to protect them from, rain or snow. The most used materials are polyester and nylon. Both have high strength and do not break easily. They can be treated in such a way as not to allow water to penetrate inside.
What is the capacity of a hiking backpack?
Hiking backpack capacity is measured in liters to give us an idea of ​​how many accessories or resources we can carry with us. On average, the capacity between 20 and 50 liters is good for short or medium-term trips. Larger hiking backpacks have a capacity of between 60 and 80 liters. They are designed to carry more things inside.
Conclusion
Hiking is one of the most favorite outdoor activities. You have reached the end of our guide. We have tried out over ten best hiking backpacks under $100 from different brands. A wrong choice can turn your trek into a nightmare. So it is essential to choose a bag suited to your needs so as not to overload yourself unnecessarily.
Thank you for reading! Hope you find this article helpful. If you have ideas or advice to share with our readers, you can share your thoughts with us in the comments.
Here're our test reviews on the best women's hiking backpacks, the best hiking boots under $100, and the best affordable sleeping bags.