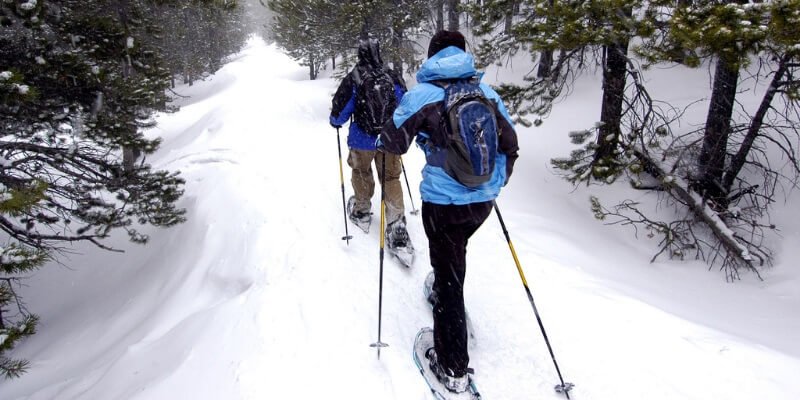 Hiking in winter requires some thermal precautions. If you are cold not only will you have less comfort and less pleasure, but you will see your performance deteriorate.
To function at optimum performance, your muscles and body must be in a comfort zone. So, it is essential to dress properly before going out to play sports in the winter.
We have designed the 3-layer technique which remains unstoppable for this situation, and it guarantees you to be warm at any temperature!
The 3-layer System: Effective Protection
The 3-layer system is recommended for many outdoor enthusiasts, such as for hiking, camping, and more. This basic activity requires good thermal protection for a good energy yield of the muscles. Thanks to this technique, athletes can dress with a minimum of clothes for optimal efficiency.
Whatever the ambient temperature and the atmospheric conditions encountered, these 3 layers are more than enough to guarantee fundamental comfort and effective protection.
First layer
The first layer is the one that is in direct contact with the skin. The role of this basic element is very important insofar as it serves to keep the skin dry. The hiker will not feel the cold, wind, snow or rain during the exercise of this activity.
This first layer must therefore have a good level of breathability in order to allow perspiration to escape and prevent the athlete from dampness because of sweating. This wetness can turn into a very increased feeling of cold after a few minutes.
For this first base layer, the technology of new types of clothing with innovative materials has been a big step forward in offering high-quality thermal underwear. There are therefore short or long underwear made with merino wool or with synthetic fiber.
However, a cotton first layer garment is strongly discouraged. Because it will absorb moisture and dry too slowly, then exposing the athlete to a real risk of cooling.
We can therefore choose thermal underwear for the upper bodies such as warm technical underwear with round necks. Warm Top 3F with a beautiful feminine cut and which provides excellent thermal insulation and optimal moisture transfer for all your clothes activities in low temperatures. This technical underwear also has an anti-bacterial treatment to limit odors and bacteria.
To protect the legs when the temperatures are the lowest, it will be possible to equip yourself with the thermal seamless bamboo and silk underwear Strategic Pant 3 H. It will offer you a feeling of heat and incomparable comfort. With a seamless design, it acts like a second skin.
Silk mixed with fibers causes an immediate feeling of well-being and effectively insulates!

Second layer
The second layer which you can consider an intermediate layer. It comes over the base coat and under the third coat. Its essential role is to isolate body heat by preventing the air heated by body heat from escaping outside the clothes.
This second layer is generally made with synthetic fibers, as found in fleeces, or even with down (for some down jackets for example).
The advantage of fleece-type clothing is that it protects against the cold even in humid weather. These transfer moisture to the outer layer. They also dry faster than clothes that are made from natural or synthetic down.
However, it will be possible to choose an intermediate fleece that is more breathable than the large fleece. And it provides more heat than the fine fleece, is more versatile than the other two. It can also be worn as an outer layer when the temperature is mild, just as it can slip into a mid-layer when the weather is coldest.
Third layer
The last layer is a protective layer. It is in direct contact with the outside and the function of this garment is to protect athletes against humidity and wind. It will also participate in wicking away perspiration. This layer must therefore be above all waterproof, but breathable at the same time.
Today there are many garments with waterproof and breathable membranes. These new materials prevent hikers and athletes from feeling a sauna effect during exercise and sudden cooling when stopped. So make the choice of effective softshell or ultra-shell jackets to have a garment capable of protecting from outside humidity and wind and evacuating humidity from inside.
The best have taped seams and display breathability values ​​of 80'000MVP, and a waterproof value of 20'000 mm. These figures demonstrate total protection and the assurance of being able to practice an outdoor sport in winter without risking exposure to wind, cold rain or even snow.
The choice of an outer layer garment will lead the hiker to opt for a Dynamic softshell hooded jacket (Men) for example. It is a benchmark jacket, which combines the best fabrics and CimAlp know-how. This jacket from the "EXPEDITION SERIES" line offers flawless comfort with its 3 layers: a fleece inner fabric for thermal insulation, a waterproof-breathable membrane, and ultra-resistant stretch fabric on the outside.
With 2 ventilation openings on the sides, 2 large pockets, adjustable cuffs with Velcro, protective inner gloves, a removable hood with zip and a drawstring at the waist, this modern softshell jacket combines details and stitches positive which place it in the category of sure values!
Finally, its waterproof-breathable membrane is waterproof to 10,000 mm of the water column and its real breathability of 10,000 g / m² / 24 hours guarantees you high comfort in all circumstances.
Lightweight with only 810g in size M, it is ideal for accompanying you on hikes in all regions and should make you forget the freshness of autumn!
As for pants for winter, it will be possible to choose these Intrepid Warm pants which have a modern and refined look. They are versatile and warm thanks to their 3D-Flex + 260g weave.
Warm pant also has a waterproof and anti-stain DWR treatment. It can be worn from fall to spring and gives you comfort and superior stretch, which is very appreciable when hiking and when the thermometer is a little low!
Finally, it is an easy-care garment that does not wrinkle and dries quickly. In the end, it offers excellent value for money, which makes it a must when you want to equip yourself with warm pants for winter!

Final Thoughts: Hiking in Winter
The advantage of the 3-layer system is that it is of course scalable. It allows you to leave well covered and remove a layer as the temperature changes during your workout. And at the end of the activity, when your body is at rest, you can put the removed clothing back on, so as not to catch a cold.
Finally, this system also avoids the heaviness (and ineffectiveness) of a single garment. Current techniques for manufacturing synthetic membranes make it possible to design thin and light garments.
They are therefore easily stackable and rarely uncomfortable to wear on top of each other. They allow you to be able to move while being warm and without losing ease of mobility, or feeling stuck in too thick clothing.
---
See Also…