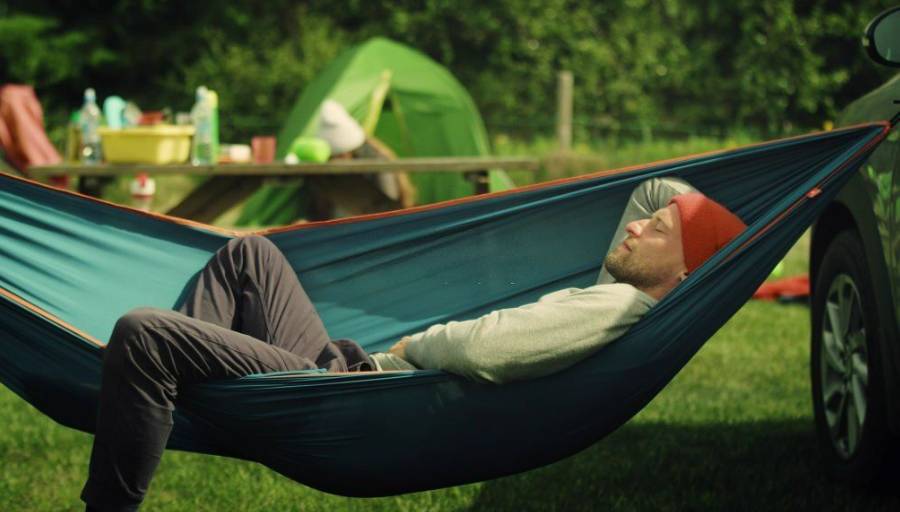 There are many reasons to be happy to be able to enjoy your hammock at home or on vacation. Many campers are ditching traditional tents in favor of this lightweight, easy-to-assemble alternative. There is only one potential downside: can you hang a hammock in the absence of trees?
Let's say you arrive at your campsite and there isn't a single tree to be found. The same problem can arise at home in your backyard: you want to enjoy your hammock near your rectangular parasol but there are no trees around.
Fortunately, enjoying your hammock in the absence of trees is not a problem. Here are nine fool-proof methods for hanging a hammock without trees.
How to Hang a Hammock Without Trees: Your Guide
If you don't have a garden (backyard) with beautiful trees or your fascinated campsite doesn't have suitable trees to hang your hammock, you can find other places to hang it:
Mounting on Your Car or Truck
If the sun is going down and you still haven't found a place to hang your hammock. You can use your car as a hanger.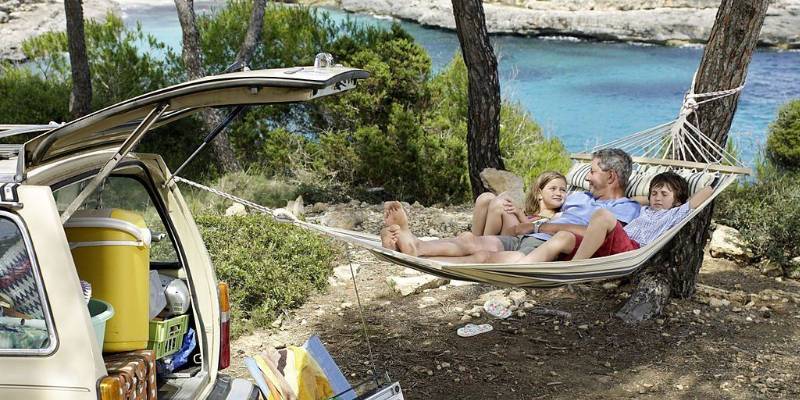 First, find a great location to attach your hammock to your car or truck. It is essential to find a stable place of fixation. Otherwise, you risk damaging your vehicle. A hammock is ideal for anchoring to the bed of a van. However, you cannot attach it to your side mirror.
You can install your hammock between two trucks if you have two. Otherwise, you will need to find a pole or building to serve as a second attachment point.
Use Surrounding Building Structures
One of the most practical treeless hammock ideas is to use what is available to you. The majority of national parks contain outdoor structures such as pavilions, rain shelters, and restrooms. If you're ready to set up camp but can't find suitable trees, you can always try hanging your hammock on the side of a building as a last resort – but make sure you get permission first!
Buy a Hammock Stand
When you have a hammock stand, the entire globe turns into a hammock-friendly zone. This useful piece of gear lets you set up anywhere, including treeless camping areas like beaches or deserts.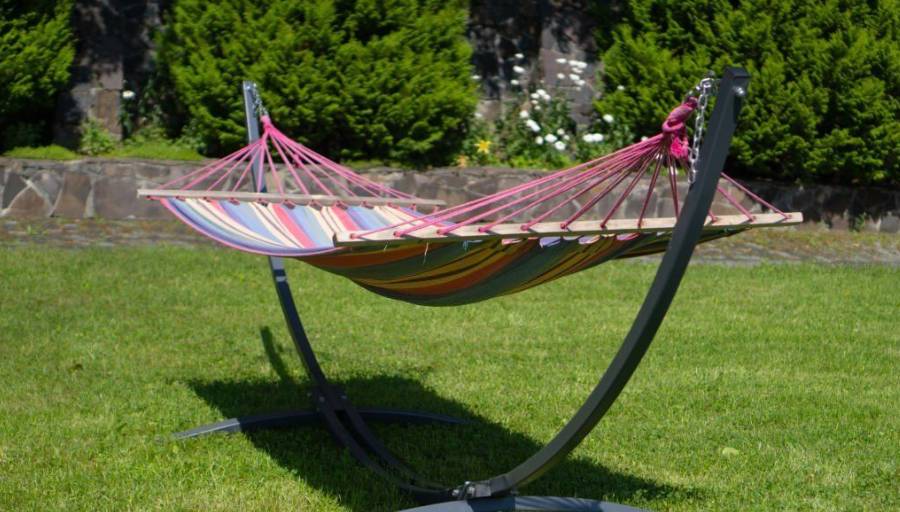 There are many varieties of hammock stands. So here are some things to consider when shopping for the best hammock stand for your outdoor adventure:
Installation: You shouldn't need any special expertise or tools to assemble your hammock stand.
Portability: Your stand should be portable and easy to carry with your camping gear. Look for a lightweight model.
Strength and durability: Your ideal stand should be able to support your weight comfortably and not deform as you ascend and descend.
Use Trekking Poles to Reach the Ground
This method is ideal when you need to set up your hammock without evenly spaced trees or when you only have a car and nothing to tie the other side of your hammock to. All you need are two trekking poles made from sturdy tree branches or dowel rods, ground stakes and cordage.
Here's how it works:
Gather two sticks or poles that are almost the same height as you. Shorter poles can work, but their angle will need to be adjusted later.
Sharpen one end of each stick so that it sticks well into the ground.
Gather the sticks and tie them at the top on one side so they can be moved around easily. Form an upside-down "V" with them and push the pointed ends into the ground.
To secure it in place, loop your hammock over the cross-section where you connected the poles together and thread the strap around the poles once.
Make square knots, or loops, every 30 cm of nylon thread
Place your first nail or spike of soil near the hammock and attached sticks. If your hammock needs to support more weight, you may need longer spikes.
Fold your nylon line loop into two equal-sized halves. Place the first loop on one side around the ground stake.
Pull the rest of the line to stretch it flat. The long, flat line should be taut and low to the ground so that when you're in the hammock the weight doesn't push the ground stakes out.
Secure a second ground stake in the second loop and repeat for the third loop, or as needed.
Repeat the looping procedure on the other side of the nylon rope, using the same primary cleat at the top. The final shape will look like the ">" symbol, with the main spike at the tip and the looped nylon cord on each side with additional spikes.
Re-tie the rope from your trekking poles and hammock to the main ground spike. Tie it into a loop that can be easily tied.
Once you've attached both lines to the stake, test out your hammock and make any necessary changes. To get your hammock off the ground, you may need to reposition the knotted sticks or change your tree line.
You can also modify this method to eliminate human labor, such as sharpening poles and tying loops by hand, using dowel rods, wire rope, and U-nut fasteners. The procedure is identical, except it's a wire rope. The procedure is identical except that the cable is threaded inside the stud rod through holes drilled in the top and bolts are drilled into the bottom of each stud rod so that they can be driven into the floor.
At Home Or the Backyard
If you need this type of installation at your home or Backyard, there are a few precautions to take… Here are 5 practical methods you can follow:
Connection of Two Posts
Poles and other round supports are ideal for securing your hammock. A post or picket, such as a telephone pole or fence picket, can be found virtually anywhere.
Choose your post carefully, making sure it is stable enough to support your weight. You need to shake it carefully to make sure it's solid. There are also hammock stakes in some parks, which are free to use.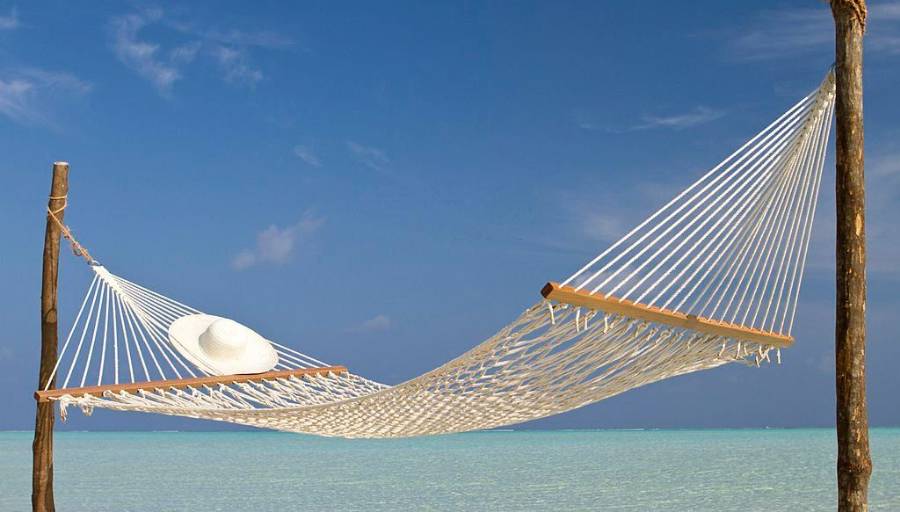 A Hammock Pole in the Garden
But still, it is always possible to fix one or two poles in your garden. In this case, you need a pole 3 m long, 10 cm in diameter minimum. Also, choose a post with as few knots as possible. The more the post comes from the upper part of the pine or fir tree, the more knots there will be!
Take the case of sandy soil, very common in the moors. Make a huge hole 80 cm deep. Place your post, and block it with two treated wooden plates of 60 cm x 20 cm x 3 cm (approx). One down behind the post, the other up front just below the ground surface. Put the sand back, that's all. No need to add cement which is ineffective in the sand. To sag, the post will need to take so much sand with it that it becomes totally blocked.
Hang a Hammock in a Bedroom
A place partition: attach a 10 X 15 wooden beam from the floor to the ceiling. Fix it to the place approximately every 50 cm. Fix our universal kit on the wooden beam. Avoid placing the hammock on walls face to face but rather at an angle (distribution of the load).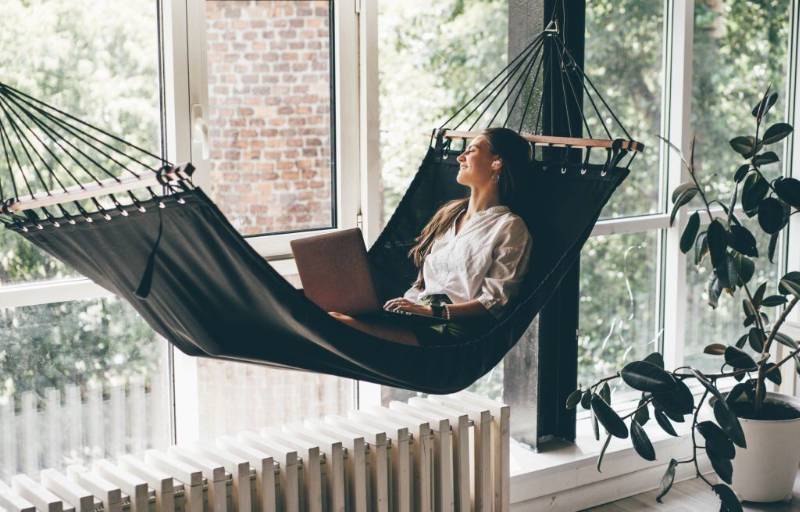 Hang a Hammock From the Ceiling
Use two wood screw eyebolts, before screwing them, make a pilot hole 4 mm in diameter. Use a set of ropes and hooks to connect the hammock. That's all.
Do not use plastic anchors to hang anything from the ceiling. They are designed to support lightweight on the wall, not on the ceiling X Research Source. Measure the thickness of the partition and the weight of the object you want to hang.
Fix Hammock to the Wall
Installation is simple: drill the holes, insert the peg, screw the stand, and attach the hammock! On a brick or cement wall, the ideal is the support with 4 screws. The load is thus distributed over the four screws. You can install an 8mm dowel with suitable heavy-duty screws.
Ideal Distance Between Two Fixing Points
The ideal distance between the attachment points of your hammock depends on the type of hammock. If you have a hammock with bars, it is better to hang it by stretching it as much as possible between the two points. A hammock with bars can be suspended at a height ranging from 120 to 140 cm.
A hammock without bars should be hung at chest height, around 1.80 m. If you use additional ropes, you must secure it even higher. The ends of your hammock thus remain at eye level.
Make sure that the fixing points are at equal heights to ensure stability. If the fixing is correct, the lowest part of the hammock is suspended at a height of 40-50 cm above the ground.
It is better for the distance between two fixing points to be a little too large than too small. It is always possible to add rope, but not to shorten the hammock.
Also plan ahead and make sure you can hang a hammock for two people between these same trees later on.
Finally, consider that a hammock will stretch the more you use it.
Conclusion: A Long Experience
All of this advice comes from long experience. From 1990 to around 2000, I installed hammocks many times. Probably about 25 poles per year! Until one day a craftsman said to me: "Do you have building insurance for the work? Ouch, I felt the crack coming… "If you make a hole in a wall and drill a pipe, what will you do?" ". Life is a long apprenticeship strewn with experiences and advice to follow or not!
At home, it is your civil liability that will cover you in the event of a glitch!
---
Other Interesting Articles on the Same Subject: