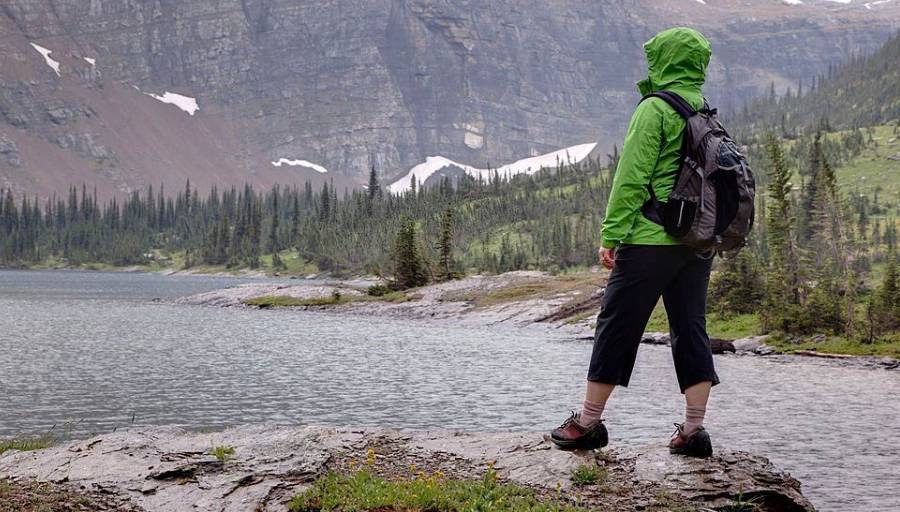 A waterproof hiking backpack is always good. Indeed, it will allow you to face the rain, snow or to venture on expeditions in wet environments while keeping your belongings dry. Did the advantages of a waterproof hiking backpack appeal to you? Here is a complete buying guide for choosing the best waterproof backpack for hiking that is perfectly suited to your needs.
The market for waterproof hiking backpacks offers a wide range of products, all different from each other. As a future buyer, it is sometimes difficult to choose one brand or another. In the first place, you will find the TOP 5 of the best waterproof hiking backpack.
Our Recommendations
1. Earth Pak – Original Dry Bag
A waterproof bag, adaptable with a large capacity.
Capacity: 40 liters
Waterproof index: IPX7
Weight: 1.65 pounds
Closing mode: Three-fold closure
Material: 100% PVC (Polyvinyl chloride)
Usable: outdoor activities, hiking, kayaking, boating, fishing, etc.
External compartments: A large pocket with zipper on the front of the bag
Pros:
Additional storage spaces
A padded carrying system
Waterproof to IPX7 rating
This is an original waterproof dry bag from the Earth Pak brand. With its capacity of 55 liters, it has a multitude of interior and exterior pockets, which allows you to organize your storage well. You can also get this model in 30 liters and 40 liters.
It is made of PVC with an IPX7 waterproof rating. It guarantees you total protection against liquids and ensures that you keep your belongings dry. It is adaptable and can accompany you during all your outdoor or nautical activities, such as canoeing, cycling, fishing, rafting, hiking, etc.
This model is designed with a three-turn roll-top closure and with a reinforced strap to ensure 100% waterproofness. It is compact and therefore easy to transport. Earth Pak Dry Pack is equipped with an ergonomic back panel, reinforced shoulder straps and a chest and waist belt offering you maximum comfort during your escapades.
---
2. Transit Waterproof Backpack
A light, well-organized and state-of-the-art waterproof bag.
Capacity: 42L
Waterproof index: Fully welded construction with a single-side TPU coating
Weight: 3.55 pounds
Dimensions: 22.3 x 15.8 x 2.9 inches
Closing method: Three-fold closure
Material: Thermoplastic polyurethane (TPU)
Usable: Nautical activities, paddling, rafting, kayaking, fishing, etc.
External compartments: 4 compartments with openings that fit water bottles and other essentials
Pros:
Light when empty
Equipped with several external pockets
4 red LED beacon lights
High waterproof rating
Large capacity
Cons:
A bit heavy
Lack of comfort
The P162-LMBK-OS from the Transit brand is the reference waterproof backpack in the USA. Indeed, Transit is a western brand that has specialized in sports accessories since 1997. The P162-LMBK-OS model can accompany you in all your sporting adventures, at sea or on dry land.
It is composed of fully welded construction with a single-side TPU coating with a 100% waterproof rating. It protects your belongings against immersion up to 1 meter deep for a maximum duration of 30 minutes.
With this type of bag, you can carry your belongings without risk during all your aquatic outings., such as kayaking, rafting, paddleboarding, fishing, and many more.
The tightness of the backpack is guaranteed by its high-frequency welding. With its capacity of 42 liters, you can take with you everything you need for a daily outing. In addition, it has 4 nylon compartments with elastic openings, which can accommodate water bottles and other hiking accessories.
---
3. Yeti – Panga 28 liters
A waterproof backpack, practical and with a unique design.
Capacity: 28 liters
Waterproof index: IPX7
Weight: 1 kg 800
Dimensions: 31.8 cm x 17.8 cm x 50.8 cm
Closing method: Waterproof zip
Material: High-density nylon
Usable: Hiking, getaway in wet environments and water activities
Exterior compartments: /
Pros:
Waterproof to IPX7 rating
Removable belt
Waterproof zipper
Cons:
Relatively heavy curb weight
No outer compartment
The Panga Submersible is a waterproof hiking backpack offered by the Yeti brand. It is designed with the goal of being your travel companion for all your outdoor adventures. Its IPX7 waterproof rating makes it totally waterproof from the outside in and vice versa.
Whether you're in the middle of a storm, in the mud, in a river or in the pouring rain, your belongings inside the bag will remain dry and intact.
The shape of this outdoor pack is rigid and guarantees a constant shape whether empty or full. In addition, it is equipped with quality equipment to ensure maximum comfort during your excursions. Its padded back and straps as well as its removable belt will allow you to distribute the load weight all over your body.
The major disadvantage of this model lies in its relatively high empty weight of 1 kg 800. However, if you go on an outdoor activity for a short time, this disadvantage will quickly be forgotten.
---
4. Sea to Summit – Big River Dry Bag
A multifunction backpack, solid and resistant to abrasion and bad weather.
Capacity: 20 liters
Waterproof index: IPX6
Weight: 200 grams
Dimensions: 94 x 50 x 40 cm and in waterproof mode: 69 x 29 x 40 cm
Closing mode: Three-fold closure
Material: 420D Nylon
Usable: Outdoor activities air and nautical (canoeing, rafting, kayaking, etc.)
Exterior compartments: /
Pros:
Mixed bag
Very light when empty
Adaptable for various activities
Cons:
The least waterproof on the list (IPX6 rating)
Limited capacity
No outer compartment
The Sea to Summit Big River waterproof hiking backpack has been designed to accompany you during all nautical or outdoor activities. It is made of 420D Nylon which is a super strong and abrasion-resistant material.
The Big River bag features an IPX6 waterproof rating ensuring good protection against all wet situations. However, due to its three-turn roll closure, it will not protect your belongings from submersion in water.
Thanks to its volume of 20 liters, you can take with you everything you need (water, food, clothing or even accessories) to practice your sports activity in good condition.
This model stands out from its competitors thanks to its very light empty weight of 200 grams. If you want a comfortable, light pack that can accompany you in the majority of your activities, the Big River is most likely an ideal model for you.
---
5. Oak Creek – Canyon Falls
A waterproof, multifunctional hiking backpack with a large number of storage spaces.
Capacity: 30 liters
Waterproof index: IPX6
Weight: 1 kg 020
Dimensions: 30.48 x 17.78 x 45.72 cm
Closing mode: Foldable in threes
Material: 100% PVC (Polyvinyl chloride)
Usable: Outdoor activities outdoor and aquatic
External compartments: 2 side pockets and a front pocket
Pros:
Waterproof to IPX6 rating
Carrying comfort (straps and reminder straps)
Several internal and external pockets
Cons:
Cannot be fully immersed in water
Capacity limited to 30L
Not stretchable
The Canyon Falls bag from the Oak Creek brand is perfect for lovers of outdoor activities and water activities. With its capacity of 30L, you can go quietly on a day trip. It has two side mesh pockets and a front zip pocket. You can therefore carry additional accessories and have quick access to them: water bottle, paper, snack, etc.
It is made of PVC. It guarantees to keep your belongings dry even in the event of showers or total immersion for a short time. The Oak Creek brand wanted the best for you by guaranteeing you carrying comfort.
Indeed, the backpack has padded, adjustable shoulder straps and a chest strap to ensure back support. Finally, it is designed with a three-turn roll closure, which can also be used as a handle for easier transport.
---
Best Waterproof Backpack for hiking: Your Complete Guide
Different types of waterproof hiking Backpack
All waterproof hiking Backpacks are not the same and meet different needs depending on their characteristics. A large number of criteria make it possible to distinguish them. But the main ones are the level of tightness and the mode of closure. In addition, the waterproof hiking backpack on the market is divided into three categories: waterproof, moderately waterproof and backpacks with 100% waterproofness.
Level of tightness
The level of sealing of a backpack is measured by its IP index, which is between 0 and 8. The higher this index, the more the pack is waterproof and vice versa.
As mentioned above, we first have waterproof backpacks, which are resistant to moderate rain situations, but eventually get soaked. Then we have the so-called waterproof bags, which can withstand severe weather, for several hours, while keeping their interior compartments dry. Finally, we have the 100% waterproof model, which can be completely submerged in water.
Below is the explanation of the degree of water protection according to each IP:
Learn IP rating And Water Protection
0 – No coverage
1 – Protected against vertical drops of water drop
2 – Protected against falling water drops up to 15° from the vertical
3 – Protected against rainwater up to 60° from the vertical
4 – Protected against splashing water from all directions
5 – Protected against jets of water from all directions with a lance
6 – Protected against powerful jets
7 – Protected against the effects of immersion (up to 1m)
8 – Material submersible under specified conditions (Prolonged immersion) beyond 1 m
Closing method
Regarding the different ways of closing a waterproof hiking bag, we have the folding closure and the waterproof zip. Below are their pros and cons.
The folding closure (3 turns)
It's a practical and effective solution to protect your belongings, even if your backpack ends up in total immersion. When closing it, be sure to close it three times to ensure maximum sealing. However, it is a solution that is unsuitable for too long an immersion.
Indeed, after a certain time under the water, the reliability of the watertight closure decreases and eventually the water can reach the inside of the bag. If you have chosen to opt for this mode of closure, be careful not to overload the interior of your backpack too much. Indeed, a pack that is too overloaded will tend to close less well and will lose all its tightness.
The waterproof zip
If you want a lower-cost option, don't turn to a resealable backpack with waterproof zip. This is because the more waterproof the bag, the higher the prices tend to be. This type of zip is a 100% waterproof solution even after long immersion. If you are likely to travel with electronic devices, this solution is ideal for you.
The volume of storage according to the activity practiced
The storage volume of your backpack depends on your needs and your activity. It is obvious that the volume of your backpack will be different for trekking than for sailing or cycling for example.
The question you should ask yourself before purchasing is "What activity will I do with the bag and what should I bring with me? ". In addition, there is no point in burdening yourself with a large bag, if you do not need it.
Have you been going trekking for several days? Opt for a volume of about 50 liters.
Do you practice water sports? A volume between 5 liters and 10 liters is more than enough.
You don't have a particular activity in mind? In this case, it is preferable to opt for a multifunction bag, with an average volume of between 25 liters and 35 liters.
Backpack's empty weight
The empty weight of the hiking backpack correlates with the previous criterion. Indeed, the larger the bag, the higher its weight. Regardless of the activity, it is therefore preferable to choose a pack that is relatively light in weight.
Quality and budget
The quality of a waterproof backpack depends on its materials and seams. The market has a wide range of products, all of which cater to different needs. If you want to acquire a robust product, which will follow you for several years, it is necessary to put the budget into it.
Depending on the type of backpack, its specifics and features, as well as its load capacity, you will find models for purchase on sale at prices between $20 and $300.
Carrying comfort
Like classic hiking backpacks, the back of the pack can be made of three different materials: stretched mesh frame, padded foam or even suspended stretched mesh. The choice of carrying system depends on your use. The stretched mesh frame provides ventilation and is suitable for small loads. The padded foam allows relatively heavy loads to be carried but does not guarantee optimal ventilation for the wearer.
If you want to benefit from ventilation while carrying heavy loads, it is preferable to opt for the suspended stretched net.
Straps and suspenders
Unlike classic hiking backpacks, waterproof backpacks have fewer straps. The number varies depending on the models and brands of bags. But there are load reminder straps, chest straps and shoulder straps. It is essential for your comfort to opt for a waterproof hiking bag with these characteristics. Indeed, the more straps the model has, the more evenly the total weight of the backpack is distributed.
Storage
Even if waterproof hiking bags have fewer external compartments, they still have two side pockets to place at least a bottle of water. Some models have more, while others have less. You can choose one model or another depending on your needs.
The choice of a backpack according to your morphology
If you are a woman
While hiking for a woman, it is necessary to choose a bag adapted to her morphology.
Here are some tips to follow, in order to guide your choice towards a bag adapted to a female morphology:
The length of the back and straps should be relatively short.
The waist belt should be wide to fit well on the hips.
The shoulder straps of the pack must be indented, so as not to interfere with the chest.
If you are a man
Unlike a hiking backpack designed for women, the hiking pack for men has fewer specific characteristics. Indeed, the size of the back must be long and the straps must be straight and adjustable.
Your weight and physical condition
These are important variables because they tell you how much load weight you are capable of carrying. Thus, it is important to ensure that the total weight of your backpack does not exceed 15% of your total weight.
Of course, this rule also depends on your physical condition. For example, if you are a confirmed and seasoned athlete, it is possible to increase the total weight of the bag and vice versa.
FAQs
How to read and interpret the waterproofness index?
In truth, it is very easy to interpret this index. The first number corresponds to the protection against dust and the second represents the tightness against liquid. Let's take the example that the index of a backpack is: IP67. In this case, the protection of this bag against water would be 7, which is a very good seal.
Why is it necessary to buy a waterproof hiking backpack?
If you travel all year round, you risk severe weather (snow, heavy rain) or it is possible to find yourself immersed in water, the waterproof backpack is imperative. On the other hand, it is not useful to get a waterproof backpack if you only travel in summer and you risk light showers.