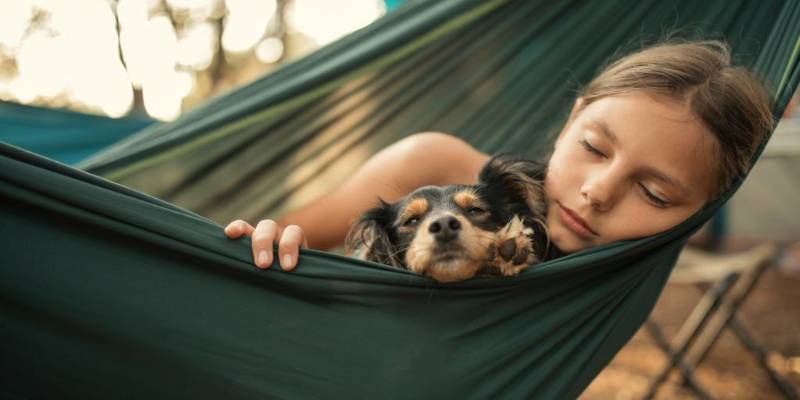 In most countries around the world, it is completely unimaginable not to sleep in a bed – at most you dodge the sofa. Or have you ever thought about exchanging your mattress temporarily or even completely for a hammock?
That might not be such a bad idea after all. Sleeping in a hammock is not only comfortable but also has a number of other advantages.
So what about back health? What is the best hammock for sleeping in? Or, can I also use a hammock as a tent substitute when camping? We want to answer these and many other questions for you today.
Pros and Cons of Sleeping in a Hammock
Advantages:
Economical alternative to a bed.
Can be stowed away to save space both at home and on vacation.
Good ventilation and therefore less sweating – especially in summer.
Rocking motions help you fall asleep faster.
Adapts to the spine when lying down and protects the back.
Millions of people sleep in hammocks around the world.
No contact with the ground when camping.
Disadvantages:
Appropriate mounting options are a prerequisite.
Faster cooling when the outside or room temperature is low.
Not suitable for everyone due to sway and instability.
Only conditionally usable for several people as a permanent solution.
Requirements for Sleeping in a Hammock
Sleep is a highly individual matter. In addition, we spend around a third of our lives sleeping. So if you plan to use your hammock regularly as a bed replacement, all the requirements for a healthy and restful sleep should be met.
For back pain-free sleep in the hammock, you need the right hammock, an optimal suspension angle, and the right lying technique. And of course, you can take a nap in any hammock.
Characteristics of a Perfect Sleeping Hammock
First of all: If you only want to enjoy your afternoon nap in a hammock from time to time, you don't need a special sleeping hammock. Here you can draw from the full and let off steam in our hammock range. Hammocks with a stabilizing spreader bar are ideal for chilling out in the garden, enjoying a good book or just closing your eyes for a moment.
No wishes remain unfulfilled – starting with entry-level models such as the Amazonas American Dream.
Amazonas AZ-1970000 New Hammock
However, if your hammock is going to replace your regular bed, stick hammocks are not the best choice.
Points that speak against a stretcher hammock for sleeping:
The spreader bars stretch the lying surface so much that the body weight cannot be optimally distributed.
In addition, the hammock does not optimally adapt to the back due to the tension.
Because spreader bar hammocks are open on the sides, you could roll out while sleeping.
Unlike classic hammocks without spreader bars – the sides don't wrap around your body, which makes it easier for you to cool down outside.
The taut lying surface ensures a lot of movement and wobbling during sleep.
As a hammock for sleeping, we recommend hammocks without a spreader bar. Cloth hammocks or fine-meshed net hammocks are best suited. Thanks to their fine mesh structure, ensuring optimum ventilation in summer without you starting to sweat.
Important:
If you decide to use a net hammock as a sleeping hammock, you should make sure that the net structure is as fine as possible. Because coarse meshes do not offer your back sufficient support in the long term. In addition, the strands cut unpleasantly into the skin over time.
At the same time, the following rule applies to all sleeping hammocks: the wider, the better. This is especially true if you are a side sleeper. Even if there is no special hammock for side sleepers, you are best served with a wide variety.
The background is that the fabric bulges and offers you optimal support from both sides. If you would rather spend the night in the forest or sleep in a hammock on a camping holiday, you should use an outdoor hammock that is as wide as possible without a spreader bar.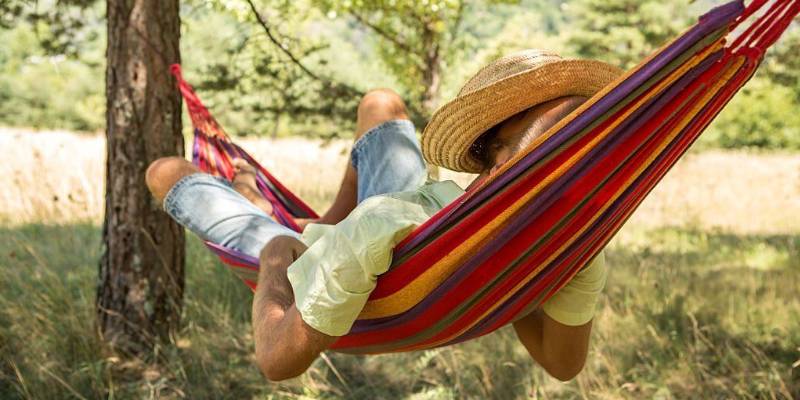 Outdoor hammocks are usually made of particularly light and water-repellent material, so you don't get wet behind from the morning dew. You can find out more about "sleeping outdoors in a hammock" in the paragraph "The hammock as a tent replacement for outdoors".
Right Hanging Angle for a Good Night's Sleep
For restful sleep in the hammock, it must hang at the optimum angle. Anyone who sleeps in a hammock for the first time usually stretches their sleeping hammock too much.
If the lying surface is stretched too much, it will not adapt to your body optimally. However, you should immediately notice excessive tension. The hammock would restrict you so much that you could hardly move while lying down.
On the other hand, too little tension is also not optimal. Because sagging too much puts unnecessary strain on your back, hips and knees. You can also forget about lying on your side if you sag too much. A sag of about 30 degrees offers the optimal compromise between stability and comfort.
Optimal Room Temperature
Regardless of whether you want to sleep inside or outside in your hammock, you should always keep an eye on the room or outside temperature. In contrast to sleeping in bed, there is no thick mattress underneath to protect you from the cold in the sleeping hammock.
In any case, the room temperature at your indoor sleeping place should be 22 degrees. In winter and when sleeping under the open sky, you can also make your sleeping hammock cozier with a so-called "underquilt".
Correct Lying Technique in the Hammock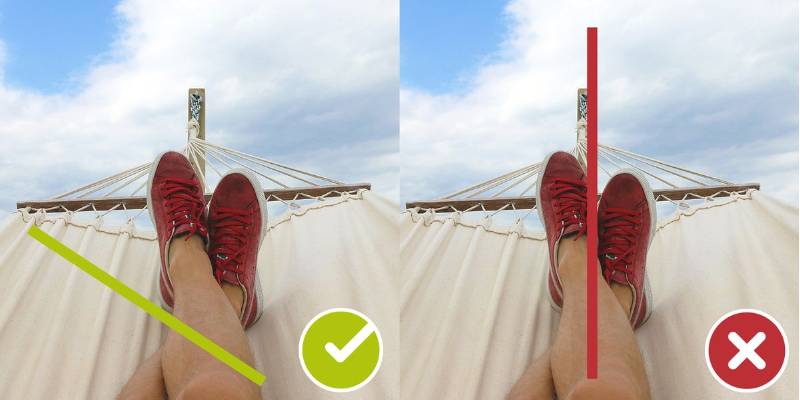 Sleeping in a hammock, but how?
This is a question that many first-time offenders ask themselves. In fact, a special technique is helpful in order not to wake up completely tense after a few hours of sleep. This is exactly what would most likely happen to you if you were to intuitively align yourself parallel to the edges of the mattress – as in your bed. The curvature quickly leads to overloading of the back and neck.
Lie in the middle of the hammock and orient your body diagonally. You can align your feet slightly to the right or left. Your upper body reflects this position in the opposite direction.
In this position, the lying surface is optimally stretched. At the same time, you benefit from a natural load distribution, so that nothing stands in the way of a relaxed sleep without tension.
Fall Asleep Quickly in the Hammock
Do you usually have trouble falling asleep? Do you often toss and turn for what feels like an eternity before you finally fall asleep? If you use a hammock to sleep, the problem is gone. Are you wondering why?
The gentle swinging of the sleeping hammock will gently and surprisingly quickly rock you to sleep. This is confirmed by a study from Switzerland that was published in the specialist journal "Current Biology". According to the scientists' findings, the rocking movements stimulate the sense of balance in the inner ear.
At the same time, skin and muscle receptors are activated. The combination of alternating impulses presumably leads to a synchronous stimulation of the cerebrum and diencephalon. This in turn promotes sleep all by itself. So you don't have to do anything to fall asleep quickly in the hammock – cool, right?
Hammock As a Tent Replacement for Outdoors
Do you fancy a spontaneous outdoor trip or a trekking tour with light luggage? Would you like to enjoy maximum freedom without having to lug around a bulky tent and set it up and take it down?
Then we have good news for you: high-quality outdoor hammocks are an excellent tent replacement for your adventures. Especially when the weather is good, isn't there anything nicer than spontaneously stretching out a hammock and falling asleep with a view of the stars? The right choice here is feather-light travel hammocks.
The most important selection criteria: low weight and a water-repellent and quick-drying fabric. Nylon, for example, is ideal. Outdoor hammocks weighing only 600 g with a maximum load capacity of up to 200 kg is ideal.
Protection Against Mosquitoes and Bad Weather
Sleeping in the open air is a beautiful thing. If only it weren't for nature with all its mosquitoes, spiders and rain showers. Luckily, you don't have to endure this adversity. Many hammocks are already equipped with a small tarp that keeps you dry even in the rain.
Hammocks with an integrated mosquito net protect against mosquito bites – they can be closed tightly all around with a zipper.
The luxury alternative is a small hanging tent, such as the Tentsile Connect Safari hammock tent, which comes with small poles and offers you maximum camping comfort in a minimum space.
Sleep in a Hammock in Mexico and South America
The hammock probably comes from Central America. More than 1,000 years ago, people slept there in net hammocks. In the tropical climate on the equator, this was and is a clever move.
After all, a place to sleep above the ground protects against all sorts of poisonous and other unpleasant animals. At the same time, a hammock guarantees optimal ventilation in the warm, humid climate of Mexico and South America. In turn, less heat build-up means less sweat and thus a much more comfortable sleep.
Many Central and South Americans remain true to this tradition to this day. Many people not only use the hammock to sleep as an alternative to the bed but do not even own a conventional bed. You're probably wondering whether lying in a hammock all the time will cause back problems at some point.
As amazing as it may sound, this is not the case. Because according to medical studies, South and Central Americans who regularly lie in hammocks do not complain of back pain more often than "bed sleepers".
Frequently Asked Questions
Is the hammock suitable as a bed replacement?
As the example of many South and Central Americans shows, a hammock is quite suitable as a substitute for a bed. Of course, it depends on your preferences. For example, if you like to roll around or share your bed with a loved one, a hammock isn't necessarily the best solution in the long run.
However, the sleeping hammock can replace a bed, at least on hot summer nights.
Is sleeping in a hammock healthy?
At first glance, the "sagging" doesn't seem particularly good for your back. In fact, sleeping in a hammock is healthy. And that is if you use a cloth hammock without a spreader bar and hang it up at the optimal angle. Then it adapts to the natural shape of your spine and stabilizes your back.
How does sleeping in a hammock affect your back?
An optimally selected sleeping hammock is beneficial for the back. It not only ensures optimal pressure distribution but also supports the spine in its natural posture. In many places, hammocks are even used – in the context of therapies – as ergonomic aids, e.g. B. to get rid of stubborn tension and back pain.
Conclusion
Hammocks are more than just a cozy spot for a midday nap. With the right sleeping hammock, you can also spend a few nights relaxing in the land of dreams. Whether inside in your living room, in the garden, or in the great outdoors – with a comfortable hammock you'll be in dreamland in no time.