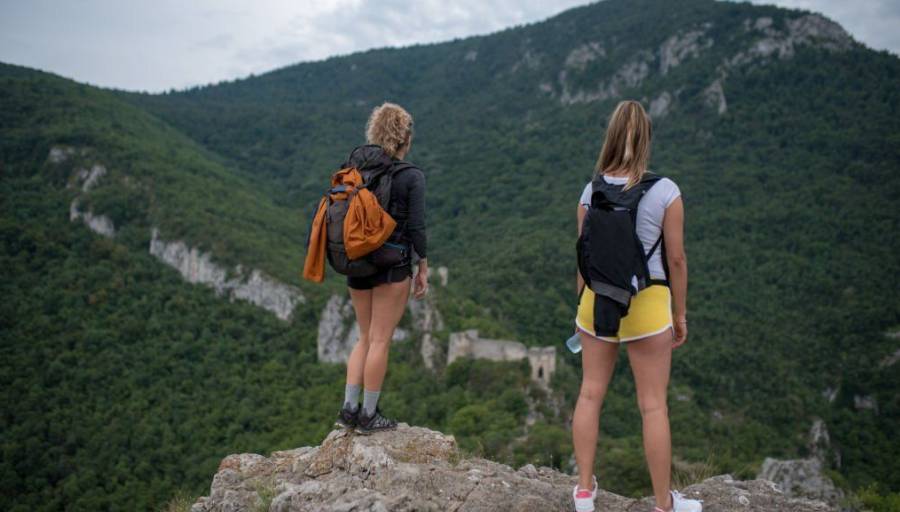 Ultralight backpacking is a concept often known to hikers but very often misunderstood. We often think wrongly that ultralight backpacking consists in taking as little equipment as possible during a hike, and that it is enough to have a light backpack.
Of course, this aspect is strictly necessary for the concept of ultralight backpacking, but it does not stop there. Above all, we will see that it is a philosophy of life based on 3 founding principles. For better understanding, we will also look at the basic equipment to take away and how to start this experience off the beaten track.
Are you ready to know everything about ultralight backpacking?
History of Ultralight Backpacking
Ultralight backpacking, as a hiking discipline, has only been around since the 1990s. But some 19th-century travelers already tried to apply this principle during their hikes and travels. This is the case of John Muir, a Scottish naturalist born in 1838, who worked for the preservation of wilderness areas such as Yosemite Valley, in the United States.
During the 1860s, he liked to travel the Rocky Mountains with the bare minimum: a bowl, a bag, a blanket and an ice axe! A few years later, in 1878 to be exact, Robert Louis Stevenson traveled the current "Stevenson path" with a donkey and a book. Along the way, he conceived a sleeping bag himself and camped out under the stars in order to get closer to the essentials.
During the 1990s, with the development of hyper-consumption and the advent of globalization, many people wanted to reconnect with minimalism and this notion of going back to basics. This desire gave birth to bushcraft, which we talked about in the ultimate guide, but also to ultralight backpacking, which is more focused on light displacement.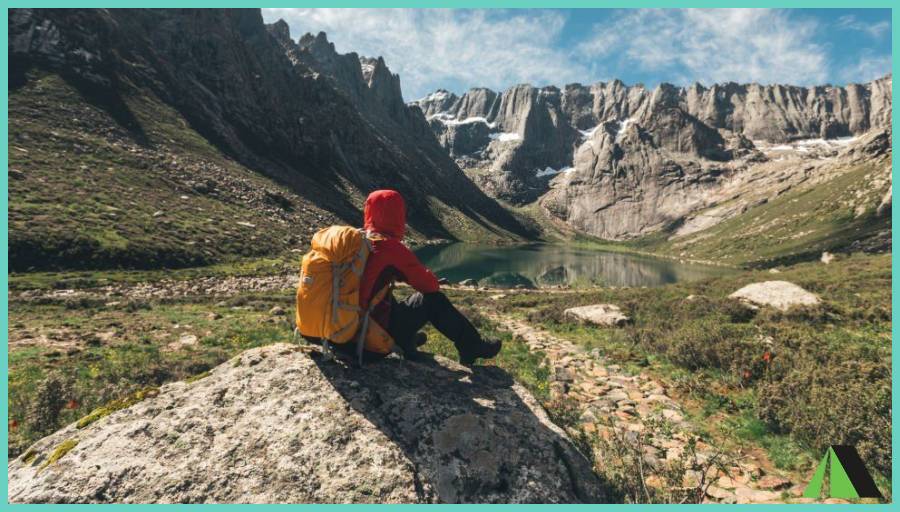 The 3 Main Principles of Ultralight Backpacking
Ultralight backpacking as we understand it today is centered around a permanent interaction between three factors: the hiker, the environment in which he is, and the equipment he is carrying.
Let's see together what they correspond to:
The hiker: must seek to derive the maximum pleasure from the experience, leaving aside the objects and tools that he would not need.
The equipment: it must correspond to the needs of the hiker but also to the environment in which it is located. Then the material taken to hot regions will be very different from that taken to cold regions and so on.
The environment: it must be observed and understood to adapt the material to the difficulties of each environment. The difficulties of the mountain will differ from those encountered in the forest. The places of tarp or the meteorological risks will be different and the equipment to respond to them will also have to vary.
These three interconnected criteria will always be at the heart of ultralight backpacking basics. They even constitute the essence of this experience.
A Philosophy of Life
Ultralight backpacking is therefore much more than a secondary discipline of hiking. It is to be seen as a philosophy of life that leads us to question ourselves on our current needs, the notion of the usefulness of an object that we possess, and even the notion of freedom.
By forcing us to adapt to our immediate environment, it challenges our inventiveness and our self-confidence. Ultralight backpacking becomes the vector for discovering one's deepest self and personal fulfillment.
While it can be practiced with several people, it is above all a personal approach aimed at finding one's own needs. This is why each hiker will not have the same gear in his backpack or the same equipment.
3 Steps to Start the Ultralight Backpacking
Starting ultralight backpacking can be difficult. We often hesitate to start and we are quickly frightened at the idea of ​​missing everything. So the first light hikes always carry 10 times too many objects! Instead of weighing about ten kilograms, our backpack weighs twice as much and the supposedly ultralight hike quickly becomes a nightmare.
Fortunately, there are three key steps to put into practice before embarking on ultralight hiking. These 3 steps will allow you to sort between essential items and those to leave at home while knowing how to select the lightest items.
Here's how:
Make a list of the equipment that you consider necessary: ​​as we have seen previously, choose according to your needs but above all to respond to the problems of the environment in which you will be.
Weigh each object and try to find the same one less heavy: to gain in lightness but not lose anything in usefulness, choose multi-purpose gear or tools, in other words, which combine several functions.
Weigh all your equipment: backpack and tools included. The ideal is around 12 kg of equipment to start quietly (although hikers accustomed to ultralight backpacking manage to hold everything in 6 kg!).
The Choice of 4 Essential Gear
As for food, it is possible to carry freeze-dried portions in your backpack. This will make you gain weight and above all give you the possibility of being independent for a few days.
Don't hesitate to take a look at our articles on how to light and extinguish a campfire, which will be very useful to you in the context of ultralight backpacking.
With Lifestraw straws, you will even be completely self-sufficient in drinking water! But there are above all 4 essential pieces of equipment which you will need to bring during your ultralight walk: the tent, the hiking backpack, a mattress, and a sleeping bag.
Let's see how to choose the most useful and light equipment possible!
The Hiking Backpack
The ultra-light hiking backpack must be large enough to carry all your small belongings without being too heavy. It must also remain resistant and withstand possible collisions or falls.
As the goal is to remain light, backpacks of more than 60 liters should be avoided, which generally weigh around 2 kg or 2.5 kg when empty. It's already too much! Several brands offer backpacks up to 55 liters for less than 1 kilogram.
Click here to find out how to choose your ultra-light backpack!
The Tent
Hammocks or tents can be a real solution for sleeping in the great outdoors. Some models include a mosquito net and protect from the rain thanks to the addition of a tarp. But for ultralight backpacking, they represent above all an additional weight that is not very suitable for incessant movements.
For ultralight hiking, I recommend you buy a lightweight tent such as the well-known MSR Hubba NX.
This tent is the most famous in the world for multi-day treks and ultralight backpacking. It can be assembled in less than 10 minutes and is available in single-person, two-person, or four-person versions. It weighs only 2.6 pounds in the 1-seater version and will allow you to stay sheltered in all seasons!
The Mattress
Bringing a mattress may seem superfluous, yet it quickly becomes essential. It will save you terrible back pain the next day when you wake up when you have pitched your tent on the rocky ground! It also makes it possible to provide a layer of waterproofing so as not to feel the cold and the humidity of the ground during the night.
Again, it's up to you to find the mattress that meets your comfort criteria but will be as light as possible.
You then have the choice of very good foam mattresses like Thermarest mattresses. Thicker mattresses are also slightly heavier than the foam models. In any case, you can count on a mattress weighing less than 3 pounds.
The Sleeping Bag
In summer as in winter, the sleeping bag will be essential. Very often it has several disadvantages: too bulky for some, difficult to roll for others, and it is sometimes considered too heavy for ultralight backpacking. However, winter sleeping bags from TETON Sports is very light for a negative comfort temperature.
The TETON Sports Leef Mummy Sleeping Bag for a comfort temperature rating of 0F / -18C. Whatever the environment in which you are going to evolve, it is possible to carry equipment optimized for ultralight hiking: it combines lightness, utility and resistance.
The Necessary Evolution During the Experience
During an ultralight hike, don't be afraid of the changes in equipment or the continuous adaptation that you will face. The material will most certainly change along the way because we quickly get rid of objects that we never use. You will quickly realize all the superfluity that you had put on your starting list.
Sometimes it will even be the opposite: other tools or objects that we thought were useless will appear depending on the immediate environment and your needs. You will then have to create a walking stick from scratch because you feel the need for it or you will start feeding on what you find along the way.
The notion of "Do it yourself" is therefore very important for this ultralight backpacking experience. Over the days, you will find yourself confronted with yourself, your most basic needs, your strengths and also your weaknesses.
Ultralight Backpacking: FAQs
What is considered ultralight equipment?
Although there is not really a general or strict rule, we can identify trends. For example, you are generally considered an ultralight hiker if your gear's base weight is less than 12 pounds, and a light hiker if your base weight is less than 25 pounds. Most traditional hikers have a base weight of less than 30 pounds.
What should you avoid bringing for the ultralight backpacking?
Don't bring too many electronic devices, anything you might need "just in case", too much food or too much clothing. However, the type of gear you take depends on where and when you are hiking. The length of the hike will also determine how much gear you will carry and what you might bring.
How much does a 60 liters backpack weigh?
In terms of kilos/pounds, a full 55-liter backpack weighs around 14 kg/31 lbs while a full 70-liter backpack weighs around 20 kg/44 lbs. It will be necessary to aim for bags with smaller capacities for ultralight backpacking.
How do I know if my backpack is too heavy?
Signs your backpack is too heavy
It is difficult to put on or take off.
You hurt while wearing it.
You feel tingling or numbness in your limbs.
Strap marks appear on your shoulders.
Your posture changes while you wear it.
Conclusion
Ultralight backpacking is not just one hiking practice among others. It allows you to go back to basics on the material level by carrying only the bare minimum. It is also a permanent interaction between the hiker, the immediate environment, and the equipment at his disposal.
In this, it is close to the philosophy of bushcraft, except that ultralight backpacking is lived in a nomadic way by constantly changing its place of rest. By moving more simply, you will live a unique experience that will lead you to meet yourself.
Ready to try ultralight backpacking?