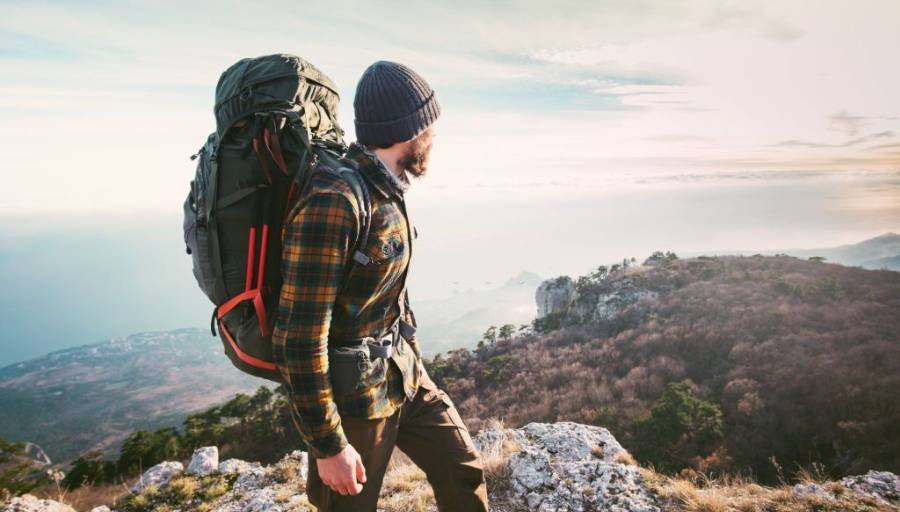 Are you about to spend several days in the forest to live a survival or bushcraft experience? As we have seen, you will need to bring the essential bushcraft equipment from fire flint to clothing. For this, you will have to store them in a backpack adapted to your needs and the hostile conditions of the experience.
For that, what better than the best survival backpack?
There are many kinds and sizes of models available in online shops and it can then be difficult to choose one which is right for us when embarking on bushcraft for the first time.
To find out, let's see together on best survival backpacks (including famous brands) on the market and what criteria you will have to choose it.
Best Survival Backpack (Top 3 Selection)
Osprey Atmos AG 65 – Really a good survival backpack at this moment. Cheap, solid, durable and has a good 36-liter capacity. You can go there with your eyes closed.
Mil-Tec Woodland Arid – My big favorite, this backpack has a capacity of 36 liters! This model is also very light; you can carry it the whole day without back pain.
The Seibertron Falcon Bag – A proven brand and bag. A compact bag (37 liters capacity) that you can take with you everywhere. Solid and resistant, no bad surprises.
1. Osprey Atmos AG 65 Men's Survival Backpack
Specifications:
Material: Nylon
Capacity: 65 liters
Pack weight: 4.56 lbs.
Dimensions: 34.25 x 15.35 x 16.14 in.
Pros
Best value for the money
Internal hydration reservoir sleeve
Light and anti-Gravity suspension
Versatile and comfortable
Sleeping bag compartment
Cons
Straps are a little bit slippery
No pockets on straps
Coming from the Osprey brand, you can only expect quality and you can feel it in this backpack. The brand has been making backpacks since 1974. This survival backpack is a real gem! It's the simple and most comfortable backpack we've ever tested. Everything is thought out for the well-being of the wearer.
The survival backpack has a rounded shape that adapts to your back. So no more pain or tension on your back. Besides this, the bag is well ventilated so there is no more wet back after hours of walking. Also, it has an exceptional capacity of 65 liters.
The various belts and straps are adjustable. It takes a little time to fix everything but once it's good, which is a real pleasure. We really feel that the bag adapts perfectly to our morphology. And with thousands of very positive opinions, unparalleled support is found in this backpack.
We also like the hip belt. Indeed, this belt is special and keeps a good part of the weight of the bag and puts it on the legs. It saves your back from carrying everything. Your leg muscles have an easier time carrying heavy loads. It is an evacuation backpack that we recommend with our eyes closed!
---
2. Mil-Tec Woodland Arid Tactical Rucksack Backpack
Specifications:
Material: Polyester, PVC Coated
Capacity: 36 liters
Pack weight: 3.08 lbs.
Dimensions: 20 x 11.4 x 11 in.
Pros
Built-in Velcro pocket
Made with good sturdy zippers
Lots of storage compartments
Mil-Tec Military Camouflage survival backpack has a capacity of 36 liters. It may do little for long periods of time if you are alone. Nevertheless, the backpack is really well made with smart and practical storage. 36 liters capacity also gives you plenty of mobility. And the survival backpack weighs 3.08 lbs.
This backpack has two compartments and plenty of internal storage. The two main pockets are easy to access. It's great if you have to quickly take a knife, a weapon to defend yourself quickly for example. If your autonomous base is far from home, it is very interesting.
This survival pack is also really durable. It is made of strong polyester that dries empty, which can be useful in many situations. Also, the zippers are of good quality with no bad surprises on this side.
What we really like about this evacuation backpack is its lining to better protect against the rain. It's this kind of detail that can improve your comfort and your morale during a crisis.
Mil-Tec Woodland Arid tactical backpack is equipped with a belly strap that can be easily removed. And with the following dimensions of 16.5 x 8 x 9.8 inches, you have plenty to do!
---
3. Amazon Basics Survival Backpack with Rainfly
Specifications:
Material: Polyester
Capacity: 65 liters
Pack weight: 5.7 lbs.
Dimensions: 16 x 27.5 x 7.5 in.
Pros
Waterproof cover included
Large sleeping bag compartment
Multi-directional compression straps
Reasonable price
Cons
The main pocket is a bit small
Straps come loose very quickly
We really like this survival backpack because it is very comfortable to wear. And above all the price is really incredible if you compare the quality! Perfect for budgets that are a bit tight but still want quality.
This AmazonBasics survival backpack is offered in 55, 65, and 75L capacities. So you can choose according to your physical condition and needs. But it's still nice to have a choice.
What surprised us with this survival bag is its number of storage pockets … They are everywhere! It's really very practical to put your equipment or your food reserves. There are plenty of spaces and compartments in this AmazonBasics backpack. There is also a large compartment, perfect to put in your sleeping bag.
Our big concern before testing this bag was its solidity. We were afraid that for such a large capacity and such a small price there might be some problems. But not at all! This survival backpack is made with durable polyester. The seams are sturdy. And the frame is very solid despite being a bit heavy.
For comfort, it's a bit like the previous model. Many adjustable belts and straps for our greatest happiness. The bag is designed not to put all the load on the lower back. So no worries about back pain.
---
4. Seibertron Falcon Water Repellent Survival Backpack
Specifications:
Material: Polyester
Capacity: 27/37 liters
Pack weight: 3.5 lbs.
Dimensions: 9 x 11 x 16.5 in.
Pros
Waterproof fabric
Stitching is very secure
Very well made
Cheap price
Cons
Zipper is not waterproof
Only 2 complaints
Made in China
The Seibertron Falcon is a tactical military backpack. There are a lot of pockets and the bag is really compact which is nice. Several models of different colors and capacities are offered. Black or Khaki is rather pretty we find while remaining discreet. As for the capacity, you have the choice between 27 or 37L.
Note that this is a model equipped with two additional pockets on the sides (if you ever need more). These pockets are easily foldable and therefore stowable. And you won't lose mobility. The price is really attractive (does not cost more than a school bag)!
This survival backpack is comfortable to wear. Admittedly, it's not the most comfortable, but it doesn't hurt your back after long walks. There is a good synergy between flexibility and rigidity. It's pretty tough and suitable for short trips of a few days. And perfect for quickly reaching your BAD or spaced camps.
The good organization of the pockets and the fact that the bag is well sealed makes the Seibertron Falcon interesting for survivalists with a little limited purse.
---
5. ZEHNHASE Molle Shoulder Tactical Survival Backpack
Specifications:
Material: 600D Nylon
Capacity: 45 liters
Pack weight: 2.64 lbs.
Dimensions: 11.4 x 18.2 x 12.6 in.
Pros
Ultralight
Plenty of mount point
Comfortable to wear
Large capacity
Versatile design
Cons
Poor waterproofing
Extra long strings
This is a great-value bug-out backpack. For a capacity of 45 liters, it will be difficult to find a better price. ZEHNHASE survival backpack looks sturdy. Afterward, we don't think that, over time and with "aggressive" use, this bag will last very long.
But for a survival backpack, it does the job very well. There are many large compartments. And it is also equipped with the Molle system. So for storage, and equipment no worries.
What we like about this bag is that the carabiners come with it. It's a small gesture but it counts. And we find the back area great! It is padded so comfortably. It is well ventilated to avoid unpleasant sweating of the back and could be a great choice for long walks in the hot sun.
It is made of 600D nylon Oxford cloth with a special waterproof coating. Although there is no hydration system, it has a pouch at the back where you can rig one up easily. However, the only downside is the zippers. We find them a bit flimsy. So to see over time if they hold.
---
6. Mil-Tec Military Army Tactical Combat Backpack
Specifications:
Material: 600D polyester
Capacity: 36 liters
Pack weight: 3.06 lbs.
Dimensions: 20.1 x 11.4 x 11.1 in.
Pros
2 front pockets
D-rings on shoulder straps
Sleek and understated design
Made from durable polyester (PVC coated)
Cons
Zippers seem poor (but durable)
Straps are not adjustable on the top
Another cheap survival backpack from Mil-Tec. With a smaller capacity than the other models from Mil-Tec, this Assault survival backpack is an alternative. It is sure that with this backpack, we don't have the best quality on the market but it can still do the trick for short and occasional walks.
This backpack has a large compartment to store a sleeping bag for example. There are two deep storage pockets. You can easily put a 2-3 liter water bag in it. And we would add that the pockets are easily accessible. It is a rather compact pack. It has a height of 20.1 inches and it weighs only 3.06 lbs empty.
The small downside to this survival bag is the straps; there are only waist straps. It's a small lack all the same for a bag. There is no fixed pocket to hold a water bottle. The sides of the pack are molle, so you can attach a separate holder. However, it has a spot to put your hydration pack in.
In terms of waterproofing, it's not bad either. We would just note that you have to be careful with the zips. Although they are double closures the water still passes through, and the bag is still weather-resistant.
---
7. Mardingtop Adult Tactical Survival Military Backpack
Specifications:
Material: Polyester
Capacity: 28 liters
Pack weight: 2.1 lbs.
Dimensions: 17.13 x 12.4 x 5.35 in.
Pros
Discreet design
Very good fit
Solid weight distribution on your back
Ventilated compartment
Cons
For most survival needs, it is necessary to go for the 35L.
This survival backpack surprised us because of its multi-functional design. It is a very good quality small survival backpack for the price. That's why we placed this 7th position in the best survival backpacks in 2022.
The Mardingtop backpack has 3 large compartments and many inside pockets. There are also 2 side pockets. And it's perfect for putting in tools that you want to get out quickly. Level storage frankly it's great! Again, you still have to pay attention to the zippers for the tightness of the bag.
This bug-out survival backpack is made of polyester. Therefore, it is durable and waterproof. However, with a capacity of 28 liters, we can start thinking about slightly smaller distances than for the previous bags. But the backpack is really comfortable.
The straps are padded and the bag adapts well to the morphology of the back. It also has a stretchable elastic cord on the front to fix sleeping bags or dirty clothes. The design is sleek and discreet with an intense black. However, this is a personal interest but aesthetically it's the kind of bag you might looking for.
---
8. ProCase Tactical Survival Pack with Carrying Bag
Specifications:
Material: Oxford cloth, polyester
Capacity: 40 liters
Pack weight: 1.4 lbs.
Dimensions: 19.68 × 11.8 × 11 in.
Pros
Robust and durable materials
Very comfortable for all body types
Aerodynamic footprint
Cons
Storage options less versatile than other bags
If you're looking for a well-made and durable survival backpack, this one from ProCase is for you. You only have to take a look at this backpack to see that it is a durable piece of equipment.
The outer material is sturdy and water resistant. Plus, reinforced stitching keeps all compartments in place, even with heavy gear inside. The zippers are also strong and resistant to damage. On the other hand, what we like about this pack is its expandable design. Indeed, its main footprint is relatively simple.
It's not excessively tall like some other models you might find. However, ProCase survival backpack has several sections that can be deployed according to your needs. The compartments are all held together by adjustable straps, which you can easily use to condense the shape of the bag for lighter loads.
On the front and sides of the backpack, you will find several elastic straps. They're perfect for holding gear that you can't fit inside. The back of this model has been designed with comfort in mind. It has air mesh to keep you cool and thick padding to reduce loads on your body, and multiple straps for extra support.
---
9. LHI Military Tactical Backpack for Men 3 Days
Specifications:
Material: Oxford fabric and PVC inner layer
Capacity: 35/45 liters
Pack weight: 2.56 lbs.
Dimensions: 9 x 15.7 x 21.6 in.
Pros
Good weight balance on your back
Spacious main compartment
Water resistance
Cons
Slightly uncomfortable to attach other items
This survival backpack from LHI is perfect for keeping your items safe. At first glance, it looks like your average tactical backpack with all the storage you'll need in an emergency. However, upon closer inspection, you will see that it comes with an innovative anti-theft feature.
The front of the backpack has straps that you can use to secure items. The strap covers the primary loop. When fully loaded and secure, thieves cannot slide the bag open. The side pockets are larger than the stretch netted pockets you see on other models And the main compartment is double zipped.
It takes several steps to get there, which slows them down and saves you time. Ingenious isn't it? If you don't need this anti-theft system, you can remove it for quick access to your equipment.
Most of the exterior is made from Oxford fabric. This fabric is treated to repel water. Pair this sturdy material with multiple buckles, reinforced stitching, and strong metal zippers, and you've got a secure backpack you can trust. Overall, the LHI survival backpack is very durable.
---
10. MOUNTAINTOP Survival Backpack for Men Women
Specifications:
Material: 600D Polyester
Capacity: 70/75 liters
Pack weight: 4.4 lbs.
Dimensions: 29.9 x 13 x 10.2 in.
Pros
70L/75L of storage
Space in and under the hood pocket
Comfortable and breathable
Six color options
Cons
The waterproof fly is not included
Finally, we come to the last of our best survival backpack list and it's a real choice for both men and women. The MountainTop backpack can be extended upwards to create more storage if needed. There is additional storage in the lid pocket and several exterior pockets to store your belongings.
It has a compression system that allows you to adjust the profile of the pack depending on the load. No matter where you're going and how much weight you're carrying, the straps help you keep the load stable.
In total, the MOUNTAINTOP survival backpack has a capacity of 75 liters. With such a volume, you can use it for camping, trekking or even hiking. Best of all, this backpack can comfortably accommodate your load for a 5-7 days trip. The order also includes a durable rain cover.
With widely adjustable shoulder straps, it has a separate sleeping bag compartment. This versatile survival backpack is extremely comfortable thanks to its size. It has a lot of padding on the hips, which is a change from classic survival backpacks.
---
Criteria for selecting the best survival backpack
Dedicated bushcraft or survival backpack should be large enough to carry all of your essential gear while being small enough to be easily transported. It must be as simple as possible to store and use while remaining resistant. Finally, it must be pleasant to wear and comfortable to avoid having blue shoulders after only a few hours.
Let's take a look at all these important criteria that will help you find the one you love!
The volume of the bag
If you've ever hiked for several days, then you know that not all packs are created equal in terms of carrying volume. This is expressed in liters and can range from 20l for the smallest to more than 95l for the largest.
But how do you know which one you need?
It's actually very simple: the length of your bushcraft or survival experience will give you the appropriate capacity. Here is a summary table to understand everything at a glance.
Capacity of the backpack = Duration of the activity
From 20 to 40 liters = from a few hours to a day
From 40 to 55 liters = between 1 and 3 days
From 55 to 75 liters = between 3 and 7 days
More than 75 liters = between 1 week and 3 weeks
Note that the variability in runtime for the same capacity is entirely up to your experience. Seasoned hikers last up to 3 weeks in complete freedom on the high mountains with a 95-liter bag while a beginner can only last a week with the same bag.
Carrier's sex
It may seem sexist, but the gender of the wearer of the survival backpack will have a significant impact on your purchase because of several parameters that we will see. First of all, there are morphological differences in the width of the shoulders and the pelvis between the two sexes.
The majority of men thus have shoulders wider than their pelvis and vice versa in a woman. Of course, this is a generality, so there are counterexamples. But backpack manufacturers then adapted their products to this observation.
The position of the straps, straps and back protectors therefore differ from a model for men compared to the model for women.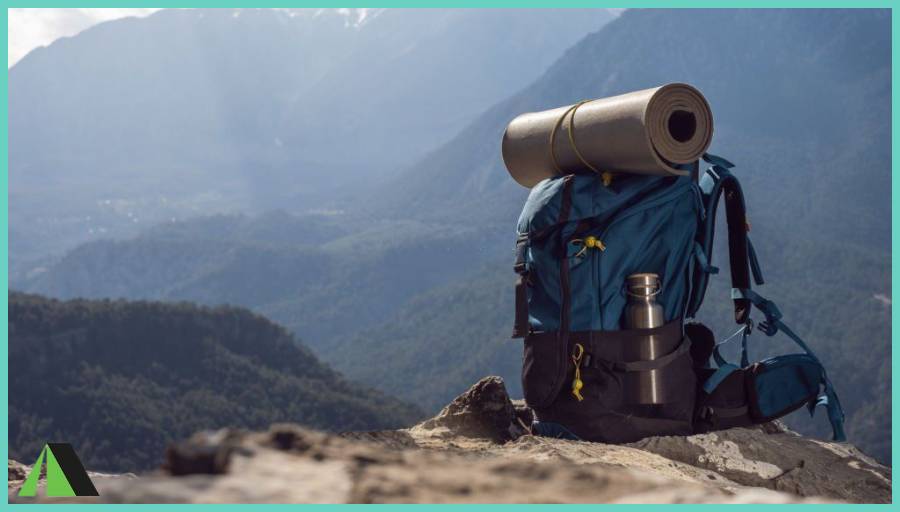 The interval between the two straps will be greater in the men's model than in the women's backpack. This is why you may have already felt discomfort with your backpack when its design was not made for you!
The back shell of your backpack is also longer for the men's backpacks than for the women's models in order to correspond to the smaller size of the women.
Finally, the chest strap, which allows you to carry the strength of your chest, is different in women's models. It is thus placed higher so as not to cause pain in the chest. In the same vein, the carrying belt (located above the pelvis) is longer on women's models in order to adapt to the generally wider hips of women.
The internal division
This criterion is extremely important because it has an impact on the simplicity of storage and use of the bag on a daily basis. It also helps to distribute weight. For survival such as long hikes, backpacks with a single large storage pocket should be avoided as they are not practical for this type of experience.
On the contrary, you will have to find a model with multiple compartments (each serving a specific task). For example, the bottom compartment will be used for sleeping while the top one (within easy reach) is the one that contains the most used objects…
There are then backpacks, in which the compartments are superimposed. Others place them one behind the other, separated from each other by a flexible and watertight wall.
To find the best survival backpack that suits you, you will have to sort out the equipment to carry because it is your lifestyle and needs that will guide you on which type of compartmentalization you will choose.
Wearing comfort
The wearing comfort of your survival backpack is also one of the priorities. It is essential if you plan to walk for long hours with all your equipment on your back. To avoid back pain and burning shoulders in just a few hours, the comfort of design will be your best asset.
Before buying a particular model, here are the main points to test:
The back: this must have a comfortable and ventilated protective shell. This will save you back pain because of the feeling related to the objects located inside. Well ventilated, the shell of the bushcraft backpack wicks away perspiration and limits the development of fungus on your skin due to poor ventilation.
The shoulder straps: they are the ones that will carry most of the weight of your backpack. When placed on your shoulders, they must be adjustable, resistant, and above all padded to make your wearing more pleasant.
The chest strap: as seen above, it not only prevents the straps from spreading but also distributes the weight on your pecs, thus limiting the weight on your shoulders.
The waist belt: it is present on all backpacks over 20 liters, it closes at the level of your lower abdomen. On your sides, it has foam plates to increase comfort. It avoids the sloshing of the backpack when walking and therefore reduces the fatigue that this causes.
Load reminder straps: they are not always present on backpacks under 55 liters but have become essential for bushcraft and survival. Like the waist belt, they reduce fatigue and the sloshing of the bag. They sit on top of each strap and connect the straps to the top of your bag.
The little extras of backpacks
Some backpacks are equipped with very interesting options in the context of survival. These options can make your survival life easier and improve load distribution or simply personalize your bag.
Here are the main interesting options:
Wheels and telescopic handle: some backpacks can be transformed into suitcases or shoulder bags in seconds! This can be handy if you want to fly.
A hydration pocket: sometimes, survival backpacks are equipped with a water pocket of several liters and a suction pipe in order to hydrate you.
Different hanging systems: they allow you to hang a rolled-up tent, paracord or tools such as a survival knife or an ice axe.
Waterproof protection: some backpacks are basic waterproof while others require additional protection.
Side zip access: A simple zip gives you access to your entire backpack in the blink of an eye.
Best survival backpack manufacturers
For bushcraft or survival for a few days, some manufacturers of hiking backpacks, such as MountainTop and Millet already offer models of excellent quality. Their products combine versatility, wearing comfort and resistance to any test. But there are also lesser-known brands that specialize in survival or bushcraft:
Mil-Tec: This brand specializes in the design of military equipment. Their backpacks are perfect for survival. Because their backpacks are light, resistant and equipped with numerous storage pockets.
Mardingtop: at this manufacturer, you will find backpacks of all sizes designed especially for bushcraft.
Snugpak: if you are looking for backpacks with plenty of storage space and a very large volume, then check out this manufacturer! It offers bags of more than 100 liters.
Seibertron: here you will find a wide variety of backpacks. They are both versatile and very comfortable, making them essential for many sports from mountaineering to trekking. They are also much less expensive than other options. So it is a good option if you are just starting out or if your budget is limited.
Conclusion
Like hiking backpacks, the choice of your survival backpack will depend on your body type and your storage needs. It must be versatile, resistant, and simple with maximum comfort.
The choice of volume will depend entirely on the length of your bushcraft or survival experience. The longer it lasts, the more gear you will have, and the bigger the bag will need to be. But that should not prevent you from selecting one that is adapted to your morphology…
Remember that some bags are ideal for women while others are more for men. Of course, this may vary, but do not hesitate to test its wearing comfort. Then keep a close eye on the shoulder straps, waist belt, chest strap, load lifter straps and back shell.
Finally, choose a backpack that corresponds to your level of survival practice: smaller and lighter for beginners or bulky and reinforced with a frame for experienced ones.