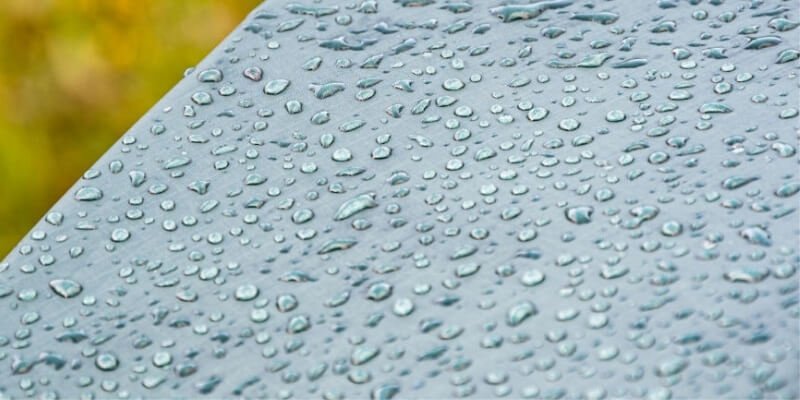 Whether you're a seasoned outdoor enthusiast or a casual camper, keeping your tent in top condition is essential for a successful and enjoyable adventure.
When you take down your tent after a nice camping holiday and store it at home, the tent needs to be dry as quickly as possible. Otherwise, there is a risk of mold not only does it look ugly. The spores are a threat to your health.
In this guide, we will walk you through a series of practical steps to efficiently dry your tent after use so that you can be ready for your next excursion in no time. By following these steps, you'll not only extend the lifespan of your tent but also guarantee a comfortable and safe camping experience every time.
How to Dry Your Tent on the Campsite
The campsite is the best place to dry your tent. Because you can pack up your dry tent and simply put it on the shelf at home. Let's see how to dry a tent on the campsite quickly and effectively! You usually only need a few minutes for this. We promise you: it's worth it!
Choose a good pitch for your tent
This is the simplest technique. You can recognize a suitable parking space by these features:
The place is not in a depression and is not covered by fresh moss.
In the morning, the sun shines on the campsite.
A bit of wind is blowing on the pitch.
So your tent can dry off quickly in the morning sun on the day of departure, you should carry a small tent that comfortably meets your needs and put it in the morning sun.
Check the weather report on the day of departure
Good planning can save you a lot of work. The trick is to find the best time to take down your tent.
Check the weather report on the day of departure.
Does the sun come out in the morning? Then just leave your tent a little longer and wait for the sun to clear your tent of the morning dew.
A tent dries surprisingly quickly in the sun – often in less than 30 minutes. Wind further accelerates the drying process.
Does it start to rain around 10 a.m.? Then make sure that you have packed your tent by 9:59 a.m. at the latest.
Open all windows and doors
Nobody likes to stand around in the landscape and twiddle their thumbs. So our goal is to dry the tent as quickly as possible.
Open all windows and doors. In this way, you ensure a draft so that the tent dries faster from the inside. This is important, especially after cold nights when the air you breathe has condensed on the tent wall.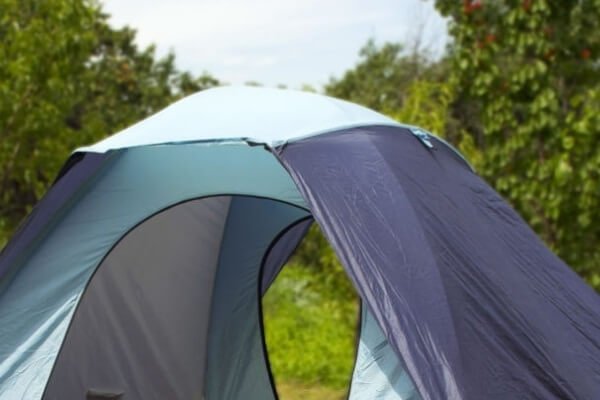 Separate inner tent & outer tent. The interior of your tent dries even faster if you take the inner tent out of the outer tent.
Puddle? Towel! It is best to quickly wipe up larger puddles on the tent floor with a cloth. We like to use a small microfiber towel for this. Microfiber towels can absorb more moisture than cotton towels. They are also lighter and dry faster.
Dry seams, floor, guy ropes, poles & pegs
As soon as the tent walls are dry inside and out, you have already done 90%. However, the remaining 10% is extremely important.
Don't forget the bottom of your tent floor. Because ground moisture tends to collect under the tent, even on dry days. Spread the tent floor upside down on the campsite and let the sun and wind do their work.
A spread-out tarpaulin is often folded up by the wind. Weigh them down with a piece of your gear.
The tent seams and guy lines often take the longest to dry. Before packing up your tent, feel again with your hand to make sure that it is really dry.
The tent pegs and tent poles must also be dry before you pack your tent away. Otherwise, there is a risk of rust spots on some models. Free the pegs of clinging soil.
Use a clothesline that works wonders
It rains and the tent field is damp. A line stretched between two trees is an excellent tool for drying your tent. However, we recommend that you always have a small roll of paracord in your luggage instead of a clothesline so that you can use paracord for many other purposes. For example, you can use it to make your tent stormproof in a storm.


PARACORD PLANET 100′ Hanks Parachute 550 Cord is robust and light.
Does your campsite have a drying room?
Some campsites have a drying room. Here, campers can dry their laundry and equipment. Often there are also clotheslines and stands in the drying room so that you can hang up your wet tent. However, the drying room is a great place to dry your tent before you leave, while you have breakfast in town or load the car.
How to Dry Your Tent at Home
At the campsite, the tent dries well on warm, dry and windy days. But it dries poorly on cold, dark and windless days. When it rains continuously, it does not dry at all on the campsite. It is important to pack it away before drying the tent. So you have to pack your tent wet first and then dry it at home later.
Pack your wet tent correctly
You have packed your tent well if it can dry on the way and your other equipment does not get wet. How to do it right? Let's see step by step…
If it rains during dismantling, first unhook the inner tent and pack it dry while the wet outer tent is still standing. If possible, fold the wet bottom of the inner tent outwards.
Shake out the outer tent, and lots of water droplets will fall off. You can also blot the water with a towel. However, it is best to use a soft microfiber cloth so that the coating on the tent wall is not damaged.
Pack the tent as loosely as possible. Ideally, you spread it out in the trunk for transport.
Transport the wet outer tent and the dry inner tent separately so that the inner tent stays dry.
Does the tent have to be in the pannier? Then unzip the bag. Keep in mind, the damp tent must not come into contact with rusting iron (e.g. cookware, tent pegs)!
Does the tent have to be packed in a backpack with your other equipment? It is best to pack the wet tent in a dry bag so that the rest of your equipment does not get wet. A good dry bag is light and robust.
Mold can start growing after a damp day. Get the tent out of the packsack after 24 hours at the latest.
Dry your tent outside in good weather
Did you have to pack a wet tent? No problem! In good weather, you can dry it outside very well at home. If the tent is muddy, you should first clean it according to these instructions before drying it.
The safest method is to put up the tent again in good weather in the garden or in a nearby park. It also dries really well inside. In the case of small tents, air tents and throw-out tents, they can be set up in just a few minutes.
Tired of putting up the tent again? Simply spread out your tent in a dry place on the ground. You may have to turn the tent several times until it is dry on all sides.
In the midday sun and in the wind, your tent dries within a few minutes. However, It can take hours in the shade of a large beech tree.
UV radiation kills mold spores! If your tent has been damp for a long time, it is especially good for it to be in the sun. An hour in the sun is enough.
Lush, green grass can "sweat" in the sun. The ideal surface is a paved driveway.
Your tent dries better on a clothesline or rotary clothes dryer than on the ground. This way, both sides of the tarpaulin dry at the same time. After hanging the tent, straighten it so that water does not get caught in the folds.
In a pinch, the balcony railing, a hedge, or a bush are good places to hang up your tent. Watch out for sharp branches!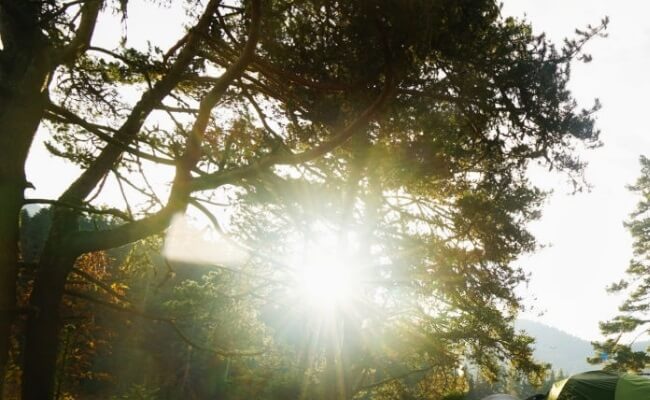 Dry your tent indoors in bad weather
If it's raining or cloudy and cold, you'll need to dry your tent indoors. It's always better in winter than outside.
Heated, dry rooms with more than 20 degrees Celsius and less than 55% humidity are ideal.
Good rooms are boiler rooms, living rooms, and also winter gardens.
It can be too humid for your tent in attics, in unheated basements, garages and barns!
Clothes racks, chairs, and clotheslines stretched between doorknobs are good tools for hanging your tent. Banisters and the rod for the shower curtain in the bathroom are also suitable.
If your tent is really wet, make sure that dripping water cannot damage wooden furniture or laminate floors. A towel underneath helps.
Because you have little sun and wind in rooms, you have to turn the tent every few hours until it is completely dry.
In dry weather, open the windows or turn on the heating to speed up the drying process. In small rooms, leave the door open.
A small weather station will help you find good conditions for drying your tent. This is also important for storage.
Speed ​​up the drying process with a fan
Your tent will dry out much faster if you put it in the airflow of a fan. In this way, you can increase the rate of evaporation of the water.
With a normal room fan, it is best to switch on the swivel function so that the airflow reaches every corner of your tent.
A ceiling fan is even better. Its large rotor blades swirl the air throughout the room.
The fastest way is with a fan heater. However, the air should not be warmer than 60 degrees when it reaches your tent. You can easily measure this with a thermometer.
With 1,500 watts of power and automatic oscillation. This tent heater from Amazon Basics is the right tool for getting your tent dry quickly.
Fan heaters also work on the campsite! Heat the tent vigorously once, and at least the inner tent is reasonably dry again. (Please only do this if you know how to use electrical devices properly in humid environments.)
Would you like to speed up the drying process even further? Then a dehumidifier is your choice! If the humidity is low, the rate of evaporation of the water increases further and your tent dries even faster. You can combine the dehumidifier well with a fan.
Use cotton bags instead of plastic
Once dry, it is best to store your tent in a cotton sack. They are breathable, and any residual moisture that may be present can escape. This prevents nasty smells!
If your tent comes with a plastic pannier, get a suitable cotton sack for storage. A practical side effect is the pack sack that comes with a new tent is often too small. We see this particularly often with large tunnel tents and family tents. Since there are cotton sacks in all sizes, you will find a model that comfortably fits your tent. Just measure how big your rolled-up tent is.
MISSLO Dust-proof Cotton Pouch Bag
How to Keep Your Tent Dry
Of course, it's best if your tent doesn't get wet in the first place. You can achieve this through good behavior and regular maintenance of your mobile accommodation.
Put up the tent under a tree
This is obviously a good idea, but not as good as it sounds. During short rain showers, it stays dry under the tree. However, prolonged rain penetrates through the foliage. And even hours later, thick drops of water fall from the treetop onto your tent.
Use a tent pad
I like to put my tents on the groundsheet. The practical underlay protects the tent floor from sharp stones, ground moisture and mud. This not only increases the lifespan of the tent but also the tent floor is dry and clean after camping. The mat is then simply put in the washing machine at a low temperature at home and then on the clothesline.
Tip: If there is no suitable groundsheet for your tent, you can get a cheap tarp and fold it to the right size. (tarp affiliate link or internal link)
Waterproof your tent before camping
The easiest way to waterproof your tent is by using a spray. These sprays prevent the tent fabric from absorbing water. The water just rolls off and flows to the ground. Impregnation sprays are cheap, versatile and very effective.
Do not cook in the tent
Even if it seems tempting to cook in a tent in cold weather, cooking with a gas stove creates a lot of water vapor. It then condenses on the cold tent wall and puddles form on the tent floor. Better places to cook are pavilions open on all sides and natural shelters such as trees with dense foliage. You can also carry a portable oven for camping, instead of cooking in the tent.
Heat the tent with a tent heater
This tip is clearly in the direction of glamping and heating tents with a tent heater – put it mildly – not particularly energy efficient. But it works. The heat increases the rate of evaporation in the tent. The tent and your equipment dry faster and annoying morning dew does not even settle on your tent wall.
However, you should keep in mind that warm air stores much more water than cold air. You have to air them out of the tent at some point. If the warm air in the tent cools down again, you swim in condensation water.
Bonus tip: How to Check Whether Your Tent is Really Dry
Water is comparatively heavy. The quickest way to check whether your tent is really dry is to use a scale. Just write down the weight of your tent before your camping holiday and weigh it again after your holiday.
Your bathroom scale and luggage scale are precise enough for a large and heavy family tent that is made of cotton. For small and light tents, you need a scale with a finer resolution. For example, a kitchen scale. Or a hand scale with a resolution of 10 grams.
After drying, I simply feel with my hands whether the tent is dry. And have always done well with it so far. This tip is for campers who have had to dry their tent under difficult conditions and really want to make sure that there are no hidden "moisture pockets" left.
Conclusion
Drying a tent properly is sometimes a bit of a hassle – but it's worth it! You can avoid mold that damages the tent fabric, even dangerous to your health. The easiest way is to leave the tent to dry out of the sun and wind directly on the campsite. A good parking space, open doors, a groundsheet, and a clothesline are powerful tools.
However, if it rains, you need to clear your tent of the water at home. This works best in warm rooms with less than 55% humidity. You are welcome to help with the heating or a fan.
Do you know someone who has ever lost a tent to moisture? Do it better! Take care of your tent so that you can enjoy adventures together in the wild for a long time.
FAQs
Can I put my tent in the tumble dryer?
We strongly advise against this! Heat and mechanical friction put a lot of stress on the tent fabric and its delicate coating. In most cases, your tent will still be intact after tumble drying. But its lifespan is shortened, and it breaks earlier than a tent that is gently dried.
Why do I have to dry a wet tent?
Dew and soil moisture can make your tent wet even on rain-free days. If you store the tent at home damp, you face these dangers:
Mold: Cotton tents are particularly prone to mold, but the dirt that sticks to synthetic fiber tents can also get moldy. When it has spread on the tent fabric, the tiny spores are everywhere. You definitely don't want to breathe it in while you sleep in the tent! Mold is also very difficult to remove. Often the tent is then ready for the bin.
Hydrolysis: Water degrades cotton tent fabric over time. What hardly anyone knows: tents made of synthetic fibers also suffer from prolonged moisture. Hydrolysis makes your sensitive polyurethane coating brittle. The tent is leaking.
Bad smells: A damp tent starts to smell at some point. Have you ever left your laundry in the washing machine for a few days after washing it? Then you know what we are talking about. So it's extremely important to dry your tent properly after camping.
This is also a good practice for your health and the life expectancy of your tent will be extended significantly.
How thoroughly do I have to dry a wet cotton tent?
Very thorough! Because natural fiber cotton is particularly sensitive and quickly molds, mold stains, and bad smells when it is damp. Also, the cotton threads dissolve over time. Therefore, a cotton tent should really be absolutely dry before storage.
Why do I need to dry a polyester or nylon tent?
Synthetic fibers are more stable than cotton, but they also suffer from prolonged moisture. The water-repellent coating of many tents is particularly at risk. Polyurethane becomes brittle at some point in the event of prolonged moisture. Then the tent is leaking.
Why does my tent get wet while camping?
Sure: when it rains, the tent gets wet. However, there are other causes that are not quite as obvious. If it cools down significantly at night, morning dew will fall on the tent. In addition, the air you breathe can condense on the tent wall at night. Then in the morning, you will see small water droplets on the inside of your tent.
How long does it take to dry a tent?
It depends on the tent and the weather. A small nylon tent that stands in the sun and in the wind dries in about 10 minutes on warm days. On the other hand, a large cotton family tent hanging on a clothesline in a dark garage in the cool autumn can take several days to dry. Here you can, as described above, help with fans or a heater.
Thank you for your interest in our tips on how to dry a tent. Do you have any further questions or suggestions about the contribution? Just write us a short message.
Read Also…