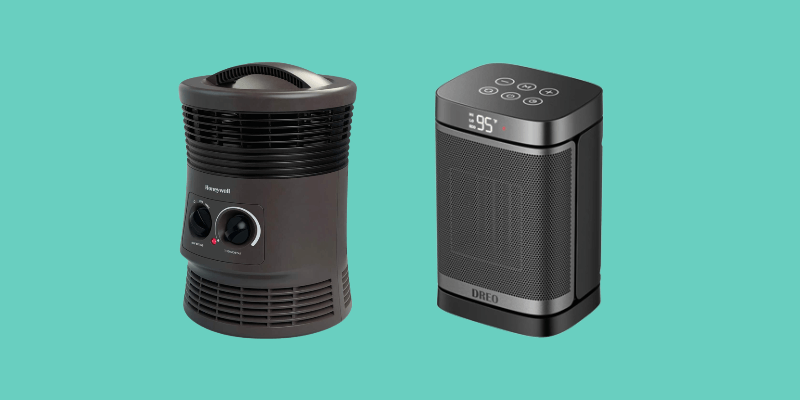 When temperatures drop outdoors at night during camping, it becomes difficult to get a restful sleep in the cold. Thanks to mobile tent heaters, this is a good solution for spending cozy nights. However, the market is teeming with a diverse array of tent heaters, each equipped with various features and capabilities.
To help you make your purchasing decision, we have researched and compared the most popular and some of the best tent heaters of 2023. Whether you prioritize efficiency, ease of use, or budget-friendliness, you'll find a tent heater that suits your preferences.
In addition, we show in our buying guide all the important criteria that need to be considered when buying a tent heater. So you can easily find the right model for your next camping trip. We'll also discuss important safety tips and guidelines for using tent heaters in confined spaces to ensure a worry-free camping experience.
Best Tent Heaters of 2023
We've carefully organized this list based on our experience, heating capacity, safety features, portability, price and user reviews.
| | | | | |
| --- | --- | --- | --- | --- |
| Image | Name | Fuel type | Material | Price |
| | Delaman Mini Camp Heater | LPG | Steel | Check |
| | Pro Breeze PB-H09W Tent Heater | Electricity | Plastic | Check |
| | Dreo DR-HSHS004 Space Heater | Electricity | Aluminum | Check |
| | UCO Original Candle Lantern | Kerosene | Steel | Check |
| | Mr. Heater MH12HB Tent Heater | Electricity | Plastic | Check |
Key Specs:
Form of energy: Gas
Size: 12 x 12 x 15 cm
Weight: 380g
Pros
Travel size
Low weight and portable
Powerful and energy-saving
Practical handle
Good heat distribution through air slots
Cons
Stand on the gas cartridge could be more stable
This tent heating attachment from the manufacturer Delaman convinces us with its practical travel size and low weight. In contrast to many mobile heaters, there is still some space for the attachment in every travel bag. This makes this tent heater even more suitable for backpacking and trekking tours.
The heat from the cartridge rises into the attachment and is stored there instead of deflagrating in the air as is usually the case with gas cartridges. With the appropriate attachment, you can also conveniently grill on the camping heater.
Delaman camping tent heater starts to generate heat and warm the room within a short time. The built-in air slots ensure that the heat is evenly distributed in the area. The stainless steel handle for the radiant heater can be flexibly attached and removed, which protects against burns from the hot material.
The upper is mainly made of "phenolic resin". This is covered with residual oil after production, which leads to the formation of black smoke when used for the first time. Therefore, it is recommended to burn out the heater for the first time in a ventilated, open place. After that, smoke should no longer form.
Overall, the Delaman tent heater is a great solution for those who are short on luggage space but still want a little warmth and coziness in their tent. However, it would be good to insert a cast iron washer under the famous painted cover.
---
Key Specs:
Form of energy: Electricity
Size: 17.5 x 13.5 x 28 cm
Weight: 1.63kg
Pros
Small pack size
Powerful for small tents
Can also be used for cooling
Practical carrying handle
Two power levels
Built with overheating protection & tip-over protection
Long cable
Cons
Power connection required
Not suitable for large-height tents
Thanks to its travel size, the ceramic heater box from Pro Breeze fits into any hand luggage and is therefore the perfect companion for cold nights when camping. Two power levels of 1500 and 2000 watts allow you to regulate the heat radiation, making it possible to adjust the temperature as required.
The power of the device is enough to warm up a small tent in a short time. An additional advantage is that the fan also has a cold stage. This is used to produce cold air. The overheating protection and the tip-over protection guarantee that nothing can go wrong when using the device and that it is absolutely safe to use.
The device is switched off automatically when ground contact is lost. The cable of the radiant heater is 1.50 meters long, which is sufficient for sockets at a distance. This fan heater weighs approx. 1.5 kg.
This model has three settings; fan only, low heat and high heat. As an electronic fan heater, this device cannot do without electricity and can only be used on campsites or other places with permanently installed sockets.
Since the device is already switched on (and only has no power supply before use), it starts automatically when it is plugged into the socket. However, this type of use of the device is not recommended.
The Pro Breeze Mini ceramic tent heater is a practical companion for every campsite with a power connection, the conservatory or the RV. It is very compact 6.5" X 5" X 9" in size. However, make sure to position the heater correctly so that the warm air can spread most effectively.
---
Key Specs:
Form of energy: Electricity
Size: 6.7 x 5.5 x 10.3 inches
Weight: 3.8 pounds
Pros
Powerful for large tents
Two power levels
Practical to carry
Anti-tip device
Overheat protection
GS certification for safety
The Dreo tent heater comes with two heating levels and step-less temperature regulation, which means that the device can be operated flexibly. The heater also scores with another function: on hot days, the device can be used for ventilation and helps to lower the temperature.
The heater is powered by 1500 watts. To ensure safe use, the manufacturer has installed overheating protection and two thermal fuses. The tip-over protection ensures that the heating is switched off automatically if you fall over. Also, the tilt function helps you to control the temp and circulation of heat.
Dreo also guarantees that the product has been extensively tested and has been awarded the global GS safety mark. The device heats up to a room size of around 20 square meters reliably and quickly.
However, the heater gets hot on the front and should therefore be used with care and caution. A safety distance of 20 to 30 cm is recommended. It is a great choice for anyone looking for an electric tent heater for both indoor and outdoor use. The size makes the fan heater a handy companion when traveling.
---
Key Specs:
Form of energy: Kerosene
Size: 13 x 13 x 17.5 inches
Weight: 10.78 pounds
Pros
Long term service
Incl. level indicator
Height-adjustable protective cage
Incl. attachment for use as a cooker
Good value
Cons
High weight
Comparatively large
Thanks to the long runtime of around 17 hours, this kerosene tent heater is highly recommended for trips into nature. In addition, the NaoSIn-Ni tent heater scores with the included attachment, thanks to which the heater can also be used as a cooker. So you not only have a mobile heat source but also a small kitchen for trips in nature.
The level indicator shows how long the device can still be used and provides information about the current petroleum level. The protective cage is height-adjustable and thus guarantees safe use. The product also comes with a wick.
However, this device is comparatively large with a diameter of 33 cm, and is heavy at 4.9 kg compared to its competitors. So we do not recommend this model for ultralight backpackers.
NaoSIn-Ni tent heater does not get hot in the lower area. Because the petroleum tank is located there, it does not heat up. Heating can also be used in apartments or houses. However, there may be a slight kerosene odor. It is important to ensure sufficient oxygen supply during use.
Overall, it is a great heater that convinces you with a long service life. And it not only ensures cozy nights but also warm days or can be used for a longer holiday. Due to its heavy weight and large size, it is particularly suitable for those who travel by car camping with families.
---
Key Specs:
Form of energy: Gas
Size: 17 x 12 x 16 inches
Weight: 14 pounds
Pros
Very high heat output
Three heating levels
Quick and easy start with piezo igniter
Very safe to handle
With oxygen deficiency protection
Mobile thanks to castors
Including gas pressure regulator
Cons
Only for gas cylinders up to 20 pounds
Relatively big and heavy
Not stable enough compare to size
With the Mr. Heater MH12HB gas camping heater, you can heat your tent rooms in a very short time – and all of this without making a sound. Thanks to three different heating levels, the temperature can be adjusted as required.
You can choose between a power of 6000 and 12000 BTU. This means that the device is the one with the highest performance in our product comparison. It can be used with propane, butane, or a mixture of both.
The piezo ignition enables quick and easy start-up of the device. It is also practical that the heater is equipped with four castors and can therefore be placed flexibly. The lack of oxygen protection, the gas pressure regulator, and the integrated ignition safety device ensure absolute safety.
However, a small disadvantage is that the device can only be used for gas bottles up to 20 pounds and larger gas containers cannot be used. For the camping area, this should be manageable. Compared to the other tent heaters on our list, the device is also relatively large.
The plastic part is very flimsy. Also, A cover is not included in the scope of delivery. But if you are looking for a decent power pack for winter camping, you will find it with this mobile heater.
---
What Do You Need to Consider When Buying a Tent Heater?
As you have seen in our guide, there are different types of tent heaters, which differ in terms of performance, type of energy, safety, size and weight. When looking for the best tent heater, you should therefore pay attention to the following features and properties:
Energy supplier
Security
Performance
Height and weight
Additional functions
Let's see in detail…
Energy Supplier
Some of the most commonly used tent heaters include:
Gas tent heaters
Electric heaters
Depending on what the tent heater is to be used for, there are advantages and disadvantages of the respective types of energy. Below we compare gas and electric heaters as they are among the most common types of heating. A small tabular overview of the other types of heating is intended to provide a brief overview.
Note: Petroleum heaters, oil heaters, and tea light ovens are rarely used for camping. The latter are e.g. B. common in hunting stands while devices with heating oil are often used to heat large rooms (e.g. marquees).
Gas Heaters
Tent heaters that use gas for energy supply usually use a gas cartridge or a gas bottle. When buying, you must therefore pay attention to the right gas cartridges.
Gas heaters are extremely easy to use:
The cartridge is connected and the heating can be operated. The burning time then depends on the size of the cartridge or gas bottle used. Overall, gas heaters are very compact, easy to transport, and therefore ideal for camping.
Attention: If you use a gas bottle instead of a cartridge, you can benefit from the burning time for a long time, but you have to buy a pressure reducer and a connecting hose and expect the bottle to be heavy.
A disadvantage of gas heaters is the smell of gas in the tent, which can cause headaches. The oxygen content in small tents is also lower and would be used up more quickly by the heating. This can be dangerous, which is why it is not advisable to use gas heaters in very small tents and ensure good ventilation in larger tents.
Tips: Many tent heaters have an integrated fuse for low oxygen levels in the tent. If the oxygen content in the tent falls below the limit of 1.5 percent, the gas supply is automatically interrupted. A gas heater with piezo ignition is also recommended as it is safer than using a lighter.
Electric Heaters
Electric heaters are practical solutions for everyone who stays at the campsite and is supplied with electricity there or otherwise has built-in sockets.
Alternatively, the heater can also be connected to a power generator. Like a gas heater, it does not take up much space in the tent and provides a pleasant supply of heat. An electric heater is also one of the safest heating options in the tent. Due to the need for a power supply, however, electric heating is rather impractical for tours into remote nature.
Tips: Electric heaters also consume oxygen. Therefore, during use, care must always be taken to ensure adequate oxygen supply and good air circulation.
Other Types of Tent Heaters:
Below, we present the pros and cons of kerosene heaters, tea light stoves, and oil heaters. This overview is intended as a suggestion for all interested parties.
Petroleum Tent Heater
Advantages:
Disadvantages:

Convenient size
Long burn time
Can be used as a cooking facility

Smell of petroleum
Open flame by ignition with a lighter
Danger of liquid leakage
Tea Light Oven
Advantages:
Disadvantages:

Can be used with tea lights
Mostly already set up on hunting stands
Ease of use
Environmentally friendly

Low efficiency
Temperature regulation is not possible
Oil Tent Heater
Advantages:
Disadvantages:

Suitable for large spaces
Great job

Heavyweight and big size
Expensive
Important: Diesel heaters are also called heating cannons and heat large rooms to comfortable temperatures in just a few minutes. Since tent heaters with diesel are rather unusual for the camping area, they are not considered here.
There are also cordless tent heaters on the market. However, due to their manageable heating output and duration, these have a rather bad reputation and for this reason, they did not make it into our product comparison either.
Safety Consideration
Safety is one of the most important aspects when heating a tent with a tent heater. With any heat or heat production comes the risk of fire, which is why the point must be given top priority. When buying, as well as during later use, you should pay attention to some safety mechanisms of the heating:
The detection of low oxygen levels, overheating protection, and an automatic switch-off.
A cool surface that poses no risk of burns.
Sufficient distance to the tent wall to prevent catching fire.
Adequate ventilation according to manufacturer's instructions. If this is not the case, exhaust gases can cause serious damage to health.
The use of the fuel provided for the heating and the proper use of the heating.
Caution: Potential carbon monoxide poisoning is also an issue when warming the tent with a propane heater. In principle, however, tested tent heaters on the market today can be classified as safe.
Performance of the Heating
Heaters with different heating levels allow manual regulation of the temperature and thus the adjustment of the heating output to the outside temperature and the size of the tent. The performance and operating time of the tent heater depends on the device used and the type of energy supply:
Electronic Devices:
When purchasing, you should pay attention to the consumption of the device. Modern electrical devices have an output of 800 to 2000 watts. Large tents need even more watts to get pleasantly warm.
If a small tent for 2-3 people is heated, approx. 1000 watts are sufficient. Electric heaters should be operated for a maximum of 8-12 hours. Here, too, the information provided by the manufacturer must always be observed.
Gas Tent Heaters:
The performance of gas heaters depends on the size of the gas cartridge or bottle on the one hand and the desired result on the other. If the temperature difference between the outside and the desired inside temperature is greater, this requires higher gas consumption.
Gas cartridges usually have a running time of approx. 2-4 hours, while gas bottles (depending on their size) can heat from 12 hours to several days.
Our recommendations:
The performance of the respective heater is usually not the decisive purchase criterion. Both electric and gas heaters are capable of adequately heating an average-sized tent.
Caution is only required with tea light ovens, as their performance is manageable. If you want to heat up a large marquee, you should rather use an oil heater. With an output of around 350 kilowatts, this has the highest heating power and can therefore also transform large rooms into comfortable places.
Size and Weight
Be honest: It is very rare that you take a tent heater with you on a trekking trip.
It is more common to transport tent heaters by car. But here, too, care should be taken to ensure that they take up as little space as possible in the trunk and are as light as possible. Because even the way from the parking lot to the camping spot can seem endless with heavy luggage.
If you pay attention to the following facts, you are guaranteed to choose the right tent heater:
Gas heaters are available with a weight of around 2 kg. The pack size is also reasonable and corresponds to about 25 x 25 x 20 cm. Here, however, it must be taken into account that a gas cartridge is required for use. If you use a gas bottle, you also need a connecting hose and a pressure reducer, which are also not negligible in terms of the total weight.
Electric heaters are available in similar pack sizes and have a weight of around 1 to 3 kg. As a rule, the smaller the heater, the lower the performance of the device. Here it is important to pay attention to the information provided by the manufacturer.
Petroleum heaters are larger and weigh more. The shape corresponds to a cylinder and is approx. 40 cm high and 30 cm wide, the weight is around 5 kg.
Tea light ovens have a small pack size of around 30 x 30 x 5 cm and weigh around 2 kg.
Oil heaters are usually used to heat large spaces and are therefore both large and heavy.
Additional Features
Switch-on Mechanism
Our recommendation is to consider the switch-on mechanism. After all, a camping heater should be easy to start and operate. In order to be able to operate the radiant heater even with cold hands, many tent heaters have an automatic start mechanism. With some models, it is enough to press a start button, while others are started with a match or lighter.
Technology
The technology behind it should also be considered. Radiant heaters that heat the spot they point at warm up quickly and efficiently. Convection heaters on the other hand, which use a fan to circulate the warm air around the room, are perfect for distributing heat evenly in larger three rooms tents.
Integrated Thermostat
An integrated thermostat helps to keep the temperature in the tent constant. If the desired temperature is reached, the heating switches off automatically – if the temperature falls, the heating is automatically restarted.
This is What You Need to be Aware of When Using Heaters in the Tent
Below we give basic tips for the use of tent heaters:
Tent heaters, especially those that run on gas, should only be operated when the tent occupants are present (and awake).
Always ensure good ventilation. Although this applies above all to gas heaters, it also applies to electrical devices.
The heater must not be placed too close to the tent wall or flammable materials – there is a risk of ignition!
The gas bottle can be parked outside the tent. Then you should pay attention to a sufficiently long connection piece when buying
Heaters must always be parked securely and on a good stand
If the heater is not put into operation for a long period of time, the connection parts (e.g.: pressure reducer, connection hose) should be examined before use, as they tend to wear and require occasional replacement
FAQs
What is a tent heater?
A tent heater is a mobile heater for outdoor use, which is ideal for camping. But tent heaters are also useful indoors such as in workshops, garages or conservatories.
Basically, tent heaters are differentiated according to the type of energy they supply and then further categorized. The most well-known tent heaters include gas heaters and electric heaters. But there are also petroleum and oil devices, as well as less powerful tea light ovens.
Why do I need a tent heater?
A tent heater not only ensures warm nights when camping but can also be very pleasant on cold, rainy days. Despite the name, it is not only suitable for the tent but can be used in many ways. Greenhouses, hunting hides, conservatories, workshops, and construction sites can be heated with it. In this respect, tent heaters are always suitable if there is no permanently installed heating system on site.
What types of tent heaters are there?
Tent heaters are usually differentiated according to the type of energy they supply. The best-known and most common camping shelter heaters are powered by gas or electricity.
Gas heaters only require a gas cartridge or bottle and can then be set up and run. Electrical devices require the presence of a socket, so they are suitable e.g. B. for holidays on campsites where electricity is available. Oxygen is consumed during the use of both types, so an adequate oxygen supply must always be ensured.
In addition, there are also kerosene and oil heaters, as well as tea light ovens.
Which tent heater is best?
The right tent heater depends on your own requirements, the current situation, the outside temperature, and the size of the tent to be heated.
Gas heaters are among the most popular heaters because they are small, compact and easy to use. All you need is a gas cartridge with propane or butane and the tent can be heated up.
Electric heaters are also very popular but require electricity to use. If no fixed power supply is available, this is already an off criterion for electric heating. If you already know in advance that there is electricity on the campsite, you are well advised to use an electric heater.
Can tent heaters be rented?
Yes, tent heaters can also be rented these days. Several providers on the Internet make their mobile heaters available, but these are usually more suitable for heating larger rooms or marquees. It is worth finding out about the form of energy used for heating in advance and reflecting on your own requirements.
After that, you can choose the right model. Many manufacturers also offer the rental of gas cylinders, while a high-voltage connection for very powerful devices usually has to be ordered in advance.
Are tent heaters dangerous?
Tent heaters on the market these days are safety tested and not dangerous if used properly. However, they can be hazardous to health or increase the risk of fire if used incorrectly.
One of the most common mistakes during use is the lack of ventilation in the tent. Since tent heaters always eat oxygen, it can lead to very low oxygen levels in the tent and lead to carbon monoxide poisoning. It is therefore always important to ensure good ventilation.
Although many manufacturers of mobile heaters take additional safety measures, there are many tent heaters that are suitable for using an open flame. There is also a risk of ignition if the heater tips over or is placed too close to the tent wall or other flammable materials.
What alternatives are there to a tent heater?
If a tent heater is too heavy for you or takes up too much space in your luggage, you have to think about other sources of heat on cold nights. Double-walled tents or tents made of cotton, for example, insulate against the cold. A water-repellent tent floor and a good sleeping pad also insulate from below.
The most important tip is to take enough warm clothing with you. Functional underwear and fleece pullovers are the right choices here.
If there is a gas cartridge in the luggage, water can be heated and filled into a water bottle. This is reminiscent of an improvised hot-water bottle that provides warmth, at least for a short time.
Conclusion
As outdoor enthusiasts continue to explore the beauty of nature year-round, having a reliable tent heater is becoming an essential piece of gear. There are many different ways to make your tent warm and cozy. Finding the right tent heater means dealing with the topic and the different types of heaters.
In our product comparison, we therefore present the most popular models. We have also bundled the most important information and summarized it in our guide so that everyone can make a purchasing decision that pays off.
If you have any questions, leave a comment below and we will answer them as soon as possible.
Wish a nice camping trip!