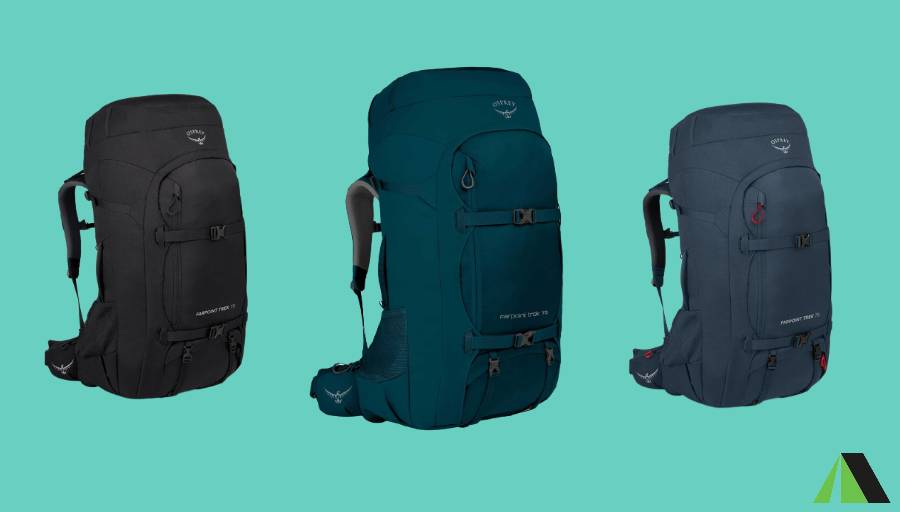 The Osprey Farpoint Trek 75 backpack was designed for trekking and travel. The two uses do not necessarily meet the same expectations, so I was quite curious to test this backpack during a two-week trip to Iceland including a few days of trekking.
Osprey Farpoint Trek 75 Backpack Review
Osprey Farpoint Trek 75 Backpack
Tech Specs:
Main Fabric: 420D recycled nylon, PFAS-free DWR
Accent Fabric: 500D recycled high-tenacity nylon, PFAS-free DWR
Bottom Fabric: 500D recycled high tenacity nylon, PFAS-free DWR
Dimensions: 30.34H X 16.55W X 14.18D in.
Volume: 75 liters (also available in 55 L + female model Farview Trek)
Size Available: M or L (to be defined with the Osprey app)
Item Weight: 4.63 pounds
Best Price: Check On Amazon
Pros
Excellent carrying comfort
Included Aircover cover
The sturdiness of the fabrics and zippers is outstanding
Large front panel access for easy packing
Lots of accessory pockets
Cons
The hood top of the bag isn't removable
Accessibility of the water pocket compartment is a bit difficult
External nets could be more resistant
Size and Capacity
75L is big, huge, gigantic, and ideal for traveling around the world. Admittedly, my use was much more modest, but unless you're a fashionista and want to carry five pairs of shoes, you'll be able to stuff a lot of useful or less useful things in this Osprey Farpoint Trek 75 backpack.
For example, I was able to slip into the bag, with nothing dangling on either side, things for 15 days including clothes that were warm enough and therefore more cumbersome than a swimsuit, a two-person tent, a sleeping bag, an inflatable mattress, two telescopic walking sticks, photo tripod, a stove, sachets of freeze-dried food, a pair of water shoes for crossing rivers, etc. There was even still a little room left if you tamp it down well.
For the trekking part of my trip, I was obviously able to remove some things to leave with my mind and above all the lighter bag with the inconvenience of having a fairly heavy vacuum bag whereas a 40L would have largely enough.
Nevertheless, tightening straps make it possible to reduce the size to keep the belongings inside.
Carrying Comfort
As you will have understood, the Osprey Farpoint Trek 75 is made for carrying around your house on your back. The weight is therefore quite substantial when empty (4.63 lbs), although for such a liter is average. Needless to say that if you need such a space, you risk having a good fifteen kilos on your back. Comfort is therefore essential.
The abdominal belt is very wide and placed ideally on the hips to support a good part of the weight. Two pockets located on each side of the waistband allow you to slip in cereal bars, which is very practical for not having to remove and then put the bag back on for each 'energy' break.
Chest Strap
The chest strap, adjustable in height thanks to three anchoring points, allows you to adjust its positioning while being very solid. The straps are also rather wide and provide good support. They are adjustable in height thanks to three buckles according to your size (like the Rook 50 model).
Back Panel and Waistband
The back panel is made of Airspeed ventilated trampoline mesh. No sweat-soaking foam straps. That said, even if there has been progress on this side, I don't think that a brand will one day be able to do something really efficient... or else I sweat too much while hiking, which is very likely.
In short, after a few tens of minutes of effort, my back was soaked. Despite the weight, the backpack turns out to be comfortable. However, it took me some time to find the right setting.
The waistband was too tight, the straps too loose, inconvenient stitch in the upper back (before adjusting the height of the panel), I feared the worst before optimizing the position! Try and adjust the bag before setting off on your adventure. Basic advice that I haven't applied to myself, so no worries on the comfort side. A positive point if you plan to go on a mop for several months over hill and dale.
Accessorizing
On Travel Side
A very practical zipped Aircover cover allows you to store the shoulder straps and straps to put the bag on hold when you take the plane.
There is therefore no risk of seeing a strap torn off when you retrieve your luggage from the carousel. It will also serve as a waterproof cover in case of rain. You can leave your bag outside the tent without fear of having your things soaked. The cover has a handy side handle for transport in suitcase mode.
A very large central zipped opening along the back of the bag allows access to the main pocket and another zip allows access to the bottom compartment. A canvas makes it possible to separate the two parts of the backpack. The Osprey Farpoint Trek 75 therefore opens more like a suitcase or a travel bag than a real backpack. Practical for finding what you want but also for optimal storage.
Inside two tightening straps make it possible to optimize storage. Also, two small zipped pockets are hidden inside the bag, ideal for storing papers or money while a key ring clip located in the hood means you won't lose your keychain.
Two handles, at the top and on the side of the bag allow its transport when it is not worn on the back, especially at the airport. The very sturdy so-called 'security' zippers can pass a small padlock, which is a great classic of round-the-world backpacks.
On Trekking Side
A very accessible and practical third pocket on the front of the bag, but can clutter up the central pocket. Ideal for flat objects, such as cards. Add to this two pockets located in the hood, both relatively large, but which encroach on each other.
However, the cap is not removable. There is no access to the main compartment of the Farpoint Trek 75 from above the bag, which can be useful when you put down your load for two minutes to retrieve a fleece or a windbreaker. We will take care to store the things we want to keep close at hand in the hood.
Two external nets on the sides of the bag complete the storage possibilities of the Osprey Farpoint Trek 75. They are quite deep but the elastic on the top of the nets is relatively tight. Map, cereal bars, water bottles or water shoes, a lot of 'things' can be stuffed into its accessible spaces.
I admit I was a little disappointed with the resistance of the nets, which stretched in the space of two weeks, one even tearing a little. It will therefore be advisable not to put elements that are too heavy or too bulky in these locations.
Finally, a water pocket is placed at the bottom of the main pocket and held by a small clip. When I say at the bottom, I mean against the back. You will tell me that it is rather logical; firstly for weight distribution, secondly to run the hose to the top of the bag to bring it down along the shoulder strap. The problem is that the pocket is under all your t-shirts, shorts, underpants, and other toothbrushes… in short under 10.
The cover and a jacket fit easily in the hood11. One of the nets was slightly torn12. Zippers are sturdy for all your stuff. Really not practical when you want to refuel during the day. Especially since it is difficult to replace the pocket without removing the said things. And if it rains, it's a disaster!
Finally, two straps located on the lower pocket of the bag allow you to attach a ground mattress or even a small tent... if sometimes the 75L inside were not enough.
The Verdict
More backpacking than trekking...
The Farpoint Trek 75 is a hybrid backpack, sold as a trekking and travel bag. Its large capacity, Aircover, robust zippers, and secret pockets make it an ideal pack for backpacking travel with undeniable and appreciable carrying comfort. I will be a little less enthusiastic about the trekking side.
A little big for week-long treks, less comfortable than an exclusively hiking access backpack, and a little less practical to use. Its 55L version is perhaps more suitable for this use. I recommend this Osprey  Farpoint Trek 75 for backpackers wishing to trudge a few days from time to time wherever they are on the planet.
See Also...