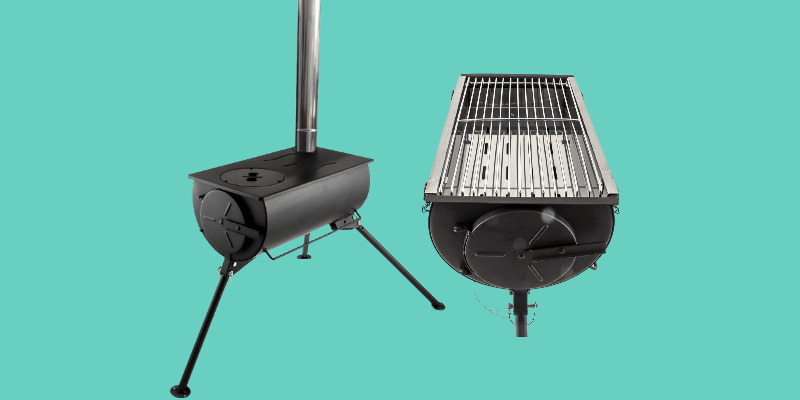 If you want to camp in autumn or winter, a tent stove is perfect for such situations. These stoves are compact, lightweight, and designed to be set up and used safely within a tent. They warm the tent flawlessly and keep all outdoor fans warm whether during the day or at night.
However, choosing the right tent stove depends on various factors including the type of camping you prefer, the climate and environment you'll be in, and personal preferences regarding fuel type and convenience.
In this guide, we'll explore the top 7 camping tent stoves in each category, highlighting their features, benefits, and potential drawbacks to help you make an informed decision for your next outdoor adventure. In our purchase advice, we present the most important purchase criteria that lead directly to the right tent stove.
The Best Tent Stove of 2023
Ranking of the best tent stoves in 2023…
Key Features:
Dimension: 38.1 x 35.6 x 27.9 cm
Material: Titanium
Weight: 3 kg
Accessories: chimney pipe, cover, drying basket, side heater
The manufacturer of this tent stove has gone to great lengths to create more than just a tent stove. This product can also be used as an oven for cooking. It is sufficient to place a pan, kettle, or pot on the stove. The radiated heat heats up every drink and food. The titanium stovepipe is 7.85 feet (2.30 m) long.
Alternatively, the supplied side warmer can be used as it offers enough space for a pot or cup. It is also possible to sprinkle hot stones with water and thus activate a small sauna. In all situations, the enclosed chimney should be used to prevent carbon dioxide from accumulating in the tent.
To prevent rain from penetrating, the Woods Walker tent stove comes with a cover. Thanks to this, the tent stove can be used in any weather. If the required wood is damp, it dries in the drying basket which is also included. This means that there is always enough wood available for the stove to run as long as you want.
The stained glass windows, which always allow a view of the fire, are stylish and useful. For easy transport to the place of use, the titanium tent stove can be easily folded up and transported with a carrying bag. Once there, it is set up in just a few simple steps. The combustion chamber is 17.8 x 22 x 39 cm.
It stands on par with the craftsmanship of premium lightweight folding titanium stoves. It is small and can also be used as a stove and is robust and durable due to its material.
Pros
Ultralight
Include carry bag
Small pack size
Side warmers
Wood drying basket
Oven function
---
Key Features:
Dimensions: 38.1 x 50 cm
Material: stainless steel
Weight: 9 kg
Accessories: side stand
Winnerwell Allround Deluxe tent stove can heat larger tents or small cabins. For this purpose, it was produced larger and at the same time equipped with a very long chimney pipe. With this pipe, the smoke is discharged to the outside via the roof opening of a higher tent.
It is positive that a pan or pot also fits on the surface of the tent stove. The food or drinks inside are warmed up by the radiant heat. A large door is available for inserting wood, which functions as a window and complements the second window. So everyone can take a look at the flames.
Four feet, which were produced slightly slanted, ensure a secure footing. If the tent stove is not needed, the feet can be folded under the stove. The furnace tube is stored in the furnace in the disassembled state. The two side grids serve as handles. The chimney pipe also has a cover.
The Winnerwell Wood Burning Tent Stoves are meticulously made from durable 304 stainless steel, ensuring they remain impervious to rust or corrosion. This makes them exceptionally well-suited for demanding outdoor settings. It is also an excellent choice for recreational shelters like tiny homes, vans, and bus conversions, especially in situations where space is limited.
Pros
Suitable for big tents
Long chimney pipe
Oven function
Durable and rustproof
Cons
No tote bag
A bit difficult to set up
---
Key Features:
Dimensions: 45 x 25 x 30 cm
Material: Steel
Weight: 11.3 kg
Accessories: gloves, carrying bag, spark arrestor
To make this tent stove suitable for every situation, it received a number of special components. So the manufacturer gave it extra long legs to protect the floor underneath. This means that no grass or the tent floor can burn.
The chimney pipe is 192 cm long. As long as the tent stove is not needed, the legs can be removed. Several pots and pans fit on the large surface of the oven. To ensure this, the chimney pipe was placed at the end of the stove.
It is also high enough to be used with medium-high tents. At the very end of the tube, it has a spark arrestor to keep sparks from falling on the tent. There is a door on the side for easy filling with wood. You can lock the door in 2 positions to control the draw and the heat. The included gloves prove to be very useful for this.
As long as the oven is not required, it remains in the carrying case supplied. The chimney pipe is disassembled and stored in the stove. It is highly portable and light; you can pack up it to be carried like a suitcase.
Pros
High ground clearance
Spark arrestor
Comes with gloves and a carry bag
Including grill
---
Key Features:
Dimensions: 36.5 x 17.5 x 15.9 cm
Material: stainless steel
Weight: 3 kg
Accessories: gloves, carrying bag
With North Cool Mini Camp Stove, trekking fans have the opportunity to use this stove on the go. This is ensured not only by the small dimensions but also by the low weight. In addition, a carrying bag helps to easily carry the tent stove to the place of use.
Another advantage of this portable camping stove is that it is suitable for cooking and grilling. A pan, pot, or mug can be placed on the surface of the stove. A large door is available for easy filling of the oven. It is positive that not only wood but also charcoal can be inserted.
If you want to watch the flames of the fire, you will be happy about the integrated window. This also creates a romantic flair in the tent. The chimney pipe is 110 cm high.
Crafted from robust 304 stainless steel, the North Cool outdoor wood stove is impervious to rust or corrosion, making it well-suited for rugged outdoor settings. Its top aluminum heat transfer plate remains resistant to deformation even after extended periods of heating.
Anyone looking for a small tent stove to heat a small tent or for cooking will choose this product.
Pros
Small dimensions
High heat output
Included carry bag
Cooking function
Cons
Large pack size
Short chimney pipe
---
5. DanDiBo EEK A Wood Tent Stove with Oven
Key Features:
Dimensions: 76 x 83 x 47 cm
Material: Metal
Weight: 60 kg
Accessories: None
DanDiBo EEK is a large tent stove that can heat not only medium-sized tents but also huts. It is able to heat rooms up to 200 m². It not only burns wood but also briquettes. A large door is available for quick fuel filling. You can store your wood conveniently under the oven.
To the right is the oven, which can also be used to prepare a roast, an integrated thermometer shows the temperature in the oven at all times. The area above serves as a heating point and looks as if it would be equipped with stovetops.
In this way, this tent stove not only serves as a heater but also as a cooking area. The stove was given four feet for a secure footing, which also ensure a distance between the floor and the stove.
Due to its heavy weight and solid construction, it is primarily suitable for longer tent adventures and for summer houses or allotments. However, this tent stove is delivered without a chimney pipe.
Pros
For large tents and cabins
Built with oven
For wood and briquettes
Cooking place
---
Key Features:
Dimensions: 17 x 13 x 23 cm
Material: Ceramic
Weight: 1.63 kg
Accessories: None
All outdoor fans who want to heat their tent without wood will be happy about this small fan heater. It is easy to use; only requires a power connection and impresses with two heating levels. A special technique leads to warm air within a very short time.
The first stage has 1200 watts and the second 2000 watts. The third setting represents a cooling function, so the device can also be used in summer. In order to keep warm overnight, the device was equipped with protection against overturning and overheating.
This turns off the fan if it should fall over. Another useful feature is the integrated thermostat. Pro Breeze Mini tent stove has a large handle for easy transport. Overall, if you are looking for an electric tent heater, you can choose this model.
Pros
Small and compact
High performance
Overheat protection
Anti-tipping device
Cooling function
---
Key Features:
Dimensions: 46.5 x 30.7 x 28.2 cm
Material: Steel
Weight: 6.99 kg
Accessories: side rails, spark protection tube
This tent stove from GBU is reminiscent of a small stove that can be used on the go. To achieve safe heating, it is equipped with many subtleties. It has an adjustable air regulator. This is necessary to set the heat and heating power.
A window in the door provides a view of the flames. The extra-long chimney pipe was fitted with a spark protection pipe in the last piece. This protection ensures that no sparks could fall on the tent and ignite it. In addition, this tent stove can be used as a stove by placing the pot or pan directly on the stove.
Alternatively, the stovetop is removable so that you can grill directly over the open fire. With a small idea from the manufacturer, the oven is transformed into a tumble dryer: there is a sloping grille on both sides, on which laundry can be hung.
When not in use, the long chimney pipe fits into the interior of the stove, so everything is always together. The chimney pipe is 228.6 cm long. This portable tent stove is suitable for cooking over an open fire and for drying small items of laundry. It can also be a great gift to friends or family who like camping or hunting.
Pros
Side rails
Spark arrestor tube
Air regulator
Removable cooking plate
High temperature spray
Cons
Large size
It isn't made to heat large places
---
What Must be Considered When Buying a Tent Stove?
Our buying guide for tent stoves can help you make a well-informed decision. Here are some detailed considerations:
Size of the stove
The size of the tent stove depends on the tent and purpose of use.
Warming up a small tent
In this case, a mini tent stove is sufficient. These are often only 40 cm long and almost 20 cm wide and high. The advantage of these models is that they are lightweight and collapsible. Often the statement collapsible only refers to the fact that the feet are folded under the stove body.
Nevertheless, they can be carried to the place of use without any problems. However, it is important that even a small tent stove has a sufficiently long chimney pipe so that the smoke is discharged through the tent. When transporting the furnace, the pipe should be collapsible and stored in the furnace.
Trekking tours
There is a heating attachment, especially for trekking tours. This is placed on a small gas-powered camping stove. The construction of the heating attachment ensures that no flames or sparks are spread throughout the tent. Nevertheless, the heat escapes through a perforated plate to warm the tent. This tent stove does not require a long chimney pipe. However, it should only be used with good ventilation.
Heating and warming
If you want to heat and cook with one and the same device, you can opt for a larger tent stove. Pans, pots, and cups can be placed on the surface of the stove.
Some models have removable hotplates for cooking over an open fire. Others even include an oven. However, these are very large ovens that are extremely heavy. Even with a small tent, it is worth buying a large tent stove. This heats up the tent quickly, which shortens the operating time.
Operating mode
The following operating materials are used in a tent stove:
Wood or wood briquettes
Wood is the most popular fuel. Depending on the size of the tent stove, the pieces of wood must be smaller or larger. With some wood tent stoves, it is also possible to use wood briquettes. Wood burns quickly and will burn long enough if treated properly. In addition, wood generates enough heat to warm up the tent or to cook with it.
Gas-powered tent stoves
Gas-powered tent stoves are also offered by various manufacturers. There are heaters that run on gas and small camping stoves. An attachment is placed on the cooker to prevent the flames from spreading unintentionally.
Radiators with electricity
Last but not least, radiators with electricity can also do a good job. The prerequisite for this is that electricity is available on the campsite. In addition, the extension cord must be waterproof. Electric heaters are often equipped with safety features. These include overheating protection or protection against falling over. Both switch the device off automatically in the event of danger.
Connection
The connection depends on the selected operating mode:
Wood
A wood-burning stove can be operated outdoors without any further precautions. Of course, make sure that the stove is on a fireproof surface and that there are no combustible materials nearby. If the stove is used indoors, it must be given a long chimney.
This must go through the roof of the tent or hut in order to dissipate the smoke far enough. While a tentipi or a regular tipi already has a drainage hole, most small tents have to have this installed first. There are stove pipe bushings available commercially for this purpose.
Gas
The connection for gas-powered tent stoves works like a camping stove. Gas cartridges are usually required. A chimney pipe is necessary when heating an enclosed space.
Electricity
Electric fan heaters only have to be connected to the existing power supply with an extension cable. These can be operated inside the tent if care is taken to ensure that there are no flammable materials nearby.
Caution: Harmful carbon monoxide can build up with wood and gas fuels. It is therefore important to ensure good ventilation here. Power devices do not have this disadvantage.
Pack size
Large tent stoves usually cannot be folded and must be transported in their original condition. If you are looking for a tent stove that you can use on a trekking tour, you have to make sure that it packs small. Most chimney pipes disassemble and fit inside the stove. Some manufacturers also include a transport bag.
Weight
Of course, the weight of the tent stove depends on the size. Small devices weigh only three kilograms. However, these are also too heavy to take with you on a hike. That's why there are even lighter models for trekking tours. Very large tent ovens with integrated ovens sometimes weigh 60 kilograms.
Material
A tent stove produces a lot of heat that needs to be released to the outside air quickly enough. For this reason, the following materials are used:
Stainless steel is durable and strong. In addition, stainless steel is very light and does not rust. Due to these properties, many manufacturers prefer this material.
Titanium is even lighter than stainless steel and has the same advantages.
Steel is much heavier and is mostly used on larger models.
The same applies to metal. This is also heavy, but durable and robust.
Ceramic is only used in fan heaters.
Tips: Cast iron is used in large stoves. Although this material is heavy, it is very robust and durable. Such devices are also suitable for use in long-term camping.
Safety Features
Spark Arrestor: Essential for wood stoves, it prevents sparks from escaping and potentially causing a fire hazard.
Ventilation and Draft Control: Proper ventilation is crucial to ensure safe and efficient burning. A damper or air control mechanism can help regulate airflow.,
Additional functions
Most of the time, a tent stove can do much more than just heat a room:
The surface of the oven serves as the cooker. Often are installed on these hotplates.
Sometimes there is a drying basket, used to store wood that is still damp. This dries in a short time and is then used as firewood.
Small items of laundry can be hung up to dry on the side rails.
Glass panes allow a view of the flames at all times and create a romantic ambience.
The air supply must be adjustable. Most models have a slider that regulates the air supply, as with the Swedish stove.
FAQs
How does a tent stove work?
In order for a tent stove to function, it must be fueled. Most tent stoves work with wood. Some other models require gas or electricity.
Heat is generated as the fuel is used. This heat warms the interior of a tent. To prevent too much CO2 from being inhaled, the tent must be well-ventilated while the tent stove is in operation. Such ventilation is created by a chimney or a hole in the center of the tent canopy.
What are the best types of fuel for tent stoves?
Wood, propane, and multi-fuel are common options. The choice depends on availability, convenience, and personal preference. However, make sure to check local regulations and restrictions regarding the use of certain fuel types in the areas where you plan to camp.
How do I determine the right size and capacity of a tent stove for my camping needs?
Consider the size of your tent, the expected temperature, and the number of people you plan to accommodate. Higher BTU ratings and larger cubic feet capacities indicate more heating power.
How dangerous are tent stoves?
If you follow the rules, you don't have to be afraid. It is important that there is always sufficient ventilation so that no CO2 accumulates. In addition, the usual safety regulations regarding the use of firewood or gas must be observed. But even with an electric tent stove, all safety regulations must be observed. Operation is safe when there are no flammable objects near the stove.
Which tent is suitable for a tent stove?
Only a tent that has ventilation may be used with a tent stove. Most tipis have appropriate ventilation on the roof, which is why a tent stove can be used here.
All other tents have no opening. Despite this, a tent stove can be used in them. In order to enjoy this without any problems, the tent stove must have ventilation via a pipe. This is the only way to ensure that no carbon monoxide builds up in the tent and the stove can be used without hesitation.
What tent stove alternatives are there?
Many use a camping stove and place a tube on top of it. Thanks to this idea, the regular stove serves as a heater and warms the interior of a tent like a professional tent stove. Alternatively, a hobo cooker or rocket oven can be used.
How expensive is a tent stove?
A tent stove is available at almost any price. Small variants that are suitable for a trekking tour cost significantly less than large devices with an integrated oven. In addition, the brand has a major impact on the price.
A tent stove is offered at different prices. This depends on the manufacturer as well as on the functions and the size. If you value low prices, you should look for an offer or sale. Likewise, a smaller model offered at a lower price may be quite sufficient.
How is a tent stove transported?
Some can be folded up into small pack sizes and carried to the place of use in a transport bag. Others are so big that they cannot be disassembled. Some manufacturers also include a carrying bag for these. If this is not the case, this accessory can be purchased separately. The transport bag price is so low that it is always worth buying.
Can you use a tent stove for wild camping?
A tent stove can be used for wild camping. You just have to make sure that the ground and the plants in the vicinity do not burn. Whether the operation of a wood tent stove is allowed on the campsite depends on the regulations of the campsite.
Conclusion
A tent heater and a tent stove are manufactured in different ways. This is to guarantee that everyone will find their personal test winner. To help you choose your own favorite, we deliberately presented different models of tent stoves in our comparison.
In addition, we have listed all the important purchase criteria that a tent stove should have in our purchase advice. If you pay attention to all the information, you will quickly find your favorite. Remember to prioritize safety when using a tent stove.
Wish a nice camping trip!
See you soon…