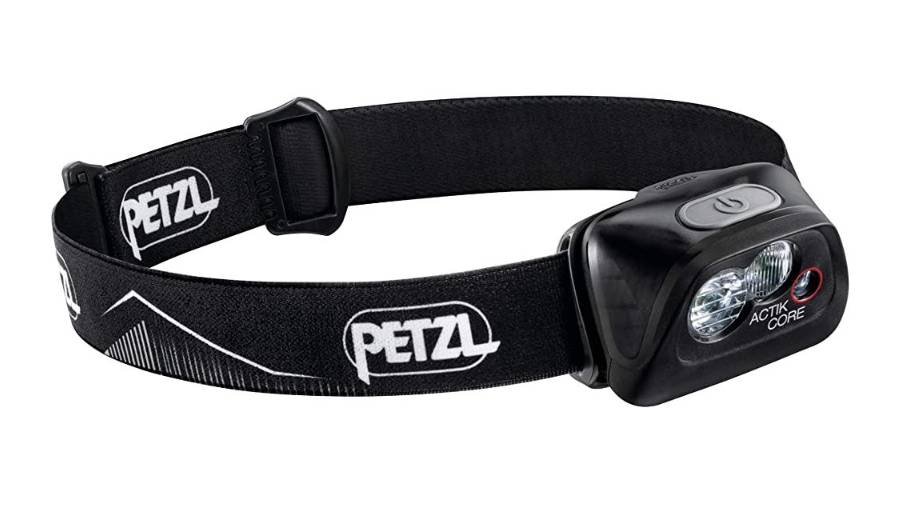 PETZL ACTIK CORE is a rechargeable, compact and multi-beam headlamp with red lighting, designed for outdoor activities. Petzl Actik Core rechargeable headlamp offers a power of 450 lumens and combined with multi-beam, makes it ideal for dynamic outdoor activities such as mountaineering, running, trekking and camping.
The red lighting preserves night vision and avoids dazzling during group movements. The reflective headband also makes it easy to see at night.
It comes with the CORE rechargeable battery and Petzl Actik Core is also compatible with three AAA/LR03 batteries (not included), thanks to the HYBRID CONCEPT construction. Fixings (available as an accessory) allow the headlamp to be installed on any type of helmet or on a bicycle.
Petzl Actik Core Headlamp Review
Main Features of the Petzl Actik Core:
Output: 450 lumens (ANSI/PLATO FL 1)
Weight: 75g
Type of beams: wide or mixed
Power supply: CORE 1250 mAh rechargeable battery (included)
Charging time: 3 hours
Battery compatibility: alkaline, lithium or rechargeable Ni-MH
Certification(s): CE
Waterproof: IPX4 (weatherproof)
Best Price:

Check On Amazon
Light, Compact and Powerful Headlamp
450 lumens for 75 g.
Two types of beams (wide or mixed) and several levels of white lighting meet the needs of high-performance lighting for dynamic outdoor activities: near or distant vision and rapid movement.
Red lighting to preserve night vision and not be dazzled during group movements.
Reflective headband to be seen at night.
Refillable and Easy to Use
The CORE battery is rechargeable via a micro USB socket.
HYBRID CONCEPT construction: delivered with the CORE rechargeable battery, Petzl Actik Core is also compatible with three batteries.
Single button to easily and quickly select the level or color of lighting.
Removable and washable headband.
LOCK function to prevent accidental ignition during transport/storage.
The Field Test
The tests were carried out during autumn hikes with late returns to the car and during a weekend in a refuge in Arizona.
Petzl Actik Core headlamp has 3 white lighting modes. The mode selection is done by simply pressing the main button located on the top of the front. The change is very easy when the headlamp is screwed on the head, even with gloves because the button is large enough. Really appreciated!
The power of the first lighting mode (6 lumens) is indicated by PETZL for 130 hours. This mode is perfect at the campsite (vision at 8 meters) or on a "cool" progression.
With the 2 other modes (100 and above all 450 lumens), we immediately understand the classification in "active" frontals. The lighting is really impressive in maximum power (450 lumens) and allows a very precise and distant vision (not far from 100 meters).
In terms of performance, it's all good with multi-beam vision (wide or mixed beam for near or distant vision). It is a perfect headlamp in dynamic mode (night hiking, climbing, mountaineering).
As on most headlamps, you also have a "red" mode which is particularly valuable in the early morning in a refuge when you leave for your alpine race.
The ACTIK® CORE is not the lightest in the PETZL range, but its weight remains clearly reasonable with its 75 grams when weighed, especially for this type of performance! If you are looking for ultralight, it is best to go for the PETZL BINDI.
One of the undeniable advantages of the Petzl Actik Core lies in its hybrid construction at the power supply level. You have the choice of using the rechargeable battery or the three AAA / LR03 type batteries. Lovers of trips to the other side of the planet will appreciate it because it is not always easy to recharge your headlamp in isolated places. 3 batteries in the bottom of the bag and to hell with the hassle!
The Petzl Actik Core is versatile. I also use it on a bike with its flashing red mode (announced visible at 700 m and with a battery life of nearly 400 hours). And yes, a frontal is used to see but also to be seen!!!
Final Thoughts
With one button and four light settings, it's a really basic headlamp by today's standards. It is solid equipment for all types of uses. The battery lasts a really long time.
The positives of the product:
Very good performance in "active" mode
Compact and fairly light
The possibility of choosing between rechargeable batteries or conventional batteries
Versatile
Headband comfortable to wear