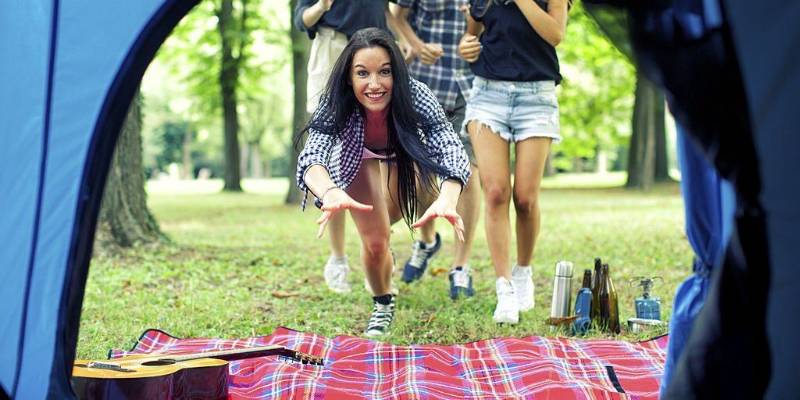 In recent years, manufacturers have honed their expertise, bringing forth a diverse array of tent carpets tailored to meet the evolving needs of campers. These carpets not only offer a comfortable surface to walk and rest upon but also play a pivotal role in insulating the tent interior from the cold ground. Furthermore, they serve as a barrier against dirt and moisture and ensure a clean and cozy shelter even in rugged environments.
However, the best tent carpet for your situation depends primarily not only on your camping holiday but also on the ground conditions. Don't stuck! We explain in detail what is important here.
In our comparison of the best tent carpets in 2023, we present the most important features. We will help you to know the advantages and disadvantages, depending on the application and ground conditions.
Best Tent Carpets in 2023 (Top 5 Picks)
Ranking of the top 5 best tent carpets in 2023.
| | | | | |
| --- | --- | --- | --- | --- |
| Image | Name | Size | Weight | Price |
| | Stansport Tatami Straw | 60″ x 78″ | 0.9 lbs | Check |
| | Wehncke Friedola Aerotex | 118″ x 98″ | 1.6 lbs | Check |
| | Durable Corporation Entrance Mat | 16″ x 24″ | 3.16 lbs | Check |
| | Bo-Camp 4218000 Tent Carpet | 197″ x 118″ | 7.7 lbs | Check |
| | MP Essentials Groundsheet Tent | 98″ x 118″ | 5.3 lbs | Check |
Pacific Play Tents Stansport 507-50 Tatami Straw – Best Overall
Durable Corporation Rubber Fingertip Carpet – Best Value
Bo-Camp 4218000 Green 5 x 3 m Tent Carpet – Editor's Choice
A Good Tent Carpet Needs These Properties
Before jumping to the test of the best tent carpets of 2023, we're going to give you an overview of what factors are important when buying a tent carpet.
UV resistance
Water permeability
Air permeability
Easy to clean
Durable material
Available in many awning depths: 250 cm, 280 cm, 300 cm, 350 cm
Can be cut without fraying
Alternative to cutting: Good foldability of the material
Good pack size
Low transport weight
Fair value for money
You have reserved the campsite and already know that the local ground for the awning is soft? Maybe there is grass too. Then we recommend the Pacific Play Stansport Tatami Straw tent carpet.
This tent carpet is available in blue, green and red. It's not just a question of personal taste in color – it's also about the associated strength of the material. It is made of a unique tatami material woven from straws made from recycled plastic.
However, if the pleasant walking comfort is not so important to you and you prefer a lower weight, the soft blue version is your choice. Here, the Pacific Play tent carpet is lightweight, which has a particularly positive effect on camping trips with lighter luggage.
Advantages, disadvantages & properties:
Pacific Play Stansport Tatami Straw tent carpet can be cut to size, washed and weather-resistant. It is also comfortable to step on compared to other competing models.
This model is breathable, which is one of the most valuable properties for us. This is the only way to ensure that no mold can develop during a longer stay. Unpleasant odors under the carpet are no longer an issue either. It is very easy to clean with light water from a hose.
The product comes in a practical, solid carrying case. After folding, the comfortable camping carpet disappears into the carrying bag without being squeezed or stuffed. In addition, the compact dimensions of the bag and the overall tolerable weight are ideal for all those camping friends who want to use the carpet frequently.
However, the manufacturer recommends avoiding use during winter camping. The cold tends to affect the material, especially when moisture can penetrate the material. We also recommend that you do not use this tent carpet for long-term camping: grass can grow through the holey structure. You should make sure that the ground is not too sandy and dirty. Sand or dirt can penetrate upwards through the holes.
The Pacific Play tent carpet scores better on level, soft ground or lawns. If the ground is hard, uneven or has stones, you should choose a different model.
---
The fabric structure in this holey tent carpet is durable, non-slip and soft. And if you are looking for a lawn-friendly surface, Friedola Aerotex is your choice. It dries quickly even after a long downpour.
This tent carpet can even be easily cut to size (also available by the meter) if the other models are not available in the desired size and you are looking for a tent carpet that you can easily cut to size.
Advantages, disadvantages & properties:
Friedola Aerotex tent carpet is pleasantly thick at 3 mm. Even on hard and robust ground, the material achieves great stepping comfort. However, the ground should not have any sharp stones or too much sand. In this case, you are better served with the Arisol tent carpet.
Camping chairs, tables, and other imprints disappear again after a short time and are not permanently noticeable in the hard-wearing hole structure. In addition, you can easily fold up and stow it away compactly after a relaxing holiday.
Air and water permeability are now a must for tent carpets – the Aerotex tent carpet is no exception. Even if the ground is rather hard, the Aerotex is comfortable to walk on and is suitable for bare feet.
However, you should not aim for permanent camping with this model either: grass can grow through the hole structure of the fabric. If the ground is too sandy or dirty, sand and dirt can get up through the Aerotex carpet.
Like the Stansport Tatami Straw, the same argument applies here: winter camping should be used with caution with this tent carpet, otherwise, the material could be damaged by excessive cold and moisture.
---
The particularly dense, hard-wearing structure made of rubber distinguishes this tent carpet. The Durable Corporation tent carpet is just the right choice if you have to reckon with the hard, uneven, or stony ground. It is also ideal for sandy ground.
This tent carpet is even suitable for terraces and balconies (naturally hard surfaces). Especially if you are often free with the RV or motorhome, the subsoil in the middle of nowhere is not foreseeable. Away from the campsite, you should play it safe with this type of camping and choose a tent carpet like this, which is particularly robust, even on stony ground.
The Durable Corporation tent carpet is also sun and water-resistant. It leaves the lawn intact so that trouble with the campsite operator is no longer an issue.
Advantages, Disadvantages & Features:
At 3.1 pounds of total weight, it is one of the stronger, heavier tent carpets in comparison. This model is available in six sizes. The smallest size is 16″ x 24″ and the largest is 36″ x 72″. Above all, we find it positive that no mud, dirt, or sand can penetrate the carpet from below.
Thanks to the air circulation, you don't need to be afraid of mold growth with this awning carpet either. The structure lets enough air through. It is also easy to clean and leaves no residue on the material.
Durable Corporation awning carpet is easy to fold and store away. The supplied storage bag is made of rubber and can easily take up the tent carpet once it has been folded out again.
In addition, this model scores with a decent price-performance ratio per square meter. It is more prone to tearing when you move very heavy objects on the floor. In any case, you should always be more careful with this carpet when it comes to repositioning the inventory of the awning. Also, make sure to fix the model at the corners with clips and pegs so that it doesn't take off immediately in stronger winds – for example in autumn.
---
If you already know that you are looking for a robust, elastic and non-slip base at the campsite, the Bo-Camp tent carpet is just the right option for you. The extra strong coating of the material is suitable for all friends who enjoy free standing. It is also a good carpet for those who have to struggle with the stony ground on their pitch.
For us, the robust material with the high-quality coating and the enormous variety of colors (compared to the competition) are interesting. Maybe you are one of those campers who like to have a certain choice of color and size. Bo-Camp outdoor tent carpet is available in a total of 6 different colors. You will also find all possible sizes, starting from 250 x 200 cm up to 300 x 600 cm.
On the other hand, there is nothing new about mold resistance, the air permeability of the fabric, and the fact that this model also leaves the camping lawn behind gently.
Advantages, disadvantages & characteristics:
The universal tent carpet from Bo-Camp is suitable for awnings, balconies, verandas, or even marquees. Due to the nature of the 100% PVC material, it is very stable and non-slip.
The weight of the outdoor carpet is in the lower range: the large tent carpet weighs just 3.5 kg/7.7 lbs at 18 square meters. The weight per square meter is therefore 450 g/m². A good choice for fans of light luggage.
Of course, you can still fix it with pegs and clips to be on the safe side. However, the robust awning helper will not take care of itself that quickly. However, if you travel more frequently in autumn, we recommend you take out protection against autumn storms.
This robust tent carpet is also easy to care for: you can wash it at 30 degrees without any problems. Handwashing will increase the lifespan. The package also comes with a practical carrying bag.
When dealing with sandy ground, you should use a different model: With the Bo-Camp, the coarsely perforated structure allows finer sand or fine dirt to seep through from below. Lawn and soft, solid or stony ground, on the other hand, are unproblematic.
However, the Bo-Camp tent carpet is less interesting for long-term campers: After a while, the grass grows through the perforated PVC structure of the carpet.
---
MP Essentials tent carpet is your choice if you are looking for an outdoor mat that you can quickly and easily fix with pegs. It is made of dense fabric, which acts as an effective barrier against insects and worms.
The special thing about this tent carpet is the 8 to 12 eyelets that are embedded in all four corners of the tent carpet. In addition, a set of four high-quality nylon screw pegs for fastening to the ground is included in the scope of delivery.
Advantages, disadvantages & characteristics:
Compared to the competition with the other four models, the MP Essentials tent carpet does a few things right when it comes to simple and secure attachment on site. This makes it your favorite if you are a festival camper or if you expect storms on-site more often.
Depending on the size of the tent carpet you will be ordered, child's play to make the robust base stormproof. The secure hold and weather resistance ensure that the tent carpet clearly takes the top spot compared to the competition when it comes to this criterion.
MP Essentials tent carpet is water-permeable and protects the camping ground through solid air circulation. It is easy to clean and keep clean. This camping tent carpet also looks so nice. This model is available in four colors and eleven sizes.
However, the formation of creases in this outdoor carpet is comparatively pronounced. Unfortunately, this leads to increased puddle formation. It's not that bad – but sometimes it rains harder and you prefer quick drying of the awning carpet, depending on the type of use.
---
What Is Important When Buying A Tent Carpet
When buying an awning carpet or tent carpet, you should make sure that it is tailored to your travel habits:
Are you always on the go during the camping season? Then you certainly want a tent carpet that is not too heavy and can also be cleaned quickly.
If you always travel with the same awning and RV or motorhome, it should be a durable, hard-wearing carpet. The situation may be different for rental campers, as the required size or the ground on-site often changes.
In general, a tent carpet that you do not have to cut to size is suitable. If this is necessary, make sure that the material cannot fray on the sides.
If you have a large area that you want to cover with a tent carpet, be sure to consider the weight. Depending on how and where you go on holiday, the comfort of a tent carpet can quickly add up to 10 kilograms!
You should also consider that quality workmanship can never be cheap – this also applies to awnings and tent carpets.
Look for carpets that are easy to clean and maintain, especially if you anticipate encountering muddy or wet conditions.
Additional Features: Some carpets come with features like built-in grommets for securing in place, carrying bags, or compatibility with specific tent models.
Unfortunately, cheap tent carpets are often not recommended. They're often poorly made, don't last long, or even contain dangerous toxins that you or your children don't want to put up with.
FAQs
How to attach a tent carpet correctly at the corners?
Now the tent carpet is where it should be – but it's not really stable there! You don't want to risk accidents or constantly slipping around on the ground to get the tent carpet into the desired position. So how do you anchor your tent carpet so that it has no play?
With clips, you can easily anchor your tent carpet to the ground with pegs. We recommend the best solution for this: GOOACC fastening clips. You can quickly and easily attach these clips in a set of 4 to the corners of the tent carpet.
Depending on the nature of the ground, you should then anchor a suitable peg in the ground. You repeat this at each of the four corners so that the awning carpet has no play. This prevents the annoying slipping off the tent carpet and gives the whole thing stability when entering.
When do you need a tent carpet and for which surface?
You need a tent carpet especially when the ground is uncomfortably hard or sandy. But a tent carpet also has a right to exist on a lawn, especially when it comes to spreading as little mud and dirt as possible.
The ground on which you stand with the RV and awning, but also its condition, plays a decisive role in choosing the right floor covering. For example, do you struggle with the hard, rocky, or uneven ground when you are freestanding or camping? Then a foamed awning carpet is ideal for your needs on site.
If the ground is hard and uneven, a tent carpet is highly recommended. This way you can comfortably walk around barefoot in the awning. In addition, camping cupboards and other pieces of furniture have a more stable hold. In this case, we recommend the Friedola Aerotex outdoor covering with an irregular hole structure and PVC foam coating.
Do you already know that the ground will be soft or sandy? In this case, we recommend the more elegant Pacific Play Tents Stansport 507-50 with the fabric structure mentioned above. Pacific Play offers this in different weights.
The slightly higher quality tent carpets are more expensive than the thinner versions. They differ mainly in terms of stepping and walking comfort, which is particularly noticeable if you often walk barefoot.
It is also crucial that less cold and moisture can develop. This avoids condensation and a bad climate in the awning. A good solution for this is the Ground Cover for awnings up to a maximum depth of 3 meters: A thin fiber cloth that is placed under the actual tent carpet.
The advantages of Ground Cover:
The tent apron does not lie in the dirt
UV-resistant
permeable to water and air (very important, depending on campsite rules)
dries quickly and is easy to clean
For fans of autumn or winter camping, we recommend taking a look at a special fiber pad that is placed under the tent carpet but over the foil covering: ComfortCarpet keeps moisture and cold out, and the material is also water and air permeable.
Do tent carpets have to be water-permeable?
In general, water permeability is a desirable property. As the rain or mud seeps through the structure, less is left on the material itself. The few leftovers can be cleaned faster and easier.
There is also a side effect:
The breathability of the water-permeable tent carpets. If the tent carpet has a correspondingly open structure, the material can breathe. This means that there are no unpleasant odors in the awning. Otherwise, these would arise after a short time and quickly make the stay unpleasant for everyone involved!
You also want to avoid leaving traces of mold on the tent carpet and other objects in the awning after a long period of camping. A good indoor climate in the awning is extremely important and is also influenced by the right choice of a good, breathable tent carpet.
Why aren't tent carpets allowed on every campsite?
The reason for the ban on tent carpets on campsites is the nature of the ground. If the campsite has a lawn, the operator wants to be able to hand over the pitches to the guests in a well-kept condition.
However, this is not possible if guests often leave cheap painter's film on the pitch for a long time. Such cheap material lets neither water nor air through so that after a long time a large part of the vegetation under the film dies. Of course, this is neither in the sense of the operator nor in the sense of the camping idea itself. After all, you want to enjoy camping with and in nature without destroying it.
When the next camping guest arrives, they usually only find a brown, square spot that doesn't look very inviting. Not a good advertisement for the campsite!
For fear of such experiences and bad reviews, there is often a ban on tent carpets. However, this ban on tent carpets is often specified. When asked, the operator refers to the mentioned cheap tarpaulins that let neither water nor light through.
So if you find such a ban on tent carpets, first clarify what exactly it means. If the operator actually prohibits all forms of floor tarpaulins and carpets, you can often clarify this by email or telephone before making the reservation.
How do you cut tent carpets to the right size?
Depending on how big your awning or tent is, your favorite awning carpet has to be trimmed to the right size. The professional method for this is hot cutter. You can rent a heat cutter in well-stocked hardware stores or, if you don't want to spend the time, you can simply buy your own device.
I myself use Pink Power Electric Fabric Scissors Box Cutter for various seals of all kinds and am completely happy with the excellent quality. It is also useful for snapped tent cords or other camping emergencies.
Cordless Scissors Fabric Cutter
If necessary, you can also cut through the tent carpets cold with a knife. However, you have to seal the ends cleanly again, preferably with a soldering iron or lighter. This is the only way to prevent the tent carpet from fraying in the long term.
The Verdict!
Now you know which tent carpet is the best for camping in 2023. In this dynamic landscape, staying informed about the latest innovations from renowned outdoor gear brands will serve as a valuable compass in your quest for the perfect tent carpet.
From lightweight space-saving tent carpets for the avid backpacker to plush, deluxe carpets for those seeking a touch of luxury in nature, the market is brimming with choices.
Keep in mind that both the area of ​​application and the desired size play a major role in choosing the best tent carpets. Since tent carpets have very different sizes, the price range for them is also very large.
Hope this guide helped you and saved you time. See you soon…