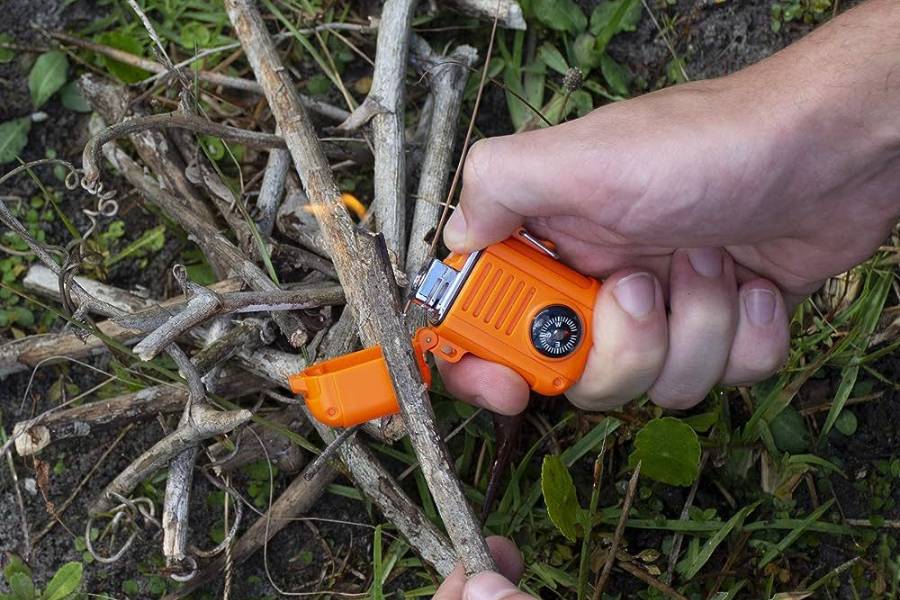 As the allure of backpacking continues to captivate adventure seekers, the pursuit of lightweight, reliable lighter becomes ever more crucial. It is a compact source of fire that can make all the difference in the great outdoors.
In 2023, the market has responded to the demands of modern explorers by unveiling a new array of cutting-edge backpacking lighters, designed to meet the challenges of rugged terrains, adverse weather, and extended trips. These portable fire-starting devices offer more than just the means to cook a meal or create a cozy campfire – they provide a sense of security and self-sufficiency.
Whether you prefer traditional butane lighters, windproof plasma arc lighters, or innovative multi-functional fire starters, our guide will help you discover the perfect companion to ignite the flames of adventure during your backpacking escapades.
Best Backpacking Lighters In 2023
| | | | | |
| --- | --- | --- | --- | --- |
| Name | Style | Fuel Type | Material | Price |
| Dual Arc Plasma Lighter | Electric | Electric | ABS, Zinc | Check |
| Zippo Matte Pocket Lighters | Logo | Zippo Fuel | Brass | Check |
| Veksun Waterproof Lighter | Electric | Electric | Zinc Alloy | Check |
| Jnfire Lighters 3 Pack | Modern | LPG | Plastic | Check |
| Snow Peak Folding Torch | Canister | Isobutane | Brass | Check |
| BIC Lot of 5 Mini Lighter | Classic | isobutane | Plastic | Check |
| MENG ZHI AO Outdoors | Recharge | Electric | Alu, Zinc | Check |
| SOTO Pocket Torch & Lighter | Torch | LPG | Mixed | Check |
Best Overall – Dual Arc Plasma Lighter
Best Ultralight Backpacking Lighter – Zippo Matte Pocket Lighters
Best Value for the Money – Jnfire Lighters 3 Pack Backpacking Lighters
Specs:
Style: Electric
Material: Zinc Alloy+ABS
Total Weight: 1.8 oz
Energy Source: Electric
Dimensions: 2.7″L x 1.8″W x 0.7″Th
The first item in our selection is the Radion Dual Arc Plasma Electric Lighter. It is both electric and rechargeable. The arc flame of this lighter fires upwards. This is a point much appreciated by many people. It works perfectly even if you take it out of the water. The Arc flame can also be used in rainy and windy weather.
The interior boasts a robust zinc alloy structure, while the external shell is composed of tough ABS plastic, ensuring exceptional impact resistance and long-lasting durability. It is perfect for camping, hiking or outdoor expeditions. You can easily transport it in your backpack's side pocket. You can also put it in a pocket, purse, drawer or car compartment.
It has high capacity 220mAh lithium-ion battery, which provides up to 200 lights between charges. It only takes 1.5-2 hours to charge. You don't need to worry about fuel, just keep it charged and it works every time. Moreover, you can turn it on several times after charging it.
Pros
Cons

Economic & eco-friendly
Windproof up to 80 mph
Double arc design
Pretty cool flashlight

The plastic case is a bit flimsy
---
Specs:
Style: Logo
Material: Brass
Total Weight: 1.5 oz
Energy Source: Zippo Lighter Fluid
Dimensions: 1.5″L x 0.5″W x 2.25″Th
If want a backpacking lighter that is easy to use and serves for a long time, the Zippo Pocket Lighter is the best option for you. It can be refilled forever with simple tools and cheap supplies. It works well every time until the fuel evaporates and you forget to refill it.
It's the most and least dependable backpacking lighter at the same time. Its windproof design works virtually anywhere. The lid is very strong and works really well. It makes cool sound, which gives you lukewarm feeling. You can use it for lighting fires to burn rubbish or camping fires.
Zippo matte pocket lighter is also very comfortable to hold. Its all-metal construction ensures excellent durability. However, the only issue is that it is sometimes difficult to do the flip-open trick with 2 fingers and thumb with big hand. The paint also makes it very slippery.
Pros
Cons

Good solid and dependable
Refillable for a lifetime of use
Great fir and finish
Windproof
Lifetime guarantee
---
Specs:
Style: Electric
Material: Zinc Alloy
Total Weight: 3.52 oz
Energy Source: Electric
Dimensions: 0.61″L x 0.61″W x 9.92″Th
The arc flame of the Veksun lighter allows for a much wider flame. This is a rechargeable lighter that can be lit 160-210 times. It is universal in charging. You can charge it via USB Cable by using your USB Charger, PC or Power Bank.
The Plasma Double Arc lighter has a metal sealed lid and clasp. As a result, it is protected against rain and wind. You can therefore use your lighter for camping, hiking or other events that take place in the great outdoors.
It measures about 1.5 hours from full charge. It is very fashionable and is a perfect size for your purse or EDC pocket. This model also has a small lanyard. You can wear it around your neck without getting in the way. It is designed with fully sealed waterproof high degree of protection.
The order also includes Micro USB Cable and one Rechargeable USB electric arc Lighter. This accessory allows you to reload your lighter fairly quickly.
Pros
Cons

High power flame
Waterproof and windproof
Universal charging
Fashionable design
Safe to use

The button is too close to the flame area
---
Specs:
Style: Modern
Material: Plastic
Total Weight: 4.9 oz
Energy Source: Liquefied Petroleum Gas
Dimensions: 3.93″L x 1.42″W x 0.59″Th
Jnfire butane lighter with a 45° rotatable head can be bent to any angle you want for different usage. This backpacking gas lighter has visible fuel window, which allows you to check the fuel usage, so you can check the remaining gas and fill it when you need.
The flame size is adjustable easily without any tools. You just adjust the buttons to the left and right. It is windproof, making it perfect for both indoor and outdoor activities. However, it needs to be at the max setting in order to ignite.
Jnfire jet flame lighter built with safety buckle and press on/off button, which protects children from igniting accidentally. Overall, it is a good survival lighter that can be effective in any environmental condition. You can also save some extras for buying this 3-piece package.
Pros
Cons

Rotatable lighter head
Visible fuel tank
Adjustable single Jet Flame
Cheap price

Flame adjustment setting is worthless
---
Specs:
Style: Folding
Material: Stainless steel/brass/nylon
Total Weight: 6.2 oz
Energy Source: Isobutane Fuel
Dimensions: 7.5″L x 2.8″W x 1.7″Th
With a compact design and wooden handle, the Snow Peak Folding Torch could be a great tool for igniting a charcoal barbecue. You can use it both indoor and outdoor. We have tested multiple times on camping trips and around the house. It packs up nicely and is small enough for carrying long backpacking trips.
The adaptor is excellent and works well with stove canister-sized fuel tanks. It uses a lot of fuel, but that's apparent when you see and hear the impressive flame. It sounds like a genuine blow torch, which is very natural. Keep in mind that when pointing it down, the flame will go out.
It is well made and can easily flood and extinguish itself. It's the best firestarter for when it's wet, or you're in a hurry to get a fire going. However, it's not very useful to start a campfire, because you have to stand over and tip downward. Otherwise, it is a very useful lighter for your next backpacking trip.
Pros
Cons

Compact and elegant design
Torch can be used upside down
Powerful flame
14,000 BTU

Fuel not included
No self igniter
Check on REI.com Check on Amazon
---
Specs:
Style: Classic
Material: Plastic
Total Weight: 0.2 lbs
Energy Source: Isobutane Fuel
Dimensions: 2.28″L x 1.28″W x 0.22″Th
The Bic brand is the market leader in the sector of disposable flint lighters. And if you want to keep a simple lighter in your hand, the classic BIC lighter can simply meet your expectations.
It is very compact and small in size to fit in your pocket. It is also convenient to carry wherever you want. This package comes with 5 brand new Mini Lighters in assorted colors (see in the picture). You'll love how simple and easy to use these lighters are. Each lighter has weight around 0.4 oz when full, so it will be great for ultralight.
Bic backpacking lighter is made with pure Isobutane fuel with up to 3,000 lights. It is also very resistant, which provides a steady flame. It is safe even when used at a 45-degree angle. Whether you're camping or staying prepped for an emergency, these pocket lighters will be your best friend.
Pros
Cons

Great products at great prices
100% quality proven
Different colors match your mood
Safe and reliable flame
Ultralight
---
Specs:
Style: Rechargeable
Material: Aluminum, Zinc
Total Weight: 3.88 oz
Energy Source: Electric
Dimensions: 2.72″L x 1.87″W x 0.69″Th
The MENG ZHI AO electric lighter is in the seventh position in our ranking. It is perfect for all outdoor enthusiasts who looking for a convenient fire solution. It will be able to meet the expectations of survival and hiking enthusiasts. It can also be used in all circumstances. Indeed, it resists perfectly the wind and rain.
In addition, it has a great battery life, so you can use it several times during the day. MENG ZHI AO backpacking lighter comes with sold with a USB cable. This can help you recharge your lighter with complete peace of mind. It takes 60 minutes to fully charge this lighter.
MENG ZHI AO outdoor lighter is sturdy and well built, especially when dropped. It is also quite light, so you can carry it without any discomfort. It comes with a gift box, making it perfect if you want to give it as a gift. However, it has a high-pitched sound, but you won't notice it.
Pros
Cons

Economic to use
Cool design
Windproof and splashproof
Quick charging
Includes a nice gift box

Produces heat and can cause burns if misused
---
Specs:
Style: Torch
Material: Mixed
Total Weight: 1.76 oz
Energy Source: Liquefied Petroleum Gas
Dimensions: 4.33″L x 2.36″W x 0.91″Th
And now, for the final entry in our top 8 list, we have a lighter that truly exemplifies excellence. This SOTO pocket lighter has garnered immense praise for its superfine centralized flame. It is a pocket torch with refillable lighter that has a single burner nozzle.
It produces a powerful blue and hot flame. This can be adjusted by turning the adjustment button which is located under the lighter. The plastic shell is very thick, which makes it durable.
The SOTO backpacking lighter has a fuel window that allows you to control your fuel consumption. Thanks to its versatility, you can use this lighter for camping, hiking, barbecuing, and more. It is also ideal for survival because you can easily start a fire even if it's windy.
It is much more powerful than a simple camping lighter and comes with a translucent cartridge, so it is very easy to fill. However, this model is more expensive compared to other models on this list. And yes, it's harder to open to replace the lighter, but it'll serve well for a long time.
Pros
Cons

Wind resistant
Ultralight
Easy to fill
Blue and hot flame

A bit difficult to remove the top
---
Best Backpacking Lighters Buying Guide
Let's explore the essential factors to consider while selecting the best backpacking lighters in 2023, which ensure you find the perfect match for your outdoor adventures.
Ignition Method
In 2023, backpacking lighters come with various ignition methods, each catering to different preferences and environments. Traditional butane lighters with piezoelectric ignition are reliable and easy to use, while plasma arc lighters offer windproof performance and prolonged use.
There are also multi-functional fire starters that combine a lighter, waterproof match, and emergency whistle in one compact tool. Choose an ignition method that aligns with your needs and ensures dependable flame generation.
Durability and Build
Durability is paramount when selecting a backpacking lighter. Look for models constructed from robust materials, such as high-quality plastics, metal alloys, or reinforced casings, to withstand the rigors of the outdoors.
Waterproof and shockproof features are also advantageous, providing peace of mind in unpredictable weather conditions and rough terrains. We recommend lighters with metal or reinforced casings.
Windproof Performance
Wind can pose a significant challenge to starting a fire in the wilderness. Backpackers should seek lighters with windproof designs to ensure consistent ignition even in gusty conditions. Windproof plasma arc lighters excel in this regard, as they generate electrical arcs that are unaffected by wind.
Weight and Portability
For backpackers, every ounce matters. Choose a lightweight and compact lighter that won't weigh you down during your journey. Minimalist designs that fit comfortably in your pocket or hang conveniently on your gear are preferable.
Fuel Capacity and Refillability
Consider the fuel capacity of the lighter, as it determines how many uses you can get before needing a refill. Look for models with enough fuel capacity to last through your entire trip. Additionally, prioritize lighters with refillable fuel chambers for sustainability and cost-effectiveness.
Safety Features
Safety should always be a top priority when dealing with fire in the wilderness. Seek backpacking lighters with built-in safety mechanisms, such as child-resistant locks and ignition safeguards, to prevent accidental activation.
Weather Resistance
Outdoor conditions can be unpredictable, with rain and humidity posing threats to conventional lighters. So choose lighters that offer weather resistance and can function reliably even in damp environments.
FAQs
What is a windproof plasma arc lighter, and why is it suitable for backpacking in 2023?
A windproof plasma arc lighter is an innovative fire-starting device that utilizes an electrical arc to ignite combustible materials. Unlike traditional butane lighters, plasma arc lighters do not rely on a flame, making them unaffected by strong winds or adverse weather conditions.
Backpackers prefer plasma arc lighters for their superior windproof performance. Because these allow for reliable fire ignition even in challenging outdoor environments.
Are plasma arc lighters safe to use during backpacking trips?
Yes, plasma arc lighters are generally safe for backpacking when used responsibly. They come with built-in safety features, such as automatic shut-off mechanisms after a certain duration of use or when the lid is closed. Some models also have child-resistant locks to prevent accidental activation. However, as with any fire-starting tool, it's essential to exercise caution and keep them away from flammable materials.
Can I refill a plasma arc lighter, and how long does the fuel last?
Yes, many plasma arc lighters are refillable and allow you to extend their lifespan and reduce waste. The fuel capacity can vary based on the specific model, but most lighters can last for numerous uses before requiring a refill. Today, there are various plasma arc lighters with different fuel capacities available to suit the needs of backpackers on extended trips.
What are some top brands for backpacking lighters in 2023?
Nowadays, several reputable brands offer high-quality backpacking lighters. Some popular options include Zippo, UST (Ultimate Survival Technologies), BIC, Tesla Coil Lighters, and Tesla ARC Lighters. Each brand offers unique features and designs, catering to various preferences and needs of backpackers.
How do multi-functional fire starters differ from traditional lighters?
Multi-functional fire starters go beyond the functionality of conventional lighters. In addition to being a reliable fire igniter, they often include additional tools such as waterproof matches, emergency whistles, and even small storage compartments for fire-starting materials. These all-in-one devices are designed to provide essential survival tools in compact, lightweight packages, making them ideal for backpackers who value versatility and preparedness.
What are some weather-resistant features to look for in backpacking lighters?
Weather-resistant backpacking lighters typically have sealed and protected ignition mechanisms to prevent water or moisture from affecting their functionality. Additionally, some lighters feature O-ring seals or rubber gaskets around the fuel chamber and lid, which ensure water cannot penetrate the interior. In 2023, backpackers can find an array of weather-resistant lighters capable of withstanding rain, humidity, and damp conditions.
How do I dispose of an empty butane fuel canister from my backpacking lighter responsibly?
Empty butane fuel canisters can be recycled at specialized recycling centers or local facilities that accept pressurized containers. Check with your local waste management or recycling center for the appropriate disposal method. Because improper disposal of such canisters can be hazardous to the environment. Some outdoor retailers or camping might also offer recycling programs for these canisters.
How do I maintain and care for my backpacking lighter to ensure optimal performance?
To maintain your backpacking lighter, follow these tips:
Keep it clean from debris or residue that may obstruct the ignition.
Refill the lighter with the appropriate fuel when necessary.
Store it in a dry and safe place when not in use to prevent damage.
Regularly check for any wear and tear, and replace any worn parts if possible.
Follow the manufacturer's instructions and safety guidelines for proper usage and maintenance.
Conclusion
In the dynamic landscape of backpacking lighters in 2023, the choices are diverse, each offering unique features and advantages. The best backpacking lighter for you will depend on your specific needs, preferences, and the environments you intend to explore.
Among the top choices for backpacking lighters in 2023, windproof plasma arc lighters stand out for their exceptional wind resistance and long-lasting performance. These innovative devices generate electrical arcs and provide a reliable flame even in challenging weather conditions.
Remember that safety is paramount when handling fire in the wilderness, and always ensure responsible use and proper storage of your backpacking lighter.
---
Read More…