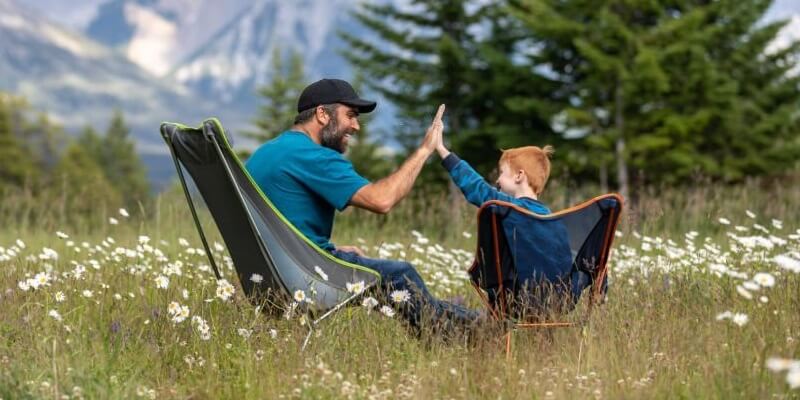 You have planned your first camping trip with your kids and now you realize that camping chair for kids is a useful addition. These pint-sized pieces of equipment provide a cozy and convenient spot for your little ones to relax, enjoy meals, and immerse themselves in the wonders of the great outdoors.
However, there are a few things to consider when choosing a suitable chair for your little one. Because the reason for purchasing the best camping chairs for kids differs from the adult version: do you want a chair with a drink holder, one with a canopy, or one that takes up as little space as possible?
The year 2023 brings a variety of specially designed camping chairs tailored to the needs and preferences of young adventurers.
We recommend taking a look at our complete buying guide of the best kids camping chairs at the end of the article. From lightweight and portable options to durable chairs with vibrant designs, we offer an impressive selection to cater to your family's camping needs.
Best Camping Chairs for Kids – At a Glance
Check our ranking of the best camping chairs for kids in 2023…
Our quality winner Uquip Kirby impresses with its robust construction and high stability. With a load capacity of 60 kilograms, even larger kids can sit comfortably. Thanks to its extra-wide feet with anti-slip protection, the camping chair for kids always stand firmly on the ground – even if a little fidgeting keeps holidaymakers on their toes.
The anti-slip is a desirable feature on uneven floors. After all, it should not sink into the ground or lose stability when the terrain is challenging. It is very easy to assemble and disassemble. It can be taken anywhere in the practical carrying bag with shoulder straps to save space.
The small folding chair shrinks to a comfortable pack size of 15×66 cm. The folding safety device, which prevents the chair from accidentally folding up, is particularly well thought out. On the other hand, this hidden safety button also minimizes the risk of your child accidentally pinching their fingers in the linkage.
The sturdy and powder-coated steel frame is weatherproof. Uquip Kirby kids' camping chair is covered with an easily washable 600D rip-stop fabric that is extremely tear-resistant. If the simple design doesn't bother you, you should grab it!
There is also a practical drink holder under one of the padded armrests. So a delicious refreshment is always quickly at hand. Incidentally, this model is also available for adults as "Uquip Roxy".
Pros
Robust and durable frame
Available for adult-chair
High seating comfort
Wide feet for a secure stand
Practical holder directly on the chair
Cons
It tips backward relatively easily
---
Our price-performance winner was the mesh folding chair from CAMPZ. If you are looking for a solid chair in the entry-level segment, this is the right model for you. It looks rather simple because of the gray design. However, the chair has some features that we look for in vain in other chairs in a comparable price range.
We immediately notice the drink holder, which is conveniently placed next to the chair leg. This is deep enough for larger bottles and can also be used for pens or toys. A mobile phone or small drawing pads also fit in.
What we like: CAMPZ did a really good job with the feet. These are not only as robust and wide as our quality winner, but they also offer a sufficiently good grip on bumps and secure the offspring against unintentional tipping over. Your little one can climb on it.
In addition, the robust model can be loaded up to 80 kilograms and can be used for longer and larger children. The seat height is 29 cm. With a weight of around 2 kilograms, it is not one of the lighter chairs.
On the other hand, the pack size of 34 x 40 x 66 cm remains acceptably compact for holidaymakers with light luggage. The washable material of the mesh cover is easy to clean.
Pros
Looks very decent
Includes drink holder
Robust and very convenient
Packing bag included
Cheap price
---
For entry-level campers, our budget solution from Pacific Play is the right choice – the little ones are guaranteed to sit comfortably on this pretty camping chair. The cheerful chair with the funny animal motif is an eye-catcher on your favorite pitch! This model is available in five colorful animal variants.
Because of the relatively stable steel frame, the colorful camping chair for kids weighs around 1.4 kilograms, which is pretty high. This folding chair is not one of the heavyweights – but there are also lighter models.
As with other folding chairs, the Pacific Play model also has a drink holder on the armrest. So the thirsty offspring always has a delicious refreshment ready on hot days.
It can be loaded up to 100 pounds with a seat height of 36.8 cm. The non-slip legs ensure optimal support, even on uneven or damp ground. To prevent unintentional accidents while sitting, a safety device ensures that the colorful seating furniture always remains taut and compact.
It can be folded up and down quickly. And when folded, it is stowed in a practical transport case with a carrying strap to save space and shrink to a tolerable packing size. Whether camping, hiking, picnicking, or other leisure activities with kids, the Pacific Play camping chair is guaranteed to put you in a good mood.
Pros
Built with safety lock to prevent accident
Compact and lightweight
Easy to store and transport
Built for Rugged Play
Includes a beautiful carrying bag
Cons
Not suitable for children weighing more than 100 pounds
---
Quik Shade camping chair with parasol is designed for the smallest campers from 2 to 10 years. This lightweight model can be quickly assembled and provides the ultimate leisure time fun when camping, on the beach, in the swimming pool, or when hiking as a picnic chair.
If the next holiday start in the sunny south, then the Quik Shade camping chair with integrated sun protection is an ideal solution for you! The colorful canopy provides shade and protects against the risk of sunburn. However, the canopy is very thin and not completely centered.
At 91.5 cm, the seat height has been chosen well for the little ones. The seat width of 83.8 and the seat depth of 76.2 cm is also large enough. This camping chair for kids is available in different colors.
We would have preferred four feet – but the manufacturer has at least thought of stabilizing corner reinforcements on the underside of the metal frame.
The solid metal frame is weather resistant and ensures a long service life. The seat and backrest are made of washable polyester. In this way, even a small mishap while eating or drinking can be quickly remedied.
Pros
Durable steel frame
Designed for wide range of uses
Removable and adjustable canopy
Portable
Affordable
Cons
Heavy
Not suitable for kids under 5 years
---
For mice lovers, Relaxdays has the Moon Chair Mouse model in its range. This kids' camping chair even has mouse ears! While most of the models in our list are more like regular chairs, it is designed with a special focus on chilling and relaxing.
Thanks to its round shape, this chair is extra wide and therefore offers enough space. The seat height is 25 cm and is therefore designed for the smallest camping fans who weigh up to 30 kilograms.
The soft padding makes it a perfect companion for camping trips, at the beach, or for other leisure activities with the whole family. This foldable moon chair also cuts a fine figure in the garden or even in the children's room.
Relaxdays offers four funny motifs to this model, so you can choose between a sleeping mouse, a funny dragon, a pink unicorn, or a plush bear. For on the go, the compact folding chair can be folded up and transported to save space. The extra narrow pack dimensions of 50×5 cm also fit into smaller cars.
The cover is made of washable polyester. The stable, at 1.6 kilograms, and quite heavy iron frame ensures that your offspring will enjoy this cute mouse chair for a long time to come. It is an eye-catcher everywhere because of its unmistakable design. There is definitely the right motif for every child here.
Pros
Available in different designs
Very stable and well made
It doesn't wobble
Versatile
Compact
Cons
Suitable for up to age 3 years only
---
The foldable garden chair from Deuba comes from the entry-level class. The set of two is a consideration for parents with multiple kids of the same age. It is very comfortable and light to carry. However, this model doesn't come with a carry bag.
This camping chair set with an adorable ladybug motif is ideal for all kid's outdoor adventures. Your little ones can use the Bug chair at the dining table, at the beach, or at a family picnic.
Despite their ultra-light construction, they are amazingly resilient and can each carry a weight of up to 50 kilograms. In addition, four feet with stabilizing cross braces ensure a good grip even on uneven ground, on the beach, or in a damp forest meadow.
The seat molds and armrests are made of high-quality fabric to ensure comfortable seating. The robust tubular frame is made of rounded painted steel which is weatherproof. The cover is easy to wipe clean if something gets spilled on the fabric cover while eating.
The bright red two-piece set not only convinces you with the protection of the holiday purse but also with its decent workmanship for the price range. This chair has a safety button to lock them in an open hand.
Pros
Robust steel frame
Quick and simple to fold
Comfortable armrests
Reasonable price
Safety lock
---
On a relaxing camping trip with the whole family, you shouldn't miss out on your little ones with this ultralight chair! The ICECO Junior highchair is designed especially for outdoor use, but also cuts a fine figure when visiting restaurants, for example.
With a seat height of 87.1 cm, it can be easily pushed under or next to conventional dining and camping tables. This means that the baby of the family is always right in the middle of the action at mealtimes. It is suitable for all kids who are able to sit.
The high chair is extremely stable and can take loads of up to 200 pounds – although this is not important for the youngest, it speaks for the usual ICECO quality, with which we have already had positive experiences with our sleeping bags, for example.
The high-quality steel frame is robust. Thanks to its many struts, it is constructed in such a way that cannot tip over. This camp chair also offers a firm footing on a wide variety of surfaces. It has a footrest so that the legs have support and do not dangle down.
There is a practical cup holder for your favorite drink in one armrest. If you make a mess again, the cover made of high-quality polyester seat fabric can be easily wiped off with a damp cloth.
A mesh pocket on the back offers space for changing utensils, sunscreen or toys. Thanks to the soft padding, your kids sit comfortably. The headrest is fully adjustable and can also be completely removed.
Pros
Durable and stable
Convenient to use
Includes cup Holder
Ultralight and compact
Color options available
Cons
A bit wide for very small kids
---
Mountain Designs ultra-light folding chair is a lightweight model among the best kids' camping chairs available in 2023. With a net weight of just 1.8 pounds and a slim pack size of 40.4 x 12 x 12 cm, it is a good choice for backpackers or camping holidaymakers with little room for luggage and equipment.
It fits into standard children's backpacks in the transport bag supplied and disappears effortlessly into any trunk. The stylish blue design and the comfortable bucket seat shape are striking.
Here, your kids not only sit extremely comfortably but also safely. If the well-deserved holiday nap is taken in it, the little adventurer cannot fall out directly.
A clever mesh lining on the sides and in the backrest ensures a cool climate and balanced air circulation so that it doesn't get too hot in this camping chair even in midsummer. The sturdy fabric doesn't absorb water and the legs won't dig into sand.
Despite its low weight, Mountain Designs small camping chair is surprisingly stable and resilient. In fact, it has a load capacity of 270 pounds. However, the plastic feet feel cheap.
Pros
Comfortable and supportive
Ultralight design
Quick set-up and fold
Durable
Packs back down perfectly into the bag
---
Do you want a camping chair for kids that won't be too small for the offspring after a short time? Then the height-adjustable model from Mechhre is your choice! This outdoor chair is a flexible alternative for family camping. It offers three adjustable seat heights, so it is also a good choice for adults too.
Similar to the Mountain Designs model, this piece of seating furniture offers an ergonomic shape with good, safe seating comfort, from which we do not threaten to tip over with a sudden movement after dozing off. Non-slip nubs on the feet ensure a secure grip on any terrain.
Mechhre camping chair is designed to relieve the lower back. When folded, you can easily take it with you anywhere in the carrying bag provided. It can carry up to 150 kilograms. And with a net weight of around 1.1 kilograms and a pack size of 38 x 11 x 13 cm, this chair is ideal for camping, hiking, fishing, or as a practical picnic chair.
On the side of this model, there is a spacious side pocket for a mobile phone, wallet, or other items that need to be within reach when you are out and about. The breathable mesh fabric of the chair allows a comfortable seating climate even in the summer heat.
Finally, if you don't just want to use the camping chair for the youngsters but need a model with a high load-bearing capacity, the Mechhre is a good choice. It scores above all with its flexible application options for small and large adventurers. Luckily, it's machine washable.
If you want to travel light, grab it.
Pros
Small and easy to carry
Designed for different usage
Made of high-density Oxford cloth
Easy to assemble
Unique hinge design
Cons
Height is a little lower than expected
---
From the beach to the restaurant, One2Stay foldable baby high chair is great for travel and camping trips. With 90 x 20 x 15 cm and a weight of 5.5 pounds, the foldable baby high chair remains transportable. It is light enough to just sling over your shoulders to take when you're traveling.
Of course, it is important to note that the material can be cleaned without problems after minor accidents with various leftovers. The 300D polyester fabric is removable and machine washable.
Fortunately, the manufacturer has thought of mesh pockets on each side for small items, pacifiers, bottles, and other things. There is also a larger mesh shelf under the seat.
A belt system is included if the offspring develops too much urge to move. Joint reinforcement and cross braces also increase stability. And with a load capacity of 50 pounds, One2Stay high camping chair for babies offers sufficient reserves and is robust.
Overall, One2Stay camping chair is suitable for anyone who needs a high baby chair to be assembled and disassembled quickly and easily and served well for a long time. This model comes with a convenient bag, in which, you can store the chair.
Pros
Beautiful design
Comfort meets convenience
Hard plastic sturdy tray
Endless storage
Comes with a convenient travel bag
Easy to put together
Cons
Only designed for kids between 0.5 to 3 years
Back is not adjustable
---
Advantages and Disadvantages of Kids Camping Chair
Advantages:
Lighter weight compared to adult folding chairs
Cheaper than adult models
Diverse design and color choices are possible
Depending on the model, it is safer than the normal garden and beach chairs
Disadvantages:
Cheap models tend to be unstable
Rapid exchange for models with the correct seat height is necessary as the child grows
Buying guide: Best Camping Chairs for Kids
What types of camping chairs for kids are there?
We distinguish between the following types of camping chairs for kids:
Foldable chairs with four legs
Folding chairs with two parallel cross braces as feet
Baby camping chairs (booster seats or high chairs)
Camping chairs with or without cup holders
Models with or without parasol
Kids' chairs with fixed or removable trays
Chairs with metal or plastic frames
Variants with or without joint reinforcements for better stability
What should I look for when buying the best kids camping chairs?
In fact, before you buy a camping chair for kids, you must be aware that there is no such thing as a one-size-fits-all chair for the little ones.
Here are some criteria to use as a reminder when buying a kids' camp chair:
If you mainly drive to the sunny south, a camping chair for kids with a sun canopy can be useful.
The maximum load is a quality criterion. The more the chair can withstand, the higher the quality it usually is.
A kid camping chair with a metal frame is preferable to plastic. Camping chairs with a metal frame last much longer.
Plan with plenty of leeways in terms of load capacity if the camping chair is to be bought for an only child. Otherwise, you may soon need another chair.
Do you have a toddler? Then pay attention to a low height with good resilience at the same time. So the camping chair can also be used later.
Safety also comes first with camping chairs for kids! In addition to avoiding sharp-edged individual parts, some manufacturers have installed child safety devices that prevent body parts from getting caught, for example.
If possible, do not buy folding beach chairs for camping, but models with four chair legs. This increases the stability enormously on uneven floors.
The feet should be as thick as possible. This helps with bumps but also prevents tipping or teetering.
A drink holder can be useful – it also depends on the age of the child and how you plan your vacation. If the chair is in front of the tent, you need a cup holder more than if the offspring takes a seat under the awning of the motorhome.
Pay attention to the packing dimensions! How much space is available for the kids' camping chair in the car or motorhome? If there is enough space in the rear garage, it can also be a larger model.
Pay attention to the materials used in the camping chair. Are these easy to clean? Pay attention to the manufacturer's care instructions before you buy. Removable fabric that can be cleaned in the washing machine saves time and nerves.
The motif and appearance of the camping chair are certainly of secondary importance for us adults. But if children's eyes are to light up, the favorite motif on the fabric cover should match.
How high should a kids' camp chair be?
The seat height of a camping chair for kids depends on the size of the child. We recommend high chairs for the little ones.
The following table is intended to help you choose a kids' camping chair based on your height.
| | |
| --- | --- |
| Height | Seat Height |
| 80 cm | 21 cm |
| 90 cm | 24 cm |
| 100 cm | 26 cm |
| 110 cm | 29 cm |
| 120 cm | 32 cm |
| 130 cm | 34 cm |
| 140 cm | 37 cm |
| 150 cm | 40 cm |
| 160 cm | 42 cm |
| 170 cm | 45 cm |
| 180 cm | 47 cm |
How much load capacity is sufficient for camping chairs for kids?
Basically, we recommend camping chairs for kids with a maximum load of 50 kilograms and more. However, that depends on the type of camping chair – a chair, especially for small children, usually withstands significantly less stress. You can choose a camping chair for kids with a high load capacity so that it can use as long as possible.
What seat does a kids' camping chair need?
Seat width of 35 to 40 cm is ideal for KIDS over 5 years of age. For camping chairs, we recommend planning a generous seat width. Unlike chairs that are supposed to stand at dining tables, the seat width of a camping chair should be adjusted primarily to the size and stature of the child.
Are there camping chairs for kids under 3 years old?
There are now many models for kids under the age of three on the market for camping chairs. The choice often falls on high chairs or those that even serve as booster seats and have removable trays.
Are there baby camping chairs?
Baby camping chairs are mainly available as foldable high chairs for outdoor use. In it, the little ones are in good hands and secured – unlike with fishing chairs, deck chairs, or other folding chairs.
A recommended camping chair for babies is the foldable high chair One2Stay.
How much does a good kids' camping chair cost?
The prices of the best camping chairs are very different. Parents can certainly find children's camping chairs for their offspring for 25 dollars but also chairs for 70 dollars. Our guide shows the best chairs that are still inexpensive. Always measured by quality, of course. This sometimes simply has a higher price!
Conclusion
There are many good camping chairs for kids available on the market. On the Internet, prospects buy faster and have a larger selection. However, the main focus when buying should be stability, comfort and durability. In this way, they really last for a long time and give the child long-lasting pleasure.
Our guide showed the top 10 best camping chairs for kids that are currently the most popular on the market. And we hope you find your desired model from our list.
Thanks for reading!
Have any questions? You can ask in the comment section below and we will answer them.