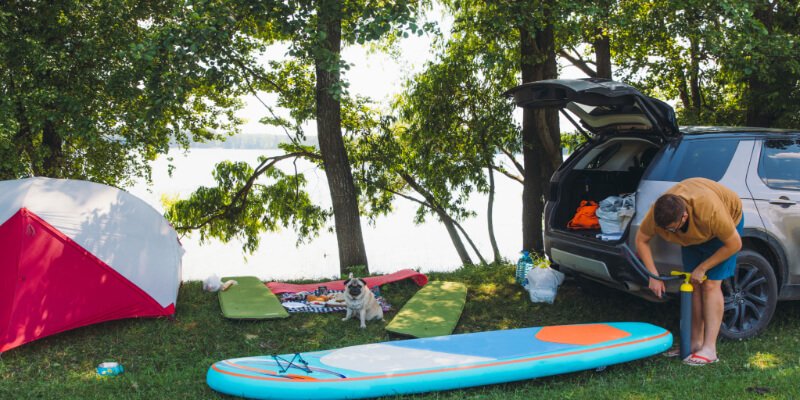 Finally: You have treated yourself to a new trekking tent and you want to go on tour straight away.
But wait: Perhaps you are still missing some important tent accessories?
After all, your hiking tent requires a certain amount of care, which ultimately serves excellent service and ensures longevity and value retention. Sometimes repairs may even be necessary on tour. outdoorshell.com gives you the most important tent accessories for that.
Tent pad & tent hammer is useful for all season
1. Tent Pad
An absolute must on your trekking tour is a tent pad. On the one hand, this protects your tent from sharp stones and therefore from holes in the tent floor.
From this point onwards, a tent pad increases the key features such as the water column of the tent floor. How do you pronounce the word? No idea. But with a tent pad, you can make your tent more waterproof from below.
Tip: The most important thing when setting up a tent is care. If water gets between the tent pad and the tent floor, it quickly pushes through. Because the tent floor is less waterproof than an underlay.
---
2. Tent Hammer
A tent hammer or camping hammer is a great tool that you can use to knock in the pegs when setting up your tent. Especially a good tent hammer has a hook which you can pull the pegs out of the ground again the next morning. A herring puller is also good for the latter.
With a good tent hammer, you have both in one, which ultimately saves luggage and thus weight.
---
Important tent accessories: guy ropes & seam sealers
3. Tarp Holders
Tarp holders and eyelets are also helpful. So if you prefer a tarp to a tent. In any case, you can attach additional fastenings to the tarpaulin if necessary.
Tip: You can replace tarp holders with trekking poles or even branches. This is how you save weight.
---
4. Guy Lines
Guyline is typically used to secure a tent or tarp to the ground. These are necessary especially in windy environments to strengthen your tent frame.
To fit you properly, you should be carried important tent accessories and some guy lines with you. So you have a prompt replacement for old tent lines if necessary. Or you can add to them.
---
5. Seam Sealer
Another important tent accessory is a seam sealer. You can use these repair kits to repair leaky seams. A bottle of seam sealer is therefore always a good idea on a longer trekking or camping tour. You can process liquid seam sealer relatively easily compared to seam tape.
But be careful: If your tent is leaking over a large area, you won't get too far as a seam sealer.
---
Patches or tape are always useful …
6. Patches or Fabric Adhesive Tape
Then you need real patches or sturdy fabric adhesive tape. You can use it to seal holes yourself in no time at all.
Tip: Self-adhesive patches make repairs much easier for you on tour.
Speaking of which: you can find useful information about tent repairs here!
---
7. Repair Sleeves

On the other hand, you need to repair sleeves to set up the poles of your tent. Replacement segments are also worthwhile on longer camping or hiking tours far away from civilization. That means more weight, but also a quick repair.
---
Important tent accessories: tent sponge & tent lamp
8. Tent Sponge
Another important tent accessory is a tent sponge. With this, you can keep the tent floor clean. Well, at first glance, it doesn't sound like camping and trekking at all. But a tent sponge makes perfect sense. Because in the long run, a clean floor will only benefit your tent.
If your tent is folded up, stones and sand rub off the coating. Without this, the water column shrinks which means your tent is leaking. Good tent maintenance is also important especially when you are out because good care of your tent will keep your tent alive longer. And dry yourself.
Tip: You can find more information on the subject under Tent Care.
---
9. Folding Spade
Hygiene is a good keyword because even trekking tourers or campers have to do a certain amount of business from time to time. If you are really only out and about in the wilderness, a small – SMALL – folding spade could be a good idea. A folding shovel is also helpful when setting up a tent or creating a fireplace. On the other hand, a spade is of course also ballast.
---
10. Tent Lamp
A tent lamp is less ballast, and it is logical that this provides light. For example, for a repair in the dark night. However, you should still pay attention to your weight on a trekking tour. And you'd better opt for a smaller model.
---
Conclusion
That's it for important tent accessories for your next camping or trekking trip. Of course, you decide what you really need and which makes you feel more comfortable. Most of these tent accessories are well-advised on longer tours with several nights outside.
Do you like this article? Then share it on the social web.
You can share your opinion in the comment section below.
Thank you so much for reading!