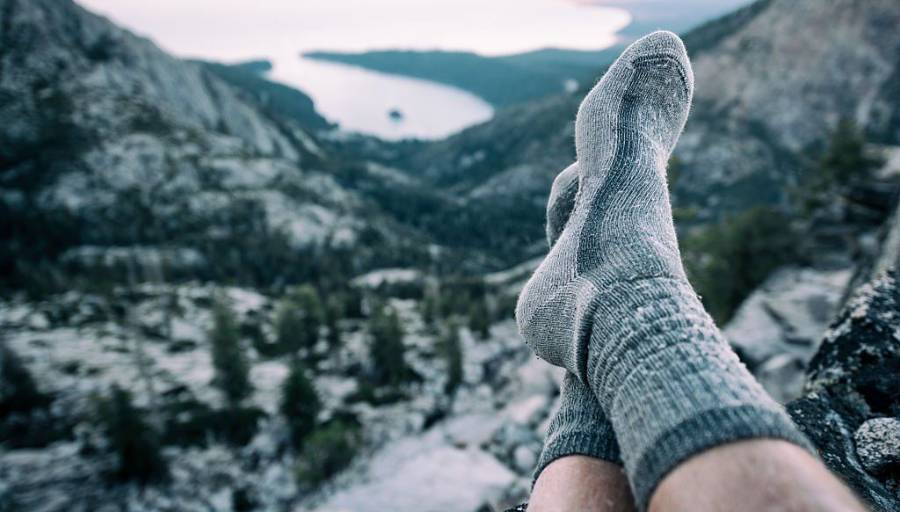 Have you found the perfect hiking shoes to follow you on your outdoor expeditions? Top! All you have to do is select the ideal hiking socks. And this choice must be made carefully because the pair of socks contributes greatly to your comfort in the hiking shoe.
Do not panic, we have listed for you the characteristics of how to choose hiking socks to make the best choice!
How to Choose Hiking Socks – Step by Step
Let's see how to choose hiking socks wisely in detail…
The Boot Size
What must absolutely be avoided with the hiking sock is the poor fit in the walking boot. This can quickly lead to creases that can cause pressure points, chafing, or even blisters over time.
You can of course slip a blister bandage over the irritated area or in your hiking backpack, but the best part is choosing the right size from the start to avoid any problems.
A word of advice: since hiking socks are very often sold by size ranges (36-38, 39-41, 42-44, etc.), choose the one below your size if it is in between (41.5 for example) if the selected pair is expandable. Because we insist a sock that is too big risks creases and bothers you.
The Height
Hiking socks come in several heights: low, intermediate and high. To choose the right height, make sure that the sock rises higher than the collar of your hiking boots. Why? Because it is absolutely necessary to prevent boots from coming into direct contact with your skin. Otherwise, hello irritations!
On the other hand, you can absolutely wear high socks with low hiking boots. It is even rather advisable to protect the ankle from weeds on the way or even to gain heat if the mercury is capricious. In short, there is little chance of going wrong with high socks for hiking!
The Season
Like any outfit, socks should be chosen according to the season. Let's start with the cold season. Like thermal underwear, your pair of hiking socks are designed to insulate you from the cold while letting your skin breathe. For this, it is better to opt for thick socks with a waterproof membrane.
On the contrary, in summer or in dry weather, it is rather an ultra-breathable hiking sock that should be chosen, light and relatively thin.
The Materials
Consider the thickness, yes, but it goes hand in hand with the choice of materials that make up your socks. It is rather synthetic materials such as polyester, polyamide, elastane and acrylic found in the composition of our socks. These greatly facilitate moisture transfer for effective sweat wicking and quick drying.
On the other hand, socks with a high percentage of synthetic fibers require antibacterial treatment to limit the appearance of bad odors. As for natural materials, we find merino wool, well-known for its thermoregulatory qualities. It insulates very well from the cold while offering a pleasant feeling of breathability to your feet.
Also, merino wool is antibacterial. It suppresses the proliferation of bacteria responsible for bad odors. As for the cotton sock, it has more disadvantages than advantages. For example, it is abrasive, poorly insulating and absorbs moisture without evacuating it. The door opens to light bulbs!
So should we make a choice between these two types of materials?
Well no. The secret is the dosage! If you're planning a day hike this summer, it's best to look to synthetic materials with a hint of merino for comfort. On the other hand, a high percentage of merino wool in the composition of your socks will be very interesting to insulate your feet from the cold during a short winter hike in the mountains.
Construction
The last detail to take into account, and not least is the construction of your socks. It translates into several very interesting features to bring you more comfort, starting with the breathability zones. Located on the instep and sides, these areas are thin or mesh to wick away moisture efficiently.
A real plus in summer!
If you have sensitive skin and you are prone to blisters, a seamless sock and/or incorporating reinforced areas at the heels and toes will be effective to avoid friction on your skin and thus limit the risk of blisters.
You can also turn to an anti-blister sock, also called a double-skin sock., which has two layers of fabric so that the friction is between the two fabrics and not on your skin. Your feet will thank you!
Conclusion
This is our complete guide on how to choose hiking socks. And I hope you will find your way around a little more easily among dozens of existing sock models. Do not hesitate to share the article if you liked it. This time, you have all the cards in hand to start off on the right foot!
Read Also…