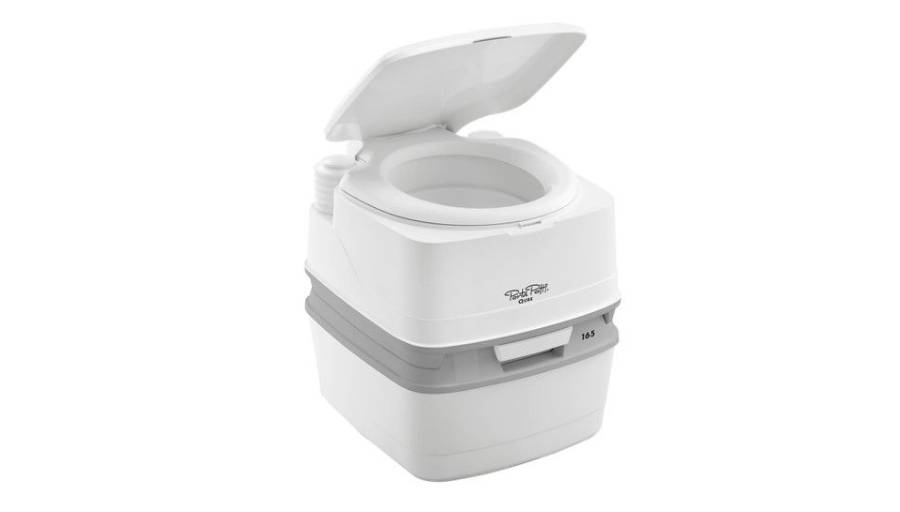 The Thetford Porta Potti 165 is a comfortable portable toilet at a pleasant altitude and has a large waste tank.
It is a reference in terms of portable toilets. Thetford offers a varied choice of portable toilets with their Porta Potti range.
The Porta Potti 165 that we tested combines the comfortable design characteristic of the models in the series, a bellows pump type flushing system, and a waste tank capacity of 21 liters which grants it a comfortable capacity.
Thetford Porta Potti 165 Review
Main Features of the Thetford Porta Potti 165
Flush: manual pump with
Idler Material tank: 21 liters
Clean water tank: 15 liters
Maximum load: NC
Fill indicator: no
Best price:

Check On Amazon
Pros
Large waste tank (21 liters)
Very good seating and user comfort
A very good manufacturing quality
Efficient flush mechanism
Cons
High price, even if the quality justifies it
No indicator for either tank
Design and Ergonomics
As is often the case with the vast majority of Thetford products, the quality is there with the Thetford Porta Potti 165, which from the first contact reveals a robust construction, ready to withstand regular use of products chemicals. It is certainly expensive to buy, but you have at least real guarantees as to its durability.
On the other hand, this toilet is appreciated for its portability. It fits in dimensions of 41.4 x 38.3 x 42.7 cm for a weight of 3.9 kg and has front and rear handles, which not only facilitate transport but also a valuable utility when emptying.
In terms of comfort, the Thetford Porta Potti 165 lives up to expectations. The seat is at the right height (40.8 cm) and allows use by both adults and kids. The small storage provided for the roll of toilet paper is very practical.
Specifications and Features
Previously Porta Potti Qube, the Porta Potti 165 portable toilet from Thetford is equipped with a 21-liter waste holding tank, while the clean water compartment is 15 liters. This assumes an interesting operating capacity in the context of your outdoor family activities.
However, neither of its two tanks has a fill indicator. The manual flush with a piston pump on the other hand is effective, and the design of the Thetford Porta Potti 165 portable toilet is such that bad odors cannot spread.
As the Thetford Porta Potti is a portable toilet, you can add chemical additives to reduce bad smells, but also dissolve waste to increase capacity.
Verdict
Ultimately, even if it is expensive to buy, the Thetford Porta Potti 165 is a portable toilet that we recommend for its robust construction and large waste tank. Like the other Porta Potti models, it offers an appreciable level of comfort and operating capacity that make it a companion of choice for your outdoor adventures.
---
See Also…