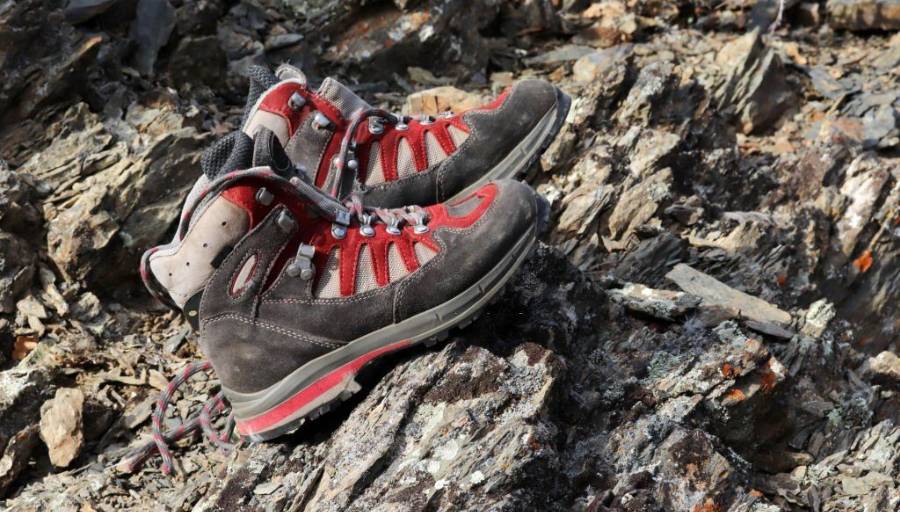 To evolve in complete safety at high altitudes, you need the real support of boots that are comfortable, efficient, protective and reassuring: this is the role of the mountaineering boots.
We saw in our guide how to choose the right hiking boots that allow you to reach the foot of the routes, or even to make small climbs. But the mountaineering boots remain the essential equipment for more committed climbs, hikes in high altitudes and very high mountains, the practice of ice climbing and extreme cold expeditions.
Let's see how to choose mountaineering boots step by step.
First Think About Safety in the Mountains
Mountain accident statistics show that most of them take place in terrain not classified as "mountaineering". These are loss of balance or falls on medium altitude slopes where the exposure is sometimes more severe than it seems.
In this terrain, boots play a key role. The quality of grip of the sole and an adapted rigidity make it possible to control slopes and slippery surfaces such as grass slopes, wet ground and snow. It is therefore essential to complete your hiking equipment with the right boots to fully enjoy treks and mountain walks.
Safety Criteria for Selecting Your Mountaineering Boots:
Rigidity: it is essential for holding the foot and gripping it in mountainous terrain.
Support: good support is the result of boots adapted to your feet with a high upper, which supports the ankle joint and the bottom of the tibia.
The grip of the sole: the grip of the sole depends on the quality of the material used and its notching. Soft rubbers have better grips on the rock but they wear out quickly, which is penalizing because resoling is quite expensive and can be done more or less well. Hard rubbers will be more resistant. We are looking for the right compromise according to the terrain practiced (softer for rock climbing, harder for the high road and classic hiking) but we now find good soles with longevity and satisfactory rock grip.
Protection / Impermeability: Stone guard, side reinforcements and type of material used will ensure the longevity of the boots and will protect you against external elements such as stone and rocks.
How to Choose Mountaineering Boots – Step by Step
Let's see our today's guide on how to choose mountaineering boots:
The Essential Constituents of Mountaineering Boots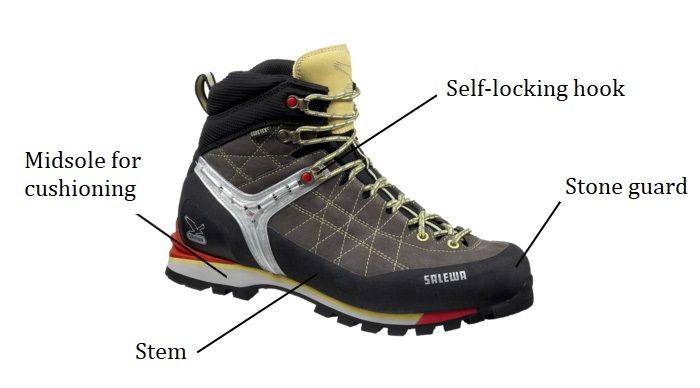 Self-locking hook: Usually located at the top or in the middle of the boot, it makes it possible to block all or the lower part of the tightening for more precise adjustments and locking of the hold of the shoe during mountaineering. We tighten more on the descent than on the ascent to support the foot.
Cushioning or midsole: Very important for absorbing shocks and relieving the hiker's joints and lower back. It is wider at the heel than at the front on technical models where the aim is to promote precision and the "feel" of the terrain. For long-distance courses and rough terrain, the quality of the cushioning is essential.
Stem: More or less rising. Maybe in mesh, synthetic, split leather, nubuck, leather…
Stone guard: Rigid part on the front of the boot which avoids shocks with blocks of stone. Also limits abrasion of the front of the boot.
Types of Mountaineering Boots
Mountaineering boots come in several categories:
Winter mountaineering and expeditions: footwear designed for temperatures below -20°C is often equipped with over boots (more or less depending on the model). They mostly consist of a slipper that slips into boots. Thanks to their front and rear overhang, they accept self-attaching crampons.
Technical mountaineering for difficult runs: rigid shoes to hold without too much effort on the supports found in vertical environments. Their rigidity allows the use of crampons with automatic fasteners (front and rear overhang).
Haute route mountaineering and "easy" mountaineering: boots adapted to the altitude, sometimes off-trail paths with passages in snow or even ice. They are versatile and suitable for snow races F to AD with slopes up to 45°. These are mountaineering boots with high uppers and semi-rigid soles, semi-automatic crampons.
Which Boots for Which Terrain?
First you have to choose a pair of boots that fits your feet. Then take boots that you like that correspond to your nature as a mountaineer: all leather or lighter materials with GTX membrane, very high or light… Some models are very versatile and can do everything from hiking trails to Mont Blanc and 45° slopes.
For most mountain enthusiasts, it could be interesting and sufficient to have two pairs: one for light mid-mountain style hiking and a pair for high road/"easy" mountaineering with semi-automatic crampons. Then there are the more "technical" boots that interest those who want to go out in the hard and cold.
Also choose according to the massifs frequented and your level of training. The less you train, the more protective the boot will need to be. The lightness, always double-edged, goes more with a good level of form and "dry" mountain conditions.
Choosing the Right Stiffness for Your Mountaineering Boots
Rigidity is essentially due to the sole and is tested by trying to bend the boot. If it twists like a sponge, it is considered very flexible. At the other extreme, if you can't "bend" it, it's considered very stiff. The rigidity can be almost total on technical mountaineering boots, i.e. you can hardly make them flex and low for minimalist hiking boots.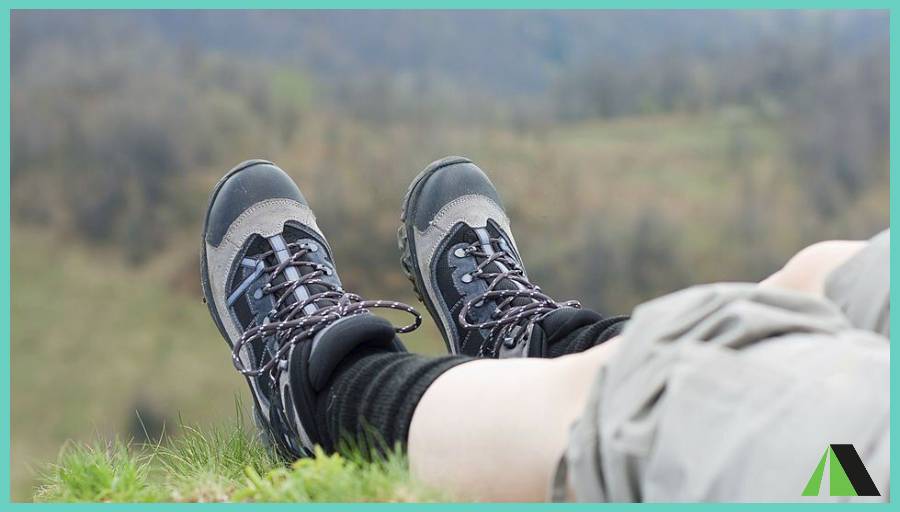 At first glance, the rigidity of boots may seem unpleasant, but on a long route, it will support the lower leg and relieve the efforts of the foot in steep terrain.
In the mountains, a lack of rigidity on the part of the boots will be synonymous with the foot, which will instinctively seek to compensate with muscular effort. So don't hesitate to choose fairly rigid boots if you want to test the waters. With a fit adapted to your feet, you won't suffer from rigid boots and you will be able to check for hours, and the rigidity will bring you comfort and safety.
Many falls are unfortunately so-called "fatigue" falls that occur when the hiker is at the end of his muscular resources in the tibia/ankle area. In the case of a poorly trained hiker, this fatigue can occur quickly and have significant effects.
The continuous solicitation of the foot/ankle/calf area can become a point of suffering that solicits the mind and its own resources. As the mind in turn becomes vulnerable, the hiker will be less lucid and more sensitive to the difficulties of the terrain. The risk factor will therefore increase considerably.
Waterproofing and Waterproof Membrane of Your Mountaineering Boots
This is a fundamental point for committed mountain activities. But don't believe that because the manufacturers talk about waterproofing your boots completely waterproof (I don't know of any apart from rubber boots).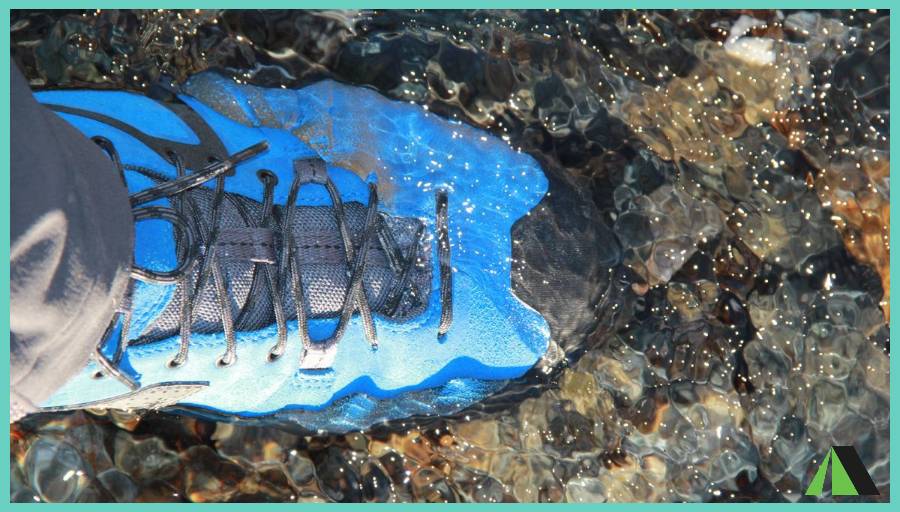 Low boots (called approach boots) are very sensitive to water because of their opening. As a result, the manufacturers do not try to equip them with a membrane (which is a mistake in my opinion, because a 3-minute walk in the wet grass will make you come home crestfallen). So let's forget this type of boot when talking about waterproofing and focus on high boots.
In the classification of merchants, we will read: good impermeability, very good impermeability, and waterproofness. This means that some models are more or less sensitive to water, and above all to "hot snow". There are few mountain boots whose water tightness really resists 10 hours in "hot snow" or shells, expedition boots with overboots.
The essential point remains in the waterproofness/breathability complex. Indeed, some plastic shells are more waterproof but quite poor in breathability. As a result, we are witnessing frostbite in these north-face shoes due to excess condensation. The foot perspires during exercise and it needs shoes that are both protective of the aqueous element and breathable to evacuate its own humidity.
My use of boots for a few decades leads me to believe that the membrane is a very positive element in the fight against wet feet. It is intended to be both waterproof and breathable and that's exactly what it takes. I find that my Asolo Titan GTX is badly scratched after 10 years of mountaineering but the GTX membrane continues to do its job satisfactorily. On the other hand, the "hydrophobic treated" leathers that I have used (Trappeur TD+ and Nepal Trek) invariably wet my feet in "hot snow".
However, the membrane does not do all the work, it can be faulty depending on its quality and certain conditions. Because not all membranes are equal.
Thermicity of Your Mountain Boots
Almost all traditional mountaineering and high road boots even the light ones can withstand temperatures of around -10°C IN MOVEMENT and they are not too tight.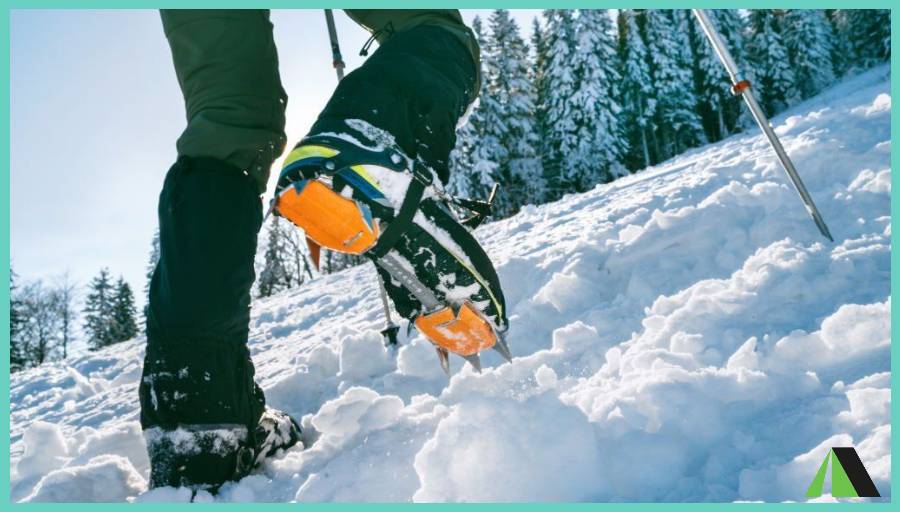 Then there are a lot of models with enough leather thickness or light materials and Thinsulate type insulating layers, which can withstand -20°C. Be careful, you need specific shoes designed for winter. The sole plays a big role in thermicity. When the sole is insufficient, first degree frostbite quite often occurs on the toes and the sole of the foot. We can therefore increase its thermality by replacing the insole with a more insulating sole.
I am currently trying out boots that are fairly thermal, but where you can juggle the sole for summer conditions. Because boots that are too hot are unpleasant in summer conditions, especially on the rock. So I use one insole for summer and another for winter.
Boots and Choice of Crampons
Crampons are "steel crabs" that are attached to boots to progress on snow or ice. Some are made of lighter alloy for the easiest terrain and to limit the carrying weight (in ski touring). In my opinion, this question should not be avoided even if one does not feel the soul of a mountaineer. Snow in the mountains is a big security issue and some valleys crossing spaces can be covered in snow all summer long.
You will therefore certainly have the opportunity to regret not being able to put on crampons on your boots, the day when you will be offered an enticing route including passages in snow. So choose your shoe model according to the type of crampon.
The different types of crampon attachment correspond to the degrees of rigidity of boots. Rigidity determines the use of quick releases because these require that the boots constantly keep the same dimension, even in flexion. If the distance between the front and the back of the boot decreases, the auto and semi-auto fasteners no longer hold.
A priori the "thong" crampons (polyamide and neoprene) will go on all types of boots. But we can only use them effectively if the boot has minimum resistance. As said above, some crampons now adjust to fairly flexible soles for reasonable durations. But be careful, adapting crampons to flexible and light boots is a game that can sometimes be dangerous. Also, if the crampon is poorly maintained, it will be easier to twist the ankle and the straps may have a tendency to shear the foot and cut off blood circulation.
The semi-auto crampons have a quick release at the heel. They are easier to lay, especially in difficult terrain, and also more stable and suitable for mountaineering. They can be used with shoes that have a heel overhang and sufficient rigidity. Auto crampons are reserved for really stiff mountaineering boots that have an overhang at the toe and heel.
Feminine Sensitivity
Choosing mountaineering boots is difficult for women… Women's feet are more sensitive and morphologically different from those of men. Irritation due to rubbing of the tibia, for example, affects nearly 50% of users. Manufacturers develop feminine models, it's not for nothing… In the majority of cases, these models are responses to the constraints of our ladies' footwear.
I put here the link to a comfortable pair of boots the Mauria Gtx from Lowa. This model is an illustration of the efforts made by manufacturers to equip women who are difficult to fit.
Some stores offer a wide range of mountain boots dedicated to women with good deals all year round.
Conclusion
To ensure a long life for your mountaineering boots, rinse them with clear water and dry them after each use before storing them in a dry place. This method avoids the phenomenon of oxidation on the metal parts of your crampons. Follow the advice on the instructions for use concerning the sharpening and filing of your points.
You are now hard at work, or almost… Don't forget to send us the experience of your mountaineering.