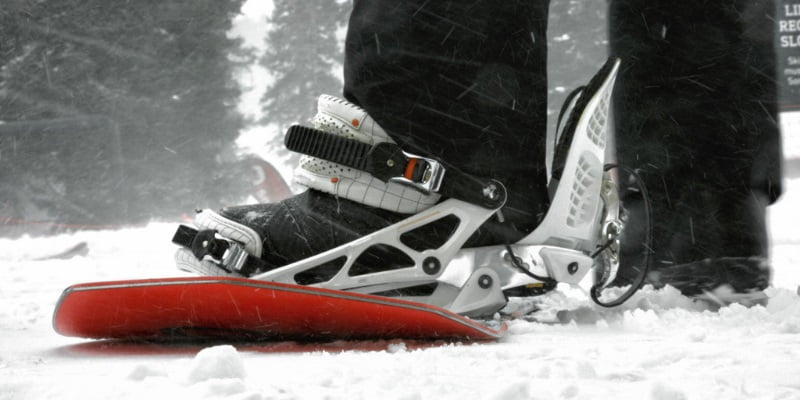 You are a beginner or you want to start snowboarding, and now you are looking for comfortable snowboard boots for occasional practice. Well, the best snowboard boots for beginners respond well while keeping your feet as comfortable and warm as possible and allowing you to get the most out of your day on the slopes.
However, many criteria must be taken into account before choosing your first pair of snowboard boots. Beginner snowboarders should prefer boots that are simple to put on, tighten, and pay attention to the flex: it must be flexible enough because it is necessary for good practice of snowboarding.
Do not worry! We make a comparison of this year's best snowboard boots for beginners so that you can find the one that best suits your needs. We also talk about flexibility, lacing systems and other important features of snowboard boots.
Best Snowboard boots for Beginners in 2022
If you do not make the right choice according to your snowboard and feet size, the practice of snowboarding could turn out to be a real headache. We recommend you read our complete guide to pick the right model because the size of your boots can influence your choice.
If you are looking for a pair of high-quality beginner snowboard boots for men, then the DC Phase is the best solution. These beginner snowboard boots allow you to stay on track for a long time without stopping. The DC Phase Snowboard Boots are also the perfect choice for wide feet snowboarders.
They integrate with a foaming system to help keep the feet warm as well as adapts better to the shape of the foot. The soft padding on the inside is super comfortable and won't irritate with extensive use. These are extremely wear-resistant and durable and are very comfortable to use.
DC Phase Snowboard Boots are designed strategically that provide more power and leverage for an optimal custom fit. They are flat and use traditional lacing, which is perfect for All Mountain style snowboarding.
The laces are also robust and do not show any sign of wear, you just push the right amount of stretch to ensure security. However, make sure to get the right size.
Pros
Good quality for the price
Stylish and easy to walk
Comfortable to wear and keep warm
Completely waterproof
Soft sole and looks great
Cons
It is a bit light
Color is a little off
---
System APX snowboard boots come with Thermofit Heat Moldable linter which allows the boot to adapt to every curve of your foot perfectly. It is able to avoid pressure and help you to ride comfortably all day on the snow surface. These entry-level snowboarding boots are more comfortable when worn and not too tight.
The traditional lacing allows ride easily and keeps the boot tight in all the right places. You can also tighten each section of the boot separately. It is a product that we can make among the best beautiful snowboard boots for beginners on the market. The quality is also remarkably good for the price.
System APX snowboard boots are designed to provide long-lasting service life. And to ensure quality, the company three-year warranty against manufacturer defects. The APX is simply one of the best fitting and most comfortable snowboard boots for beginners that you can buy for less than 100 dollars.
The laces are so long and when you hit bumps on the snowboard; it is kinda bit hard. However, it could be a perfect choice for wide feet.
Pros
Super comfortable and warm
Comes with 3-year warranty
Good shoes for the price
Durable and sturdy fishing
Fit pretty well for large feet
Cons
Small size
Not very stiff
---
If you're looking for a high-quality pair of snowboard boots for long time use without spending too much on boots, the Burton Ruler is the best option for you. Burton Ruler snowboard boots take the attention of more riders because of their high comfort level and performance.
It has Grip Lite backstay for snugging up the fit between the boot and the hi-back able to reduce your fatigue. Its 1:1 medium flex creates a super fit between the boot and tongue while you ride. The Burton Ruler model is a perfect all-mountain boot because the double boa is so convenient.
The comfortable sole construction also provides an instantly broken-in feel. And the snow-proof internal gusset completely seals, which keeps your feet warm and dry all time.
It features with Dual Zone BOA Coiler Closure System. The two independent lacing zones can also be simultaneously adjusted with the twist of a dial for a custom fit in both the upper and lower portions of your boot.
Pros
Made of 100% authentic materials
Man fur is soft and fuzzy
Perfect for wide foot
Soft and lightweight
BOA system is great
---
Thirtytwo STW snowboard boots for men ensure maximum comfort and excellent grip, above all thanks to the Boa system. It is a great choice for beginner snowboard riders or intermediates who aspire to get to the next level. And with a comfortable Fit liner, your feet will be normal after a long day of snowboarding.
The padded inner part warms the feet and keeps them in a comfortable situation. The sole is soft and ensures good grip and therefore to drive the snowboard safely. However, these are mid-range shoes with features worthy of high-end shoes that automatically adapt to the shape of your feet.
The innovative BOA system ensures that you don't waste time tying the loose laces, as you just need to wrap the wheel to fix them remarkably quickly. The product price is low but the overall quality is outstanding.
Thirtytwo STW snowboard boots are much lighter than the previous one. It is also flexible and innovative in design to ensure higher user safety. Different colors are available.
Pros
Very good grip
Warm and comfortable
Sturdy and lightweight
Modern and new design
Quick to wear
Cons
Not completely waterproof
---
This model by K2 is the right choice for those who do not know which snowboard boots to buy for freestyle snowboarding. This is a new pair of boots, equipped with superior technology, which makes it the perfect choice for freestyle snowboard riders. They are medium flex boots suitable for both beginner to intermediate users but a little less for advanced ones.
This model is very lightweight and comfortable thanks to the molded Eva footbed that helps to cushion shocks in an optimal way. The sole is nonslip and the Inner lining ensures a great hold, so you don't have to interrupt it when you are tired.
K2 Maysis snowboard boots are very easy to close off and easy to tighten and have the right amount of stiffness for the terrain parks. This pair of boots is the most comfortable fit and very snugly without causing any pain. They are also less expensive and available in three different colors.
Pros
Supportive and stable
Very easy to wear
Well construction
Reasonable price
Customizable
Cons
Need to tight them every run
---
You may know that HEAD is a leading global manufacturer of premium sports equipment. And the Head Unisex Rodeo Boa provides an accessible snowboarding experience with a ton of comfort. These freestyle snowboard boots have very forgiving flex that is ideal for beginner and intermediate riders.
It features with removable liner. They are easy to adjust and stay tight. With a soft flex, these boots are a brilliant choice for those who just starting the sport but will work just fine for more experienced intermediate riders.
It delivers added flex on the medial side of the boot to ensure more comfort and natural flex. The Trace sole provides supreme grip and stability for your foot and the entered rubber studs offer outstanding traction.
They will fit nicely and snugly, especially for the first time. And, this model is designed for those looking for comfort above all else. These sleek boots are also waterproof to ensure long service life.
Pros
Keep your feet warm
Durable and looks nice
Good boots but low price
Comfort cuff system
Ease of use
Cons
Doesn't have advanced features
---
This is another great pair of snowboard boots from Thirtytwo and could be a great choice for beginners who want to approach this discipline and want to spend a fair amount. In fact, the quality/price ratio is one of its strengths and is suitable for those who do not have great demands but want outstanding performance.
The Comfy Tongue has extra padding that added extra cushion. The grip and rip heel hold locks your foot in place and ensure ultimate control. They are super light and stay dry.
The liner is comfortable; you can easily use it. The ratcheting lace system is exceptional and the Shifty BOA design keeps your feet always safe. It will perfectly fit in the toe box and be tight on the outer foot.
These boots are constructed with a dual-density intuition foam which allows for moderate support and soft flex. The lined with Micro Fleece also provides superior warmth and comfort.
Pros
Comfort fit liner
100% Heat Moldable
Lightweight design
Easy to use and wear
No toe drag
---
You already know that Burton is one of the best well-known snowboarding apparatus manufacturers on the market, and the men's Moto Snowboard Boot has all you need as a beginner. They are not very heavy but able to keep the foot warm after wearing a few seconds.
The Burton Moto model is pretty thin but well built, so you can feel comfortable from the start of your sports. The total length is 11 inches, and the width is average. However, the technology of these boots moves really fast and the lacing system is super easy and doesn't take time to get in and out of.
The backstay is made of durable polyurethane. However, if you are thinking about a gift and you don't know where to buy it, this solution may be the right one for you. They are not very high-end boots but manage to keep the heat for a long time and therefore the foot in comfortable.
However, the only downside of this model is that it is difficult to stow the laces when you're wearing them, especially when your hands are cold.
Pros
Light and nice style
Comfort Construction
Fast lacing control
Keep warm and dry
Good quality
---
This is a good pair of Ride men's boots with some really interesting features that make an excellent quality at an accessible price. Ride Rook snowboard boots are fitted with intuition plush foam liner which provides optimal comfort to the users and the BOA H3 System provides a quick and uniform closure.
They are All Mountain type snowboard boots with easy and fast Boa closure. They are designed for both beginners and expert users, and for all Riders who like to turn and go fast. Ride Rook snowboard boots feature lock down Turbo that ensures high security and no slackliner lace hold.
The grip light sole combines with rubber pods which provide excellent durability and traction. Ride Rook beginner snowboard boots also combine hassle-free lacing with all-time comfort. They have a Slime Midsole that reduces pressure points in order to give you the best possible comfort.
Pros
Articulated Cuff
Grip light sole
Center tongue liner
Die cut EVA insole
Great BOA system
---
Last but not least, the Thirtytwo Women's snowboard has been designed to meet most of the beginner riders' demands. Because this model offers exceptional ankle support and has all the essential features for performing complicated maneuvers or tricks.
The flexibility of these boots is great, which makes them suitable for teenage women. It is soft and lightweight and the inside liner is easy to do up.
It has an excellent shock absorption system with traditional lacing system. You can also count on the Power cuff strap, which ensures greater stability during snowboarding maneuvers.
Thirtytwo Women's snowboard boots are made of high-quality materials to hold the foot more firmly. The cost is really low compared to high-end models but the overall development is unbeatable.
These boots are made for those who love new & unique designs and always want to be contemporary, even when it comes to snowboarding.
Pros
100% Heat Moldable
Provides super warm
STI evolution outsole
Internal lacing system
Total comfort
---
Buyer's Guide: Beginner Snowboard Boots
Before defining which size of snowboard boots to choose, you must consider several fundamental criteria that we're going to present below in order to help you make the best decision.
The flex
The flex of the boots is the most important aspect to consider when choosing your first snowboard boots. Beginner snowboarders should wear soft and flexible boots as they are more comfortable for beginners.
However, advanced snowboard riders need less flex to allow for more aggressive turns and more difficult jumps.
Preferred style
Where do you snowboard? Do you prefer groomed trails or the park?
Your snowboarding style will determine the type of boot, flex and materials. For example, All-mountain snowboard boots are ideal for those who plan to hit and carve the slopes most of the time while freestyle boots are designed for those who plan to do tricks and spend most of their time in the park.
The size
A pair of snowboard boots is not universal, not all models suit everyone. The shape of the slippers of your boots can be very different from one brand to another. Furthermore, the size must also correspond to that of the binding so that the heel and toe do not protrude from the side of the board but remain in line with the edges.
If you follow these tips, you will have no problem verifying that the chosen pair of boots helps you to have better performance in sport.
The adjustment
Snowboard boots should be snug and new boots should be reasonably tight during the first few days of use. Your toe should gently touch the tip of the boot without getting in the way or causing too much discomfort.
As you bend your knees, your heel should stay in place and your toes will step back slightly from the front of the toes. However, as a beginner, it's a good idea to choose a snowboard with boots and bindings.
Lacing system
There are three types of lacing systems for snowboard boots: a boa system, quick lacing, or traditional lacing. Let's see them in detail…
Traditional: Traditional lacing usually offers the best custom fit because you can choose where the laces are the tightest along with the boot. However, tightening or loosening them in the dead of winter is hard on your hands, and if your fingers are frozen – well, good luck.
Quick lacing: Quick lacing is much easier and can be done with gloves on. They close simply by pulling the laces; it is faster and they are comfortable to close. The cost to replace them would be higher compared to a classic system.
Boa lacing: Boa lacing is the simpler option as it uses a dial to tighten and loosen the laces, which can also be adjusted with gloves. The boots are closed simply by turning a wheel. They are the latest arrivals.
The lining
The lining on the inside of a snowboard boot provides comfort, insulation and cushioning to your feet. You can get regular liners, moldable liners, and heat-moldable liners.
Normal liners: Normal liners are simply standard liners without any particular molding of your foot except for what happens after continued use.
Moldable liners: Moldable liners use your body heat to conform to the shape of your foot.
Heat moldable liners: Heat moldable liners offer the best in molding design. When the liner is heated, you place your feet on it and stay there for a while so that the liner will mold at that time. There is no extra time required to wear them.
The materials
The durability of snowboard boots is also an important factor and can only be determined by the choice of the most valid materials. Although most snowboard boots for beginners are made from synthetic materials, you can have leather boots. Because leather is much more durable and will last longer with proper care.
The soles of the shoes are made of rubber. Keep in mind that lighter gums are more suitable for snowboarders who stay at the park, while heavier gums provide better durability for snowboard riders who want to hike to the top of the mountain to chart new trails.
The price
It is good to talk about budget: if you want to save money, don't choose a pair of snowboard boots with a too low cost, which means that you will soon have to find a replacement or even could take risks. So you never go below 100 dollars, if you really want a minimum of security.
The sex
Snowboard boots for men and women are designed according to the body of men and women. Women's calves tend to be lower on the leg than men's. Therefore, women's snowboard boots generally have a lower profile for better comfort. Women's snowboard boots are also narrower at the heel, providing more support than the wider men's shape. Styles and colors also differ between genders.
Frequently Asked Questions
How to wash snowboard boots properly?
To prevent bacteria from accumulating inside and causing bad smells, your snowboard boots should be washed when they have not been used for some time. Not only that, but the outer hull also needs good care. So it is advisable to take some precautions when deciding to clean them.
The first thing to do will be to take out the inner shoe and check the manufacturer's instructions. Based on the material, you can decide whether to put it in the washing machine or wash it by hand. If it is a delicate element, it is better to soak it in warm, not hot water and pass it with a brush, to remove the dirt well.
It will be necessary not to squeeze it but put it to dry not in direct sunlight, but in a ventilated place. The external part can be wiped with a damp and non-abrasive cloth.
What flex should snowboard boots have?
If you are a beginner, it is advisable to choose snowboard boots with soft flex. It is more comfortable and also suitable for freestyle. In fact, this type of flex allows the foot to bend more and gives greater freedom of movement.
Medium flex from 4 to 7 are the most popular because they guarantee good performance for intermediate-level snowboard riders. Because they provide more support and allow for greater versatility on more difficult terrain.
Those who are experienced and want to do all kinds of stunts should instead prefer the rigid-flex from 7 to 10, which ensures a high control of speed.
How to choose the correct size of snowboard boots?
Snowboard boots must be the correct size and fit perfectly to our feet. A pair of shoes that is too wide will make the foot slip inside, and the continuous rubbing causes redness and blisters. Choosing the correct size is actually very simple, you have to know about the classic American, European or Asian sizes.
How should snowboard boots fit perfectly?
To choose the right pair of snowboard boots, it is important to measure your foot in centimeters, placing your heel against a hard surface. In this way, it will also be possible to find the ideal model, even if it has a measurement in the US.
It should also be noted that the first few times, the boots may seem tight since the inner shoes must have time to model themselves according to the feet of the wearer.
In conclusion
As you may have noticed, choosing excellent snowboard boots for beginners is actually not as difficult as people actually think. Because good brands have rather similar prices. Above a minimum expenditure of 100 dollars, you will find very valid models. The tricky part of choosing the right models for beginners is size and materials, which is why we include all these data in this post.
We hope this article helped you to choose the right boots for your first snowboarding experience. You can share your opinion in the comment section.
Thanks for reading.