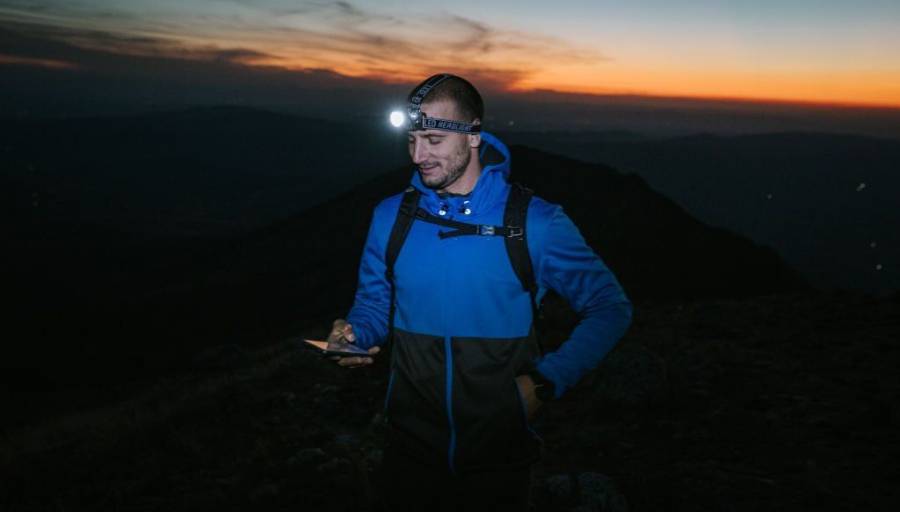 You are about to leave for a hike of a few hours or a few days. You have prepared your backpack and taken most of the essential equipment for a hike, but have you thought of bringing a headlamp?
At the same time powerful, light and discreet, the headlamp has all the advantages of a flashlight with additional qualities. We will see that it is useful for all hikes and it comes in many types to adapt to all contexts. Overview of the good reasons to take a headlamp on a hike!
We will also see Headlamp or Flashlight for Hiking: Which Is Better?
Why Bring a Headlamp When Hiking – Overview
It is wrongly thought that for a hike of a few hours, it is not necessary to carry a headlamp. You probably tell yourself that you will be home before night falls, especially in summer.
However, whatever the season and the duration of the hike, a headlamp will be a great help. Depending on the context, it will fulfill different even multiple roles, but will quickly become indispensable!
The Question of Hikes of a Few Hours
When it comes to hikes of a few hours, the question will not be to see well but to be well seen. We can then draw a parallel with the cyclist who has reflectors to reflect daylight or car headlights. It must be seen to guarantee your safety face to face with other users.
A hiker must have the same degree of safety when he uses busy paths. During a hike, we have all known, for example, a moment when we had to cross a secondary road because the short hike path is cut or resumed on the other side. A headlamp will allow you to be seen by motorists and therefore improve your safety.
Many headlamp models also have a "visibility" mode in order to be noticed, but we will come back to this later. The frontals are also used to be seen when you take portions shared with cyclists or motorists. Think about your safety and that of other users.
Day Hikes
Do you know the day hikes and the moments of return that drag on? In winter, as the sun sets at 5 p.m., night falls quickly and can take you by surprise. The headlamp will then be your best ally to allow you to get home before the night becomes completely dark.
As for hikes of a few hours, it will also increase your visibility face to face with other users. For a day hike, the headlamp then becomes useful to see but also to be seen.
Great Multi-Day Hikes
For hikes lasting several days like the long trail, the headlamp becomes one of the tools you can't do without. They become very useful as you set off at dawn for your next stage of the hike. All day long, it indicates your presence to other hikers and motorists.
More broadly, it allows you to signal your presence in the event of an accident. It will also help you cope with sudden changes in weather such as the lifting of a fog bank or the sudden arrival of clouds in the high mountains. It provides guidance when visibility decreases during the day and when night falls.
Because for these long hikes, the wrong paths or detours are legion and can make you arrive late in the evening at your next destination. The hiking headlamp will be there to illuminate the sides, limit the risk of sprains and illuminate your path to take you to your destination.
In the evening, it allows you to read a book or cook for yourself.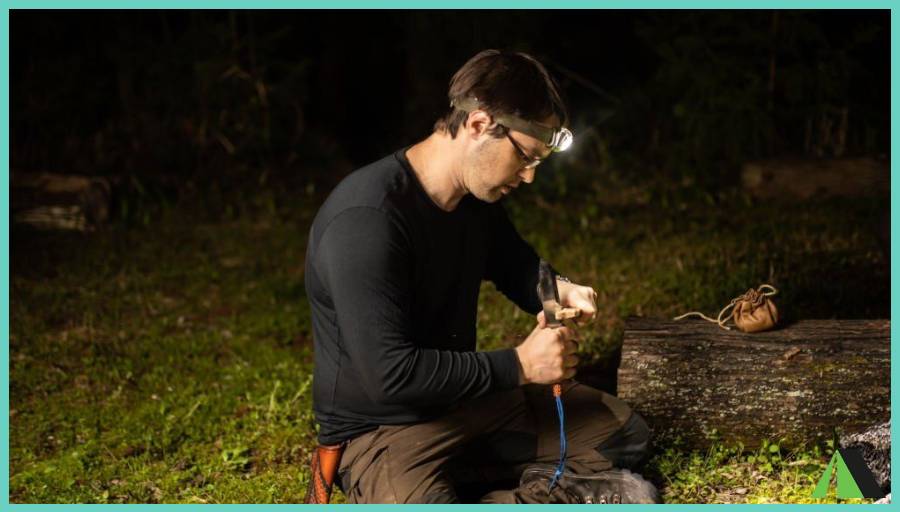 Why Prefer the Headlamp to the Flashlight?
As part of a hike, whatever its duration, several parameters make a headlamp more useful to you than a usual flashlight:
Freedom of movement: After being positioned on your forehead, the headlamp leaves both your hands free and allows you to do an unlimited number of activities necessary for hiking: looking at your map, cooking, sorting your backpack, etc.
Weight: a headlamp weighs a maximum of 100g and some even lighter models weigh only 35g. On the contrary, flashlights are heavier and much more cumbersome and we all know that every gram counts when hiking!
Run time: the flow of light from flashlights decreases as the energy reserve of the battery or cells decreases. Headlamps keep the same light output for several hundred hours for more advanced models. This allows you to leave for several days without needing to recharge it.
The user experience: as we have seen previously, many headlamp models have several light modes from red light to side vision. Flashlights are not as versatile as the first and are therefore less well suited to the multiple needs of a hike.
The Best Brands of Headlamps for Hiking
In recent years, brands of headlamps have been flourishing in the outdoor market. It is therefore difficult to know which model to turn to when the choices are multiplying.
However, there are 3 brands that are truly specialized in the manufacture of headlamps for outdoor activities, including hiking.
Silva – The Best Value for Money
Silva is a manufacturer specializing in the manufacture of entry-level headlamps. Their headlamps are very popular with hikers. This brand therefore offers headlamps that are light (30g) and inexpensive. Basic models from Silva are available for less than 20 dollars. Silva headlamps can be ideal for short hikes or camps in the evening but remain insufficient for long hikes or night walking.
Black Diamond – For Versatility
Black Diamond is an American firm created by a mountaineer in 1989! Their goal was simple: to help men and women passionate about outdoor sports to live their passion in complete safety. The headlamps offered by Black Diamond are therefore very versatile and suitable for all possible contexts.
In short, there will be a Black Diamond headlamp for every outdoor sports practice.
Among the interesting features of the manufacturer are peripheral vision, the SOS function, and even red spectrum night vision.
Petzl – The Reference
The Petzl brand is the ultimate in headlamps and the current world leader in the field. Like Black Diamond, Petzl offers entry-level models to pro-grade headlamps. The Petzl Tikkina is an entry-level headlamp with a power of 150 lumens, which is equivalent to a very good headlamp for day hikes.
The brand also offers children's models, such as the famous Tikkid lamps. For hiking and camping, Petzl provides you with headlamps of excellent quality such as the Actik models, equipped with red night vision, an emergency whistle and multi-beam lighting.
For exceptional, count on the Petzl Nao, which is equipped with the Reactive Lighting system. This adapts the light power in real-time according to your needs and the cloudiness.
Conclusion
There are many good reasons to bring a headlamp when hiking. Whether you leave for an hour, for the day or to do a long hike, headlamps allow you to see the path when night falls. They also allow you to read the map, and the road signs or to cook near the tent during a camp.
Headlamps are available in many models and correspond to all uses and all profiles from beginner walkers to seasoned hikers. Like the medicine kit or the survival blanket, it is a part of the essential equipment that every hiker must have in his backpack!