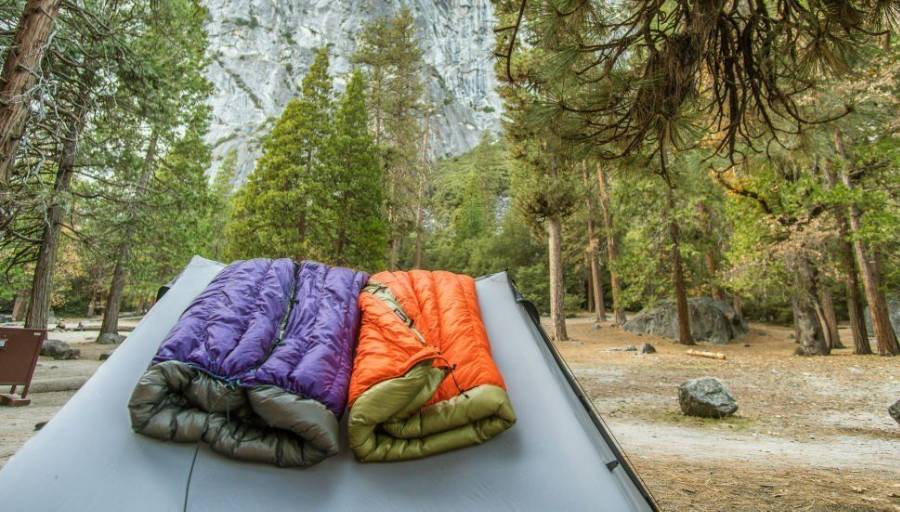 Are you hesitating between an ultralight, synthetic, or down sleeping bag for extreme cold and high mountains? We tell you everything about how to choose a backpacking sleeping bag.
Let yourself be guided!
The Importance of the Sleeping Bag When Hiking
The sleeping bag is important for several reasons:
Recovery: a good sleeping bag is like a good mattress. It will bring you comfort and warmth and you will spend a night that lives up to your expectations. In short, your sleeping bag must be able to put you in the best condition to recover from a long day of walking. All the specialists will tell you, nothing is worse than a bad night after a trying day.
Time spent in the sleeping bag: you will spend more than a third of your time there or even more, so don't forget that nights outdoors are also longer than at home because you have to adapt to the rhythm of the sun.
Do not apprehend the night: Finally, the moment when you slip into your sleeping bag can be a really pleasant moment of your day. Those who love their sleeping bag, know what sensations I can talk about! So it would be a shame to spoil it simply because we dread the night to come.
How to Choose a Backpacking Sleeping Bag – Step by Step
Weather Conditions
First question to ask yourself before buying a sleeping bag: what will it be used for?
Night in a shelter?
Overnight in a tent in summer or winter?
Night under the stars?
Nigh altitude shelter?
In which climate (hot, temperate, cold)?
Depending on your destination and the weather conditions encountered, the choice of sleeping bag will be (almost) natural.
Browse the specialized stores and you will see 3 notions appear:
Comfort temperature: temperature where you sleep comfortably (just like at home!)
Limit temperature: temperature from which the user will feel a feeling of cold (yes, you know, when you start to wake up in the middle of the night and you have old chills down your back)
Extreme temperature: temperature above which survival is compromised.
These notions, directly taken from the EN 13537 standard, will give you the indications to guide you in your purchase. We quickly understand that only the notions of comfort and limited temperature are interesting.
Clearly, if you are planning a night in a tent in the middle of summer at an altitude of 1200 meters, and you estimate the night temperature at 10°C, a sleeping bag with a comfort temperature of 12°C and a limit temperature of 5° is perfect.
Dimensions and Weight
I still remember my first sleeping bag, which took almost half of my backpack and whose weight penalized me during long walks. Yes, the basic principle is that you will have to carry your sleeping bag (unless you have a good friend who does it for you.
So choose a sleeping bag whose compression bag allows you to save real space, and whose weight is not excessive (ultralight bags weigh less than 1 kg, the heaviest around 1,400 kg)!
Natural or Synthetic Down?
Before any purchase of a sleeping bag, the question is whether you will opt for natural or synthetic down. Here is a short topo on the advantages and disadvantages of the 2 options.
Historically, sleeping bags were made of goose or duck down.
The down
Advantages:
Unparalleled warmth and softness. Insurance of a sweet night like at home!
Very good compressibility in the compression bag (it is always better to take it out as soon as possible).
Disadvantages:
Maintenance
Storage (better to store it uncompressed at the risk of losing the swelling and therefore its performance against temperature)
Its mediocre resistance to humidity
The price is often much higher than the synthetic sleeping bag
The Synthetic
Advantages:
Easy maintenance (by machine)
Storage at home in its compression bag
Good resistance to humidity
Disadvantages:
Much less efficient in cold conditions
We will quickly understand that down / feather sleeping bags will be chosen for more committed hikes/treks, with an unbeatable bulk/warmth ratio (not to mention the weight). On the other hand, there is no need to ruin yourself if you sleep in a refuge.
Here is a small summary table that can give you some ideas for your future choice of sleeping bag depending on what you want to do with it:
| | | | |
| --- | --- | --- | --- |
| Details | Synthetic | Extreme synthetic | Down |
| Overnight at Les Flots Bleu campsite | X | | |
| Night in mid-mountain refuge (1000 m altitude) | X | | |
| Night in a high mountain refuge (more than 2000m) | X | X if you are really chilly | |
| Camp under medium altitude tent | | X | X |
| Camp under high mountain tent (more than 2000m) | | X | X |
| Winter camping under tent | | | X |
| Mountain hike under the stars | | | X |
Shape and Size
Unless you want to sleep with a teddy bear bigger than either, we will prefer a sleeping bag to its size. The larger the sleeping bag, the greater the volume of air to be heated by the body.
The ideal is therefore to opt for a bag that best matches the shape of the body. This is what the Mummy Sleeping Bags offer. Unlike rectangular sleeping bags also called "cover bags", mummy-style sleeping bags are wider at the shoulders than at the feet.
The "Mummy" bags all have a hood, a significant detail when you know that 30% of body heat loss occurs through the head. However, the disadvantage of the bag that hugs the silhouette is its confining side that some people can't stand.
Insulation
There is no point in having a good sleeping bag if the insulation with the ground leaves something to be desired.
It will therefore be imperative to insulate your body/down from the ground to avoid thermal bridges. Use floor mats or inflatable mattresses. It is as important as the choice of the bag if not more.
Additional Measures
To gain a few degrees, you can also slip into a silk or cotton bag before putting on your sleeping bag. Another significant advantage, you will dirty your sleeping bag less quickly.
You can also bring technical underwear in wool for example (absolutely avoid synthetic).
The New Sleeping Bags
For Ultralight fans, new sleeping bags have just appeared:
The elephant's foot: This is a sleeping bag from which the upper part has been removed. It therefore only covers the legs and the pelvis. You will therefore be obliged to use your daytime clothes to cover your upper body (preferably a down jacket).
The quilt: again to save weight, the entire back part of the sleeping bag has been removed. This part is the least protective since it is crushed during the night). You are therefore in direct contact with your sleeping pad.
Some Tips for Using a Backpacking Sleeping Bag
In the absence of a ground mattress, a survival blanket placed on the ground can limit heat loss. Covering your sleeping bag with a survival blanket increases its performance because of the condensation it will cause.
A hat on your head and a silk or cotton bag will bring you extra warmth if you use your sleeping bag at its temperature limit.
Multiplying the layers of clothing once lying in your sleeping bag does not necessarily improve comfort. In addition to the feeling of being cramped, you risk reducing the volume of air inside the bag too much, the air remaining a very good insulator.
Read Also…