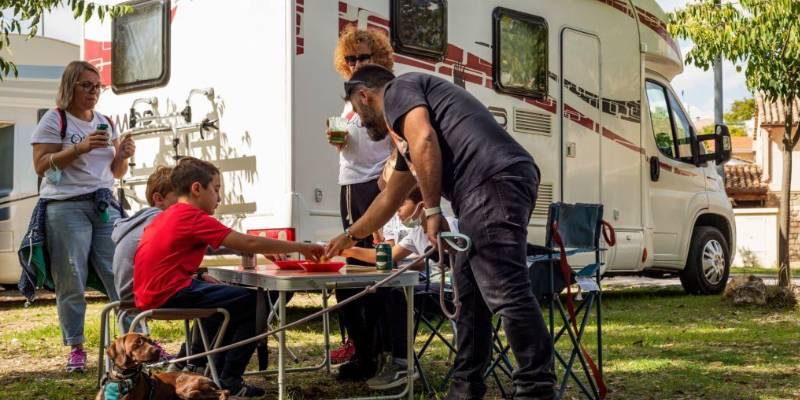 It's hard for us to imagine experiencing an RV holiday without using the camper kitchen. Cooking means quality of life – that's why RV kitchen accessories are particularly important to us.
What makes good kitchen accessories in motorhomes or RVs?
Good RV kitchen equipment consists of useful, multifunctional small appliances, a solid range of kitchen helpers and gadgets that make everyday life easier and take up little storage space in the camper.
Kitchen Accessories for RV
We're going to present you with a helpful list of essential kitchen accessories for the RV today.
1. Aluminum foil
Aluminum foil is a useful gadget in every RV kitchen – but also an excellent all-purpose tool on holiday. Due to its flexible use when camping or picnicking, it is at the top of the packing list as a useful kitchen accessory.
Aluminum foil saves time and is very easy to use. For example, Fabian and I love delicious baked potatoes as a grill side dish, which we wrap in aluminum foil and prepare over the campfire.
Aluminum foil can be used for many purposes when camping:
Saves containers and thus space in the camper: By taking fewer plastic containers (Tupperware) with us, we save storage space. Most foods (grilled meat, fish) can be stored perfectly in aluminum foil.
Less washing up when things have to be done quickly: Aluminum foil on the baking tray or casserole dish saves us the time-consuming task of cleaning dishes and the oven. This saves us valuable vacation time at the same time.
Reliable kitchen helper at the campfire: Aluminum foil is the perfect helper when cooking over a campfire. The application is simple: wrap the food and spices in aluminum foil and prepare it in the embers or over the fire, depending on the recipe.
Aluminum foil keeps food warm or cool: Aluminum foil can keep food warm or cool, but it has two sides – a matt side and a shiny side. If you want to keep your schnitzel warm, pack it with the shiny side facing in. For longer cooling, we store it with the matte side inwards.
Aluminum foil when fishing: It is well known that shiny materials attract fish. Aluminum foil can help on a fishing trip as it also shines underwater. Folded and rolled into a small pear, the foil is attached to the end of the bait and thrown into the water.
Aluminum foil instead of pesticides: Long-term campers usually have plants in front of or in the RV that they tend and care for. Nothing is more annoying than pests that can nibble on the leaves and destroy the beautiful eye-catchers. Aluminum foil can deter pests by wrapping the plant base so sunlight reflects onto the plant and insects stay away. In this way, we avoid unhealthy pesticides at the same time.
2. Camping cookbooks
In the meantime, a few camping cookbooks have found a place on our shelves. Some are just for inspiration before you travel while others we take with us on the camping trip.
For example, if we are traveling with tents, the chances of a cozy evening campfire are good. For example, the book " Feast Outside: The Campfire Cookbook is ideal because many recipe ideas can do without heaps of ingredients.
3. Zipper pouch (Reusable Storage Bags)
Perhaps each of us has held a zipper bag in our hands at some point. They come in many shapes, and sizes, and from multiple manufacturers. Tangibay Reusable Food Storage Bags, for example, can be seen in TV commercials from time to time.
These flexible companions are always in our luggage on each of our trips. But the helpful gadgets don't just make everyday life easier in the RV kitchen.
More time on camping holidays: Before we set off on our journey, we prepare a few bags of raw food that can be stored in airtight bags in a cool box. This means that every cooking process goes faster and we have more time for excursions. In addition, there is less waste.
Space-saving storage: Anyone who has little space for Tupperware is in good hands with all-purpose bags. Leftovers from the day before that we want to keep can be stored in zip-lock bags to save a lot of space.
Waterproof storage: Excursions to the water are part of everyday life in the camper summer. If you want to protect your mobile devices, you can use waterproof bags. Since they come in different sizes, any small electronic device can be stowed away waterproof.
Storage of small parts: In mechanical emergencies, the targeted storage of small or repair parts makes sense – for example, as soon as nails, screws and other things are involved. Each bag is labeled so that the intended use of the contents can be identified later.
4. Instant Pot
Lack of space in the camper is a common topic, which is why one often wonders which additions to the kitchen accessories in the motorhome make sense.
For us, the ingenious Instant Pot belongs in every kitchen and is a useful electrical appliance in the mobile home. Thanks to its incredible versatility when cooking, the all-purpose pot not only saves space but also a lot of time.
The kitchen appliance has already received many positive reviews, for example, from the New York Times.
The Instant Pot is a popular gift at Christmas time or if a friendly camper friend is inviting you to a birthday party.
As a 7-in-1 multifunction cooker, it can be used as a slow cooker, pressure cooker, roaster, rice cooker and steam cooker. It also can keep food warm as a yogurt maker.
5. Fire extinguisher for the camper kitchen
Accidents while camping can have a variety of causes.
Increased risk when camping arises in the outdoor kitchen whether campfire, grill, romantic evening with candlelight or cooking with gas.
The most common cause of a fire in a vehicle is leaking oil or fuel. Such liquids can ignite hot parts in the engine area, especially in older vehicles. Overheated brakes are also a cause of fire, as are damaged cables.
Reason enough to equip older motorhomes in particular with a fire extinguisher! In an emergency, we can not only minimize the dangers to our health but also avoid major damage to the vehicle and its contents. For the "classic" among kitchen fires – the grease fire, we recommend a class F fire extinguisher like this one.
6. Cooler box and cooler bag
For us, cooler bags and coolers are essential kitchen accessories in RVs. If you camp in summer, you need cool drinks – in the RV, the electric cool box can help to cool the well-deserved beer.
For longer trips and when no power source is available, it is advisable to take a good thermal bag with you. This CleverMade Collapsible Cooler Bag is a visually appealing storage option that can also be used as a beach bag.
Day trips to the lake, bike rides, picnics in the countryside and evening campfires are the most common occasions when we are grateful for cool drinks and food from the cooler.
In this case, we take cold packs or ice with us so that the drinks stay pleasantly cool for a long time. In summer, in particular, the long-lasting heat in the mobile home means that we tend to postpone activities such as cooking or even leave them at that. The picnic in the shade with a cool bag in your luggage then replaces the cooked meal in the camper.
7. Can Opener
The most important kitchen accessory for festival camping is of course a can opener! Those who want to spend more time on the festival stage are usually among the "ravioli campers".
At this point, we are torn. On the one hand, a delicious grilled steak is never to be scoffed at we want to take as much musical entertainment with us as possible when we camp at festivals. In this respect, a can opener is the best choice to spend as little time as possible eating.
That's why the can opener has to be used at lunchtime at festivals while the grill is fired up in the evenings after the most important concerts. It doesn't matter to us whether we arrive with a tent or a camper.
8. Unbreakable crockery
For us, unbreakable glassware is now a must-have in the camping kitchen. The clever kitchen accessory shows its strengths when traveling with the motorhome, especially when there are potholes and other obstacles.
But it is also extremely useful in everyday camping life. Anyone traveling with children and pets must always expect falling objects.
9. Carbon monoxide alarm detector for RV and motorhome
This electrical device does not serve directly as a kitchen accessory but should still be installed in the camper. Since the risk of too high a carbon monoxide level in the RV can be real, you shouldn't wait until it's too late to buy a detector.
As soon as you cook on a gas stove in the camper, for example, or operate other gas appliances, there is always a residual risk. Therefore, an alarm in the kitchen area is a good choice.
Unfortunately, not all carbon monoxide detectors are equally good for RVs and trailers.
This is because many devices are designed for larger rooms and are therefore oversized for tight spaces such as in campers. If the alarm goes off erroneously on such devices, this is not only irritating but can also strain your nerves in the long run.
A camper-friendly carbon monoxide alarm is the First Alert SCO5CN. In addition to RV and mobile homes, it is also suitable for boats or the basement and garage at home.
10. Spices safely stowed away in the DIY Spice Rack
Depending on the kitchen equipment in the RV, the pothole-safe storage of spices is not that easy. In the worst case, the glass falls off the shelf, breaks and spills the spicy contents throughout the mobile home.
You can use it to cover up odors. But if you're looking for a good solution for fixing spices in your camper, you should take a look here. Always be frosted explains in detail how we can use PET lings from the geocaching scene combined with PET clips to create a clean and safe solution for spices.
These PET-lings are basically plastic tubes with lids that we attach to the wall with metal clips and wood screws. The retaining clips (without screws) are available in packs of 5 from specialist retailers.
Alternatively, there are colorful PETling mounts on Amazon.
The tubes are then filled with spices and labeled – the DIY spice rack for the camper kitchen is ready, and it can withstand even the worst road conditions.
11. Foldable dish rack
Space-saving RV kitchen accessories are a must for us. Collapsible solutions such as this drainer for dishes or vegetables make everyday camping life in the kitchen easier and save storage space at the same time.
The foldable frame is placed over the sink and therefore serves as an additional surface for preparation or washing up. Alternatively, it can protect surfaces or serve as a shelf for hot food.
The draining rack made of stainless steel can be used in many ways:
Drying of freshly washed dishes
Storage of washed fruit and vegetables
Coasters for hot pots and pans
12. Camping kitchen knives
If you love cooking, you will need to equip your RV kitchen with a good knife. You can undoubtedly choose Japanese Damascus to avoid buying them twice. However, there are so many camping kitchen knife brands available; you should choose according to your budget and needs.
Conclusion
First set up your camping kitchen according to your feelings and needs, then check whether items are still missing from the list and add them if necessary. Because there is always the potential for optimization! Your needs will change slightly with every holiday, with every holiday location, and with every holiday year. Stay flexible and change what no longer suits you.
I wish you a nice RV camping Day!
If you have any questions leave a comment in the section below and we will answer them.