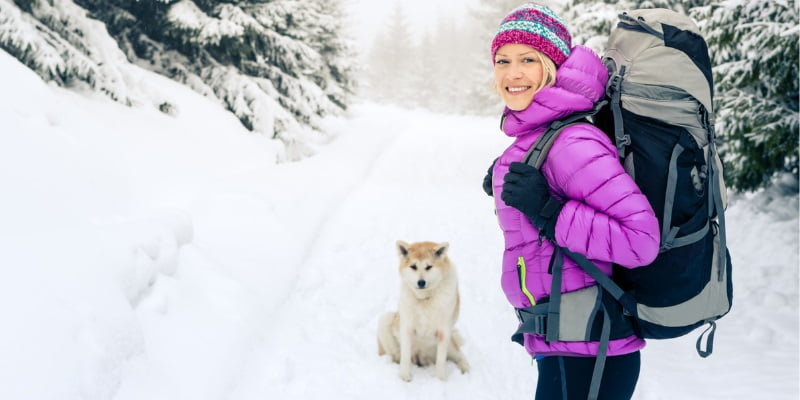 Winter camping with a dog presents you with a few serious challenges. Impending cold and wet conditions require special equipment and careful planning of the trip.
In addition, not every breed of dog is equally suitable for camping when it gets really cold, especially not for winter camping holidays.
I have made a list of the most important things you should watch out for before camping with the dog. I hope to be able to help you with the preparations for your winter dog vacation.
Winter Camping with a Dog Tips – Step by Step
Let's see 12 smart tips and tricks on winter camping with a dog…
1. Not every dog ​​is well-suited for winter camping
The most important point in planning: is your dog good or not suitable for winter camping? Even if you know your dog loves the cold, you need to make sure that he can take it well.
Some of the most famous dog breeds that love snow are:
Newfoundland
Siberian Husky
St. Bernard
Chow chow
Here is a list of snow dogs that are used to camping in cold climates. These dog breeds are therefore very suitable for winter camping. So far so good. But that's only one side of the coin, you're probably wondering: Which breeds of dogs have a particularly difficult time dealing with snow and cold when camping in winter?
It is generally difficult for dog breeds that have particularly short fur or even no fur at all. Less fur means less protection from the cold and snow.
Examples of dog breeds that have a harder time in ice and cold:
Chihuahua
French bulldog
Greyhound
But not only the breed of dog, but how your dog behaves in the cold also gives you important conclusions for the upcoming winter camping with your four-legged friend.
Has there been any sign in the past that your dog prefers to avoid the cold or snow?
Perhaps you have noticed that he likes local snow for a few minutes, but then prefers to lie down in front of the warm fireplace again?
Camping holidays in winter with dogs like this are better in warm, southern countries. In this way, you avoid frustration and at the same time dangerous hypothermia in your fur nose!
2. How cold is already too cold for winter camping with four-legged friends?
It depends largely on the breed of the dog. However, temperatures below -5 degrees Celsius are critical for longer outdoor activities. If it is less than -10 degrees Celsius, it can be life-threatening.
The following table is based on the data and surveys of Tufts Animal Condition and Care (TACC) and provides a rough direction when caution is required.
If you are "in the green" with your overall result, i.e. if the result is a value of 1 or 2, outdoor activities are no problem even over a longer period of time.
Also note the modifiers below the table.
| | | | |
| --- | --- | --- | --- |
| ° C | Small Dog | Medium-sized Dog | Big Dog |
| 15th | 1 | 1 | 1 |
| 12th | 1 | 1 | 1 |
| 10 | 2 | 1 | 1 |
| 7th | 2 | 2 | 1 |
| 4th | 3 | 3 | 2 |
| 1 | 3 | 3 | 3 |
| -1 | 3 | 3 | 3 |
| -4 | 4th | 4th | 3 |
| -6 | 5 | 4th | 3 |
| -9 | 5 | 4th | 4th |
| -12 | 5 | 5 | 5 |
| -15 | 5 | 5 | 5 |
| -17 | 5 | 5 | 5 |
Influencing factors and the change in the table values:
Wet weather: +2
Protective clothing: -1
Nordic dog breed: -1
Dog is used to the cold: -1
Total values ​​and their meaning:
Total score 1: No sign of danger or risk from cold to the animal. Have fun outdoors as much as you want!
Overall value 2: Risk of cold unlikely, continue to have fun! But watch your dog's behavior to be on the safe side.
Overall score 3: Depending on the breed, it can potentially be dangerous. Keep a close eye on your animal outdoors.
Overall rating 4: Dangerous weather conditions, exercise caution and limit outdoor activities.
Overall rating 5+: Potentially life-threatening cold! Keep outdoor activities to a minimum. If possible, limit it to a few minutes.
How do you read the table A practical example:
Your dachshund does not belong to the Nordic dog breed. Since you've lived in the Swiss Alps for years, he's used to the cold (-1). Unfortunately, you don't have your protective clothing with you on a spontaneous excursion, and you'll find snow and mud on the campsite (+2). With the influencing factors (+ 2-1) you modify the table by +1.
There are 4 degrees Celsius on site, the snow is slowly thawing. Since your dachshund does not belong to the large dog species, read the value 3 from the table. Modified by +1 results in an already critical value of 4.
Overall, you should exercise caution with a total value of 4. It could be dangerous if you stay outdoors for too long!
3. How to keep your four-legged friend warm
Especially when camping in winter, make sure that your dog does not freeze. Dogs can also catch a cold or become very hypothermic.
Pay particular attention to the following points to keep your four-legged friend warm:
Always use a warming insulation layer on cold floors (especially in the tent!).
Give your pet more food when it gets cold outside. That gives extra energy.
Look out for typical warning signs that the dog is freezing (whimpering, trembling, unusual indolence, severe restlessness).
4. This way you can see your dog more easily in the dark
In winter camping it gets dark much earlier. Therefore, it often happens that the walk or the walk with Fifi has to be done in the dark.
Not really tragic – but what if you lose sight of your dog?
Depending on the situation, this can have dire consequences, especially when there are cars around somewhere and your four-legged friend suddenly walks into the street in the dark. Things can be life-threatening.
Safety also comes first when camping with a dog in winter, which is why I have already presented an ingenious helper in an article on the best camping accessories.
The smart gadget is available in three colors on the market. These are practical, especially when several dogs are on the way with you. So you can assign a certain color to each four-legged friend and easily recognize it in the dark.
5. Drinking water must not freeze
Actually, it is clear that the drinking water source should not freeze. For walks in winter, you should always make sure that the animal has access to drinking water at all times.
When camping in winter, you really have to be careful:
One of the first things in the morning should be to check your drinking water supplies. If you see lumps of ice in the water bottles, heat the water over the gas stove before pouring it into the water bowl.
Can my dog ​​eat snow
By the way, with access to drinking water, I don't mean snow! If possible, you should not "feed" snow – on the contrary: make sure that the dog does not eat large amounts of snow.
Why shouldn't my dog ​​eat snow?
A handful of snow is not yet dangerous for your dog. However, snow or ice in large quantities can lead to gastric mucosal inflammation or diarrhea. This mainly applies to contaminated snow with road salt or dirt in it.
Always offer your four-legged friend lukewarm water, which will significantly reduce your "appetite" for snow. You may have to stop consciously him from eating snow if that happens frequently.
6. Keep your dog dry at all times, especially at night
Very important items for camping in winter with dogs are towels and brushes. Walks in the mud, romp around in the snow or swim in the lake – many activities leave your coat damp. Without aids, it takes a long time until your dog is dry again and can thus better defy the cold.
If you brush your four-legged friend vigorously and rub it dry with towels, you will prevent hypothermia. Your fur nose warms up faster and you have the advantage that less dog hair gets into the tent or camper. Even a Chow-Chow that is insensitive to cold can freeze if cold and wet complement each other over a longer period of time.
7. Additional clothing, towels and documents
The golden rule for winter camping: the more documents, textiles and towels you take with you, the better prepared you are for all conceivable cases. Sure it costs a little more space in the motorhome or RV, but it makes your everyday life a lot easier:
More underlay means more protection from the cold, which is particularly important for tent floors. You should also take precautions if older campers are poorly insulated.
If the first dog coat or sleeping bag gets damp, replace it and dry it off. The replacement equipment prevents the fur from becoming damp and therefore cold.
Towels and blankets help against unpredictable events. If the tent suddenly leaks, you at least have a replacement for such emergencies with you.
8. Does your dog know a campfire?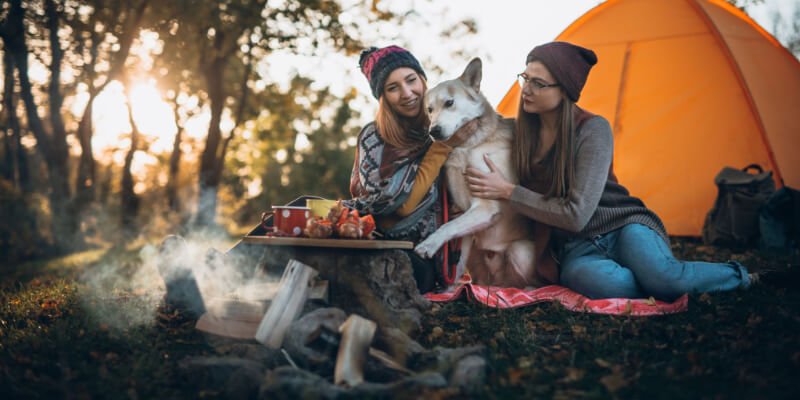 Not every dog ​​is used to open fire. So if you plan to light a campfire in the cold season, you should get your dog used to fire pits before traveling.
There are enough public events or festivities for which a fire is lit (Easter bonfires, medieval markets, fire pits at festivals, etc.).
Take your furry friend with you on such occasions and watch and monitor him closely.
9. How to protect dog paws in winter
One of the dangers of camping for dogs is the ground. The first culprit may be the campsite itself, which may not be one of the dog-friendly spots:
If the owner didn't think too much about four-legged visitors, this is reflected. For example, in the type of campsite flooring. Hard gravel everywhere instead of soft grass floors is painful for dog's paws and means a greater risk of injury.
As long as there is no soft deep snow on the campsite in winter, you should also rely on dog-friendly places during the cold season just because of the underground. Broken glass, thorns, or splinters are not only problematic in summer. But there is also the danger of road salt.
The solution: Robust dog shoes effectively prevent such injuries and dangers. They also offer protection against cold and wet.
10. Plan more dog hair in the camper when changing fur
If your dog puts on his winter dress in autumn, you can expect more hair on the floor. Every time dogs change their coat, they shed more hair. This happens in cycles of around 6-8 weeks a year in which the hair grows. You should always plan this if you want to go on a trip with your four-legged friend in autumn.
The question of how much a dog sheds also depends on the breed of the dog. But age or hormone status also plays a role here. Older animals have more hair and are neutered more than non-neutered animals.
As already mentioned, dog hair can be reduced in the camper or tent by regularly brushing your four-legged friend thoroughly and drying it with a towel. This is how the hair stays outside.
11. Dog also needs sufficient exercise in winter
Unfortunately, it doesn't matter at all what the weather is like outside. Rain, snow, sun or autumn storm – your dog needs enough exercise and exercise outdoors. The fact that this is not always so pleasant for you as a mistress cannot be changed. Maybe you just want to relax while camping and not go for a walk at -5 degrees.
However, you should keep in mind that your animal will be less busy, especially when camping in winter than in summer temperatures, when you may be outdoors with him more often.
Your dog has less freedom of movement in the motor home or RV. He is not so used to less exercise so this does not lead to a serious lack of exercise, you should grit your teeth and look forward to the subsequent warmth from the heater or your partner.
12. Suitable mobile homes and RVs for winter camping with a dog
My last tip for you is to deal intensively with the right motorhome if you are considering renting a motorhome.
With a dog, you only make life difficult if your four-legged friend is kept secret when renting a motorhome. Since many landlords are not very enthusiastic about dog hair, disputes, and additional costs can arise. Therefore, find out exactly which landlords accept dogs.
The simplest solution is special mobile homes for dog owners. Thanks to their clever structures., these are particularly dog-friendly.
Conclusion
When you go winter camping with your dog, remember to protect him from the harshness of winter. A well-equipped dog is a dog with good paws!
However, it's up to you to choose the most suitable style of accommodation for the holidays with your dog! For my part, depending on where I go and what I do on vacation with my dog, my heart swings between lodging and camping.
Hope this guide helped you.
Have you any questions? leave a comment below.
Find all our equipment tips for dogs here.