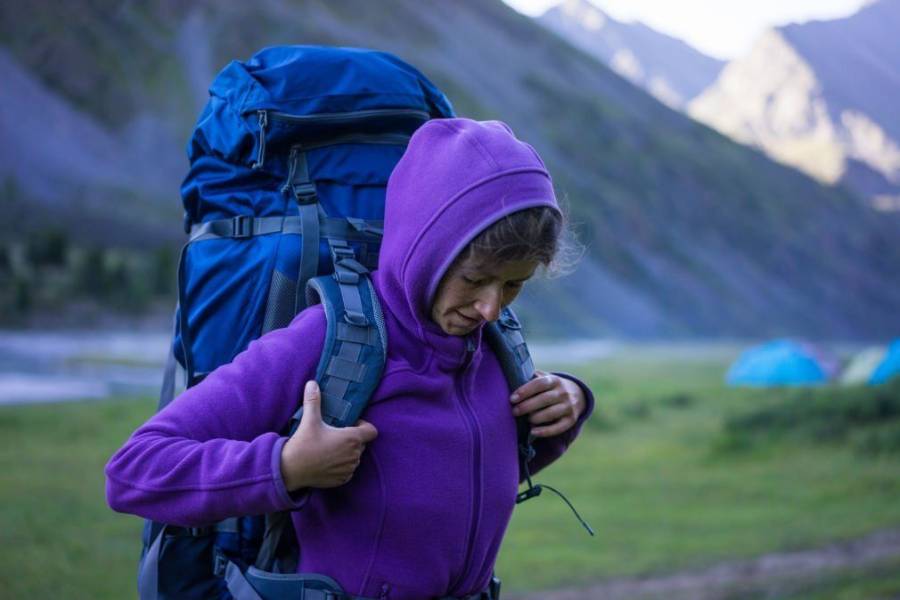 Softshell vs fleece! Have you ever asked yourself the question? Know that you are not the only one!
Basically, one will be more protective, the other will be more versatile. In short, softshell and fleece are not used in the same situations.
But you will have to choose according to the practice of your activity because the perfect garment useful in any situation unfortunately does not exist. Come on, we'll guide you to make the right choice between a very cozy softshell and a good fluffy fleece.
The Softshell
In recent years, softshell jackets have become more and more popular and we understand why! Softshell jackets are ideal to wear during various outdoor sports, such as hiking or walking. Inside is a fleece. Outside, it is a fabric with windproof and water-repellent properties (for rain). An "improved fleece", do you think it's necessarily better? Not so fast!
In the meantime, we tell you everything to make the right choice of softshell: What is a softshell jacket & how to choose.
The Fleece
Fleece is of course known as a wonderfully soft material, which is also very comfortable! But what are the properties of a fleece jacket? Fleece is often made from synthetic fabric polyester, which is also often used to make sportswear.
The fleece retains heat, and is lightweight, water-repellent and breathable, making it a very suitable vest or sweater to wear during various outdoor activities. For winter sports, people often wear fleece clothing, but often under their ski jackets!
The warmer the fleece, the less breathable it will be. It's like in the couple, everything is always a matter of compromise.
So Fleece or Softshell?
We help you decide.
Softshell Jacket: Advantages and Disadvantages
If it's a little crazy with its American name, it's because it's more elaborate.
The softshell provides (almost) as much warmth as a fleece, plus protection against the wind and minor bad weather. Indispensable if you go out in light rain without a third layer. On the other hand, it will take up more space in your bag and breathe a little less…
Thanks to its water-repellent and windproof fabric, the softshell wins the weather protection match! It also knocks out fleece if you don't have a third layer. In short, if you take it with you, it's to use it!
Fleece Jacket: Advantages and Disadvantages
It is very cute and simple, and therefore lighter than the softshell! If you don't have a lot of space, know that its footprint is smaller than the Softshell.
It is more versatile because it can be worn as an intermediate layer under a waterproof and windproof jacket or as an outer layer without rain or wind. It will breathe better than the softshell.
In summary, in terms of weight, versatility and breathability, victory for the fleece! But you will see its limits when the wind or the rain comes to tease you.
FAQs
Which is warmer: softshell or fleece?
If you are purely concerned about the heat, then you should definitely opt for fleece! A softshell jacket has many additional features to retain as much heat as possible, such as Velcro around the cuffs, so that as little wind as possible can enter the jacket. Some softshell jackets are also lined with fleece on the inside, which makes the jacket a bit warmer, but unfortunately also a bit heavier.
Is the softshell waterproof?
Weather resistance is of course an important aspect of jackets. Many softshell jackets are water-repellent, but there are also waterproof softshells! Additionally, many softshell jackets have a water-repellent coating which naturally benefits water resistance.
Another nice feature of softshell is that the material is breathable, some softshell jackets even come with additional ventilation zippers to let even more fresh air into the jacket.
Tip: Check the product description of the respective softshell jacket to check how waterproof the jacket is. A softshell jacket with a water column of 2000 mm can withstand longer downpours.
Is the fleece waterproof?
A fleece jacket is water-repellent and quick-drying, but not waterproof. If you walk outside with your fleece jacket on when it's raining a bit, there's little chance you'll get wet! But if it rains a lot, there is a good chance that the moisture will seep through the fleece jacket… An advantage of this is of course that the fleece jacket has greater breathability than the softshell jacket.
Who is the most popular? The softshell or the fleece?
Softshell jackets and fleece jackets are available in endless models, colors and sizes! So there will always be a nice softshell jacket or a nice fleece jacket that suits you. These jackets are not only designed for sports activities but can also be worn in everyday life! Both softshells and fleeces retain their shape and properties perfectly.
Conclusion: Softshell vs Fleece
Softshell or fleece, your heart swings? Both the softshell jacket and the fleece jacket have excellent properties, they keep you dry in light showers, keep you warm, but also ensure that your body stays dry and cool thanks to good breathability.
A softshell jacket is very versatile. You can wear it in almost any weather condition, but a fleece jacket on the other hand offers a bit more comfort. Wearing the fleece as an underlayer or last layer for outings in dry and windless weather. With the softshell, outings in more unstable weather protection against the wind and light rain.
So there is no right or wrong choice. The choice of a softshell jacket or a fleece depends entirely on your own preferences!