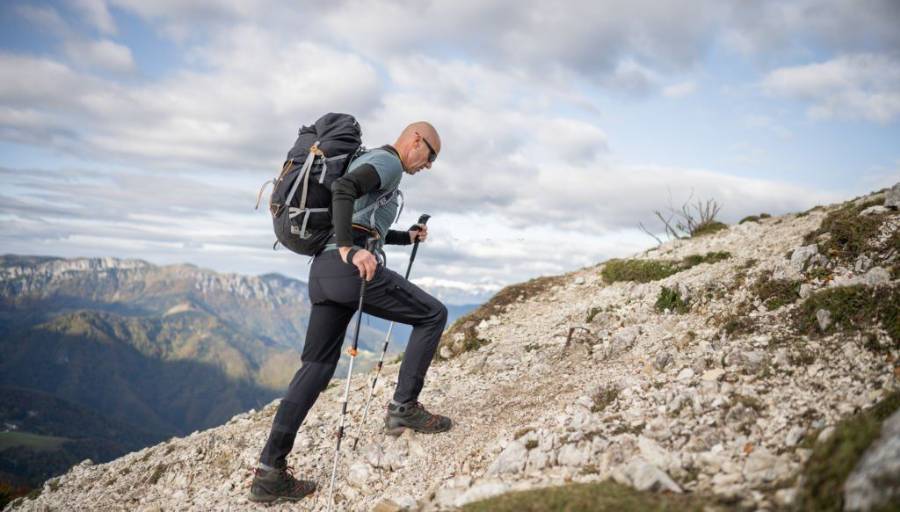 Having appropriate clothing for a hike is essential to feel comfortable. Whether hiking, mountaineering or traveling, it is interesting to wear suitable pants so that you only have to carry the bare minimum in your bag.
Unlike the upper body, it is possible for the legs to have nothing or very little to wear as long as you have made the right choice!
In this article from our practical guide to hiking, you will learn all about how to choose hiking pants (whether for men or women).
On a Day Trip
During a day hiking in good weather conditions, you can wear simple hiking pants. Opt for pants that can be converted into shorts, which will allow you to remove the lower part when the temperatures are hot. This is a real plus in summer.
Compared to shorts, trousers have the double advantage of protecting you from the cold but also from sunburn.
Long Trail Hike or Trek
On this type of route, you have to plan for the possibility of encountering bad weather conditions. This is why waterproof pants can be a good option besides your main pants.
These waterproof pants can weigh between 150g and 300g depending on your choice. But for this use, you can favor a 2.5-layer type waterproof construction (more fragile but lighter and more compact). They can obviously be in Gore-tex (Paclite or Active to stay in light constructions) or in Pertex shield or other competing membranes.
Some "manufacturers" membranes, less efficient in terms of waterproofing and breathability, may also suffice for this type of use. You can also choose the "overtrousers" mode (trousers that will be worn over your main trousers)
The waterproof overtrousers can have a full zip along the leg to facilitate donning over the hiking trousers, without having to take off the shoes. Without this zip, you can find lighter pants.
For an altitude trek or winter hikes, you can combine your pants and tights (tights that you use in your sleeping bag).
How to Choose Hiking Pants – Step by Step
There are many criteria to consider when choosing hiking pants. Now you will find out which are the main factors you have to consider.
Weather
If it's cold, you will need long pants that go down to the ankles. If it's hot, you'll need shorts instead. But beware, hiking pants can also protect you from the UV rays of the sun. You have to think about it if you plan to walk in direct sunlight for hours.
A little trick, some pants have removable legs which allow you to transform the pants into shorts in the blink of an eye. Convertible pants eliminate the need to carry both pants and shorts. Very practical to reduce the weight of the hiking bag!
The junction between the short part and the long part is made by a zipper. Care must be taken so that it is not irritating to the skin. Capri pants are also a good alternative if you don't want to wear long pants but still want to protect your knees from the sun.
The Weight
You don't want to have heavy pants that make your trips more painful. So you have to opt for lightweight pants made with suitable fabric. It must be breathable to avoid accumulating perspiration. Gore Tex is perfect for this. It provides both waterproofing and breathability.
The Cup
Again, you have to think about walking. If you're more comfortable walking with close-fitting pants, then go for a slim fit. Pretty women generally prefer to have hiking pants for women, close to the body, well suited to their morphology.
If you don't like to feel your body compressed by the fabric, then prefer a loose fit. The pants will hold snugly around the waist ideally, but they won't be too tight on your stomach.
Sealing
Some pants have a treatment that prevents them from being soaked in a few minutes in case of rain. This waterproof technical fabric must also have the property of drying quickly when wet. This will allow you to put it back on quickly after cleaning but also not have your legs flooded for hours after the storm. Water-repellent pants will suffice if you don't have to deal with the rain for hours.
You can also use them over trousers which have the advantage of creating a very useful second layer to stay dry in bad weather.
Security
If your pants have reinforced knee protection, that's better. Indeed, this will limit the impact on your knees in the event of a fall. This will also protect the pants. The technical textile must be strong enough to protect you from branches and brambles which are sure to tickle your calves during your journey.
Pockets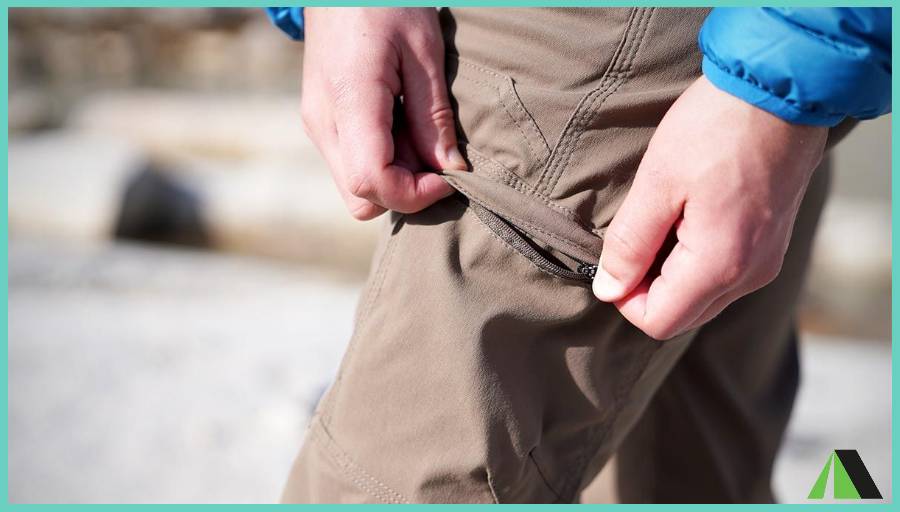 Always practical to have one or two pockets to store a few things. The deeper and wider the pocket, the better the pants will be. Because you can store an object in it without it compressing your thigh too much when walking, which could prove particularly unpleasant after a few hours.
Reinforcements
Hiking pants worthy of the name must have different reinforcements that will guarantee their solidity. Triple-turned-down seams and double crotch seams will help your hiking garment resist twisting. Reinforced pockets and reinforcements in the buttocks and knees are also essential.
The Price
You will find pants starting from $10. Be aware that the best-performing pants cost more than $50.
Final Thoughts
Choosing the right hiking pants is a guarantee of peace of mind: thus equipped, you will fully appreciate your excursions and benefit from hiking clothing that lasts.
The three key points for choosing the right hiking pants:
You have to focus on 4 criteria: comfort, breathability, resistance and impermeability.
Consider the intensity of your efforts and the weather conditions.
Choosing modular hiking pants will allow you to face all the vagaries of the weather.
Hope this complete guide on how to choose hiking pants helped you a lot.  For more blogs about hiking, you can check out here.