Hammock strap is a vital accessory that ensures your hammock is safely and securely suspended, and provides you with the ultimate lounging experience.
If you're an avid backpacker and seeking lightweight but durable hammock straps, or an environmental enthusiast focused on sustainable materials, or simply looking for top-notch reliability, you're in the right place.
We bring together the highest quality hammock straps that combine innovation with practicality, which allow you to hang your hammock with confidence and enjoy the great outdoors in style.
Best Backpacking Lighters In 2023
Explore our detailed comparison chart featuring the finest ten hammock tree straps of 2023.
| | | | | |
| --- | --- | --- | --- | --- |
| Name | Length | Max. Load | Rating | Price |
| Vivere EFHTS Black | 10 feet (each) | 450 lbs. | 5.0 | Check |
| Simple Deluxe | 10 feet | 800 lbs. | 4.5 | Check |
| Bear Butt Kodiak | 20 feet | 1000 lbs. | 5.0 | Check |
| Kammok Python | 10 feet | 500 lbs. | 4.5 | Check |
| Daisy Chain | 9 feet (each) | 1000 lbs. | 4.5 | Check |
| Wise Owl Outfitters | 10 feet (each) | 500 lbs. | 4.0 | Check |
| Serac Hammock Strap | 20 feet | 500 lbs. | 4.5 | Check |
| Texsport Web Black | 10 feet (each) | 500 lbs. | 4.0 | Check |
| ENO Helios Ultralight | 8 feet | 300 lbs. | 3.5 | Check |
| Safety Solution Atlas | 9 feet (each) | 500 lbs. | 4.0 | Check |
Key Features:
Material: Nylon
Weight: 0.16 oz
Length: 10 feet
Number of Loops: 2 O-rings & 2 S-hooks
Max. Weight Capacity: 450 lbs
Vivere EFHTS hammock straps are designed to wrap around trees without causing damage and provide a secure and eco-friendly suspension system. These straps are crafted from robust and weather-resistant nylon, which guarantees durability and long-lasting support.
You'll receive a set of two straps, each measuring 10 feet in length, ensuring compatibility with trees of varying sizes. It can hold up to 450 lbs capacity. The package also includes all necessary hardware to accommodate any style of hammock.
The included S-hooks and hardware are suitable for use with a wide range of hammock styles and offer a versatile solution for various setups, so you can position your hammock that's height best for you.
Apart from trees, these straps can be utilized with other sturdy anchor points, which offer flexibility in where you can hang your hammock. The black color also adds a stylish touch to your hammock setup, complementing various outdoor environments.
Pros
Lightweight
Easy to attach
Sturdy and durable
Affordable
Cons
Only 10 feet total length
---
Key Features:
Material: Nylon
Weight: 0.16 oz
Length: 10 feet
Number of Loops: 32
Max. Weight Capacity: 800 lbs
Simple Deluxe Hammock Tree Straps crafted with a special Daisy-chain design by using top-quality 100% nylon polyester. These are the ideal suspension and extension solutions for backyard relaxation, camping, hiking, and swinging. You won't experience sagging or unexpected ground contact, even in wet conditions.
Each strap is 10 feet long with 16 attachments, to be guaranteed the highest standards. The 2 bonus locking metal carabiners are also included in the package. You can effortlessly adjust and set up your hammock in under a minute. No extra hardware needed, No knots to tie.
Each pair comes with a convenient carrying pouch, so you can easily carry it anywhere. This suspension kit is compatible with all hammocks including Rallt, ENO, Kammok, Hennessey, Yukon and Grand Trunk.
Pros
Easy compression
Sturdy and light
High load capacity
Good price
Cons
Not wide enough
Small loops
---
Key Features:
Material: Polyester
Weight: 1 lb
Length: 20 feet
Number of Loops: 40
Max. Weight Capacity: 1000 lbs
The Bear Butt Hammock Tree Straps were crafted with the user's convenience in focus. These straps are not only suited but also safe and strong.
Setting up and dismantling is a breeze—so simple that even a 5-year-old can do it in just a few minutes. With 40 combined loops and 1-inch width, these are the most versatile tree straps on the market.
Bear Butt Hammock Straps are made from specially formulated polyester, which offers superior durability and safety compared to nylon counterparts. With an impressive weight capacity of 1000 pounds, these straps are exceptionally robust.
Everything you require is included. Plus, it all fits in a convenient portable stuff sack that makes traveling a five-finger exercise. The package also comes with 2 extra carabiners for hanging extra items.
Pros
Reinforced triple stitching
Quick and easy setup
Convenient stuff sack
Comes with 2 extra carabiners
Hang almost anywhere
Cons
Included carabiners are a bit small
---
Key Features:
Material: Polyester webbing
Weight: 8.2 oz
Length: 10 feet
Number of Loops: 20
Max. Weight Capacity: 500 lbs
The Kammok Python 10 is a user-friendly and lightweight solution for hammock enthusiasts. Available in both 10′ and 15′ lengths, these straps are designed to simplify the hammock setup process.
Boasting an impressive weight capacity of 500 lbs, the Python 10 hammock straps align perfectly with the Roo Double hammock's capabilities. It is incorporated with reflective stitching, which enhances visibility in low-light environments.
With a generous 20 daisy chain loops on each strap, you have a multitude of attachment points at your disposal. Kammok employs Nanoweave™ technology in crafting the daisy chain, resulting in a robust strap that doesn't compromise on weight.
These straps are strategically wider around the tree to safeguard against damage, while remaining thinner along the daisy chain for weight efficiency. It is compatible with a wide range of hammocks. We put them to the test with the Roo Double and found them to be a seamless fit.
Pros
Build with Nano Weave technology
Wide range of adjustments
Durable and machine washable
Lifetime warranty
---
Key Features:
Material: Polyester
Weight: 12.5 oz (including stuff sack)
Length: 9 feet each
Number of Loops: 15
Max. Weight Capacity: 1000 lbs
Daisy Chain tree straps are designed to provide you with unparalleled versatility in hammock suspension. Not only do these straps offer a multitude of setup possibilities without the hassle of knots, but they also enhance your ability to configure your tarp.
We understand that trees vary greatly in their dimensions and spacing. With these straps, you'll always have the perfect kit to achieve the ideal hang.
With 3 meters in length, each strap features a single loop at both ends, complemented by 14 additional loops along its length. This ingenious design allows you to encircle a tree in a "choke" style, threading the entire Daisy Chain through the single loop. This adaptability ensures you can comfortably set up in any tree arrangement.
It is crafted with reinforced loops and designed to handle significant weight, making it an excellent choice when you require additional length for your setup. With the included stuff sack, these tree straps weigh a mere 12.5 ounces. You can choose from options with Red or Yellow accent stitching to suit your preference.
Pros
Handy stuff sack
Available in different colors
Versatile straps
Good value for the money
---
Key Features:
Material: Polyester
Weight: 16 oz
Length: 10 feet each
Number of Loops: 38
Max. Weight Capacity: 500 lbs
Wise Owl Outfitters is renowned in the camping world for producing top-tier gear, and their hammock straps are no exception. These straps are not only highly robust but also incredibly versatile, compatible with a wide range of hammock types – from doubles to singles, portables, parachutes, and more!
The heavy-duty hammock suspension system is constructed from premium polyester, featuring reinforced stitching for added durability. Setting up is also very simple – loop the straps around a tree and secure the hammock, a process that can be completed in under 2 minutes.
The triple-tack stitched loops ensure effortless adjustment of height and length and provide you with maximum convenience. You can effortlessly relocate them, complete with carabiners, to any of the loops to achieve your desired level of comfort.
The distinctive green stripe adds a practical touch, making it easy to spot the straps amidst your camping gear. The package also includes carabiners and a convenient carry bag for seamless transportation. However, the only minor drawback lies in storage; a rubber band is the only provided means to keep the straps in a compact roll.
Pros
Heavy duty
Small pack size
Fast and easily adjustable
Plenty of length
---
Key Features:
Material: Reinforced Polyester
Weight: 28 oz
Length: 20 feet
Number of Loops: 37
Max. Weight Capacity: 500 lbs
Looking to suspend your hammock between trees that are spaced far apart or wrap it around larger trunks? There are specialized straps designed for just that purpose! With a length of 20 feet and equipped with 37 anchor points, you can now enjoy hammocking in spots that were once inaccessible.
It is made from 100% woven polyester that maintains its shape without stretching or warping. This will ensure a secure and comfortable overnight hang without the worry of sagging.
Serac hammock straps are built for rugged outdoor use. They feature triple-stitched loops and reinforced webbing, which provide a reliable hold of up to 500 lbs each. Thanks to the intuitive daisy chain design, no need to learn intricate knots.
These are conscientiously designed to minimize their impact on the supporting trees. With a thickness of 1 inch, Serac Tree Huggers adhere to the Leave No Trace guidelines for sustainable hammocking.
Pros
Non-stretch polyester
Easy to set up
Very solid and durable
Easy to wrap around the trees
---
Key Features:
Material: Reinforced Polyester
Weight: 23.5 oz
Length: 10 feet each
Number of Loops: 40
Max. Weight Capacity: 500 lbs
Texsport is a well-known brand in the outdoor gear industry, known for producing high-quality products designed to enhance the outdoor experience. The Web Hammock tree straps are constructed from sturdy and high-quality materials. These are lightweight and easy to pack, making them convenient to carry with you on outdoor adventures.
Texsport hammock straps are quick and hassle-free to set up, making it simple for anyone to hang a hammock. With a length of 10 feet, these straps provide flexibility in choosing the distance between anchor points, allowing you to set up your hammock in a variety of environments
These are designed to work with a variety of hammock styles and brands. You can rest assured that your hammock will stay in place while you relax. They distribute weight evenly and prevent damage to the tree's bark, ensuring that you can enjoy your hammock without harming the environment.
Pros
Cheap price
Very strong
Beautiful storage bag for carrying
Easy to adjust
---
Key Features:
Material: Polyfilament webbing
Weight: 4.3 oz
Length: 8 feet
Number of Loops: 32
Max. Weight Capacity: 300 lbs
ENO Helios hammock suspension system is constructed from a blend of lightweight and durable Dyneema line paired with a polyester blend tree sling, which offers an impressive strength of 300 lbs while weighing a mere 5.7 oz. Despite its lightweight design, the system maintains its reliability. This innovative design employs a bury splice adjustment method, where one rope is threaded through the center of another.
When weight is applied to the strands, it forms a loop that connects to the hammock. It securely tightens the first rope around the second and creates a firm lock. This means no more compromising between overly tight or uncomfortably loose setups. It can be adapted precisely to the desired tension to enhance comfort while lounging in the hammock.
To adjust the length of the suspension system, a simple pull on the central strand, when not under load, allows it to slide through the outer, effectively shortening the loop. This ingenious system not only ensures reliability but also significantly reduces weight and eliminates the need for multiple loops and a bulky strap.
Pros
Microtune adjustment
Plenty of versatility
Suitable for small and large trees
Easy to use
Ultralight
---
Key Features:
Material: Polyfilament webbing
Weight: 10 oz
Length: 9 feet each
Number of Loops: 37
Max. Weight Capacity: 500 lbs
And finally, we've arrived at our last contender in the lineup of the top 10 best hammock straps of 2023. With the ENO Atlas Hammock Straps, your go-to solution for hassle-free hammock hanging. It is designed with patented technology to securely and swiftly suspend your hammock in an eco-conscious manner.
This set of two straps provides an impressive 30 adjustable points and features a user-friendly daisy chain design, which ensures a customized and comfortable hammocking experience wherever you go. For added convenience, it comes with a complementary storage bag.
These versatile straps allow you to wrap them around even the stoutest trees, and affix them to roof racks, boat masts, rocks, or any available anchor point. While specifically designed for Eagle's Nest Outfitter's hammocks, they are compatible with most hammocks on the market.
These straps are made from durable Poly-Filament webbing with overlapping attachment points. Each individual strap boasts a weight capacity of 250 lbs.
Pros
Widely range of adjustability
Sturdy and heavy
Watercraft
Cheap price
---
Best Hammock Straps Buying Guide
You already know the best hammock straps available on the market. Now let's dive into the key factors to consider when choosing the best hammock straps in 2023. These factors will help you make an informed decision that aligns with your outdoor needs and preferences:
Material and Durability
Material and durability must be considered first, no matter how much budget you have. Look for hammock straps made from strong and durable materials, such as heavy-duty nylon webbing or polyester. The straps should be able to support your weight without fraying or showing signs of wear and tear after repeated use.
Weight Capacity
Manufacturers generally mentioned the highest load capacity of the hammock straps they made. So you should check the weight capacity of the hammock straps and make sure that it is sufficient for your needs. They should be able to support your body weight and potentially even more.
Length and Adjustability
Do you want to use your hammock for different outdoor activities? Then opt for straps with adjustable lengths. This feature allows you to set up your hammock at varying distances between anchor points, making it suitable for different types of environments.
Longer straps also give you more flexibility when finding suitable trees or posts.
Ease of Setup
Setup is a crucial point for beginner outdoor enthusiasts. Whether you're a beginner or experienced, look for hammock straps that are easy to set up and don't require complex knot tying. Straps with user-friendly mechanisms like loops or carabiners can save you time and frustration during setup.
Tree-Friendly Design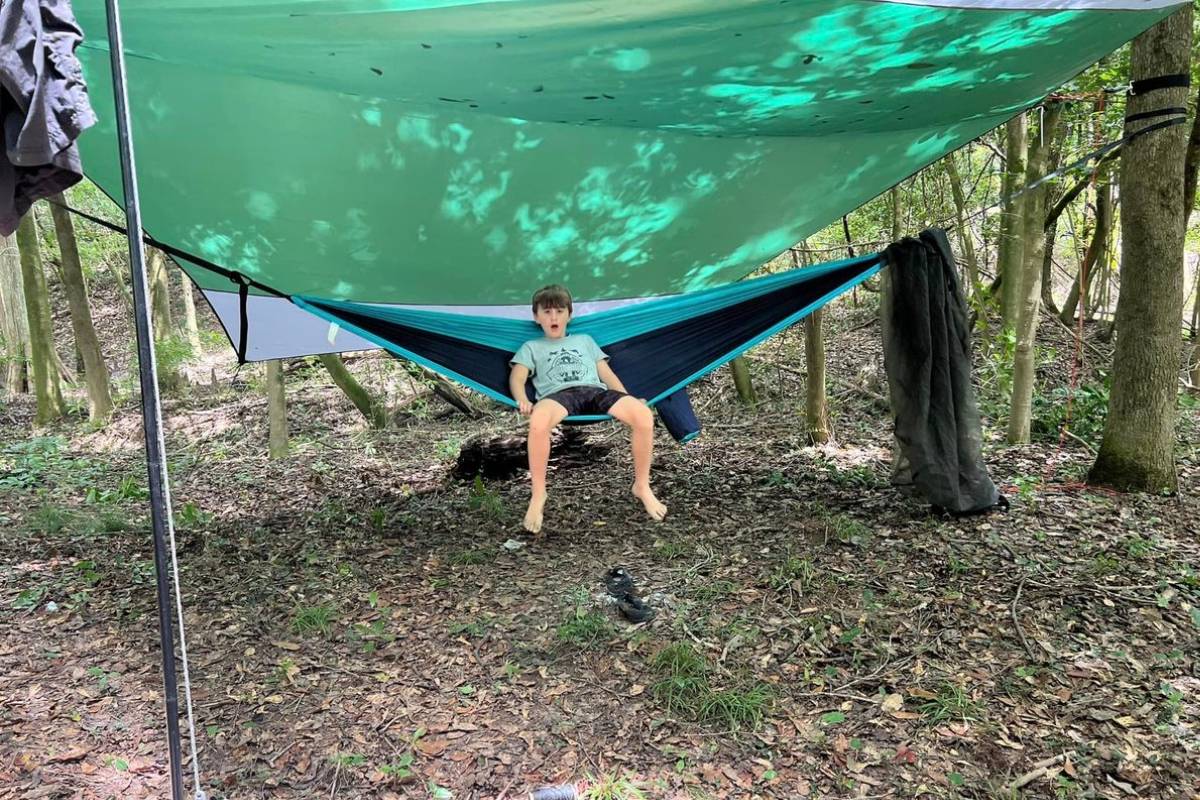 Consider hammock straps designed to minimize impact on trees. Straps with wide webbing distribute the weight more evenly and reduce the risk of damaging tree bark.
Portability and Weight
Although most hammock straps on the market are lightweight, they are sometimes not portable, as they take up lots of space in your backpack. If you're planning to use your hammock straps for backpacking or camping, choose a lightweight and compact option that won't take up much space in your gear.
Attachment Points
Check if the straps come with multiple attachment points. Having several loops or hooks along the straps allows you to find the perfect hang angle and height for your hammock.
Versatility
As we see in our comparison, some hammock straps come with extra features like daisy chains, gear loops, or multi-use functionality. These additional features can enhance your outdoor experience.
Weather Resistance
Weather can change frequently during the outing. That's why choose hammock straps that are weather-resistant. Exposure to the elements can cause wear and damage over time, so straps that can withstand rain, UV rays, and other outdoor conditions are preferable.
Sustainability
Consider eco-friendly options made from recycled materials or those produced with sustainability in mind, if this aligns with your values.
Price
The price of hammock straps can vary widely depending on factors we have already mentioned. Set a budget for your hammock straps, and aim to find a balance between quality and cost.
Basic hammock strap sets with standard features start from $15 to $30. Mid-range hammock straps with better material quality, longer lengths, and possibly extra features could range from $30 to $60. High-end hammock straps made from top-tier materials, which feature advanced designs, and often with eco-friendly considerations, can cost $60 or more.
FAQs
Here are some frequently asked questions (FAQs) along with their answers:
Can I use these hammock straps for camping and backpacking?
Absolutely! All hammock straps in our guide are designed with portability in mind. However, look for lightweight and compact options that can easily fit into your camping or backpacking gear.
Are hammock straps tree-friendly?
Many hammock straps are designed to be tree-friendly. Even all hammock straps in our ranking are tree-friendly. Straps with wide webbing distribute weight and pressure more evenly, and reduce the risk of damaging tree bark compared to traditional ropes.
Are there eco-friendly hammock strap options?
Yes, some hammock straps are made from eco-friendly materials, including recycled fabrics. Look for brands that prioritize sustainability in their production process if that's important to you.
Can I use hammock straps with different hammock brands?
Yes, hammock straps are typically designed to be compatible with various hammock brands and styles. As long as they have appropriate attachment points.
Are these hammock straps easy to set up?
Yes, most hammock straps are designed for easy setup. They often come with loops or carabiners that allow you to attach them to anchor points without complex knot tying. However, always follow the manufacturer's instructions for proper setup.
Conclusion
The world of hammocking has never been more exciting and convenient than it is in recent years, especially after the pandemic is over. Hammock straps have evolved to enhance your outdoor experience and offer a safe, versatile, and eco-friendly way to hang your hammock in various settings.
Whether you're a seasoned hammock enthusiast or new to the world of suspended relaxation, our recommended hammock straps ensure that you'll be able to enjoy the serenity of nature comfortably and responsibly.
Learn More…
How to Hang a Hammock Without Trees