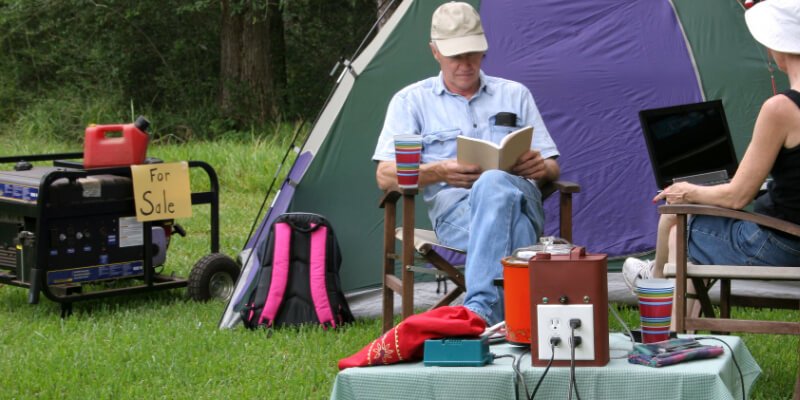 Which portable generators are suitable for camping?
We are getting to the bottom of this question today. We will show you what are the important factors you should consider when buying portable generator sets that are mainly used for camping.
Many years ago we had our first experience with a portable power generator for camping.
More precisely: while camping on one of the tent fields at a famous metal festival in the north, the constant crackling of the loud generator that belonged to the youth group in the tent camp next door ensured constant musical sound within an impressive radius – of course also at night.
Whatever the case – the fact that you not only get music but also ice-cold beer from the electric cool box. If you only had a decent power generator in your luggage, has had a lasting impact on us.
In the course of time, we collected a lot of information from our everyday camping life and had some units in use. This article should help newcomers to the scene to find answers to the most important questions about the portable power generator for camping.
How to Choose the Portable Power Generator for Camping
Let's see how to choose the portable power geneator for camping step by step…
Purpose of use
What is the purpose of the generator set? This question sounds banal at first.
However, it is crucial when choosing the right power generator! The purpose is closely linked to the performance of the power generator or the installation site.
The question also decides whether we need a quiet, encapsulated power generator with inverter technology or whether a simple, loud converter as a frame unit will also serve its purpose.
But let's stick with power generators that are supposed to be used almost exclusively for camping pleasure. Since we can mean a wide variety of things by camping in different places, it is also important to differentiate here.
Should it be a power generator for camping or rather for freestanding with a large RV?
Power generator for camping and festivals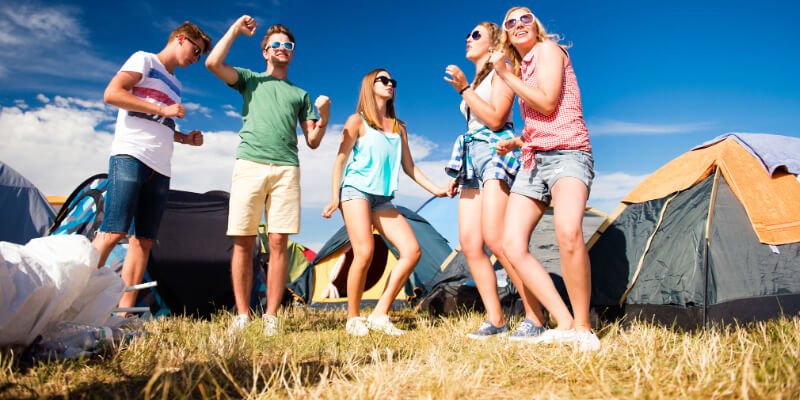 When camping, an expensive power generator with inverter technology, which generates clean electricity to protect sensitive electronics such as tablets, smartphones and laptops, is not necessary in many cases.
In our experience – especially if you are traveling in a group, there is usually enough clean electricity to charge smartphones, at least since the invention of the power banks.
We have been using several power banks from Anker for years to charge our smartphones. The Anker Powerbanks are of very good quality and extremely robust.
If you need more power in the form of clean electricity when camping in a tent camp and want to be on the safe side, you can still get along easily with the 1 kW class.
We particularly recommend the Honda EU 1000i inverter power generator. Not only it is extremely reliable but also weighs just 13 kilograms when empty, making it the lightest model from Honda. We have had very good experiences with this generator.
If there is no need for clean electricity when camping or at festivals, a framing device (converter) makes more sense. You get much more power per dollar/euro than when you buy an expensive inverter.
However, to do this, you have to think carefully about which consumers the unit should be purchased for when camping. Radiant heaters, hair dryers, or lighting are completely unproblematic.
On the other hand, with modern music systems such as TV, game consoles (we have also seen them at festival camps!) or some cool boxes, clean electricity is necessary so that the device does not suffer any voltage damage.
Generators on campsites
Mobile power generators on campsites are not welcome in some countries. Some places are also completely prohibited by the site regulations, or there are strict regulations for their use.
The reason is not only the noise pollution but also the emission of exhaust gases on the other. Ultimately, there is also an economic reason.
After all, we find the popular chargeable access to shore power on campsites. So it does not matter whether you arrive by camper or tent, power generators are not allowed or at least not welcomed in many places in the world. But that is not the case everywhere.
The purchase of a portable power generator for camping is therefore also linked to the question of which country you are going on a camping holiday in and what the local regulations regarding mobile power generators are.
If in doubt, it is worth asking the campsite operator by e-mail or telephone in good time to find out about the provisions relating to a power generator. So you won't experience any nasty surprises and you won't unnecessarily mess with fellow campers.
If a mobile power generator is allowed on the respective campsite, we always have a quiet unit in our luggage. If we travel by RV, the Honda EU 22i is enough for us.
However, if you need more power, for example for a large air conditioning system and various consumers, you can choose the 3 kW class.
If it has to be an inverter, we can recommend the Honda EU 30is.
Generators for freestanding with RV or motorhomes
As a rule, mobile power generators of the 2kW and 3kW classes are completely sufficient to ensure the necessary energy supply when standing free with an RV or motorhome.
If you prefer comfortable away from the campsites, you should think about a generator set with a radio starter via remote control. A reliable power generator with rope start, electric starter, and radio remote control is the Champion 73001I model with a maximum output of 3100 watts.
Most motorhome or RV owners get the power they need from solar systems or from built-in batteries anyway in order to bridge shorter downtimes without a shore power connection.
Anyone who wants to take a further step towards self-sufficient supply or who has to overcome longer "dry spells" without a 220-volt supply can consider a mobile generator.
In principle, underfloor units are also used. But these are often not an option, especially for popular compact campers – or they are simply too expensive. Even with older motorhomes, such an investment is usually not worthwhile.
Mobile generator sets can also be used regardless of the purpose of camping. For example, for excursions with your own boat, in the craft, or for larger festive occasions in the garden.
A space-saving group
The size of the portable power generator set is a subsidiary question but one which is of certain importance, in the place in a motorhome is a sensitive subject.
However, size is not always linked to power. You can find portable generators that are not very powerful but cumbersome and vice versa. So you have to think about how much power you need first, and then ask yourself which smallest possible generator can deliver that power.
Manufacturers of RV generator sets are well aware of the problem and now make models that are powerful enough with a really small size, that you can carry with one hand.
A silent generator
Most often, you will camp near other RVs, whether on a campsite, in a service or rest area, or even wild camping. But a generator makes noise or some even make a lot of noise not recommended for you.
If you want to buy a group that makes noise, you will have to think about soundproofing it if you don't want your neighbors to wage war on you.
Some generators are in an original soundproof box that does not exceed 60 decibels. You can have a discussion next door, but you still have to demonstrate good living skills and not turn it on under your neighbor's windows, and at any time.
Duo & Hybrid – Power Generator When Camping: Gas and Petrol or Gas & Diesel Operation
The industry calls mobile units with gas and petrol operations or gas and diesel operations duo power generators.
The acquisition of hybrid or duo electric generators for camping can be useful in the following cases:
It should extend the operating time of the generator set until the fuel has to be added or the gas bottle needs to be changed.
Gas is used on the camping trip anyway.
The unit is to be used on campsites that allow the use of mobile power generators on the plots. Using gas, for example, can avoid the unpleasant smell caused by diesel operations.
For example, we can initially operate these generators in the gas mode for a few hours and then continue to operate with one tank of gasoline when the propane gas bottle is empty. However, such units are usually more expensive than their representatives with only one mode of operation.
A recommendable duo power generator is the Champion Dual Fuel Inverter with 3500 watts of power.
---
See More…